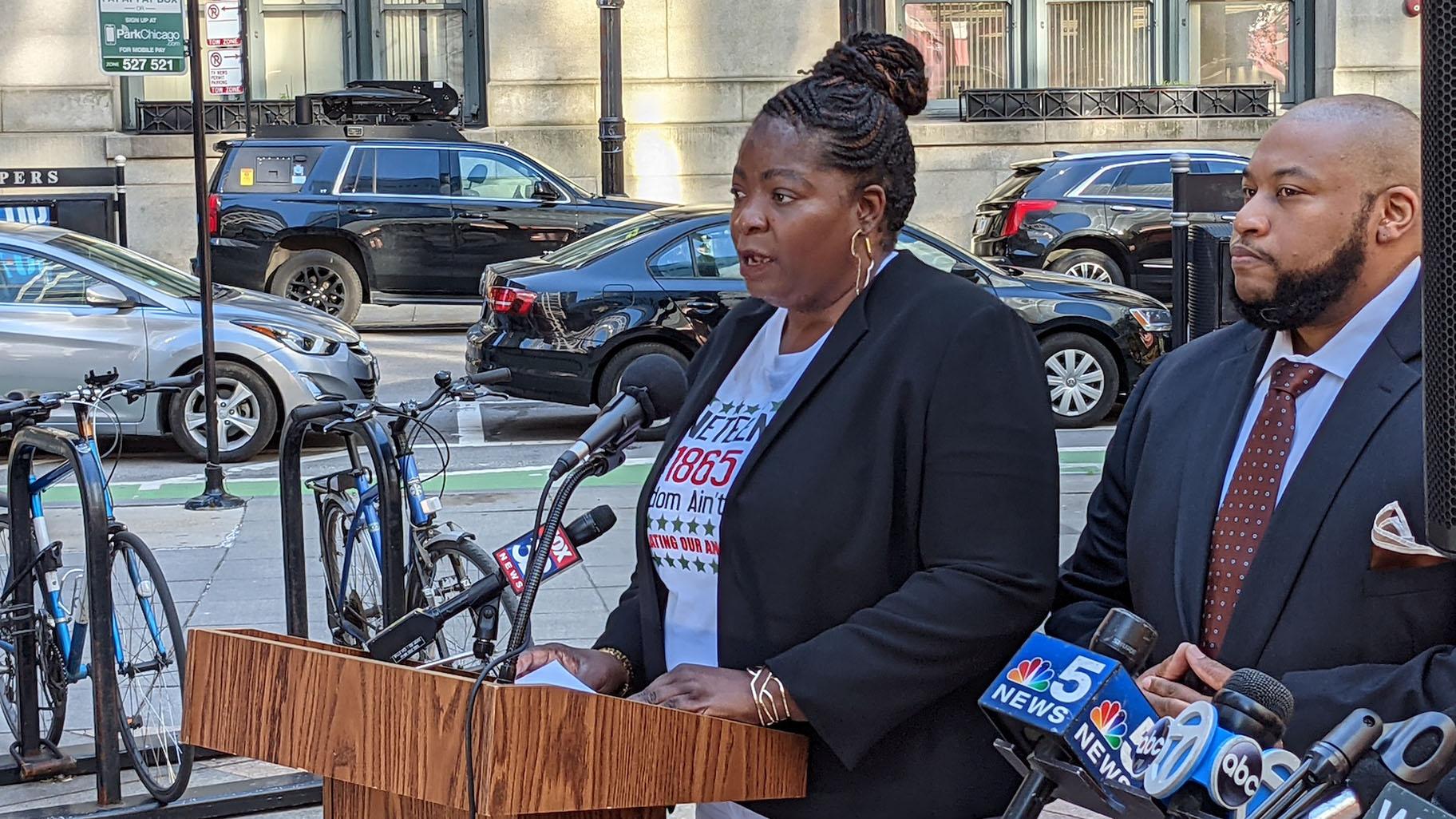 Anjanette Young and her attorney Keenan Saulter speak outside the the James R. Thompson Center on June 16, 2021. (Matt Masterson / WTTW News)
In the six months since Anjanette Young and Mayor Lori Lightfoot sat down for a face-to-face meeting, little has been done to correct the issues that led to the botched raid at Young's home in 2019 or address her ongoing lawsuit against the city, her attorney said Wednesday.
During a news conference held outside the James R. Thompson Center, Young and her attorney Keenan Saulter said they feel betrayed by the mayor as the sides have tried to resolve a civil suit filed against the city.
Saulter said the city had sought mediation in that case. But with an answer to the civil complaint due, he said the city's Law Department is now threatening to file a motion to dismiss the case.
"I absolutely feel betrayed by the mayor," Young said. "So mayor, you can threaten to dismiss this case. I'm very certain, and I'm not an attorney, that we will move forward in court and if we have to go to trial, I'm ready to go to trial."
Young, a social worker, was handcuffed while naked as Chicago police officers searched her apartment and ignored her dozens of statements that they were at the wrong home in February 2019.
The raid — and the Lightfoot administration's handling of Young's attempt to get video of the raid captured by officers' body-worn cameras — created a furor that cost the city's top lawyer, his deputy and the Law Department's spokesperson their jobs and imperiled the mayor's political standing.
Lightfoot met with Young in late December 2020, about two weeks after WBBM-Ch. 2 first reported on the body camera footage of the incident. According to Saulter, during that meeting, Lightfoot said she had instructed city attorneys to resolve Young's lawsuit.
He now believes those were "empty words, empty promises."
"She ran as a reformer," Saulter said, "but she's nothing but an insider."
In a statement, the Law Department said there is "no disagreement that the events which occurred at Ms. Young's home in February 2019 were traumatic for her and the community. No one should have to endure what Ms. Young experienced which is why the City has remained committed to mending the harm done and finding an equitable and expeditious resolution to this matter."
Department officials were "encouraged" when Saulter agreed to mediation and "hopeful that a robust discussion moderated by an experienced former federal judge would lead to a fair and judicious outcome."
"Mr. Saulter chose to reject the City's offers and walked away from further settlement discussions," the department said in its statement. "In light of Mr. Saulter's decision, we have no choice but to litigate. We still believe this is a case that should settle, but Mr. Saulter will have to bring a different mindset to the table."
Saulter argued the city's settlement offer was less than half of what has been offered in another, similar case.
Earlier this year, the Chicago Police Department revised its search warrant policy, adding in new steps before, during and after the execution of a warrant, such as requiring officers to account for the possible presence of children or vulnerable parties and mandating a lieutenant or higher-ranking official is at the scene.
But Saulter wants the city to take further action, pushing for the passage of the Anjanette Young ordinance, which he said would ban no-knock warrants, require diversity among raid teams and require them to have actual plans before taking action.
"The reality is, that if the Anjanette Young ordinance had been in place at the time of this raid … Ms. Young would not be suffering this trauma," he said. "But not only Ms. Young, so many other families have been violated by the Chicago Police Department."
Heather Cherone contributed to this report.
Contact Matt Masterson: @ByMattMasterson | [email protected] | (773) 509-5431
---