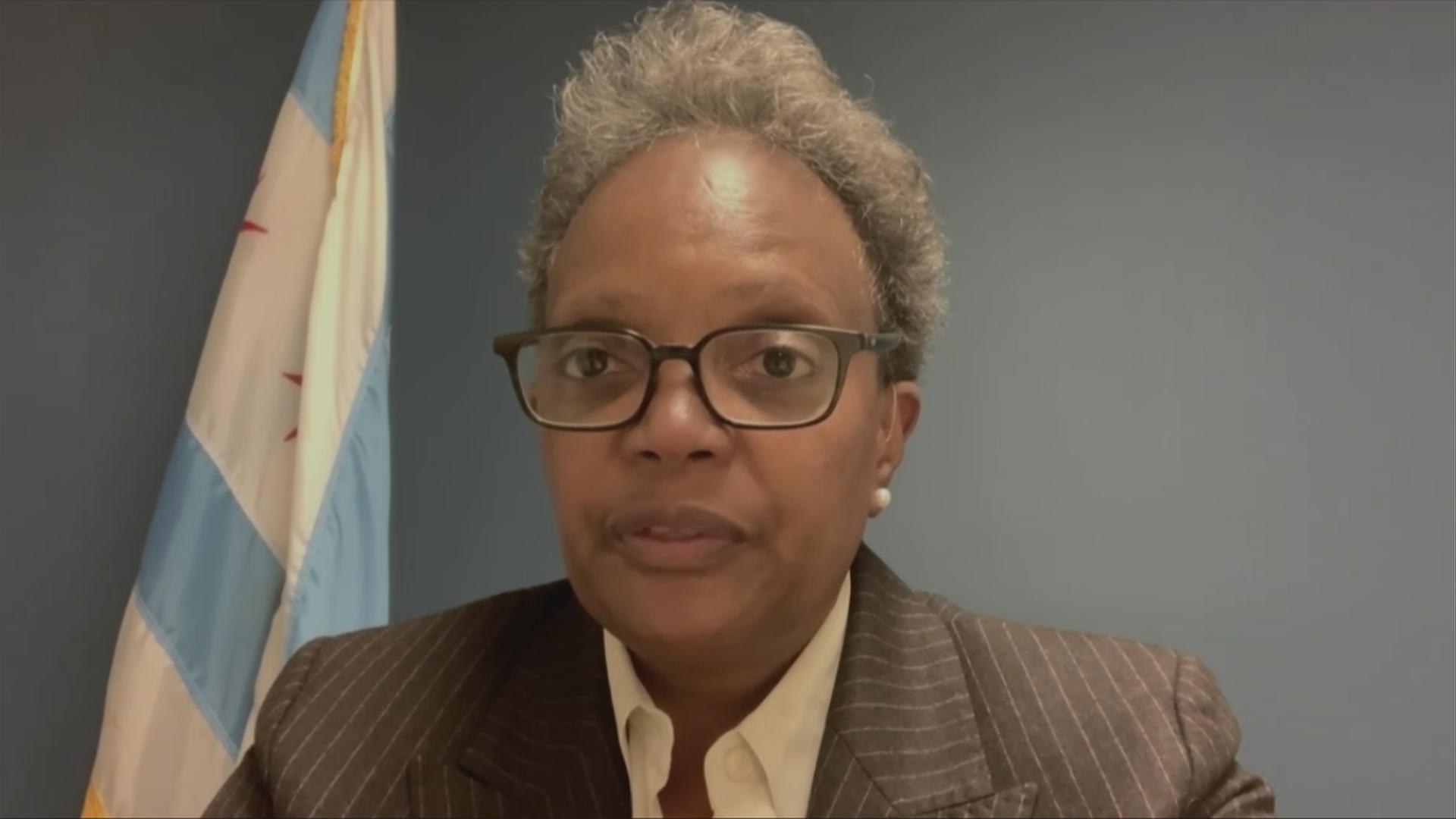 Mayor Lori Lightfoot
Mayor Lori Lightfoot rejected the probe of the botched police raid in February 2019 that left Anjanette Young handcuffed while naked and pleading for help conducted by former Chicago Inspector General Joseph Ferguson as incomplete and once again declined to commit to publicly release its findings.
Lightfoot had until Tuesday to respond to Ferguson's 163-page report that documents what happened after CBS2-TV aired video of the raid that showed that Young had been left unclothed by a group of male officers looking for someone else, touching off a political firestorm. Ferguson submitted the report on Oct. 15 in his last official action before his term expired.
Lightfoot told "Chicago Tonight" on Monday that she sent interim Inspector General William Marback a letter demanding that he investigate his office's handling of a probe of errors made by the Chicago Police Department when serving search warrants and raiding Chicago homes.
"I don't think that report is complete," Lightfoot said. "It's really important for the [inspector general] to account for its own conduct."
A search committee is conducting a search for Ferguson's replacement, who must be named by Lightfoot and confirmed by the Chicago City Council.
In the days after the video of Young blanketed the airwaves and dominated newspaper headlines, Lightfoot promised "full transparency," but has declined several times to release the report since it was submitted to the mayor's office.
Lightfoot's complaints focus on an audit Ferguson launched in July 2019, after CBS2 reported that officers searching the wrong homes pointed guns at children, traumatizing them. While the botched raid of Young's home occurred five months before that probe was launched, it had yet to be reported by news organizations and Young had not yet filed an official complaint or sued the city.
"We have to have some specific answers around why it was they took on this specific responsibility in July of [20]19, and we didn't hear a peep from them for a year and a half until that video became public," Lightfoot said. "That to me has to be addressed."
CBS2-TV aired video captured by officers' body-worn cameras that showed nearly a dozen officers ignoring Young while she was naked and pleading for help on Dec. 17, 2020, igniting a controversy that continues to rage more than 11 months later.
In January 2021, the inspector general's office released an interim report on the findings of its probe of the department's use of search warrants, citing the "urgent need to prevent serious harm to Chicagoans." In response to CBS2-TV's reporting, CPD officials unveiled a revamped policy for handling search warrants and Ferguson's report examined those changes.
In May 2021, the inspector general released a second interim report, detailing data that showed the CPD disproportionately targeted Black men with search warrants.
The inspector general's probe of the department's use of search warrants remains ongoing, with a final report expected in early 2022.
Ferguson launched a separate probe into the raid of Young's home as well as the actions by Lightfoot and her closest aides after the video was published on Jan. 20, 2021 in response to a call from 12 members from the City Council. That probe is now complete, but may not be released in full without the approval of Lightfoot and Corporation Counsel Celia Meza, a close ally of the mayor.
Marback "will incorporate any such replies" to the probe of the raid on Young's home in the office's next quarterly report, according to a statement from the office.
It is not clear why Lightfoot said the inspector general's probe of search warrants served at the wrong address, launched in July 2019, should have uncovered a botched raid that was not revealed until December 2020, or why that inquiry would have any bearing on the findings of a separate probe launched in January 2021.
Since leaving office on Oct. 15, Ferguson has been harshly critical of Lightfoot and her actions regarding the raid of Young's home, telling "Chicago Tonight" that the city's response revictimized the social worker. In addition, Ferguson said Lightfoot failed to fulfill her pledge to cooperate fully with the inspector general's probe. Instead, the mayor tapped an outside law firm and retired judge to conduct an investigation, which Ferugson said complicated his inquiry.
Lightfoot said that was "absolutely not true," acknowledging that she was interviewed as part of the probe.
Neither Retired Judge Ann Claire Williams nor Jones Day has spoken publicly about that probe or when it will be complete.
The agreement between the city and Jones Day was signed by Meza, who was the mayor's counsel and senior ethics advisor, when news of the raid of Young's home engulfed City Hall, according to a document obtained by WTTW News through the Freedom of Information Act.
As part of that agreement, in which Jones Day agreed to conduct the probe for free, the city agreed to waive any concerns that the same lawyers who were conducting the probe also serve as attorneys for the Chicago Police Board, which is charged with reviewing misconduct allegations against police officers and imposing discipline.
Contact Heather Cherone: @HeatherCherone | [email protected] | (773) 569-1863
---