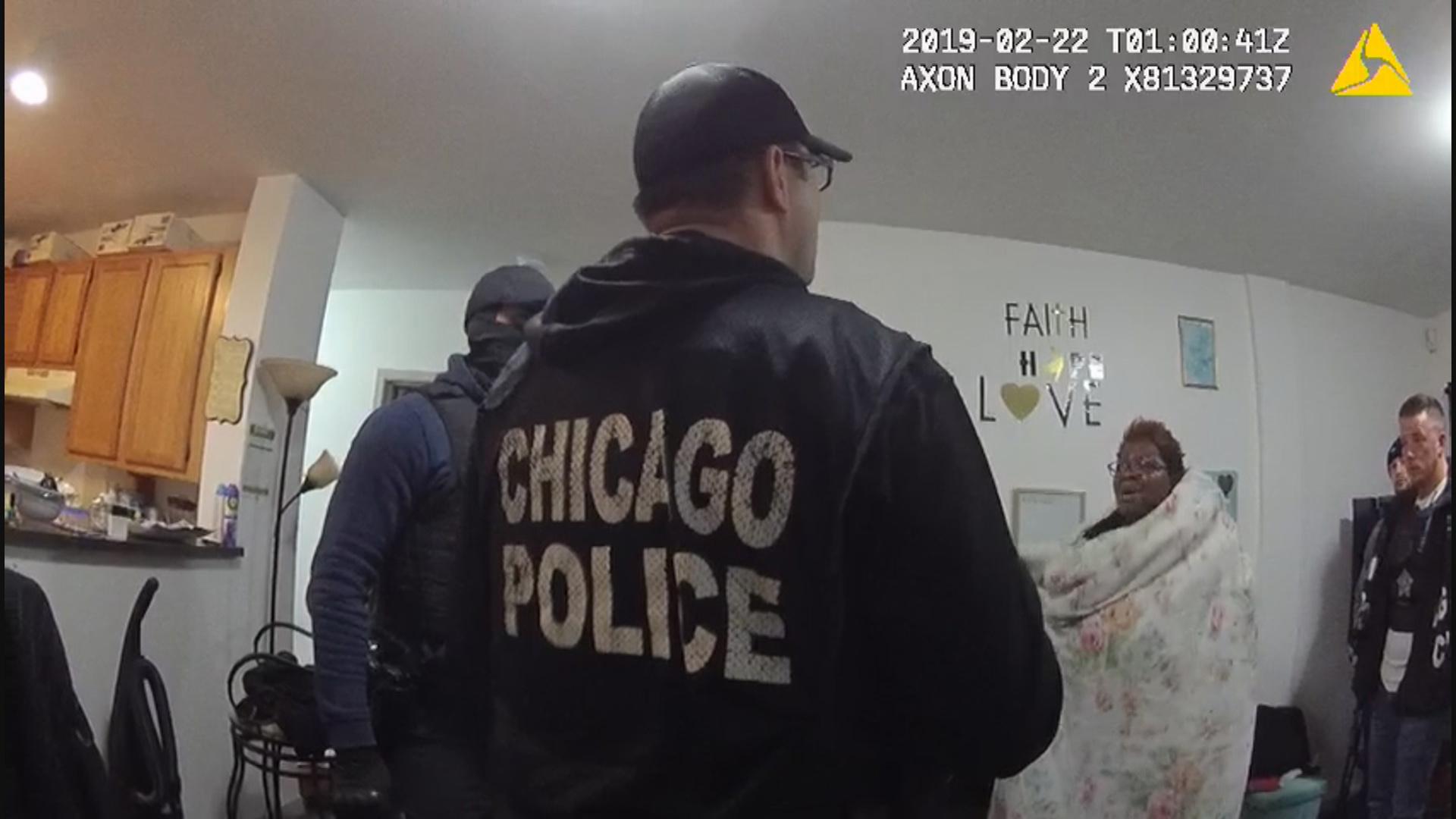 A still image from a Chicago Police Department body camera video shows a police raid at the home of Anjanette Young in February 2019. (WTTW News via Ja'Mal Green)
There is evidence that nearly a dozen officers committed nearly 100 acts of misconduct during the botched raid of Anjanette Young's home in February 2019, leaders of the city agency responsible for investigating misconduct by members of the Chicago Police Department announced Thursday.
It took the Civilian Office of Police Accountability, known as COPA, 16 months to complete its investigation of what happened when seven officers raided Young's home, handcuffing the naked social worker while ignoring her pleas that they were in the wrong home.
It is now up to Chicago Police Superintendent David Brown to determine whether the officers involved — who have been stripped of their police powers since December 2020 — will face discipline. 
"COPA's report describes significant deficiencies in [Chicago Police Department] policy and training regarding officers' acquisition and execution of search warrants," according to a statement from the agency. "Several deficiencies cited by COPA in its report were the subject of its prior public comments and recommendations to the superintendent."
Once Brown reviews the agency's report and "after involved officers have been served with resulting charges by the city's Department of Law," the findings will be released to the public, officials said.
"The raid of Ms. Young's home was truly painful to watch," said Chief Administrator Sydney Roberts, who said she assembled a 10-member team to examine the raid and the "critical Fourth Amendment issues" it raised.
That team interviewed more than 30 people, including a judge, an assistant state's attorney and members of the Cook County Sheriff's Department, officials said. The investigative record includes hundreds of pages of documents and hours of video, according to the agency.
The raid — and the Lightfoot administration's handling of Young's attempt to get video of the raid captured by officers' body-worn cameras — created a furor that cost the city's top lawyer, his deputy and the Law Department's spokesperson their jobs and imperiled the mayor's political standing. The raid was first reported by CBS2-TV.
Originally, Lightfoot was told that Young, 49, was left unclothed for 40 minutes.
An officer attempted to cover Young with a jacket within 31 seconds after police entered the home and 14 seconds later Young was covered "more fully with a blanket," according to the agency's investigation.
Young was allowed to get dressed 10 minutes later, and handcuffed again. In all, she was handcuffed for 17 minutes, according to COPA's investigation.
A spokeswoman for Young and her attorney Keenan Saulter said the completion of the probe was long overdue.
"It should not have taken 16 months to conclude an investigation into what Ms. Young clearly described in multiple public forums since the time that she began speaking publicly regarding this gross violation of her rights and [Chicago Police Department misconduct," said spokeswoman Simone Jackson.
In addition, it does not matter that Young was given first a jacket and then a blanket before being allowed to get dressed, Jackson said.
"It's important to note that during that time, her naked body was still exposed," Jackson said.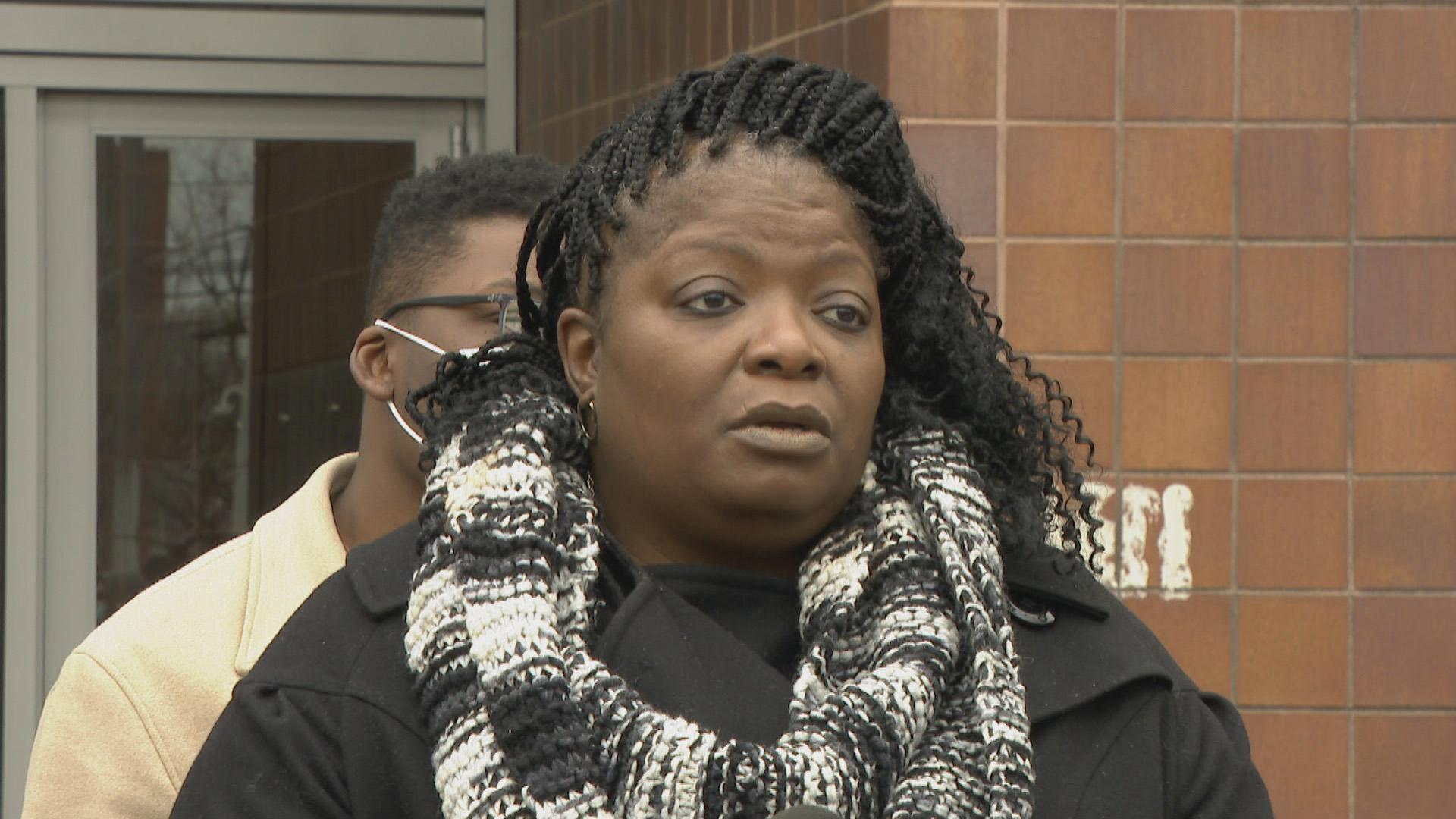 "This was so terrifying to me that two years later, I'm still dealing with it," Anjanette Young said during a press conference Wednesday, Dec. 16, 2020. (WTTW News)
During the agency's probe, officials sent three letters to Chicago Police Department officials "highlighting concerns about its Fourth Amendment training and search warrant acquisition and execution policies."
The agency also urged the police department to address "the unacceptable diffusion of responsibility" for obtaining and executing search warrants, officials said.
The conclusion of the probe by COPA ends one of three examinations of what happened to Young. Also investigating is Chicago Inspector General Joseph Ferguson, and Lightfoot tapped retired Judge Ann Claire Williams and the law firm Jones Day to conduct an outside investigation into the raid and the conduct of the mayor's office, the city's Law Department and the police department.
There is no timeline for either ongoing probe to conclude.
Although Lightfoot announced a series of changes on March 3 to the way the Chicago Police Department handles search warrants in the wake of the outcry over the raid on Young's house, no changes have been implemented.
Attorney General Kwame Raoul said the changes proposed by the mayor were insufficent.
A measure backed by several aldermen, including five Black female members of the City Council, includes an outright ban on no-knock warrants and requires officers to use "tactics that are the least intrusive to people's home, property and person and least harmful to people's physical and emotional health" while tracking warrants.
That proposal, which is also supported by Young, has yet to get a hearing in the City Council.
Contact Heather Cherone: @HeatherCherone | (773) 569-1863 | [email protected]
---