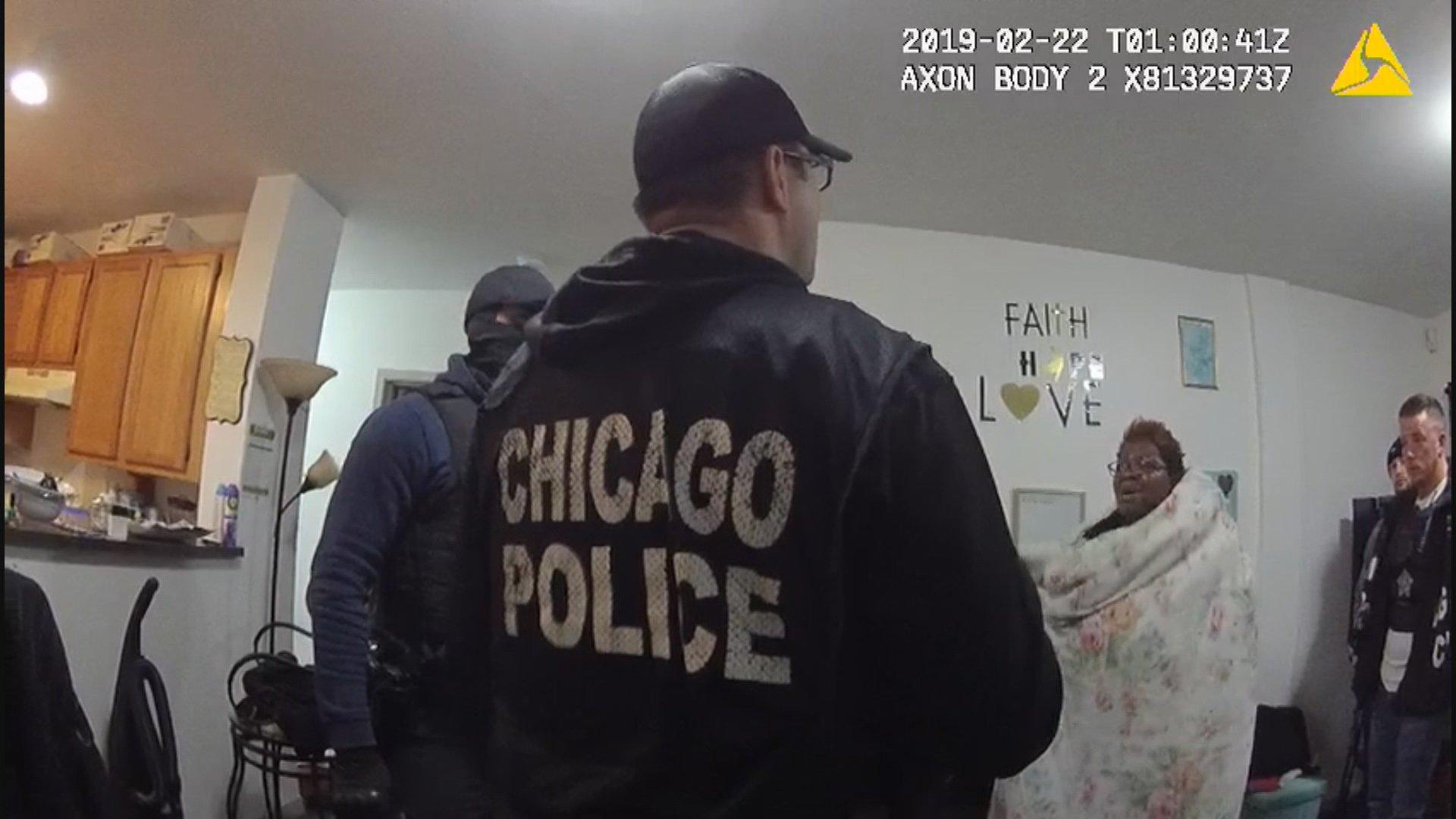 A still image from a Chicago Police Department body camera video shows a police raid at the home of Anjanette Young in February 2019. (WTTW News via Ja'Mal Green)
The sergeant who led the botched raid in February 2019 that left Anjanette Young handcuffed while naked and pleading for help should be fired, Chicago Police Superintendent David Brown told the Chicago Police Board.
Sgt. Alex Wolinski violated eight departmental rules when he and six other officers raided Young's home, handcuffing the naked social worker while ignoring her pleas that they were in the wrong home, according to the charges filed by Brown against the sergeant on Nov. 4.
The Chicago Police Board will begin the lengthy process of considering Brown's recommendations at a hearing scheduled for 9:30 a.m. Dec. 3, according to the Chicago Police Board.
The Civilian Office of Police Accountability, which led one of three investigations into the botched raid, also recommended Wolinski be suspended or removed from the police department and multiple other officers be suspended for their roles in the incident.
COPA on Wednesday published a 63-page summary report in which it laid out disciplinary recommendations for more than a half dozen officers. In it, the agency said Wolinski, Sgt. Cory Petracco and Officer Alain Aporongao — who obtained the warrant to raid Young's home — should face significant suspensions "up to and including separation" from the CPD.
"Importantly, Ms. (Young's) experience reveals problems far more pervasive than any individual incident of officer misconduct," the agency said in its report. "The intrusion against her person and the invasion of her home implicate other concerns, including lack of adequate training and supervision surrounding the Department's use of search warrants and the disproportionate impact of police actions on people of color. COPA is committed to giving these deeply serious issues its utmost attention."
COPA also recommended possible suspensions for five other officers who were on scene at Young's home. That includes Ella French, the CPD officer who was later shot and killed during a traffic stop in Englewood in August.
In its report, COPA found French "failed to timely activate her body-worn camera and failed to document the detention and search" of a man at the scene. After French's death, Young issued a statement saying French was the only officer involved in the raid who showed her any "dignity or respect."
Following the report's release Wednesday evening, Young published a tweet stating: "Thank you for your thoroughness in this report and seeing me as a person who deserves Justice!!! This is just the beginning!!!"
Wolinski is the first member of the Chicago Police Department to face public discipline for his role in the raid that touched off a political firestorm in December 2020 when CBS2-TV aired footage of the raid. Multiple investigations probed how Mayor Lori Lightfoot and her administration handled Young's attempt to get video of the raid captured by officers' body-worn cameras and examine what happened on Feb. 21, 2019.
Keenan Saulter, Young's attorney, did not respond to a request for comment from WTTW News.
Brown placed 12 officers involved in the raid on desk duty on Dec. 21, 2020. Representatives of the Chicago Police Department did not respond to a request from WTTW News about whether the rest of those officers have returned to duty or been disciplined.
The Fraternal Order of Police Lodge 7, which represents the department's rank-and-file officers, called for Brown to be fired and said his decision was "a disgusting display of 'leadership'" on its Facebook page. Wolinski is a member of the Policemen's Benevolent & Protective Association of Illinois, Unit 156.
Wolinski should be fired for "failing to intervene in the disrespectful treatment of Anjanette Young" and for failing to follow department rules requiring officers conducting a raid to "knock and announce" their presence, according to the charges filed by Brown.
In addition, Wolinski declined to give Young a copy of the search warrant as required and failed to notify a supervisor of the raid, according to the charges filed by Brown against the sergeant.
Wolinski was responsible for the decision to handcuff Young while she was naked and allow her to remain that way "for an extended period of time" even after it was clear that the target of the raid was not present in the apartment, according to the charges. Wolinski waited 15 minutes to give her a copy of the warrant, according to the charges.
Wolinski also "ignored requests by one or more officers on the scene to remove the handcuffs from Ms. Young."
Brown told members of the Chicago City Council in December 2020 that the officers who conducted the raid violated Young's human rights.
A probe of the raid by COPA detailed evidence that nearly a dozen officers committed nearly 100 acts of misconduct during the raid of Young's home.
COPA's probe was one of three investigations of what happened to Young during the botched raid. 
Former Inspector General Joseph Ferguson sent a 163-page report detailing his probe into the botched raid and its aftermath to Lightfoot just hours before leaving office.
Although she promised "complete transparency" about what happened to Young amid the outrage over the raid as the video blanketed the airwaves, Lightfoot has repeatedly refused to commit to releasing Ferguson's report.
Lightfoot did not "fully cooperate" with his probe, Ferguson said.
The inspector general's probe was complicated by the mayor's decision to tap retired Judge Ann Claire Williams and the law firm Jones Day to conduct an outside investigation into the raid and the conduct of the mayor's office, the city's Law Department and the police department, Ferguson said. 
Neither Williams nor Jones Day has spoken publicly about that probe or when it will be complete, which complicated Ferguson's probe by invoking attorney-client privilege in response to queries by investigators, the former watchdog said.  
There is no timeline for Williams' 11-month-old probe to conclude.
After the raid of Young's home, the Chicago Police Department changed its policy for serving search warrants to add a requirement that bureau chiefs sign off on any no-knock warrants, and adds new steps before, during and after the execution of a search warrant, such as requiring officers to account for the possible presence of children or vulnerable parties and mandating a lieutenant or higher-ranking official is on the scene. 
Illinois Attorney General Kwame Raoul has said those changes are insufficient.
A measure backed by several alderpeople, including five Black female members of the City Council, includes an outright ban on no-knock warrants and requires officers to use "tactics that are the least intrusive to people's home, property and person and least harmful to people's physical and emotional health" while tracking warrants.
That proposal, which is also supported by Young, has yet to get a hearing in the City Council.
Matt Masterson contributed to this report.
Contact Heather Cherone: @HeatherCherone | (773) 569-1863 | [email protected]
---