As a social worker, Anjanette Young has spent some 20 years helping victims deal with trauma, which makes it all the more surreal, she said, that she is now dealing with her own.  
On Feb. 21, 2019, she was at home, changing, when Chicago police knocked on her door. Before she could answer (and before she could put on any clothing) they burst in and handcuffed her.
She repeatedly told them they were at the wrong house, and they were: their intended target lived at a nearby address. 
"This was so terrifying for me that two years later I'm still dealing with it," Young said Wednesday during a press conference.
This week, the video showing Young — in frantic, fearful tears as officers are brandishing guns at her — was made public by Chicago's CBS affiliate, WBBM-TV, even after Mayor Lori Lightfoot's administration took court action seeking to block it from being aired.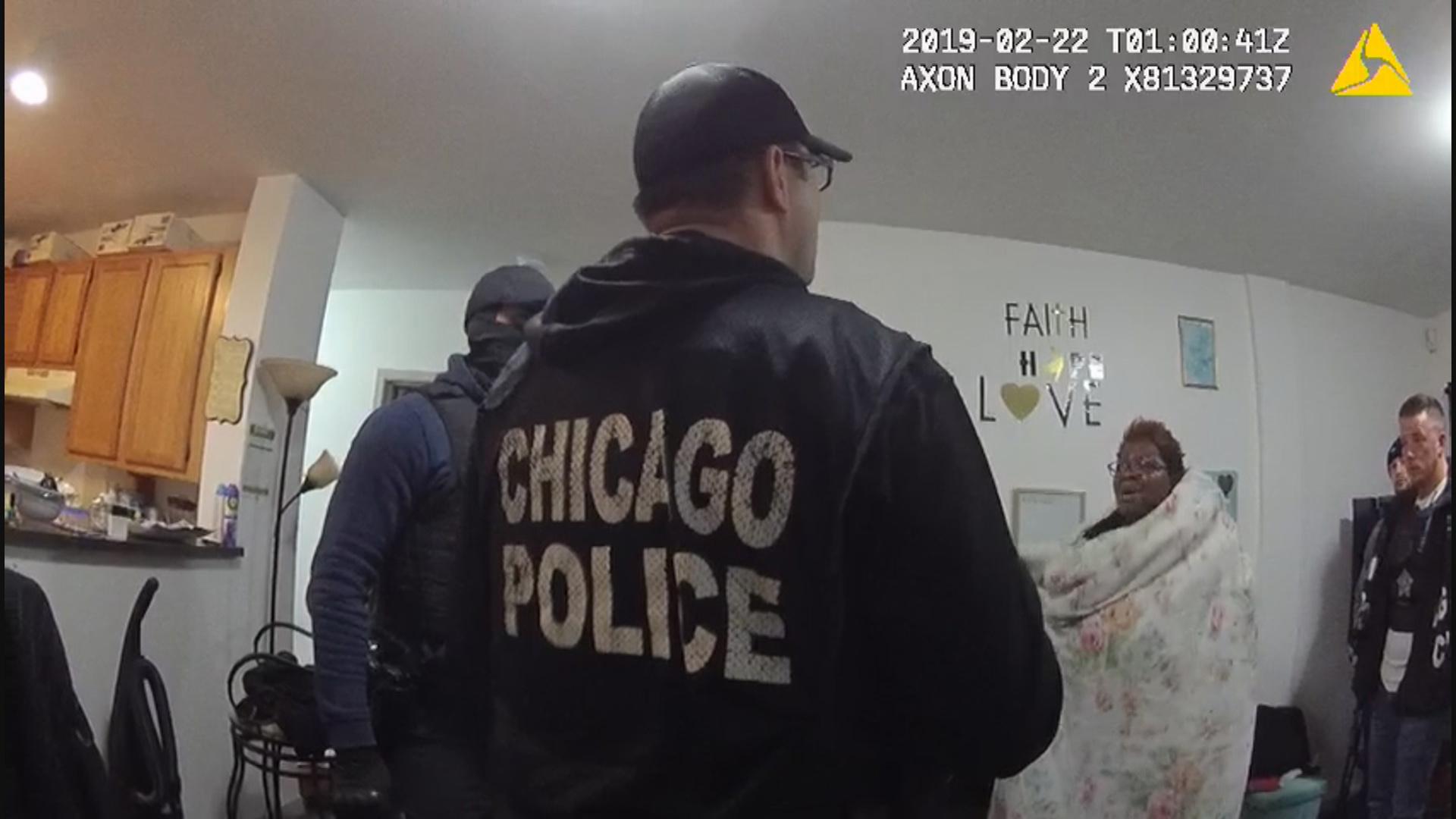 A still image from a Chicago Police Department body camera video shows a police raid at the home of Anjanette Young in February 2019. (WTTW News via Ja'Mal Green)
In a statement Tuesday, the mayor's legal department cited a legal obligation given a previous judicial order that it be kept confidential.  
Lightfoot on Wednesday afternoon said she was "blindsided" by the entire incident, as until Tuesday she was unaware of both the 2019 raid and the city's recent court actions. At a press conference she apologized to Young. 
READ: 'I Am Sorry': Lightfoot Apologizes to Woman Handcuffed While Naked During Mistaken Police Raid
But at a media event outside Chicago Police Department headquarters earlier in the day, Young's attorney and activists supporting her accused Lightfoot of breaking her campaign promises to "bring in the light."  
"Here we are still in the dark. It is time for change. It is time for transparency. It is time for the mayor to be held accountable for what the administration did," said community activist Ja'Mal Green, who provided a partial copy of the CPD body camera footage to WTTW News.
Green last year ran against Lightfoot for mayor.
Green and Young's attorney, Keenan Saulter, said that what happened to Young would not have happened were she White and living in the well-to-do neighborhood of Lincoln Park.
"In the city that spawned the Laquan McDonald controversy, a mayor that ran on transparency a city corporation counsel that is clearly out of control, not reporting details to the mayor: something has to change. And the change can't be to attack another innocent woman first in her home and then in court to say she violated a protective order," Saulter said.
Tree of Life Justice League of Illinois' Eric Russell compared the incident with the March killing in Kentucky of Breonna Taylor, who was killed when Louisville police executed a search warrant while she was in bed.
"If Miss Young's nephews or her children – some Black men – would have been in that house, came to her defense, this would be another story. They would be dead," he said.
Young said she voted for Lightfoot and encouraged her friends to as well after Lightfoot campaigned at her church.
Now, Young said she wants the mayor to return to the congregation to explain how she's going to "fix" this.
Young on Wednesday morning filed a lawsuit over the city's denial of her Freedom of Information Act request seeking footage of the home invasion.
Saulter said he plans to file another lawsuit soon over the actions taken by CPD officers in 2019.
It's the job of the police to "serve and protect," Young said. "Well they didn't do that for me. They didn't serve me, they didn't protect me. They didn't care about me. And so yes I want accountability. If you ask me what I want from this? I want accountability," she said.
The Chicago Police Department declined comment, citing an ongoing investigation.
The Civilian Office of Police Accountability released a statement saying that the matter remains under review.
"We understand the public's desire for answers and more importantly Ms. Young's desire for resolution and closure," the statement reads.
COPA said it will share the summary of its findings with Young and with the public once its ready, as well as any potential resulting discipline of the officers involved.   
Follow Amanda Vinicky on Twitter: @AmandaVinicky
---