Everyone has heard the thud — the unmistakeable sound of a bird hitting glass. Think about what that means in terms of scale: Everyone has heard it.
Nearly 600 million birds are killed each year in North America due to collisions with buildings — and not just skyscrapers. Residences up to four stories in height account for 250 million of the 600 million total, according to the National Audubon Society.
Among the major contributors to these deadly crashes: artificial light at night — which disorients the birds — and glass, due to both its transparency and mirrorlike, reflective properties.
With the stroke of a pen from Gov. J.B. Pritzker, Illinois became the latest entity to enact legislation aimed at stemming the carnage.
Under the Bird Safe Buildings Act, any newly constructed state building will be required to incorporate bird-friendly design. The same rules apply, with a handful of exemptions, to renovations of state buildings in which more than half of the facade is substantially altered. 
Wildlife advocates cheered the move.
"By making simple adjustments to new Illinois state building projects, this new law will help mitigate the unnecessary deaths of countless numbers of migrating birds every year," said Kristin Murphy of Audubon Great Lakes in a statement. 
Among the law's stipulations: 90% of a qualifying building's exposed facade, from the ground level to a height of 40 feet, has to be either a material other than glass or "glass employing elements that preclude bird collisions."
These elements include netting, screens or patterned glass, among others. Birds need these visual cues or physical barriers to alert them to the presence of glass. 
The law calls for similar restrictions on glass for buildings above the 40-foot mark, though they only apply to 60% of a building's facade. The Bird Safe Buildings Act also covers lighting, requiring minimized or reduced illumination where appropriate.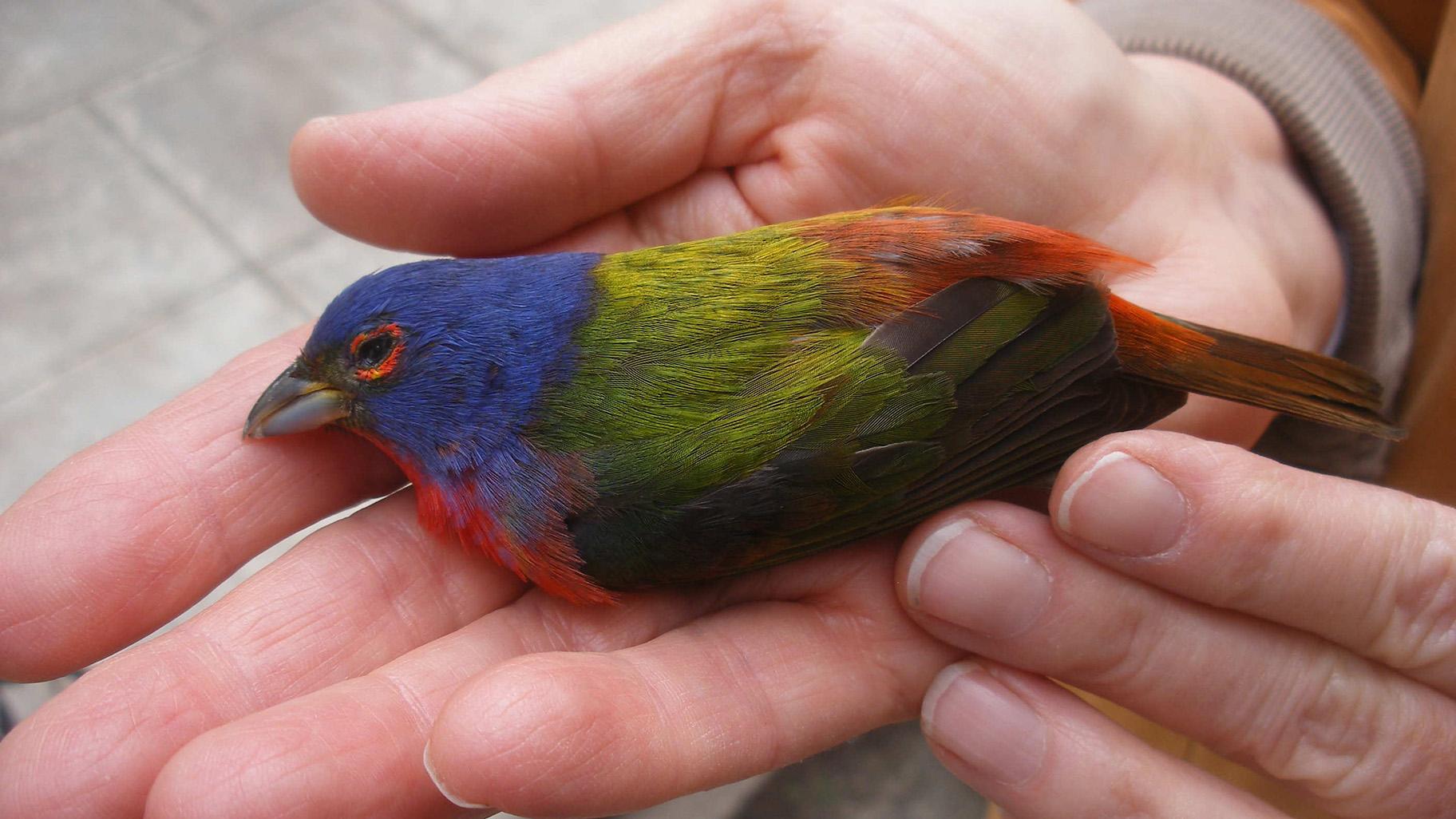 Migrating birds frequently are injured or stunned colliding with buildings in Chicago. (Courtesy of Chicago Bird Collision Monitors)
The plight of birds made global headlines in 2019, when a study revealed that North America lost more than one-fourth of its net bird population — some 3 billion birds — since 1970. 
Though climate change poses the greatest threat by far to birds, man-made structures have played a significant role in their decline. How to remedy the risk factor of buildings was the subject of a recent webinar hosted by AIA Illinois (the state chapter of the American Institute of Architects). The discussion brought together panelists with expertise in the areas of bird conservation, building design and glass manufacturing.
Carl Giometti, a project architect at Perkins & Will and the former president of the Chicago Ornithological Society, described the ripple effect the death of a single bird can have on the environment. A lone blackpoll warbler killed in a building collision translates into nearly 2 acres of degraded boreal forest, thousands of insects not eaten (including mosquitoes), countless seeds not dispersed and a lack of food for wildlife higher up the food chain, including raptors, which feast on smaller birds. 
These ecosystem considerations should be part of any building's site impact analysis, he said.  
Since the alarm was sounded on dwindling bird populations, progress has inched forward on a couple of fronts. Cities are increasingly adopting "lights out" policies for large buildings during migration season, something studies have shown can cut bird collisions by more than 80%. And native plants, which provide birds with food and rest stops in locations stripped of natural habitat, are gaining popularity in landscaping.
But these positive steps are negated if they draw birds closer to a hazardous building, said John Rowden, the Audubon Society's senior director for bird-friendly communities.
Glass is still being used in a whole lot of facades and it remains problematic. 
Annette Prince, director of the Chicago Bird Collision Monitors, said her organization met with a variety of glass manufacturers years ago to raise the issue of bird crashes and explore options. The companies, she said, were willing to make bird-friendly changes to their product, but only if a ready-made market existed for it — likely through government mandates. Otherwise, the costs were too high, adding potentially 15% to 20% to a material's price tag.
That's where laws like Illinois' come into play, Prince said. Requiring architects to design bird-friendly buildings, and contractors to source bird-friendly glass, will help create the market manufacturers need to lower costs. 
Federal standards would go even further, experts agreed.
The current piecemeal approach by states and municipalities — a combination of legislation and other means such as changes to zoning and building codes — is a mixed bag, with no consensus in terms of which building heights to target for greatest impact and what percentage of a building's facade should be bird-friendly glass.
"It's just the wild, wild west," said John Just, architectural manager at Montreal-based Walker Glass, which does business throughout North America. 
The National Glass Association is in the midst of developing standards for bird-friendly applications, which should be released by the end of the year, he said, but at the moment, there's heavy reliance on best practices.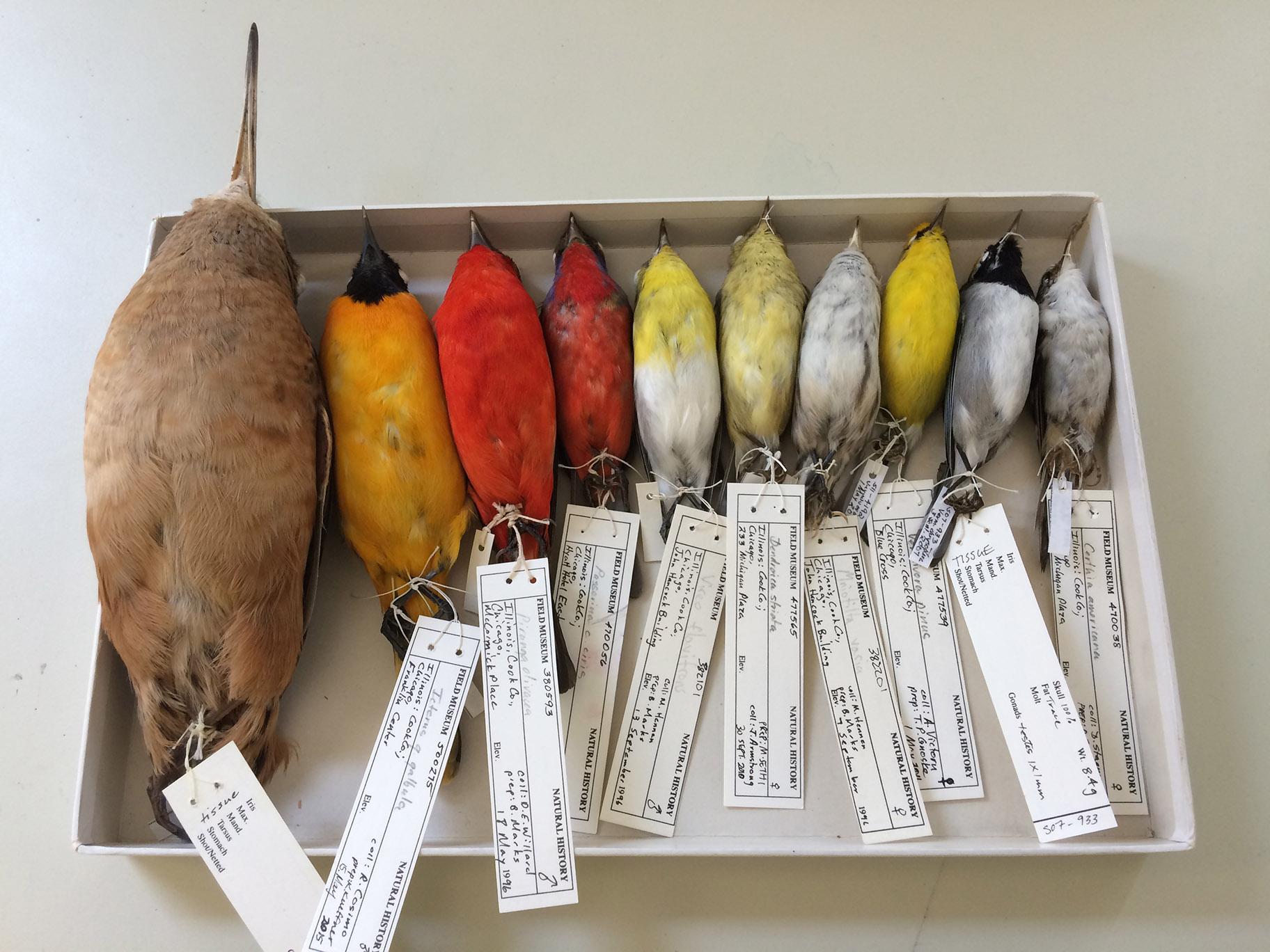 Dead birds collected by the Chicago Bird Collision Monitors were given to the Field Museum's Bird Division. (Josh Engel / The Field Museum)
For Giometti, who straddles both the birding and architectural communities, the push for bird-friendly glass doesn't have to boil down to being a win for birds and a loss for architecture. 
"We're not asking for brick boxes," he said. "It's a design opportunity."
Bird-friendly glass can be ornamental or used as a focal point, Giometti said. It can also get people talking and even generate positive PR for the building owner.
Ultimately the goal is to get to a point where bird-friendly design is just design.
Rowden said he hopes for a paradigm shift that makes bird-friendly elements as commonplace as accessibility considerations.
We've made buildings safer and more accommodating for humans, advocates said, now it's time to do the same for our feathered friends. 
"The migration of birds is one of Illinois' great natural spectacles," said Murphy of Audubon Great Lakes. "Too often, however, these incredible journeys that can cover thousands of miles are cut short when birds crash into buildings." 
Contact Patty Wetli: @pattywetli | (773) 509-5623 |  [email protected]
---