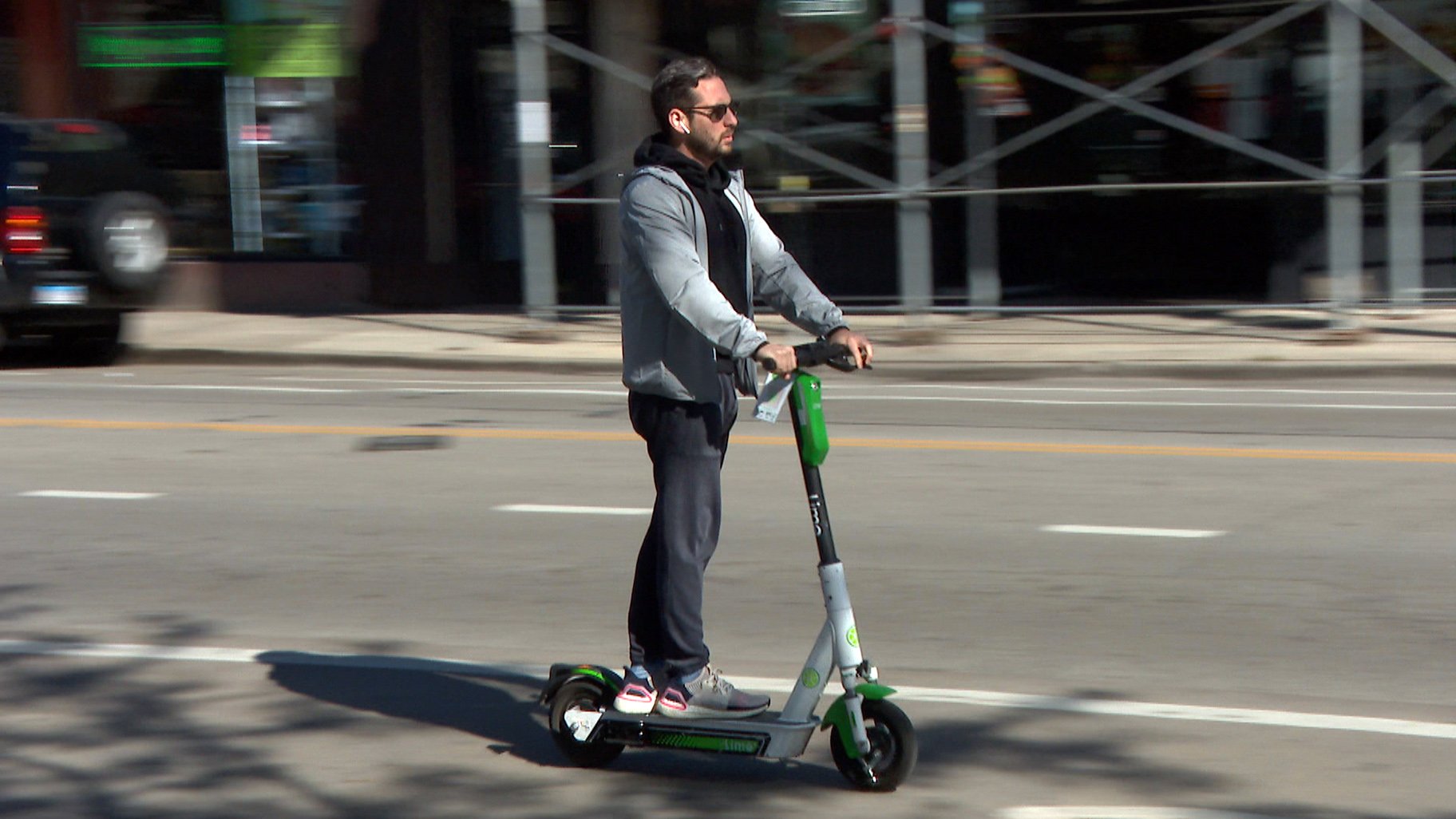 (WTTW News)
An effort to make electric scooters a permanent part of the city's transportation system hit a pothole Thursday, with several aldermen telling transportation officials that the two-wheelers would create a nuisance on Chicago's streets and sidewalks.
Several aldermen told Chicago Department of Transportation Commissioner Gia Biagi that the scooters should not be permitted citywide, but only allowed in wards with aldermanic support. That could complicate efforts to use scooters to reduce congestion and encourage the use of public transportation throughout Chicago.
Ald. Walter Burnett (27th Ward) said scooters are already in Chicago — and the city should take steps to regulate them to prevent riders and passersby from getting hurt.
"I had three people riding on the sidewalk yesterday, just having fun and going side-to-side," said Burnett, whose ward includes the West Loop. 
Burnett was one of only a handful of aldermen who backed the expansion of scooters in Chicago without reservation. A second test wrapped up in December after approximately 540,000 rides. That experiment increased transportation options in areas with gaps in the transit network, including the South and West sides, officials said. The first pilot, which took place in June and July 2019, failed to meet that goal, officials said. 
Although city transportation officials concluded that the scooters drew 75% fewer complaints during the second pilot because a new requirement to lock scooters to fixed objects, several aldermen said that did little to reduce sidewalk clutter or reduce negative impacts on pedestrians or people with disabilities.
"Scooters were thrown all over the streets, that's unacceptable," said Ald. David Moore (17th Ward).
Ald. Carrie Austin (34th Ward) said the scooters were a nuisance in her Far South Side ward even when they were locked to poles.
"I don't want them in 34, period," Austin said. "They got out of hand."
Ald. Michele Smith (43rd Ward) said she was concerned that giving scooters the green light in Chicago would expose the city to lawsuits from people injured or killed as a result of their trip on the electric devices. In addition, at least in her North Side ward, the scooters were mostly used for amusement — not by commuters, Smith said.
"It's another fun thing for young professionals to do," Smith said. "And if that's cool, OK, but I have to say, it comes at a high cost."
Ald. Brendan Reilly (42nd Ward) and Ald. Harry Osterman (48th Ward) dismissed assurances from the three firms that participated in the pilot — Bird, Lime and Spin — that an education campaign would keep Chicagoans from riding scooters on sidewalks.
Despite "every kind of sign," bicyclists still ride on Sheridan Road through Edgewater, Osterman said.
All three firms plan to test technology in Milwaukee this summer that recognizes when one of their scooters is being ridden improperly on a sidewalk, company representatives said. While Bird and Lime will send a notification to the rider, Spin scooters will make a noise, similar to the one made by cars when a drivers' seat belt is not engaged, to alert both the rider and nearby pedestrians that the scooter is being operated in the wrong place.
"I don't want pedestrians getting hurt or killed," said Reilly, whose ward includes downtown and the Loop. "I have very serious concerns."
The city banked $1.2 million in license fees, plus another $300,000 in taxes during the four-month 2020 pilot, and the two-wheelers could prove lucrative for the city if they are allowed downtown, Biagi said.
Transportation Committee Chair Ald. Howard Brookins (21st Ward) said that Chicago will have to permit scooters, if only to "stay relevant" for tourists, since the scooters have been given the green light in other major cities.
But more negotiations are needed before scooters get the green light in Chicago, Brookins acknowledged.
"There are some kinks to be worked out," Brookins said.
Contact Heather Cherone: @HeatherCherone | (773) 569-1863 | [email protected]
---