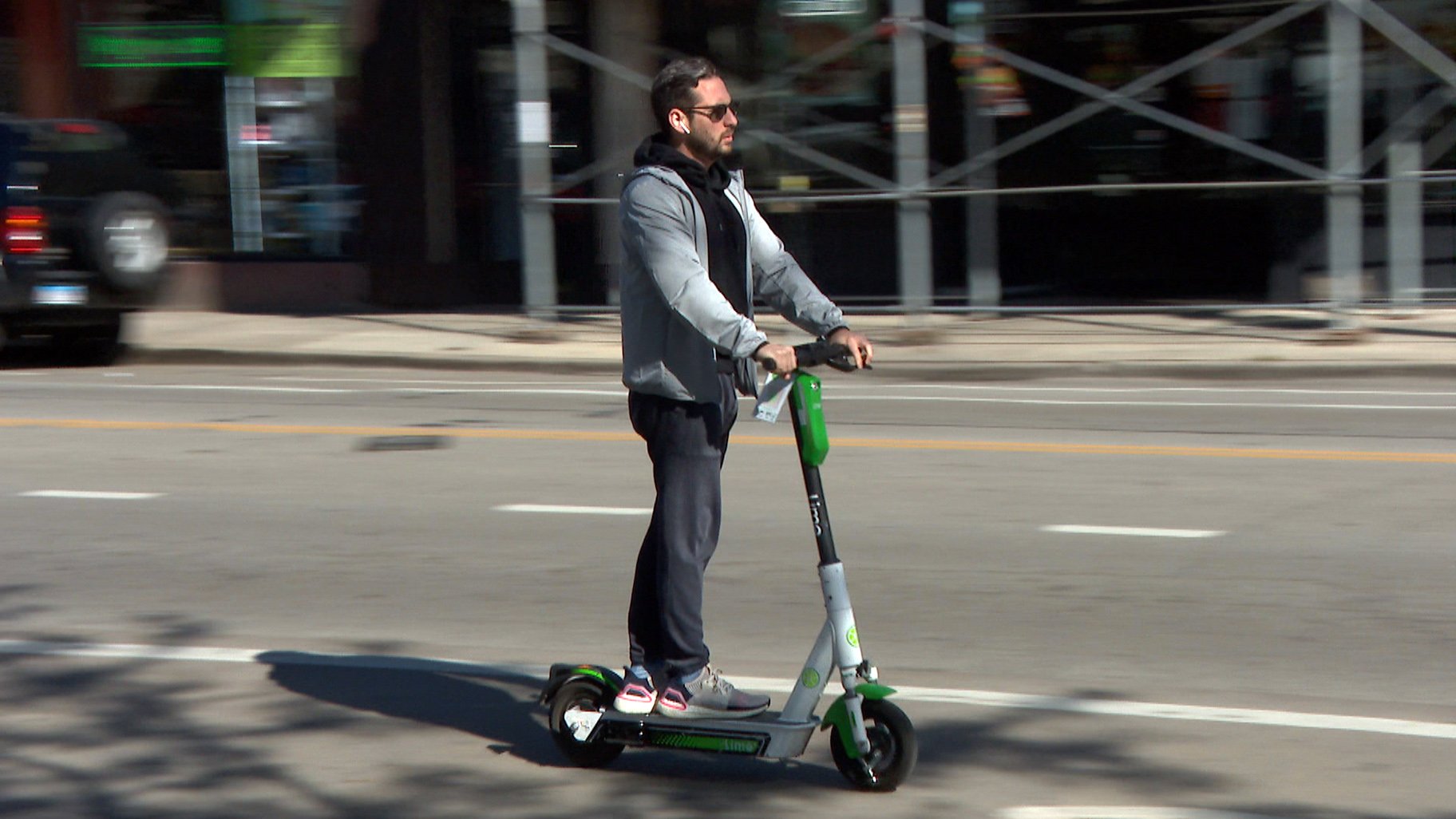 (WTTW News)
Chicago officials announced Friday they will consider making electric scooters a permanent part of the city's transportation system after the results of a second trial run found a demand for the two-wheelers.
Chicagoans took approximately 540,000 rides on electric scooters during a four-month second trial run in 2020 designed to determine whether the two-wheelers can help reduce congestion and solo car trips without creating a nuisance on Chicago's streets and sidewalks, according to data released Friday by the Chicago Department of Transportation. 
City transportation officials said making scooters permanently available in Chicago could help reduce congestion and encourage the use of public transportation.
"We are especially focused on providing more options to those with limited transportation access," said Chicago Department of Transportation Commissioner Gia Biagi.
A survey conducted after the pilot program ended in December found that 88% of those who rode the scooters said they should be a permanent part of Chicago's transportation system, while 65% of those who did not try out the two-wheelers said they should not be permitted in Chicago.
The second pilot program increased transportation options in areas with gaps in the transit network, including the South and West sides. The first pilot, which took place in June and July 2019, failed to meet that goal, officials said. 
Scooters drew 75% fewer complaints during the second pilot, because a new requirement to lock scooters to a fixed object helped to reduce sidewalk clutter and negative impacts on people with disabilities, officials said.
Ald. Howard Brookins (21st Ward), chair of the Transportation and Public Way Committee, said he would schedule a subject-matter hearing in the coming weeks on the results of the second pilot program.
"The two e-scooter pilot programs show there is a demand throughout Chicago for new transportation options," Brookins said. "However, we have also learned that any authorization of e-scooters needs to be through an accountable and well-managed program that ensures that they benefit all Chicagoans."
That initial test of scooters in Chicago featured just 2,500 devices and was limited to the West and Northwest sides of the city, but featured 821,000 trips, according to city data.
The second pilot program included 10,000 scooters, which were allowed to roam throughout the city — but not downtown or along the Lakefront or 606 trails — and half had to be docked on the South and West sides, according to the city's rules.
The three firms that participated in the pilot — Bird, Lime and Spin — met those goals, officials said. Approximately 25% of scooter trips took place on the South and West sides, officials said.
Ald. Walter Burnett (27th Ward), the chair of the City Council's Pedestrian and Traffic Safety Committee, and Ald. Emma Mitts (37th Ward), the chair of the License and Consumer Protection Committee, said they support making scooters permanently available in Chicago.
"The e-scooter pilots were worthwhile and showed that many residents of my ward found them useful," Mitts said. "We also learned that we need a system that carefully manages supply and demand to ensure a balance between coverage, accessibility and equity."
The average scooter trip during the second pilot program was 2.1 miles and lasted 18.5 minutes, according to data released Friday.
A third of those scooter trips replaced a car trip, according to the data.
Scooter trips were linked to 171 reported emergency department visits, including approximately nine pedestrians who were injured by a rider.
Contact Heather Cherone: @HeatherCherone | (773) 569-1863 | [email protected]
---