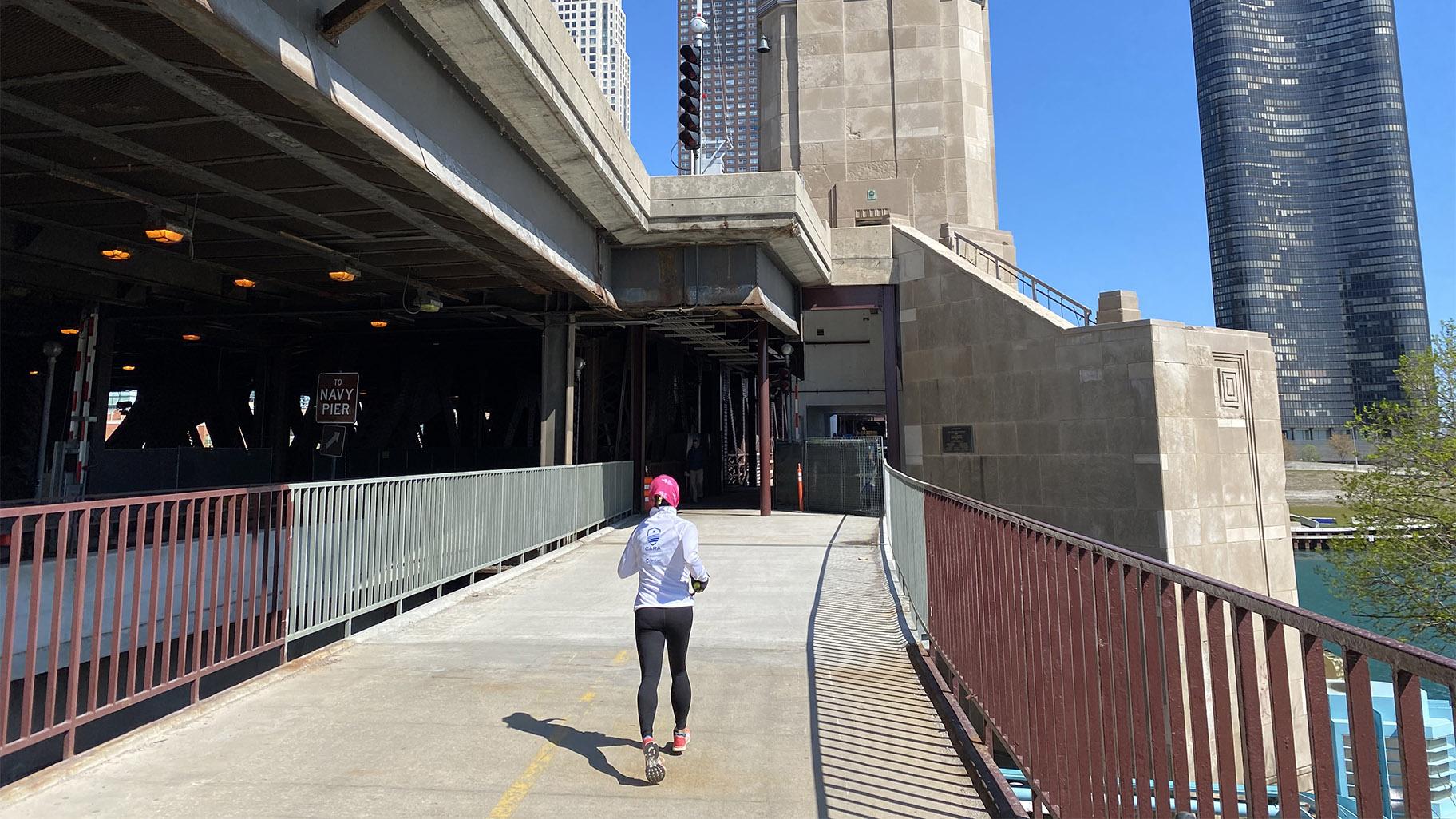 A runner approaches one of the Lake Shore Drive bridge houses on the nearly finished Navy Pier Flyover portion of the lakefront trail, April 30, 2021. (Nick Blumberg / WTTW News)
The long-awaited, sometimes-maligned Navy Pier Flyover carrying the lakefront trail over Grand Avenue, Illinois Street and the Chicago River isn't fully finished just yet, missing its latest target to wrap up in April. But the Chicago Department of Transportation says it's "very close."
Since February, pedestrians and cyclists have been able to stay on the trail running to the east of Lower Lake Shore Drive instead of diverting onto a sometimes crowded, dangerous sidewalk right next to the roadway, as trail users previously had to. Currently, the trail narrows to 8 feet where it passes by two bridge houses. Eventually the trail will be 16 feet wide, with the northbound portion running through the bridge houses.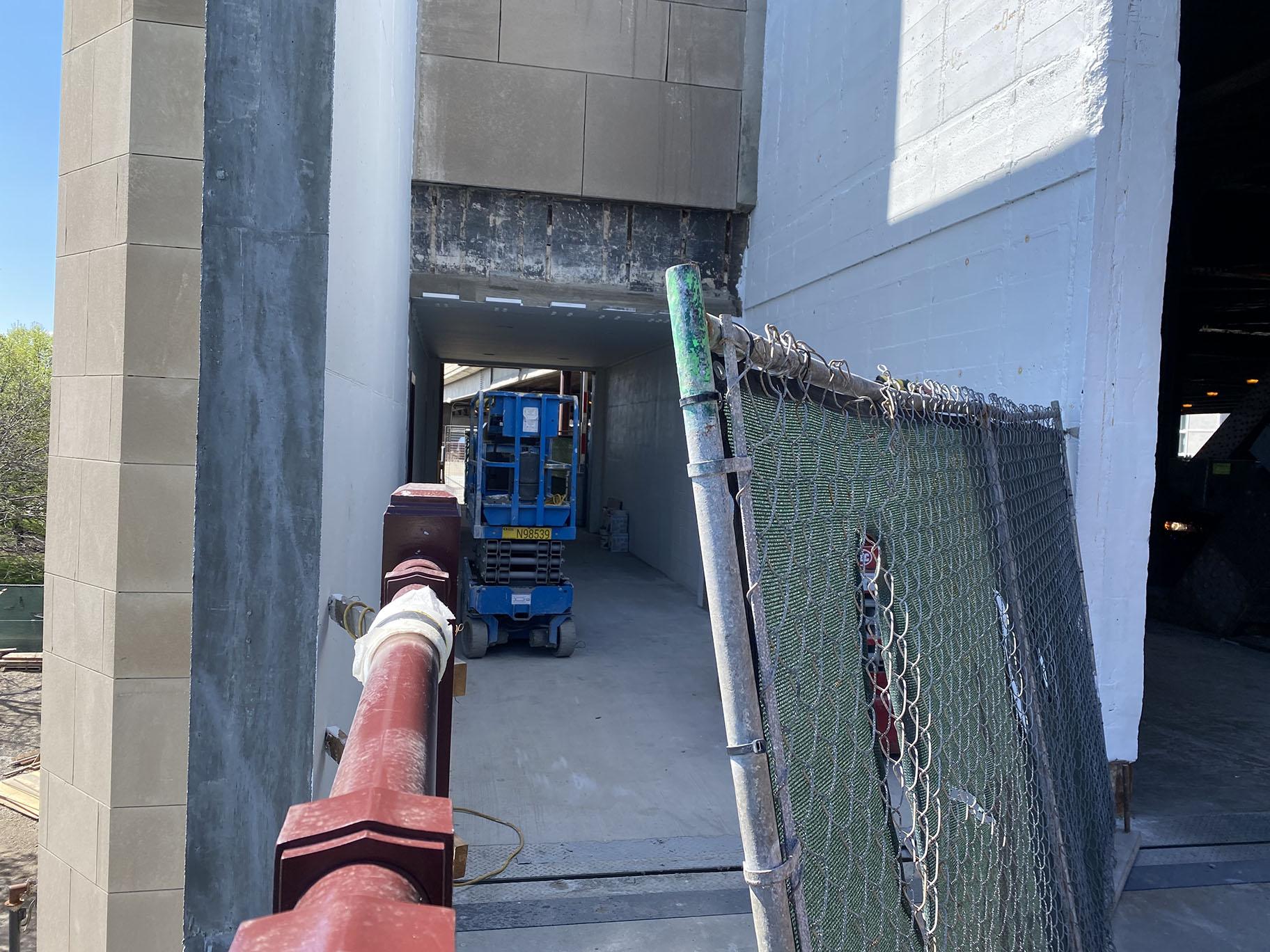 Construction equipment inside one of the fenced off bridge houses, where the northbound portion of the Lakefront Trail will eventually pass through on the Navy Pier Flyover. April 30, 2021. (Nick Blumberg / WTTW News)
When CDOT announced the partial flyover opening in February, crews still hadn't finished tunneling through those bridge houses. At the time that work was expected to wrap up "by April, weather permitting." On Friday – the final day of April – CDOT said crews were working on the finishing touches and that they are close to being open, though there isn't an official date yet.
Friday morning, temporary fences still blocked off the bridge houses. Crews inside were painting the walls, with scissor lifts on-site. A walkway connecting Lower Lake Shore drive to the flyover was also still fenced off, and traffic lane closures on Lower Lake Shore Drive were still in effect.
But the tunneling work through both bridge houses appears complete, and the full flyover does indeed look nearly finished.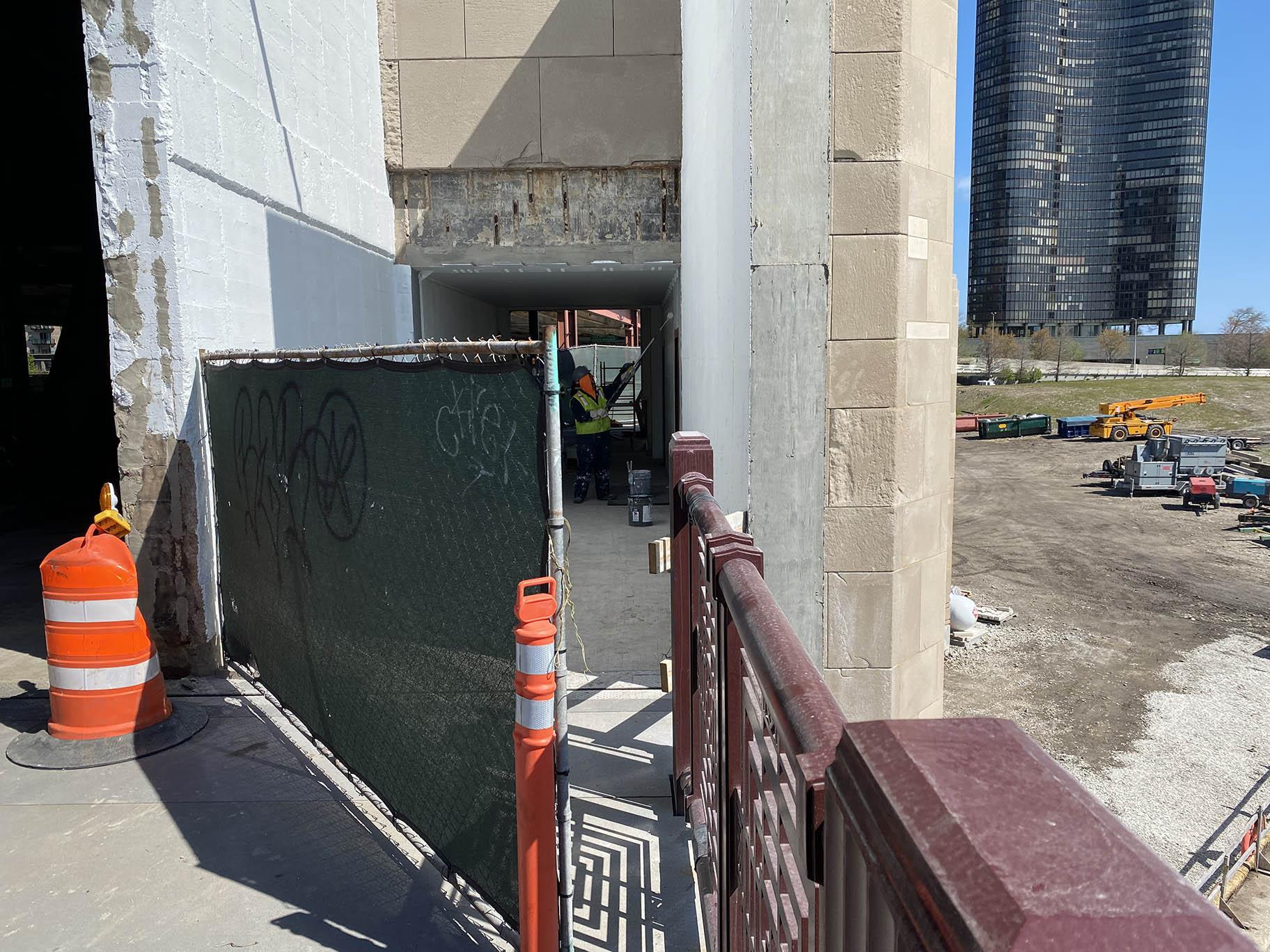 Crews work to paint the inside of a bridge house that was tunneled through to accommodate runners and cyclists on the Navy Pier Flyover portion of the lakefront trail, April 30, 2021. (Nick Blumberg / WTTW News)
It's been a long journey. When officials broke ground on the flyover in 2014, it was set to be done by 2018. The project has been plagued by delays, some of which the city says were due to discovering unexpected maintenance needed on the 1937 bascule bridge. The bridge's designer, Joseph B. Strauss, was also chief engineer of the Golden Gate Bridge – which frustrated trail users have pointed out took less time to complete than the Navy Pier Flyover.
The flyover's first two sections, taking cyclists and pedestrians over Grand Avenue and Illinois Street, opened in 2018 and 2019. The third portion, carrying cyclists and pedestrians over the Chicago River, was supposed to have been completed by the end of 2019, a deadline that came and went. In December 2020, CDOT told WTTW News the project was scheduled to wrap up by year's end. Then, in late December, CDOT said it wouldn't make that deadline because construction crews had been impacted by COVID-19.
---