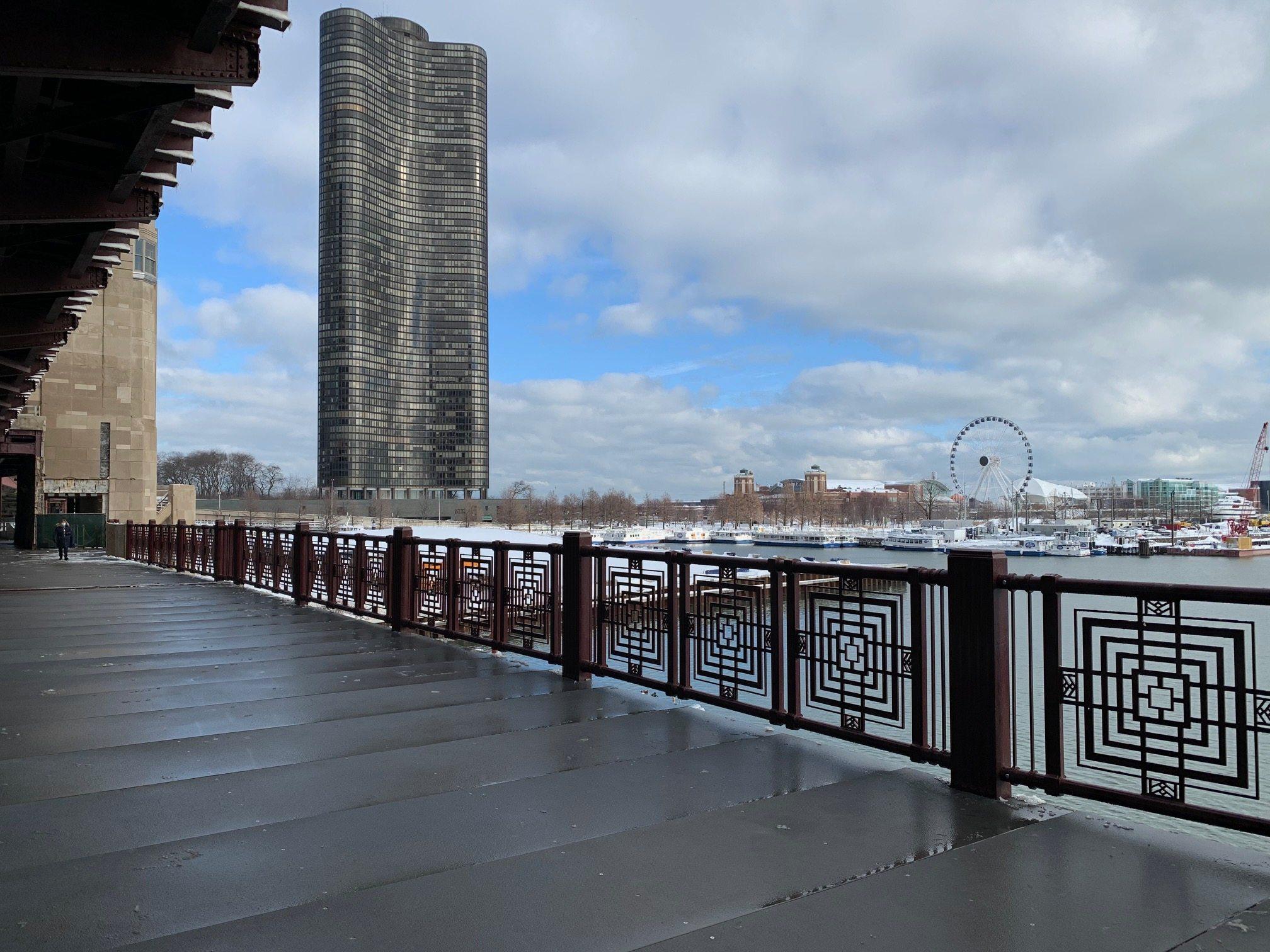 A new section of the Navy Pier flyover opened Monday, Feb. 1, 2021 over the Chicago River on the east sidewalk of the Lake Shore Drive Bridge. (Credit: Chicago Department of Transportation)
After years of work, pedestrians and cyclists can now stay on the lakefront trail as it crosses the Chicago River – though the full Navy Pier flyover isn't finished just yet.
The Chicago Department of Transportation announced Monday that the trail running to the east of Lower Lake Shore Drive is open after years of work and multiple delays. When the full project is completed, the trail will be 16 feet wide. The northbound portion of the trail will eventually pass through existing bridge houses, which crews are still tunneling through; the current usable portion of the trail narrows to 8 feet where it passes those structures. CDOT says tunneling work is expected to wrap up by April, weather permitting.
In December, the flyover was on track to be done by the end of that month, but CDOT told WTTW News it was delayed because the workforce was impacted by the coronavirus pandemic. It was the latest in a series of delays for a project that saw a groundbreaking in 2014 and was supposed to be finished in 2018. Other complications have been due to crews discovering unanticipated repairs needed on the 1937 bascule bridge.
The Navy Pier flyover was aimed at alleviating a longstanding problem on the heavily used lakefront trail: a confluence of cyclists and pedestrians along a sometimes-cramped sidewalk next to busy lower Lake Shore Drive between Grand Avenue and the south end of the Chicago River where it meets Lake Michigan. The portions of the flyover carrying people over Grand and Illinois opened in 2018 and 2019.
CDOT says the current construction-related lane configuration on Lower Lake Shore Drive, in which northbound lanes only provide access to Upper Lake Shore Drive and not to Illinois or Grand, is expected stay in place until April.
---