Gov. J.B. Pritzker has once again used the swipe of a pen to deal a blow to Chicago Mayor Lori Lightfoot—the second time he's done so in less than a week.
On Friday, Pritzker signed a law that restores the ability of the Chicago Teachers Union to go on strike over matters beyond wages and benefits; CTU had been the sole district in Illinois precluded from striking over other matters, such as a class size, since the passage of a 1995 law when Richard M. Daley was mayor.
The latest blow comes in the form of a measure Pritzker signed into law Monday that gives a subset of Chicago firefighters the same retirement package as their peers.
Firefighters in the tier 1 system—those who became pension-eligible before 2011 but who were born after 1966—had been due to receive an annual pay bump in retirement at half the 3% rate of those born before the cutoff; House Bill 2451 gives all eligible firefighters the more generous package.  
Sen. Rob Martwick, D-Chicago, said the benefits are still less than other firefighters receive.
"Every politician who has ever won has said, 'I'm committed to protecting pensions for our first responders.' Well the way that you protect them is you ensure that you're not kicking the can down the road. That you're putting the money in that is required to pay for the benefit that you actually intend to deliver and that's what this bill does," he said. "Confront what the cost of your pensions are, put the money in timely."
But Lightfoot said the move will cost the city another $18-$30 million a year, thereby undercutting attempts to get the state on a stable fiscal path.
"I am disappointed that today the Governor signed a bill that will result in a deeper financial burden to the taxpayers of Chicago. As I told the Governor when I urged him to veto this bill, without a question, first responders deserve to be appropriately compensated for their work both now and into retirement. However, signing this unfunded mandate into law is the exact wrong way to accomplish this goal," Lightfoot said in a statement. "This bill is fiscally irresponsible and validates a Springfield practice of cutting back room deals without full transparency and debate."
READ: Pritzker Signs Bill Boosting Chicago Firefighters' Pensions, Ignoring Lightfoot's Opposition
In a statement of his own, Pritzker gave a nod to that concern.
If and when he succeeds in selling the state-owned James R. Thompson Center in the heart of the Loop, a private developer would have to start paying property taxes from which the state is exempt.
"I've always believed that hardworking men and women who have earned their pension shouldn't pay the price for local or state budget challenges," he said. "My administration is working to sell the James R. Thompson Center, which will return to the city's property tax rolls and is projected to generate $45 million annually for the city and its sister agencies."
But there's no guarantee the Thompson Center will sell, at least any time soon.
"Chicago taxpayers are on the hook for an additional $850 million thanks to Governor Pritzker signing HB2451 into law today. As if the $44 billion in pension debt they already owe wasn't enough, today's action by Governor Pritzker makes a property tax increase inevitable," Illinois Deputy House Minority Leader Tom Demmer (R-Dixon) said in a statement. "Further, the Governor continues his bad habit of spending hypothetical revenue by suggesting that the sale of the James R. Thompson Center will be the magic cure for yet another financial problem."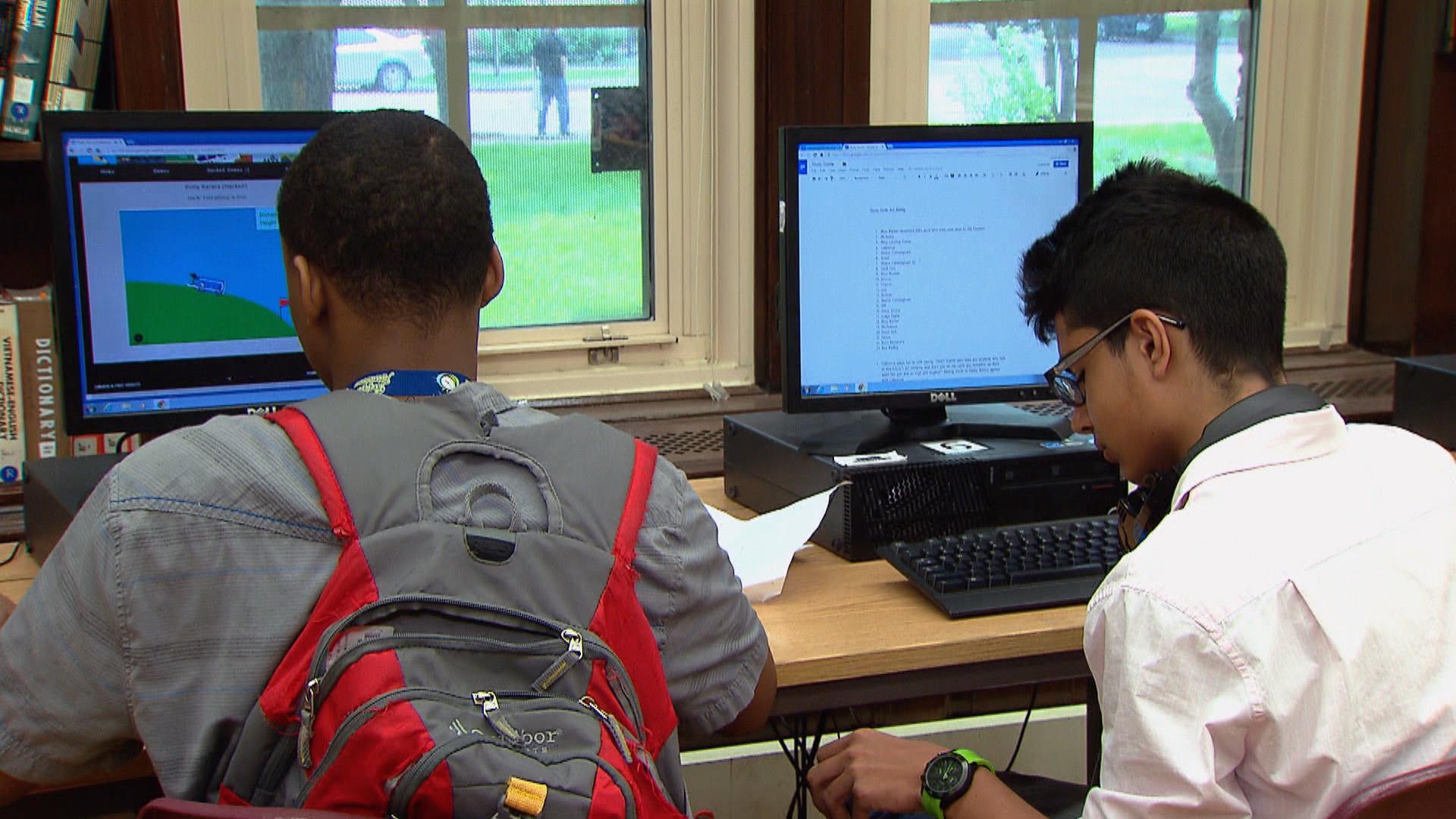 (WTTW News)
Critics say the new CTU law will also cost Chicago taxpayers money.
It's one of several commonalities between two of Ilinois' newest laws, said Adam Schuster of the Illinois Policy Institute, a free-market think tank that has advocated for limiting unions and amending the constitution to reduce public employee pensions.
"Unfortunately, the story in Chicago has been that we are bankrupting the people of our city with regressive fines and fees and a tax burden that's higher than they can afford, in order to hand out higher and higher benefits to public sector unions who are a special interest group that is favored by the dominant political powers in Chicago and the state of Illinois overall," he said.
Schuster said even with the restrictions on bargaining, the CTU has not been shy about going on strike.
That could come into play sooner rather than later, as Chicago Public Schools negotiates with the union over when teachers must return to teach high school classes in person.
As Schuster describes it, the union is "currently flexing their political muscle to keep Chicago Public Schools closed. Under the prior law, they were only able to strike over wages and benefits. While they were still able to bargain over other subjects, those were permissive subjects of bargaining. And by making all of these subjects of bargaining mandatory, it means that CTU can strike over any issue with which they disagree with the mayor and essentially hold up school, hold up classes for children, to get their will."
CTU President Jesse Sharkey sees the law as protecting teachers and the safety of students.
"The CTU wants to be able to raise issues like are students being vaccinated; something we were we talking about at the table today. Questions about class size, questions about how our schools are staffed in a pandemic, whether there's social and emotional supports. Those are all things in the past that the school district in Chicago has said, 'We're legally not required to talk with you about this, we choose not to bargain with you about this subject.' And the fact that the law has now changed, and requires them to talk with us about it, we hope makes it easier to win important improvements for the schools in Chicago," he said.
While Lightfoot had pressured Pritzker to reject the measure, her public reaction to Pritzker signing it is far more restrained.
"Mayor Lightfoot is focused on ensuring every child has access to a high quality education—regardless of what neighborhood they're from. The Mayor has always been a staunch supporter of collective bargaining rights and knows that a productive bargaining relationship between the district and the union is essential to furthering the educational success of CPS students," read a statement issued by CPS on the mayor's behalf.
Follow Amanda Vinicky on Twitter: @AmandaVinicky
---