Video: "Chicago Tonight" discusses anti-Asian violence with Inhe Choi of the Hana Center in Albany Park; Grace Chan McKibben of the Coalition for a Better Chinese American Community; and Yoonsun Choi, a professor at the University of Chicago. (Produced by Paul Caine)
---
When Julia Ting first learned of the mass shooting in Georgia last week that killed eight people, including six women of Asian descent, she was in disbelief.
"My heart pounded as I read the sentence over and over again. My brain not fully wanting to process the words. I felt my hands shaking, pressure building in my chest as I scrolled through countless articles that centered on and made excuses for the killer," said Ting, a first-generation Chinese American and leader of the Chicago chapter of the National Asian Pacific American Women's Forum. "I cried out of devastation and out of anger."
A week after the shootings, Ting's pain is still very real.
"My heart hurt then and it does now. My heart hurts for these women who were just trying to exist in the world and make a living when they were murdered at their workplace," Ting said Monday at Chicago's Ping Tom Memorial Park. "My heart hurts for Asian women across the country, and especially for those working in service industries. My heart hurts for my elders who can't even go grocery shopping without fear of violence. I'm scared for them all and I'm scared for myself."
Ting and representatives from the Asian, Asian American and Pacific Islander community called for action and for the mass shooting to be recognized as being motivated by "racism, classism and sexism, and the response should address these issues."
While anti-Asian sentiment has risen during the pandemic, Ting says it's not a new problem and that she's been a victim herself.
"I've lost count of the times I've been catcalled with a racial slur, reduced down to stereotypes of docility and submissiveness, and seen not as a person but as an exotic sexual object," Ting said, adding she momentarily wished she could change her appearance to avoid such harassment.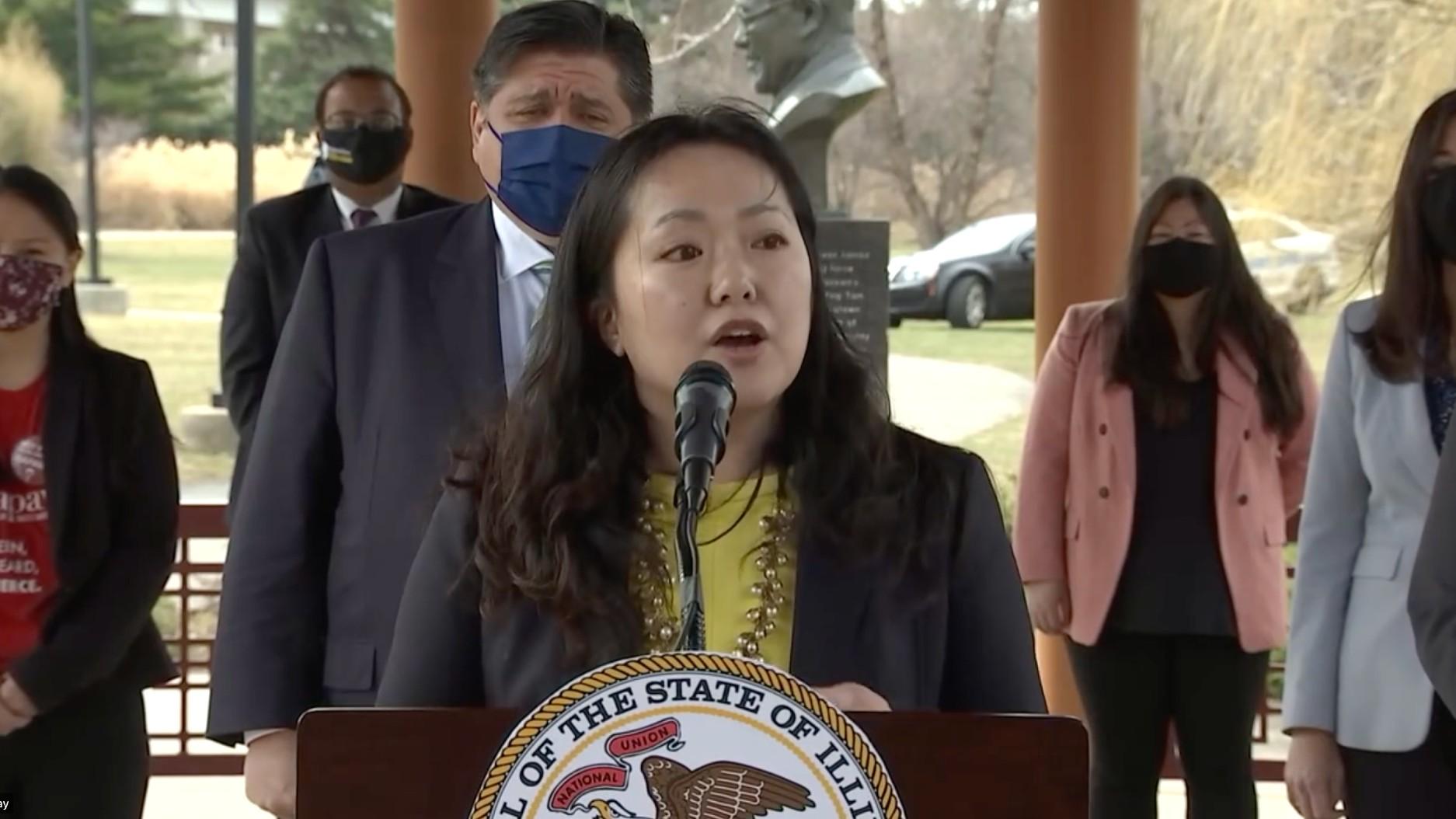 State Rep. Janet Yang Rohr speaks Monday, March 22, 2021 about the anti-Asian discrimination. (WTTW News)
"But I am not what is wrong, and it is not Asian women who are wrong. We are not the ones who need to change," she said.
Gov. J.B. Pritzker, who also spoke at the event Monday, said the March 16 shooting "fueled a national outcry over racism and prejudice against the Asian American community, and such a poignant example of racialized misogyny should serve as a call to action."
The Georgia shootings were fueled in part by former President Donald Trump's anti-Asian rhetoric, the governor said.
Pritzker is encouraging residents to report discrimination or incidents motivated by hate to the Illinois Attorney General's Office or by calling the civil rights hotline at 877-581-3692.
"This is a moment where every American should take time to reflect on what they've done and what more they can do to stand up against bigotry, hatred and intolerance," Pritzker said. "Today we need patriots to stand up against hatred. I've said it before and I'll say it again: the truest patriots are those intent on working to hold this nation accountable to its ideals."
The key to preventing racist events from happening in the future is education, said state Rep. Janet Yang Rohr, who said the Teaching Asian American Community History (TEAACH) Act will do just that. Under the act, every student "will learn about Asian Americans and their history and moments of darkness and racism, as well as moments of joy and achievement," Yang Rohr said. The bill (HB 376) was passed by the House Education Curriculum Committee the day after the Georgia shootings, according to Yang Rohr.
"We also know this isn't enough and we won't stop there. We know these acts of racism, these acts of hate that they are real and dangerous, and we can't combat them alone," she said. "We need every single race, ethnicity and background to be with us because we know unless we're all united against hate in all its forms, we'll never be truly free from hate and all the violence that ensues."
Contact Kristen Thometz: @kristenthometz | (773) 509-5452 |  [email protected]
---