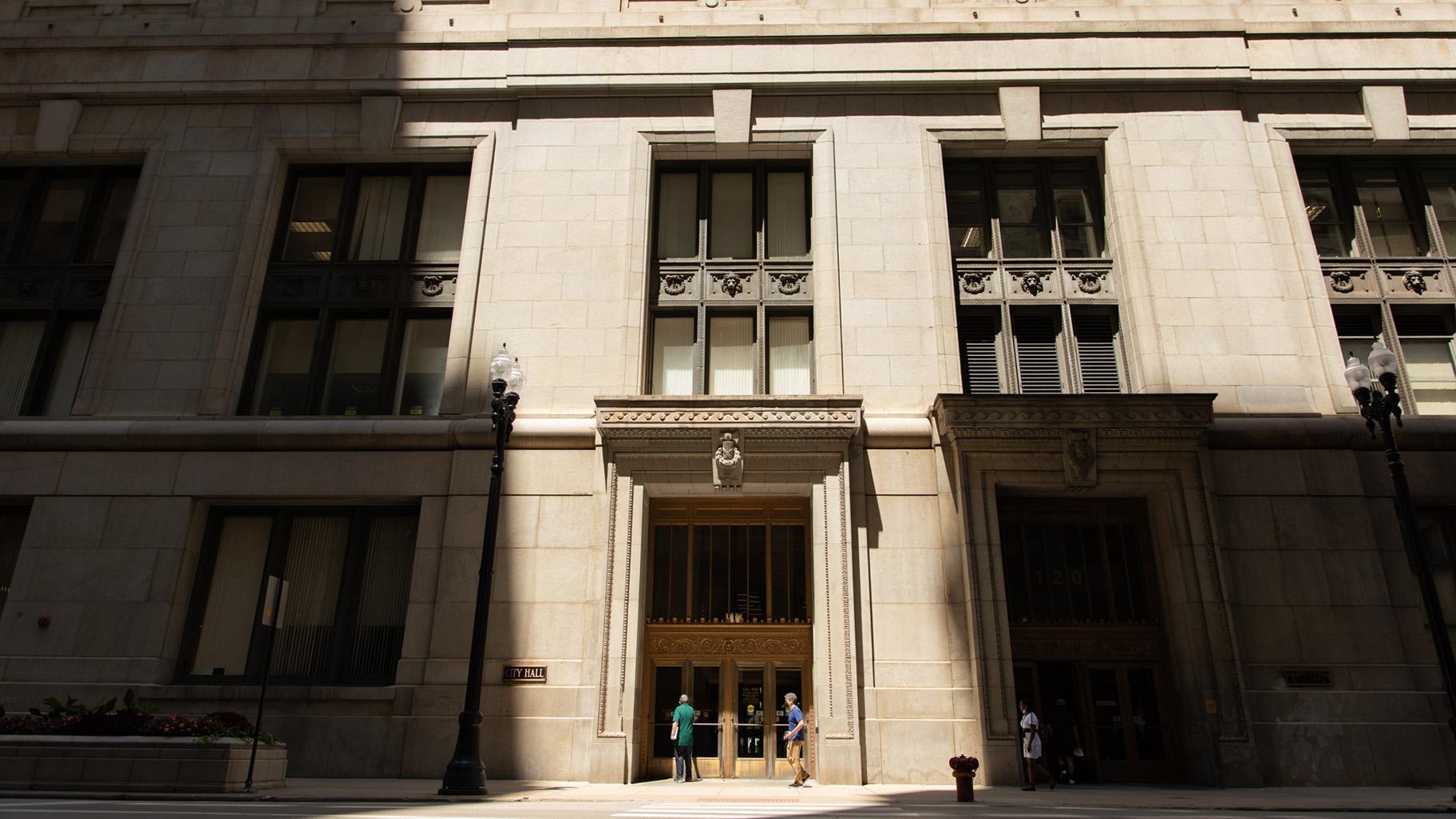 Chicago City Hall. (Michael Izquierdo / WTTW News)
Nearly three and a half years ago, Chicago officials — spurred in part by the demands for racial justice that swept the nation in the wake of the police murder of George Floyd in Minneapolis — promised to study whether and how the city should pay reparations to Chicagoans who are the descendants of enslaved African Americans.
That effort never got off the ground.
But that push will get new life next year, with Mayor Brandon Johnson backing the creation of a new subcommittee to study the issue and agreeing to earmark $500,000 in his 2024 spending plan to fund the panel's work.
"These are the first dollars spent in this city to begin the process of studying both restoration and reparations," Johnson said. "When residents who have experienced neglect and disinvestment for generations speak out of their pain and their trauma, this administration and the Black Caucus we hear you."
Ald. Stephanie Coleman (16th Ward), the chair of the Chicago City Council's Black Caucus, said the subcommittee is likely to be part of the City Council's Committee on Contracting Equity and Oversight, which is led by Ald. Emma Mitts (37th Ward). That panel will meet for no more than a year, and then transition to a full commission, Coleman told WTTW News.
"We are laying the ground work" to do more than just talk about the issue, Coleman said.
In 2019, Evanston officials set aside $10 million in revenue from cannabis sales to help Black residents buy homes through mortgage assistance programs and fund home improvements as part of an effort to offer reparations to the descendants of formerly enslaved people. In March, the Evanston City Council expanded that effort to offer $25,000 in no-strings-attached direct cash payments for those eligible.
Coleman said she would explore a similar plan for Chicago using revenue from cannabis sales, and renew her effort to require Chicago businesses to comply with a 20-year-old law and disclose whether they profited from slavery.
Coleman was the chair of the Subcommittee on Reparations, which was created in June 2020. Then Mayor Lori Lightfoot objected to calls from former Ald. Roderick Sawyer (6th Ward) to form a full commission to study the issue, but grudgingly agreed to the formation of the subcommittee.
That panel met only twice, and Coleman's efforts to get additional funding for the committee set aside in the 2022 and 2023 budgets under Lightfoot were unsuccessful.
However, Johnson touted the push at a news conference on Thursday, fully embracing the effort in a way that his predecessor never did, calling his support for the study of reparations a reminder of his administration's commitment to "working to right the wrongs of the past" that have held Black Chicagoans back from achieving their full potential.
"This is not a zero-sum game," Johnson said. "We will invest in people and provide for every single Chicagoan."
Coleman and other Black Caucus leaders pushed for the renewed effort to study reparations for Chicagoans descended from enslaved people as well as efforts to expand the assistance available to formerly incarcerated Chicagoans with an additional $5 million as part of negotiations over Johnson's 2024 budget, which is set to be approved on Nov. 15.
This year's budget negotiations have been shaped by an intense focus on the amount of money the city expects to spend on housing, feeding and caring for the men, women and children sent to Chicago from the southern border.
The 2024 spending plan sets aside just $150 million to care for the migrants, even though that is less than half of what the city will have spent to care for Chicago's newest arrivals through the end of 2023. Johnson has acknowledged that won't be enough to last through the entire year. The migrant crisis is likely to cost taxpayers $361 million between January and December 2023, according to the latest financial projections released by the mayor's office.
Johnson has called on state and federal officials to provide additional aid to Chicago to help care for the migrants. Nearly 3,100 migrants are living in police stations across the city and at O'Hare International Airport with another 12,000 migrants living in city shelters as of Wednesday, according to city data.
Since the first group of migrants sent to Chicago on a bus by Republican Texas Gov. Greg Abbott arrived nearly 16 months ago, more than 20,500 people have made their way to Chicago, straining the city's social safety net and exposing deep tension between Chicago's Black and Latino communities.
Efforts by Johnson and his administration have left many Black leaders deeply frustrated and angry that the city is spending millions of dollars to house mostly Latino immigrants in Black communities that have suffered from decades of disinvestment, grinding poverty and rampant crime and violence.
Coleman said she didn't want to mix "apples and oranges" when comparing the amount of money earmarked in Chicago's 2024 budget for priorities outlined by the Black Caucus and the fund dedicated to helping the migrants, who are all in the country legally after requesting asylum.
"This is just a start of what's necessary to help Black people," Coleman said. "A step in the right direction."
Contact Heather Cherone: @HeatherCherone | (773) 569-1863 | [email protected]
---