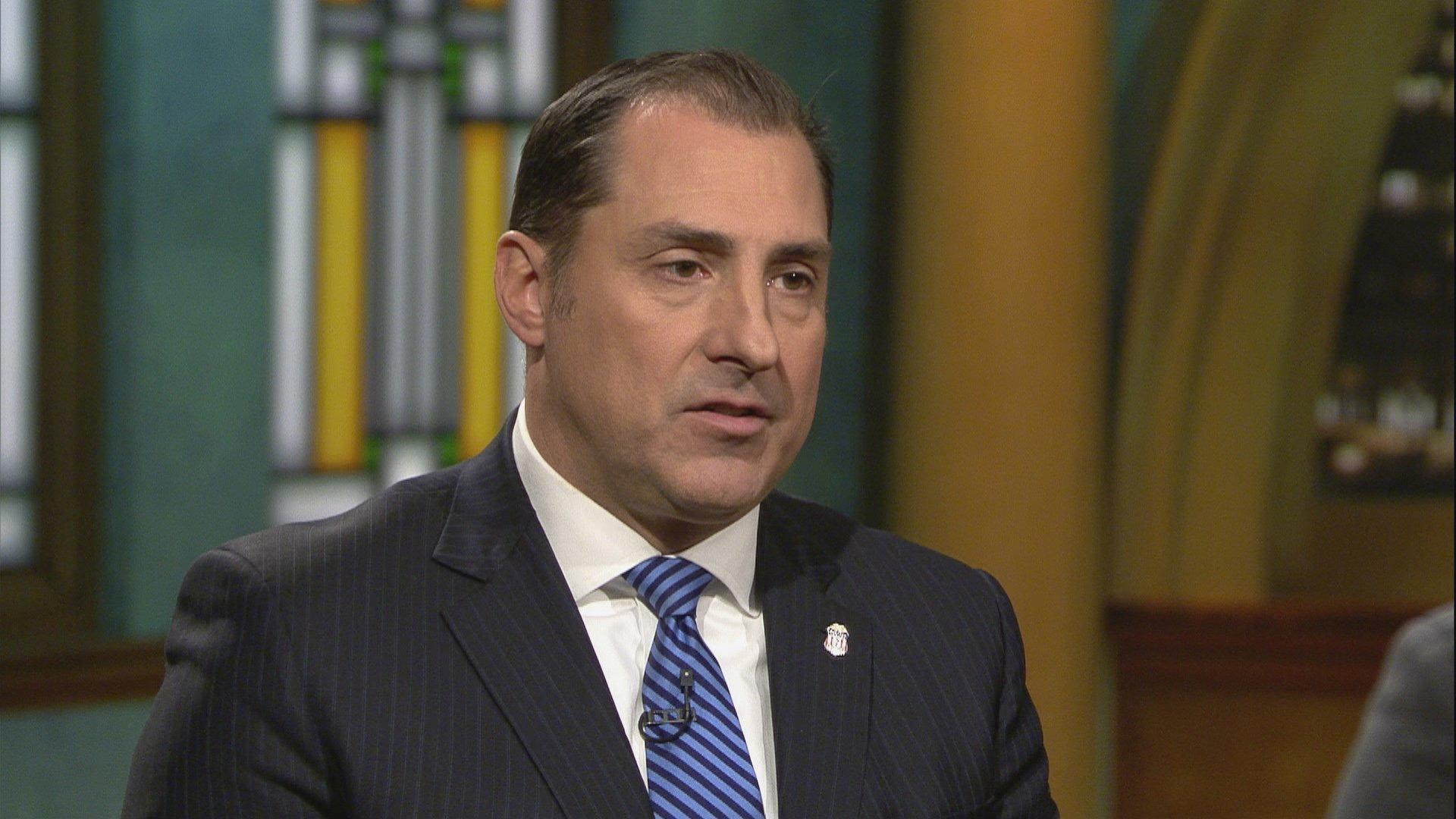 U.S. Attorney John Lausch appears on "Chicago Tonight" on Nov. 13, 2019. (WTTW News)
Mayor Lori Lightfoot said Tuesday that she told the White House "it makes zero sense" for President Joe Biden to replace U.S. Attorney John Lausch until a replacement is confirmed by the U.S. Senate.
Lausch has until Sunday to submit his resignation along with the rest of the U.S. attorneys appointed by former President Donald Trump, according to a statement from the Department of Justice.
"I have said to the White House it makes zero sense for John Lausch to be replaced," Lightfoot said Tuesday morning at an unrelated news conference. "John Lausch has done a yeoman's job."
Lightfoot, a former assistant U.S. attorney who was once considered under former President Barack Obama to lead the Northern District of Illinois, which covers all of Chicago and the northern third of Illinois, is a longtime friend of Lausch.
Lausch has done a "tremendous job" helping the city fight a surge in crime, including gun violence and carjackings, according to Lightfoot.
"To replace him at this time I think puts our city at risk," Lightfoot said, noting that a permanent replacement would not be confirmed until the fall at the earliest. "We can't be without a permanent head of this office as we head into the summer months when things are most challenging. That makes no sense."
Lightfoot's call to keep Lausch in office comes after U.S. Sens. Dick Durbin and Tammy Duckworth asked Biden to keep Lausch in place in an unusually public dispute between Democrats.
"There is no reason John Lausch should step aside" until a Senate-confirmed replacement is set to take over, Lightfoot said.
As Biden and his team consider replacements for Lausch, Lightfoot noted that the Northern District of Illinois has never been led by a woman or a person of color.
"I want to see that history change," Lightfoot said.
Chicago's next top federal prosecutor should "fully represents the diversity of this great city."
However, an interim U.S. Attorney will be "constrained," Lightfoot said.
A former assistant U.S. attorney and Joliet-area native, Lausch took the top job — which pays $169,000 annually — in the office after Trump abruptly demanded the immediate resignation of 46 U.S. attorneys across the nation in March 2017, including Lausch's predecessor, Zach Fardon.
The Department of Justice and Lausch's office declined to comment to WTTW News.
As the U.S. attorney for the Northern District of Illinois, Lausch oversaw a sprawling corruption investigation that resulted in Commonwealth Edison admitting to arranging jobs, contracts and payoffs to associates of former Illinois House Speaker Michael Madigan.
Some of those employees did little or no work for the company from 2011 to 2019 but were added to the firm's payroll as part of a scheme to win influence and curry favor with Madigan, given the powerful legislator's ability to help ComEd advance laws that benefited the company by paving the way for higher electric rates, according to the deferred prosecution agreement.
Although that agreement refers to Madigan as Public Official A, he has not been charged in connection with the investigation and has said he did nothing wrong. Madigan's bid for another term as speaker failed in January after dozens of lawmakers refused to support him in the wake of the allegations.
Madigan resigned from the Illinois House on Thursday and as the chair of the Illinois Democratic Party on Monday.
In his last remarks on the matter in July, Lausch said the investigation was "vibrant."
In addition, Ald. Ed Burke (14th Ward) is awaiting trial on 14-count indictment that alleges he repeatedly — and brazenly — used his powerful position at City Hall to force those doing business with the city to hire his private law firm.
Burke has pleaded not guilty to charges of racketeering, bribery and extortion. The racketeering charges — usually brought against members of the mob or street gangs — allege a pattern of corruption unknown to its victims.
Contact Heather Cherone: @HeatherCherone | (773) 569-1863 | [email protected]
---