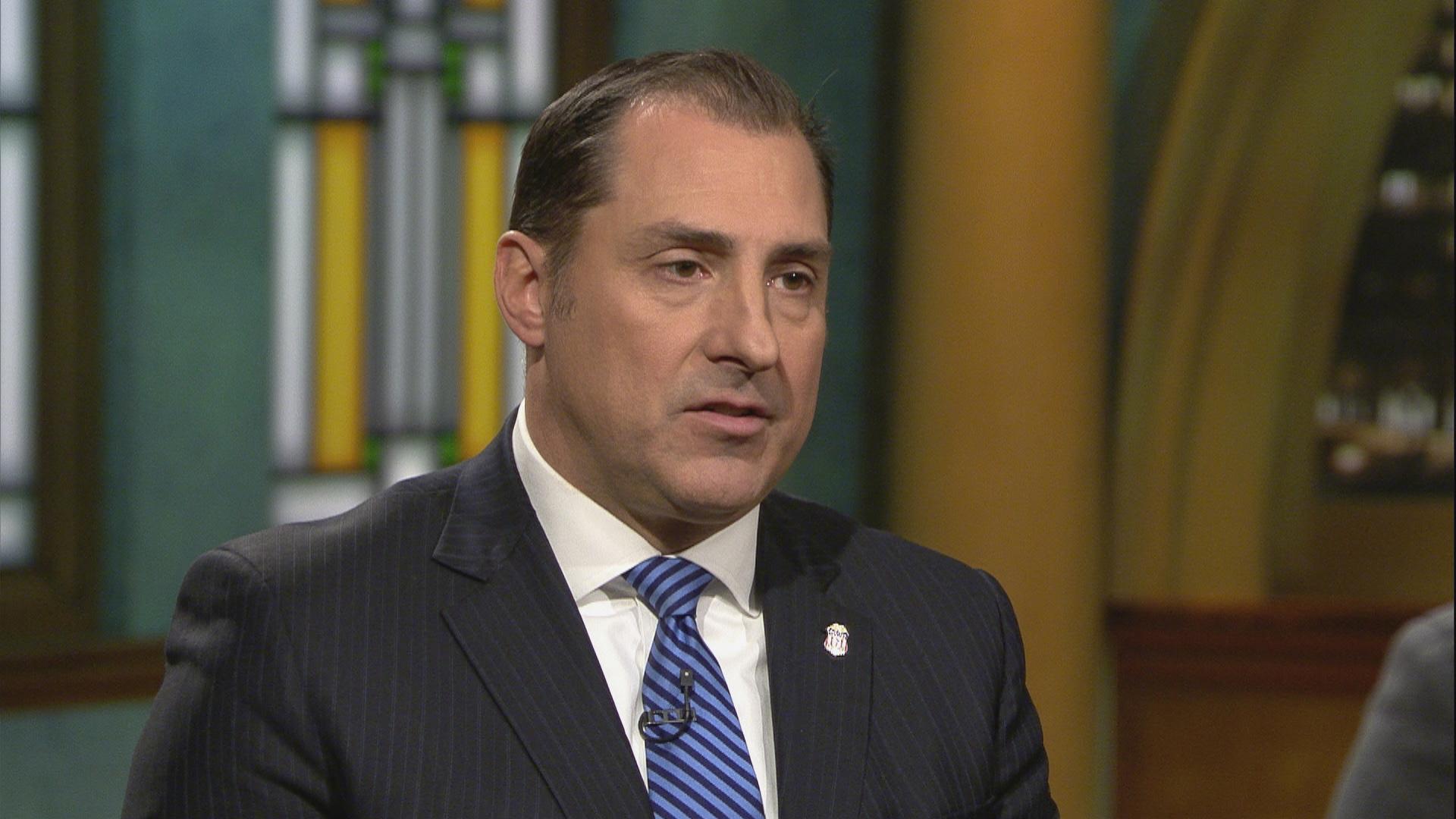 U.S. Attorney John Lausch appears on "Chicago Tonight" on Nov. 13, 2019. (WTTW News)
U.S. Sens. Dick Durbin and Tammy Duckworth intensified their push on Wednesday to convince President Joe Biden to keep John Lausch, Chicago's top federal prosecutor, in office until a permanent replacement is confirmed.
Lausch was asked Tuesday by the Department of Justice to submit his resignation by Feb. 28, along with the rest of the U.S. attorneys appointed by former President Donald Trump.
"We have made our position clear on Mr. Lausch's retention both publicly and privately, including in direct conversations with the White House Counsel as recently as last week," the senators wrote. "We reiterate today that John Lausch should be permitted to remain in place until the confirmation of his successor."  
In a joint statement released Tuesday, Durbin and Duckworth, both close allies of Biden, said they were disappointed by the decision to fire Lausch without consulting them first. Durbin is the second highest ranking Democrat in the Senate and the chair of the Judiciary Committee.
The decision by Durbin and Duckworth to object to the new president's handling of the leadership of the U.S. Attorney's Office for the Northern District of Illinois is an unusually public dispute among prominent Democrats.
A former assistant U.S. attorney and Joliet-area native, Lausch took the top job — which pays $169,000 annually — in the office after Trump abruptly demanded the immediate resignation of 46 U.S. attorneys across the nation in March 2017, including Lausch's predecessor, Zach Fardon.
Lausch's office has not announced his resignation.
As the U.S. attorney for the Northern District of Illinois, Lausch oversaw a sprawling corruption investigation that resulted in Commonwealth Edison admitting to arranging jobs, contracts and payoffs to associates of former Illinois House Speaker Michael Madigan.
Some of those employees did little or no work for the company from 2011 to 2019 but were added to the firm's payroll as part of a scheme to win influence and curry favor with Madigan, given the powerful legislator's ability to help ComEd advance laws that benefited the company by paving the way for higher electric rates, according to the deferred prosecution agreement.
Although that agreement refers to Madigan as Public Official A, he has not been charged in connection with the investigation and has said he did nothing wrong. Madigan's bid for another term as speaker failed in January after dozens of lawmakers refused to support him in the wake of the allegations.
Madigan remains the chair of the Illinois Democratic Party.
In his last remarks on the matter in July, Lausch said the investigation was "vibrant."
In addition, Ald. Ed Burke (14th Ward) is awaiting trial on 14-count indictment that alleges he repeatedly — and brazenly — used his powerful position at City Hall to force those doing business with the city to hire his private law firm.
Burke has pleaded not guilty to charges of racketeering, bribery and extortion. The racketeering charges — usually brought against members of the mob or street gangs — allege a pattern of corruption unknown to its victims.
Chicago Mayor Lori Lightfoot, a former federal prosecutor, frequently praised Lausch for helping Chicago police officers charge those suspected of federal crimes as a surge in violent crime swept the city amid the COVID-19 pandemic.
Lightfoot's office did not respond to a request for comment about Lausch's dismissal.
Contact Heather Cherone: @HeatherCherone | (773) 569-1863 | [email protected]
---