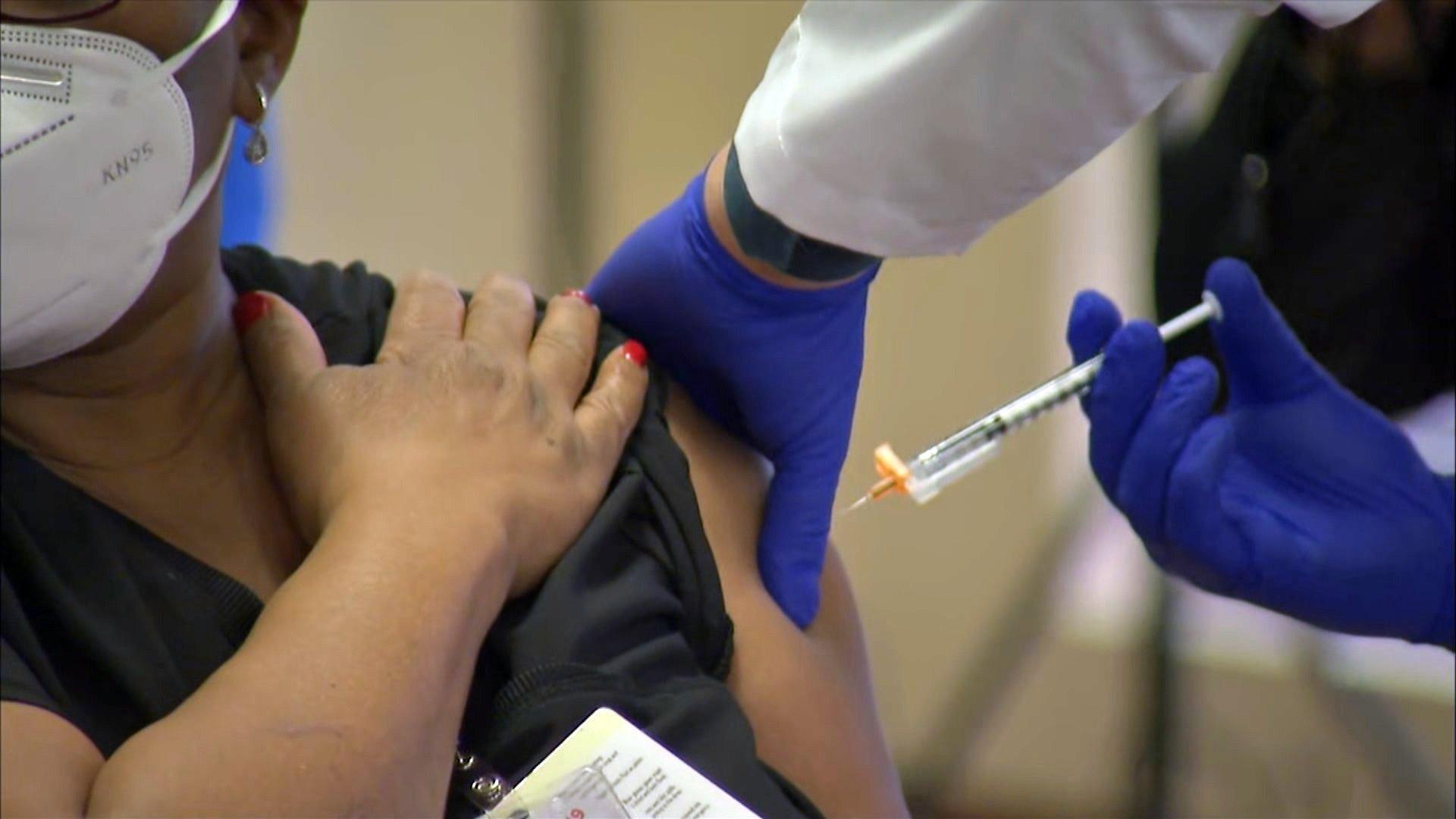 The second doses of the Pfizer vaccine in Chicago were administered at Norwegian American Hospital on Tuesday, Jan. 5, 2021. (WTTW News)
While Chicago Public Schools may require employees to disclose their COVID-19 vaccination status, the district will not yet force teachers and other school-based staff to get a vaccine before returning to in-person work.
"There's not a requirement for employment for everyone (to get the vaccine)," Mayor Lori Lightfoot said during a press conference Tuesday. "But we certainly want to encourage everyone to take advantage of this life-saving vaccine."
The mayor's comments come a day before the Chicago Board of Education is set to vote on an updated district policy, which states CPS "may require as a condition of hire or continued employment that new hires and/or employees obtain a COVID-19 immunization that has been approved or authorized by the Food and Drug Administration."
If approved, this would allow CPS to require employees to disclose their vaccination status, a plan which district spokesman James Gherardi said CPS intends to implement.
This change would also allow CPS to "require employees to get the COVID vaccine in the future," Gherardi said in an email. But he added the district "does not have immediate plans to implement this as a requirement."
As part of the proposed policy change, employees who are "unable or unwilling" to get a COVID-19 vaccine due to medical reasons or their religious beliefs may request "reasonable accommodations" from the district.
CPS is in the process of phasing educators and students back into in-person learning following an agreement reached last month with the Chicago Teachers Union over a safe school reopening plan.
Preschool and special education cluster students who opted for in-person learning are already back in schools, as are kindergarten through fifth-grade teachers and staff, who returned Monday. K-5 students will return next Monday, along with sixth- through eighth-grade teachers and staff. Students in those grades are expected to return March 8.
The city's COVID-19 positivity rate as of Tuesday is 3.2%, the lowest it has been since last spring, according to data from the Chicago Department of Public Health.
CDPH Director Dr. Allison Arwady said Tuesday the city is getting about 8,300 first doses of the COVID-19 vaccine delivered per day this week. That's about 1,000 or so more vaccines per day than last week, but Chicago still has more than 700,000 residents who are eligible to get a vaccine under phase 1B.
Asked about the upcoming board vote Tuesday, Arwady said she is supportive of employers like CPS knowing whether its employees have been vaccinated.
But as long as vaccine availability remains limited, she said it's difficult to see any employers mandating vaccinations for its workers.
"I do not see a setting where the city of Chicago would say, 'All Chicago residents, you need to be vaccinated,'" she said. "I do not see that coming at any point, to be very clear."
CPS this month has also opened four school-based vaccination sites across the city, which exclusively serve district employees.
"We will be offering (the vaccine) to all CPS employees — teachers, cafeteria workers, janitors and so forth — but it is not a condition," Lightfoot said. "Now, if you look at the agreement that we reached with CTU, if someone is offered the vaccine and chooses not to take it and they are not otherwise subject to an accommodation, there's a process for addressing that. But our hope is that everyone who's given the opportunity to take this vaccine takes advantage of it because it's truly saving lives and it's one of the things that I know that teachers and other people within CPS were most concerned about."
The Board of Education meeting will begin at 10:30 a.m. Wednesday.
Contact Matt Masterson: @ByMattMasterson | [email protected] | (773) 509-5431
---