Video: Chicago Teachers Union Vice President Stacy Davis Gates discusses the agreement on "Chicago Tonight." (Produced by Nick Blumberg)
---
Rank-and-file members of the Chicago Teachers Union have approved an agreement to resume in-person learning at Chicago Public Schools, meaning some students will head back into their classrooms as soon as Thursday.
Just after midnight Wednesday, the union announced 13,681 of its members voted to approve the tentative agreement with CPS, while 6,585 voted against it. The action finalizes the school reopening plan and means the city will avoid its second teachers strike in 15 months.
"This agreement represents where we should have started months ago, not where this has landed," union President Jesse Sharkey said in a statement to CTU members. "That is a stain on the record of their administration. In a humane system, we would have used this as a beginning to build out real equity for school communities that had been starved of resources and equity decades before the pandemic hit."
The CTU Rules & Elections Committee has unanimously certified the ballot results on the proposed framework for returning to in-person learning at CPS. The framework is now a ratified agreement between the Chicago Teachers Union and Chicago Public Schools.

— ChicagoTeachersUnion (@CTULocal1) February 10, 2021
---
The two sides had been deadlocked in negotiations for weeks until a breakthrough was announced Sunday. Elementary school teachers refused to show up for work last month on their scheduled return date, and union members approved a measure stating they would go on strike if the school district locked them out of their remote education suites.
Under the agreement, students in preschool and special education cluster programs will return to classes Thursday, with kindergarten through fifth grade teachers and staff set to return on Feb. 22, followed by their students on March 1.
Sixth through eighth grade teachers and staff will return March 1, followed by students on March 8. There remains no plan to bring back high school students this academic year.
In all, CPS expects around 67,000 students to resume in-person learning.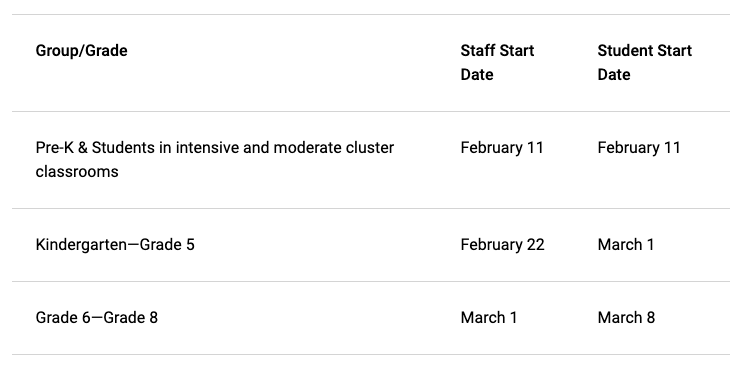 (Chicago Public Schools)
The framework also revises the metrics that would require a return to full remote learning citywide, for individual schools and specific classes.
In-person learning would be suspended for 14 days if the city's COVID-19 test positivity rate, based on a seven-day rolling average, increases for seven consecutive days, if the rate for each of the seven consecutive days is at least 15% higher than the rate one week prior and if the rate on the seventh day is 10% or greater, according to the framework.
CPS also said 2,000 pre-K and cluster employees and staff who will return to schools but have medically vulnerable household members will be offered COVID-19 vaccinations beginning this week.
In a joint statement Wednesday morning, Mayor Lori Lightfoot and CPS CEO Janice Jackson said the CTU vote "ensures families have options to choose in-person learning and make a plan that is best for them."
"We look forward to welcoming students as they return to their classrooms in the days ahead," they said in the statement. "This vote reaffirms the strength and fairness of our plan, which provides families and employees certainty about returning to schools and guarantees the best possible health and safety protocols."
Heather Cherone contributed to this report.
Contact Matt Masterson: @ByMattMasterson | [email protected] | (773) 509-5431
---