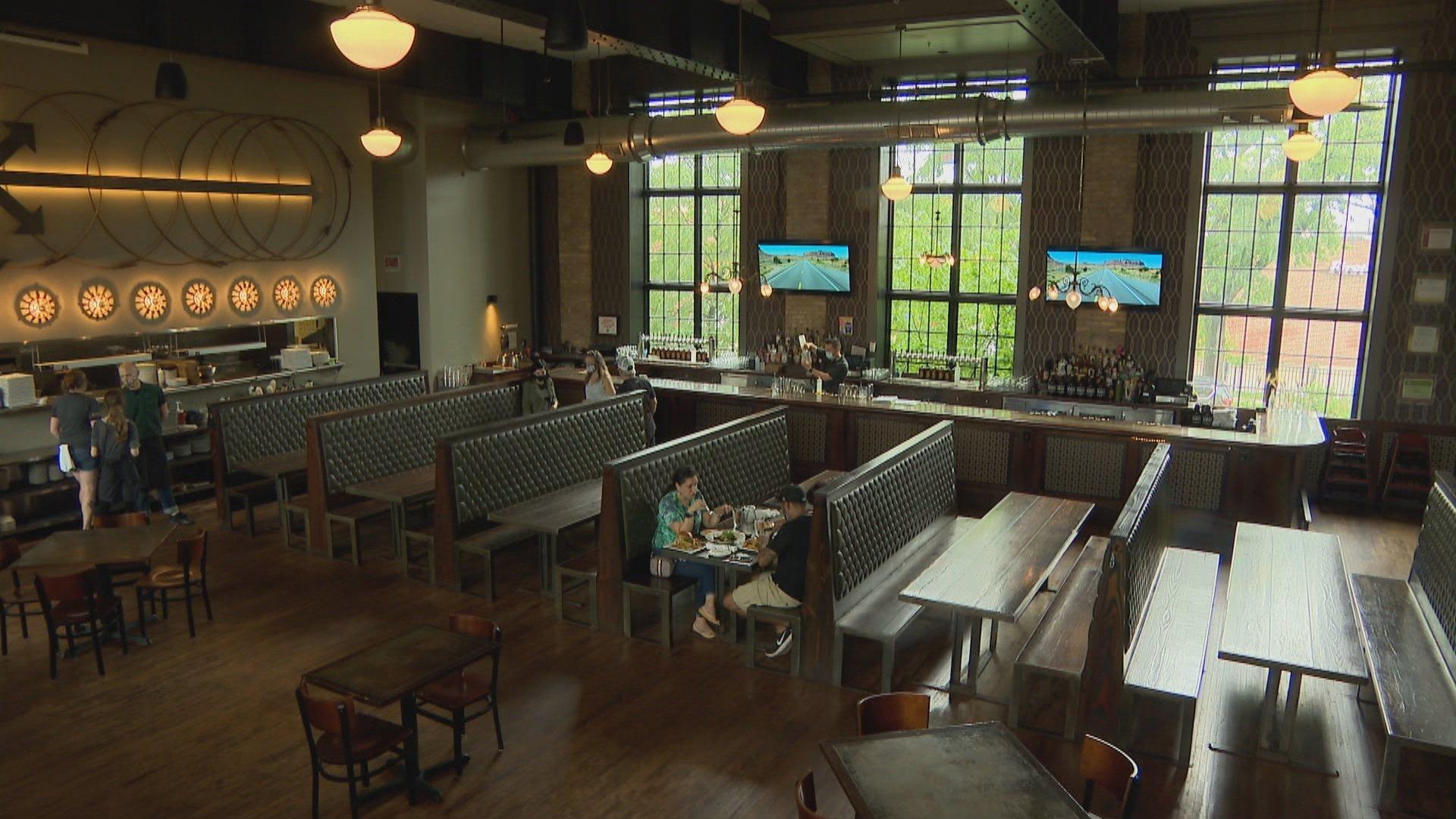 (WTTW News)
UPDATE: Chicago Moves to Phase 4 of State's Reopening Plan: IDPH
Chicago officials announced Friday they will not allow indoor dining and drinking at bars and restaurants to operate at an expanded capacity, even as the state is poised to loosen restrictions in the city designed to stop the spread of COVID-19 as soon as Monday.
The city is currently under what state officials refer to as Tier 1 restrictions, but could move to the next level of restrictions, referred to as phase 4, next week if it has a test positivity rate of 6.5% or less for three consecutive days, based on a seven-day rolling average, as well as no increase in COVID-19 hospitalizations for seven out of the past 10 days and more than 20% of its ICU and hospital beds available, according to state rules.
On Friday, Chicago recorded a test positivity rate of less than or equal to 6.5%, based on the seven-day rolling average, according to data compiled by state health officials. In addition, Chicago has had more than 20% of staffed intensive care beds available for at least three days as well as no sustained increase in the number of people in the hospital with COVID-19 for seven out of 10 days, based on a seven-day average.
Despite that progress, it has not been long enough to determine whether the decision to allow indoor dining and drinking to resume at a limited capacity has increased the spread of COVID-19 in Chicago, officials said. 
"Six days is not enough time," Dr. Allison Arwady, the commissioner of the Chicago Department of Public Health, told WTTW News on Friday. "You really don't want to rush this."
Chicago has been under what state officials refer to as Tier 1 restrictions since Saturday. Cases of COVID-19 can take up to 14 days to develop.
"I am optimistic that we will be able to increase capacity soon, but it would be irresponsible and dangerous to rush our reopening and undo the incredible progress we have made as a city," Mayor Lori Lightfoot said in a statement.
Indoor dining and drinking will remain capped at a capacity of no more than 25 people or 25% of overall room capacity, whichever is less, as long as tables of no more than six people are kept 6 feet away from each other. In addition, bars must serve food, according to the rules. In Chicago, bars without a food service license can reopen as long as they partner with an eatery or allow delivery. 
The only change to the Tier 1 rules would be the maximum number of people allowed at one table, which was four people.
"The last thing we want to do is move too fast and trigger a third wave," Arwady said.
Most other businesses will also be required to operate at 40% capacity or no more than 50 people — whichever is less — while indoor fitness classes can expand to no more than 15 people, according to the rules.
Under phase 4 rules, restaurants and bars must space tables 6 feet apart and require masks to be worn as much as possible, and limit capacity to 50% or 50 people, whichever is less. 
If Chicago does move to phase 4, city officials will no longer require nonessential businesses to close to the public between 11 p.m. and 6 a.m. However, bars and restaurants must stop alcohol sales at 11 p.m. and close at midnight to on-site customers. All to-go alcohol sales must continue to stop at 9 p.m. under city rules.
There is still too much COVID-19 in Chicago to allow significantly less strict restrictions to take place, Arwady said.
An average of 660 Chicagoans have been diagnosed each day with the coronavirus during the past week, a 23% decrease from the previous week, according to Chicago Department of Public Health data. The city's average test positivity rate is 6.5%, according to city data. In Chicago, the seven-day test positivity rate is 6.4%, according to Illinois Department of Public Health regional data.
"That is still quite high," Arwady said.
Arwady said she is also concerned about a COVID-19 variant now circulating in Chicago and suburban Cook County that is thought to be more transmissible.
"We want to turn down the dimmer switch, not flip a light switch," Arwady said.
Lightfoot can order tighter restrictions than state officials for Chicago and has done so at several points in the pandemic, including in June after the first wave of the pandemic eased.
Under city rules, bars, restaurants and other businesses were allowed to operate at no more than 25% capacity from June until October, when Lightfoot lifted those restrictions. That move came approximately two weeks before the second wave of the pandemic hit Chicago and Illinois, prompting Pritzker to suspend indoor dining and drinking on Oct. 30. 
That ban lasted 85 days.
Arwady declined to answer a question from WTTW News about whether the state rules, which allow the state's 11 regions to move between levels of restrictions after just three days below the threshold set by health officials, were insufficient to prevent another surge.
Because Chicago is more dense than other parts of the city, there is "more potential risk" for COVID-19 to spread at places like bars and restaurants, where masks must be removed to eat and drink, Arwady said.
However, despite the decision by city officials not to ease restrictions as soon as Monday for businesses, Arwady said it remains safe for Chicago Public Schools to reopen on Monday to approximately 70,000 elementary school students.
That reopening is opposed by the Chicago Teachers Union, whose leaders have said their members will not return to school buildings for in-person learning without an agreement with Lightfoot and Chicago Public Schools officials.
Indoor dining and drinking is "riskier" than sending students to school, Arwady said.
"We've established strict structural mitigation practices in schools, like limiting the number of students in classroom pods," Arwady said. "We have to ensure that we have appropriate mitigation strategies in dining and other settings as well."
If Chicago does move as expected to phase 4 on Monday and Lightfoot prevents bars and restaurants from expanding their capacity, it will come 15 days after Lightfoot urged Pritzker to allow indoor dining and drinking — even though the city did not meet the requirements laid out by the state.
The mayor and governor have long been at odds over this issue.
While Pritzker has repeatedly said he was confident there was a causal relationship between the fast spread of the virus and indoor dining and drinking, Lightfoot has said the ban encouraged private parties, where no one is ensuring that household groups stay 6 feet apart and everyone wears a mask when not eating or drinking.
Contact Heather Cherone: @HeatherCherone | (773) 569-1863 | [email protected]
---
---