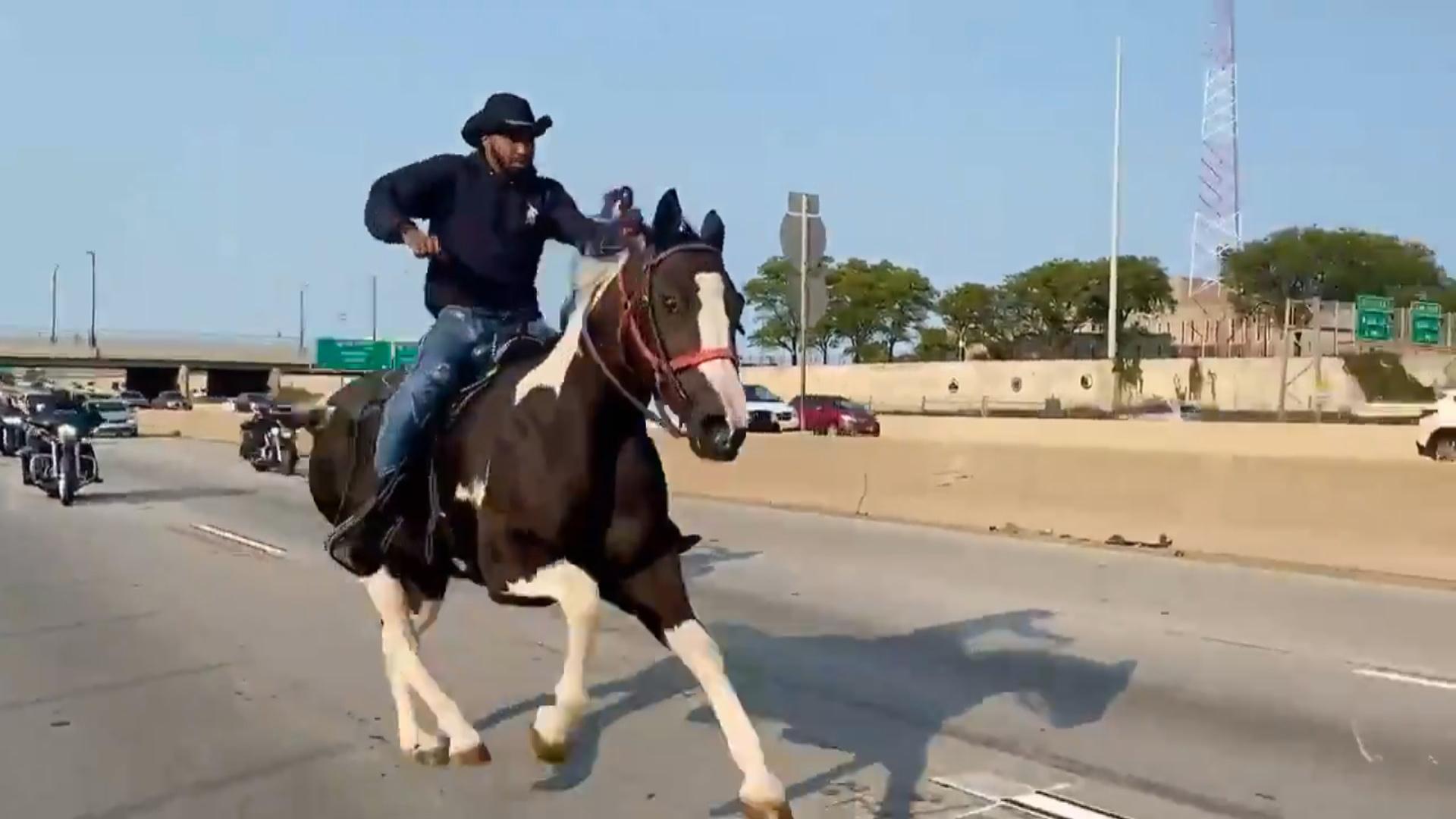 The "Dreadhead Cowboy" is seen on the Dan Ryan Expressway in Chicago. (Courtesy Vashon Jordan Jr. / @vashon_photo)
The man known as the "Dreadhead Cowboy" has pleaded not guilty to a felony animal cruelty charge and other misdemeanors two months after he rode a horse onto the Dan Ryan Expressway to protest violence against children.
Adam Hollingsworth, 33, entered the plea through his attorney Thursday during a brief arraignment before Cook County Judge Michael McHale held in virtual court. Hollingsworth appeared in the court's Zoom call with a background picture of himself and two small children seated upon a brown horse.
Hollingsworth was arrested in September after leading his horse, NuNu, onto the busy expressway during rush hour and proceeding to ride it 7.5 miles before being stopped by police.
He was charged with aggravated cruelty to an animal, reckless conduct, trespassing and other traffic offenses. Hollingsworth was initially held on $25,000 bond but he subsequently paid the 10% of that amount needed in order to be released from the Cook County Jail.
Cook County prosecutors said at the time that the horse was in critical condition and may need to be euthanized, as it was allegedly outfitted with improper horse shoes, which they said caused bleeding and extensive damage to the animal's health.
During a previous hearing, prosecutors compared the horse's experience to that of an 80-year-old woman being forced to run a marathon.
But Hollingsworth's previous attorney and Mayor Lori Lightfoot — who recruited Hollingsworth earlier this year to promote census participation in Chicago neighborhoods, dubbing him the "Census Cowboy" — have since said NuNu's condition has improved.
NuNu was taken into police custody after Hollingsworth's arrest, and he has not yet been able to reclaim the animal. On Thursday, Hollingsworth's new attorney, Steve Greenberg, said they are still trying to figure out "what is going on" with the horse.
"I'm not sure what authority they have to keep his horse," Greenberg said.
After McHale suggested scheduling a late January hearing, Greenberg instead requested a December date so they could more quickly receive discovery documents from the prosecution.
McHale agreed and set Hollingsworth's next hearing for Dec. 9.
Contact Matt Masterson: @ByMattMasterson | [email protected] | (773) 509-5431
---