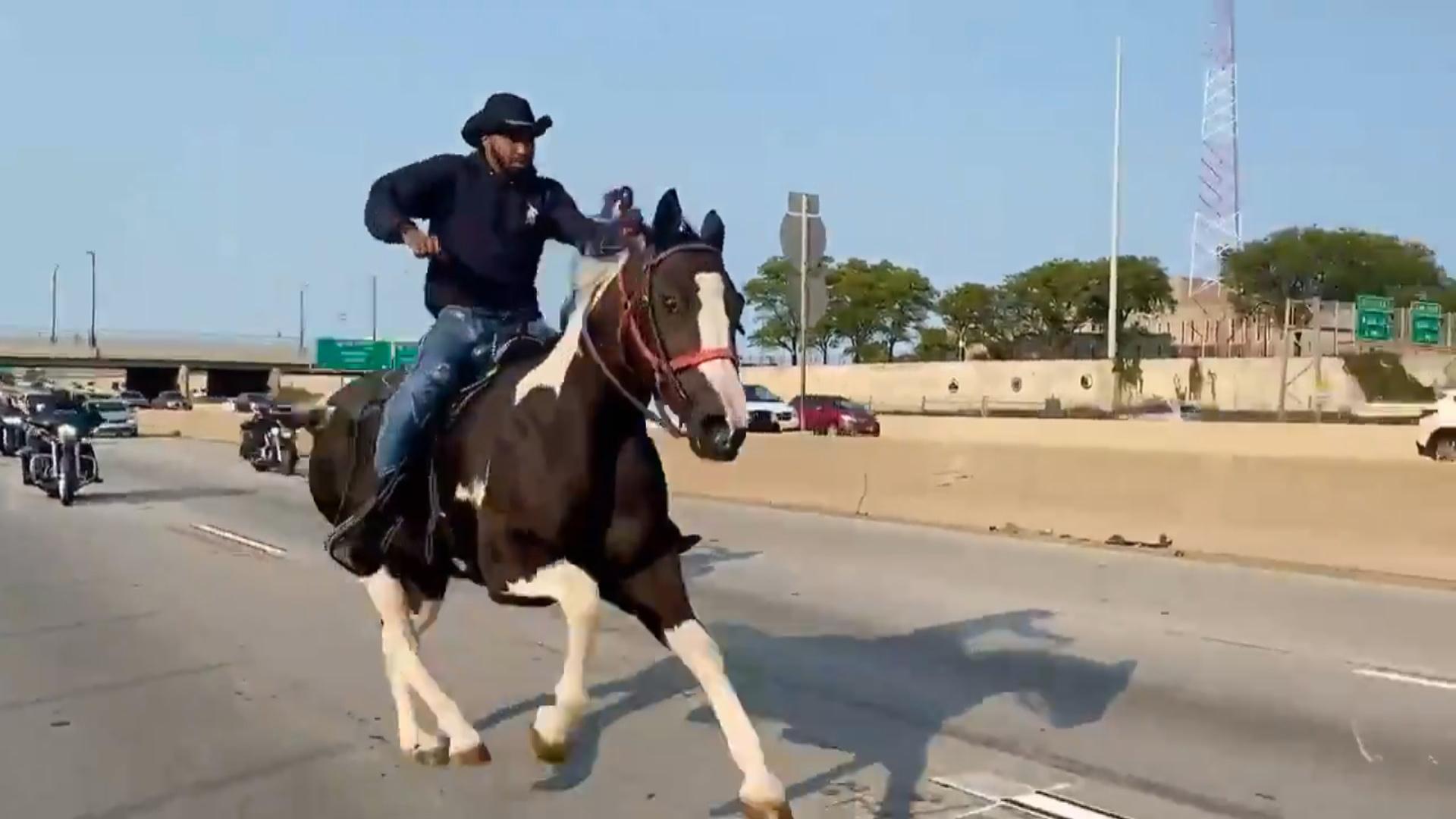 The "Dreadhead Cowboy" is seen on the Dan Ryan Expressway in Chicago. (Courtesy Vashon Jordan Jr. / @vashon_photo)
Weeks after he pleaded not guilty to a felony animal abuse charge, the man known as the "Dreadhead Cowboy" has been ordered to have no contact with any of the horses he owns while his criminal case plays out.
Cook County Judge Michael McHale on Wednesday granted an order from prosecutors amending the bail of Adam Hollingsworth, who now must turn over any horses he owns to the Cook County Sheriff's Office.
Hollingsworth, 33, is charged with aggravated cruelty to an animal, reckless conduct, trespassing and other traffic offenses after he allegedly rode one of his horses, NuNu, onto the Dan Ryan Expressway in September to protest violence against children.
In arguing their motion Wednesday, Cook County prosecutors said they're not seeking to bar Hollingsworth from owning the horses, but want to ensure their safety by preventing him from having any contact with the animals.
One assistant state's attorney said the situation is no different than a dogfighting case in which similar orders are issued.
Hollingsworth's attorney Steve Greenberg objected to that request, saying he'd seen no evidence that his client presents any danger to his animals. While he acknowledged Hollingsworth may have had a lapse in judgment in riding NuNu onto the busy expressway, Greenberg said his client did not intend to seriously injure the horse.
"In order to prove this allegation they have to demonstrate … that he specifically intended to harm this animal," he said during Wednesday's hearing, "and there's nothing there."
Hollingsworth allegedly took the horse onto the Dan Ryan at the 35th Street feeder ramp during rush hour on Sept. 21 and rode it for 7.5 miles. Prosecutors have alleged the horse spent most of that time galloping, but it did not have on proper shoes for the pavement, which caused bleeding and "extensive damage" to its health.
According to the prosecution's bond proffer, the horse suffered a "great deal" during the ride, which they've claimed was the equivalent of forcing an 80-year-old woman to run a full marathon.
McHale said that, if proven, that proffer is "extremely disturbing."
"I am concerned for the other horses," he said in issuing his ruling, "and I think it's within my rights to make sure that they're protected."
Prosecutors said the Sheriff's Office believes Hollingsworth may have as many as five or six other horses.
It was initially unclear if NuNu would survive, but the horse is now expected to live, though prosecutors have said the animal can no longer run or be ridden. Prosecutors also claimed Hollingsworth used his public Facebook page to "incite" his followers to protest at the farm where NuNu is being held so he can get the animal back.
Hollingsworth is due back in court for a hearing on Jan. 14.
Contact Matt Masterson: @ByMattMasterson | [email protected] | (773) 509-5431
---