Mayor Lori Lightfoot warned Monday that Chicago was falling short in responding to the 2020 census, threatening millions of dollars in federal aid to the city.
Approximately 55% of Chicagoans have already responded to the census, but that is "not even close to where we need to be," Lightfoot said, giving the response a letter grade of C — something she said she would never have been satisfied with as a student. "We have to aim higher."
In some South and West side neighborhoods, the response rate is 40%, Lightfoot said.
Lightfoot budgeted $2.7 million last year for census "outreach, education and mobilization" to boost the city's response rate. In October, Lightfoot said she wanted to ensure that 75% of Chicago's residents are counted. Chicago risks losing $1,400 per year for the next decade for each person missed during the census.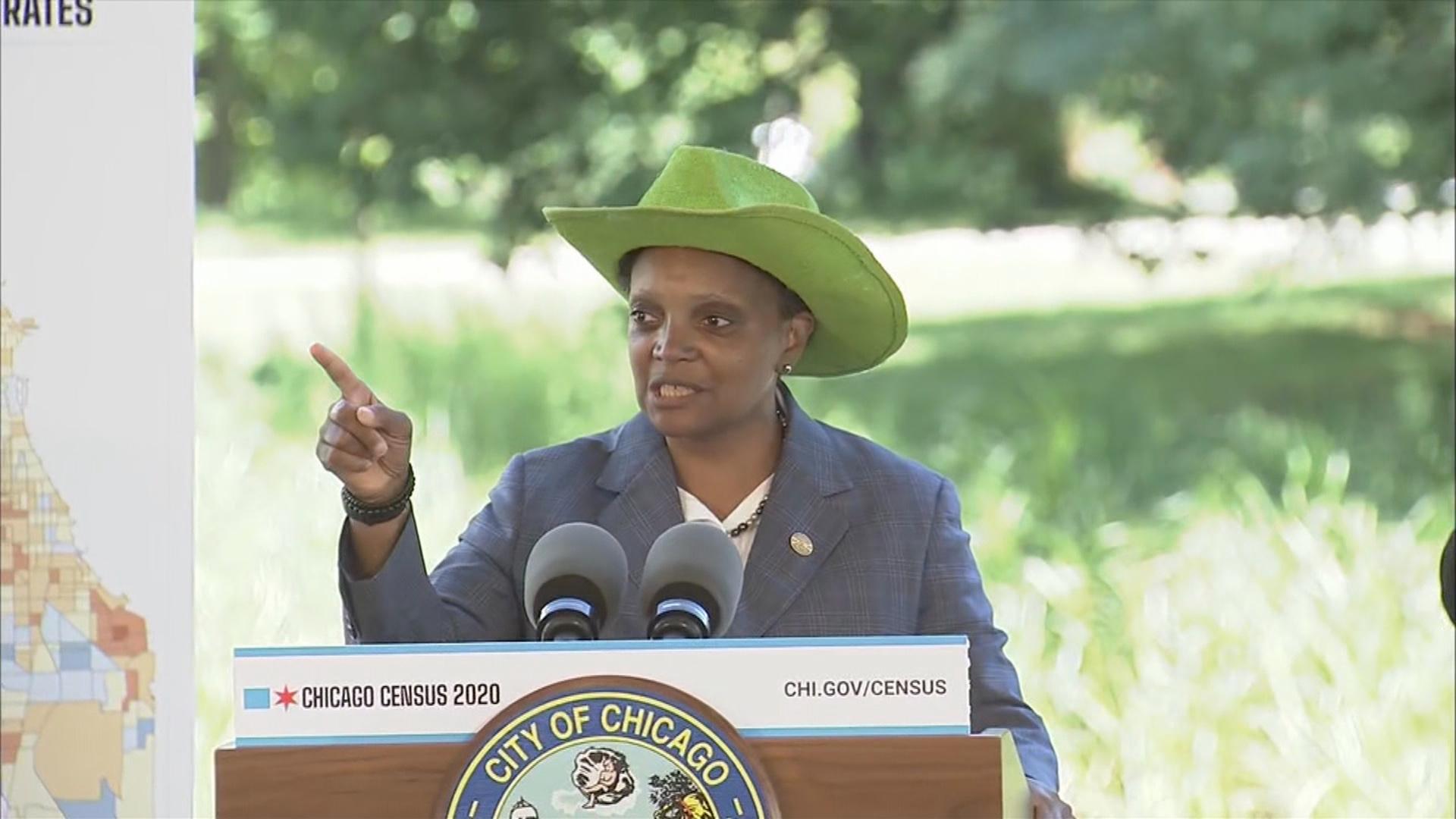 Mayor Lori Lightfoot dons a bright green cowboy hat before introducing a special guest — and his 13-year-old horse — at a press conference Monday, July 13, 2020. (WTTW News)
The city's census response efforts have been led by well-established community organizations familiar with Chicago's hard-to-count residents — immigrants, refugees, renters, those who are homeless, people with disabilities, those who don't speak English, young children, seniors citizens, and college students.
"We need everyone to step up," Lightfoot said.
However, those efforts were scrambled by the coronavirus pandemic, which forced those organizations to toss out plans to reach out to residents in person and launch digital outreach efforts.
Once again, Lightfoot cast the act of being counted in the 2020 census as a way to stick it to President Donald Trump's effort to target immigrant communities.
"Don't let them win," Lightfoot said. "We win by making sure we are counted."
Donning a bright green cowboy hat, Lightfoot enlisted the Dreadhead Cowboy to visit areas with low response rates and urge people to fill out the census, welcoming Adam Hollingsworth and his 13-year-old horse Prince to the news conference to the sounds of the Lil Nas X hit "Old Town Road."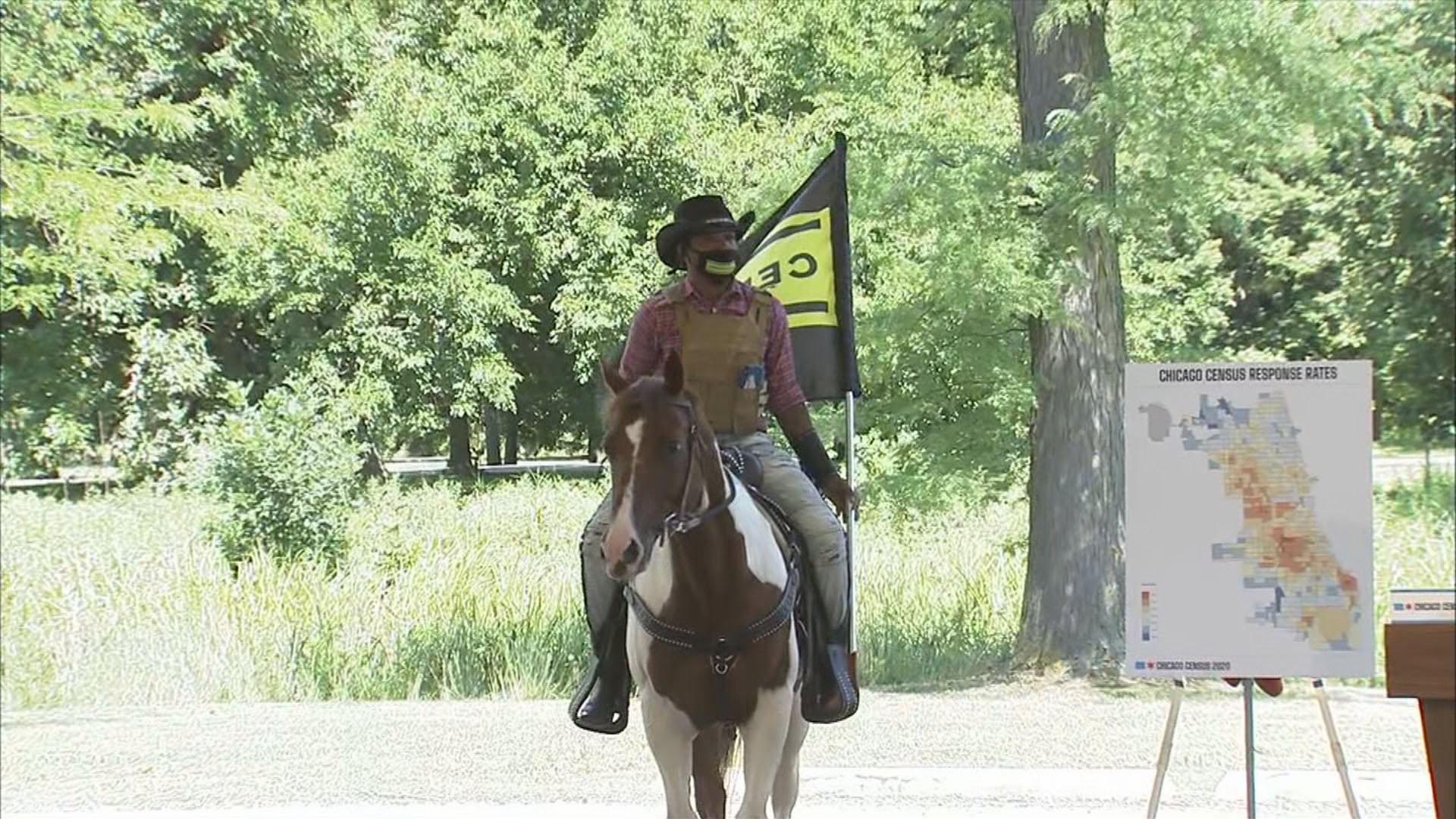 Adam Hollingsworth — aka the Dreadhead Cowboy — and his horse Prince make an appearance at a press conference in Chicago on Monday, July 13, 2020. (WTTW News)
A fan of Batman, Lightfoot said she was sounding a "distress signal" like the one used to summon the caped crusader by Gotham Police officials to call on the social media star, the Dreadhead Cowboy.
Hollingsworth found the spotlight during the stay-at-home order by traveling to Chicago neighborhoods, and then drew national attention during the protests touched off by the death of George Floyd in Minneapolis police custody.
Hollingsworth will be "compensated for his time, however, he is not being paid by the city," according to mayoral spokesperson Pat Mullane, who said World Business Chicago would pay the newly renamed Census Cowboy.
The Census Bureau will start sending people door to door to get responses in August.
The response rate is 61.6% for Cook County and 66.8% for Illinois. The deadline to fill out the census is Oct. 31.
Video: More on the census — and how things have been going in Chicago — with Amanda Vinicky.
Contact Heather Cherone: @HeatherCherone | (773) 569-1863 | [email protected]
---