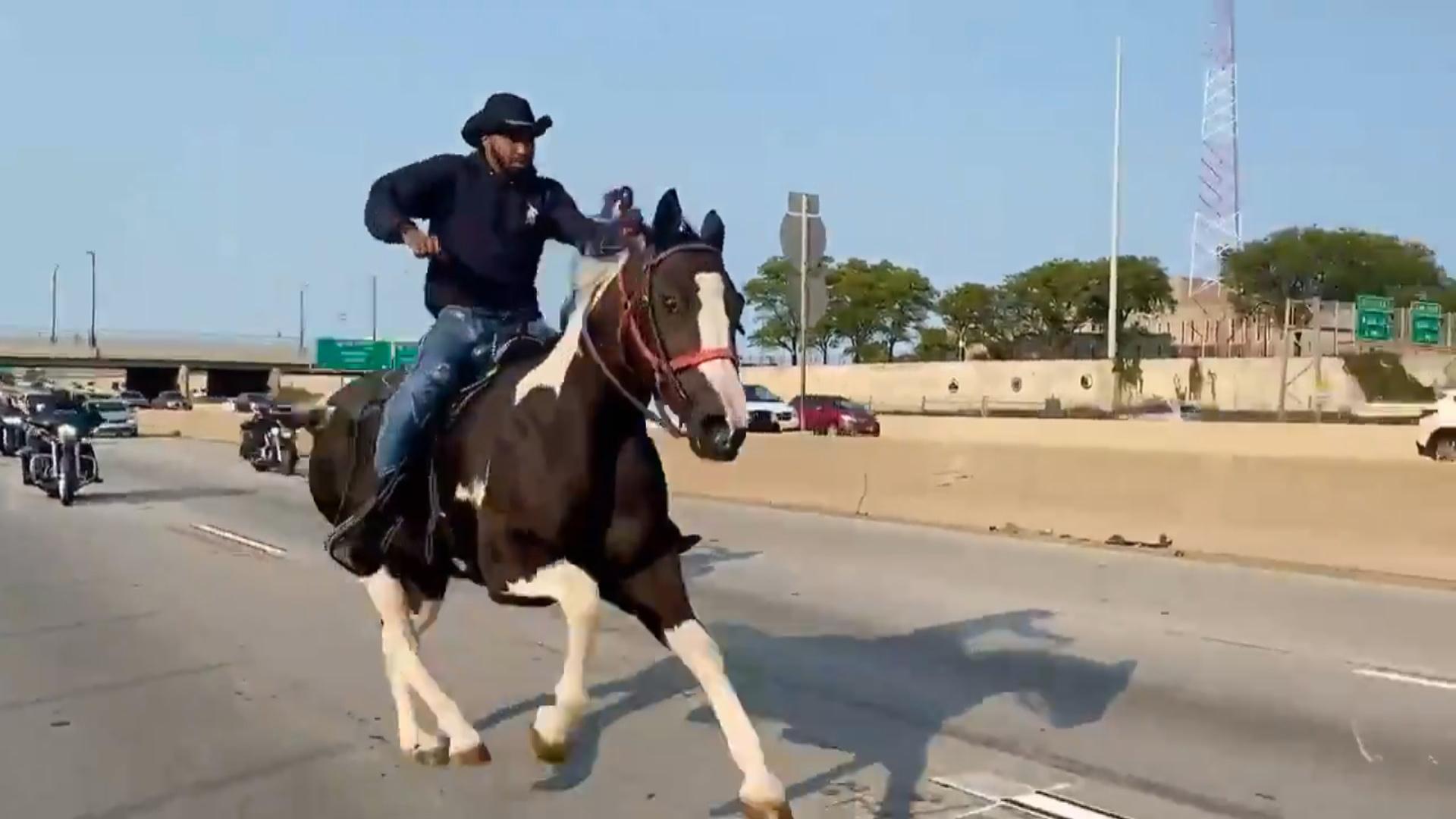 The "Dreadhead Cowboy" is seen on the Dan Ryan Expressway in Chicago. (Courtesy Vashon Jordan Jr. / @vashon_photo)
The man known as the "Dreadhead Cowboy" was surprised to be criminally charged with animal cruelty and said he'd consider carrying out more protests after riding his horse 7.5 miles on the Dan Ryan Expressway during rush hour earlier this week.
Adam Hollingsworth, who was charged with a felony count of aggravated cruelty to an animal and other misdemeanors stemming from his Monday ride, said during a press conference Thursday afternoon that he "had to make a statement" about the number of children who have been killed this year in Chicago.
"Would I do it again? Yes I'd do it again," he said, explaining why he carried out the protest in support of the #KidsLivesMatter movement. "I've been in jail, I had a background, I'm not perfect … That was something worth going to jail for."
Hollingsworth spoke one day after he appeared in court on the charges and was ordered held on a $25,000 bond.
The 33-year-old said Thursday he didn't mean to harm his horse and repeatedly referred to himself as an animal lover. But Cook County prosecutors alleged he rode the horse nearly to death Monday, with one equine veterinarian comparing its ride with forcing an 80-year-old woman to run a full marathon.
As of Wednesday, the horse remained in critical condition and may still be euthanized.
Prosecutors said the horse was taken in for observations by two vets, who each agreed the animal had suffered "a great deal" due to its treatment, citing extreme dehydration, overheating and lacerations to its front legs that caused "profuse" bleeding.
Hollingsworth said he has not personally received any update on the condition of the horse since his arrest. He's attempting to hire a lawyer so he can have the horse examined by another veterinarian.
While he disputed the prosecution's allegation that his horse collapsed on the expressway after the ride, he did acknowledge that the animal was bleeding. But he claimed the treatment of horses elsewhere is far worse than anything he did.
"The people that don't know anything about horses, from looking from the outside in, you would think that what I did was cruelty to (an) animal," Hollingsworth said. "But if you go to the racetrack (it's) 100 times worse. If you go to the circus, worse. It's way worse than what I do to my horse."
Hollingsworth, known in Chicago as a local activist, has also been dubbed the "Census Cowboy" for his work with Mayor Lori Lightfoot to boost census participation in Chicago.
He cited that work Thursday and claimed he'd been "called upon" by the mayor because she was "stressed out" about census participation in neighborhoods across Chicago. He said his protest Monday was his "stress signal."
"Lori come help me," he said, referring again to his efforts with the Kids Lives Matter movement. "I can't do it alone."
Contact Matt Masterson: @ByMattMasterson | [email protected] | (773) 509-5431
---