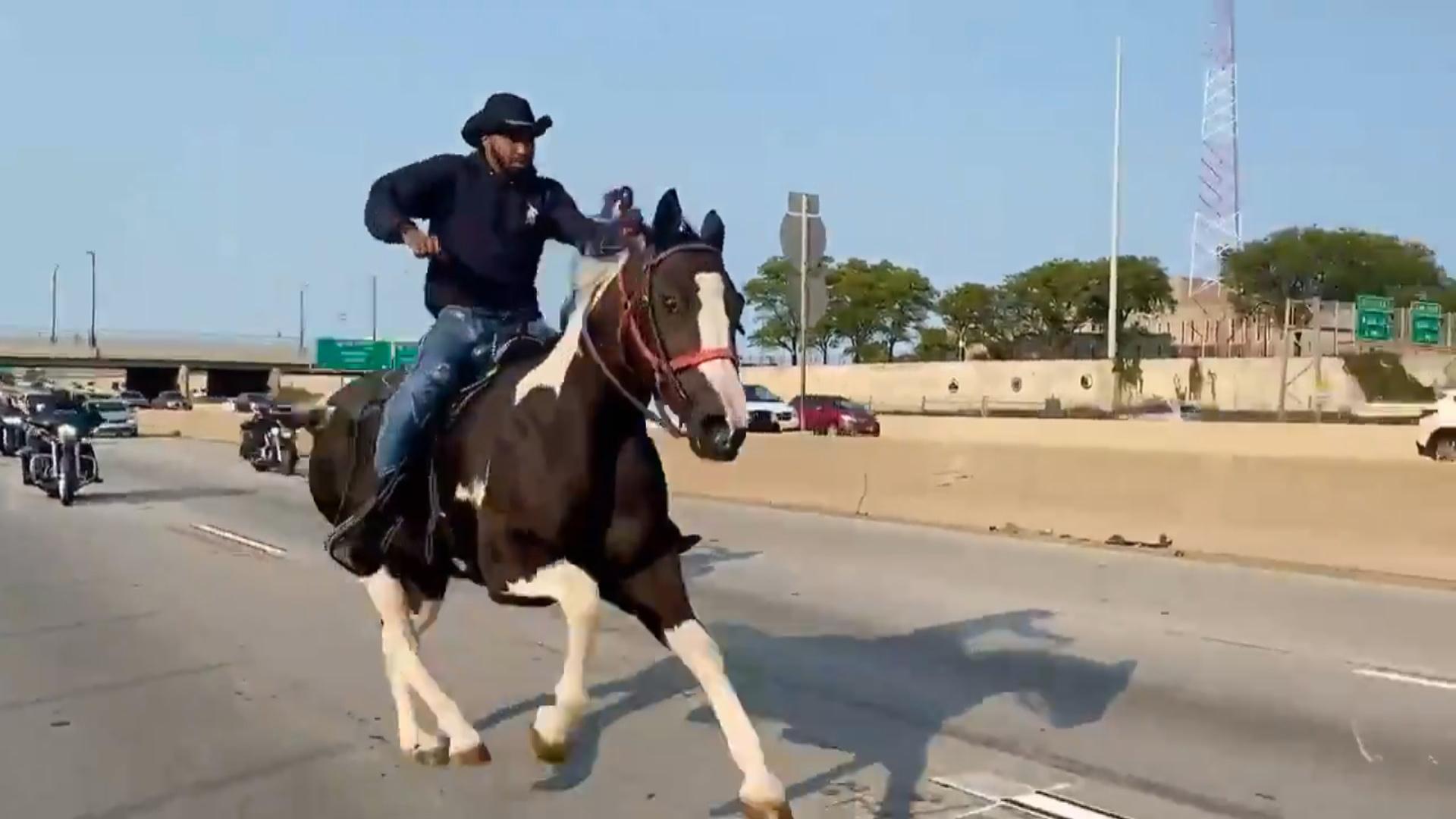 The "Dreadhead Cowboy" is seen on the Dan Ryan Expressway in Chicago. (Courtesy Vashon Jordan Jr. / @vashon_photo)
The Chicago man known as the "Dreadhead Cowboy" has not yet entered a plea on a felony animal abuse charge, but the condition of the horse he rode for more than 7 miles as part of a demonstration on the Dan Ryan is reportedly improving.
A preliminary hearing was continued Wednesday for Adam Hollingsworth, the 33-year-old activist who attempted to raise awareness of the #KidsLivesMatter movement last week by running his horse on the expressway during rush hour.
On Wednesday morning, his attorney Jonathan Feldman told reporters the horse, NuNu, is improving after Cook County prosecutors claimed last week that the animal may have to be euthanized due to injuries caused by the gruelling ride.
"I want to certainly let the community know that my client's horse NuNu is doing extremely well," he said. "All reports are that physical condition is extremely positive."
Hollingsworth was arrested last Monday after leading NuNu onto the Dan Ryan at around 4:30 p.m. By the time he came to a stop, the horse was visibly bleeding from its legs. He faces charges including a felony count of aggravated cruelty to an animal, misdemeanor counts of reckless conduct, trespassing and other traffic offenses.
Feldman called his client, a known activist in Chicago, "a local hero in the community" and compared him to a fellow Chicago native Mr. T, who Feldman said also raised awareness and cared for at-risk youth.
"What Mr. T did with muscles and chains, my client is doing today with horses and western cowboy culture," Feldman said.
Speaking last week for the first time since his arrest, Hollingsworth said: "I'd do it again." He also called the protest "something worth going to jail for."
Cook County prosecutors said the horse was taken in for observations by two vets, who each agreed the animal had suffered "a great deal" due to its treatment, citing extreme dehydration, overheating and lacerations to its front legs that caused "profuse" bleeding.
One of those vets told prosecutors that putting that horse through a 7.5-mile gallop was the equivalent of forcing an 80-year-old woman to run a full marathon.
Earlier this week, Mayor Lori Lightfoot — who brought in Hollingsworth to promote census participation in Chicago neighborhoods, dubbing him the "Census Cowboy" — said Hollingsworth has not represented the city in months.
The mayor also said NuNu was "making progress" in its recovery. She said that while the #KidsLivesMatter movement he was promoting is a noble cause, he handled this protest in "decidedly the wrong way."
"He almost killed that horse," Lightfoot said Monday. "And then that doesn't even address the way he put himself and passing motorists at risk, law enforcement at risk, over a stunt. There's lots of different ways in which you can make your point, but what he did was absolutely wrong."
Contact Matt Masterson: @ByMattMasterson | [email protected] | (773) 509-5431
---