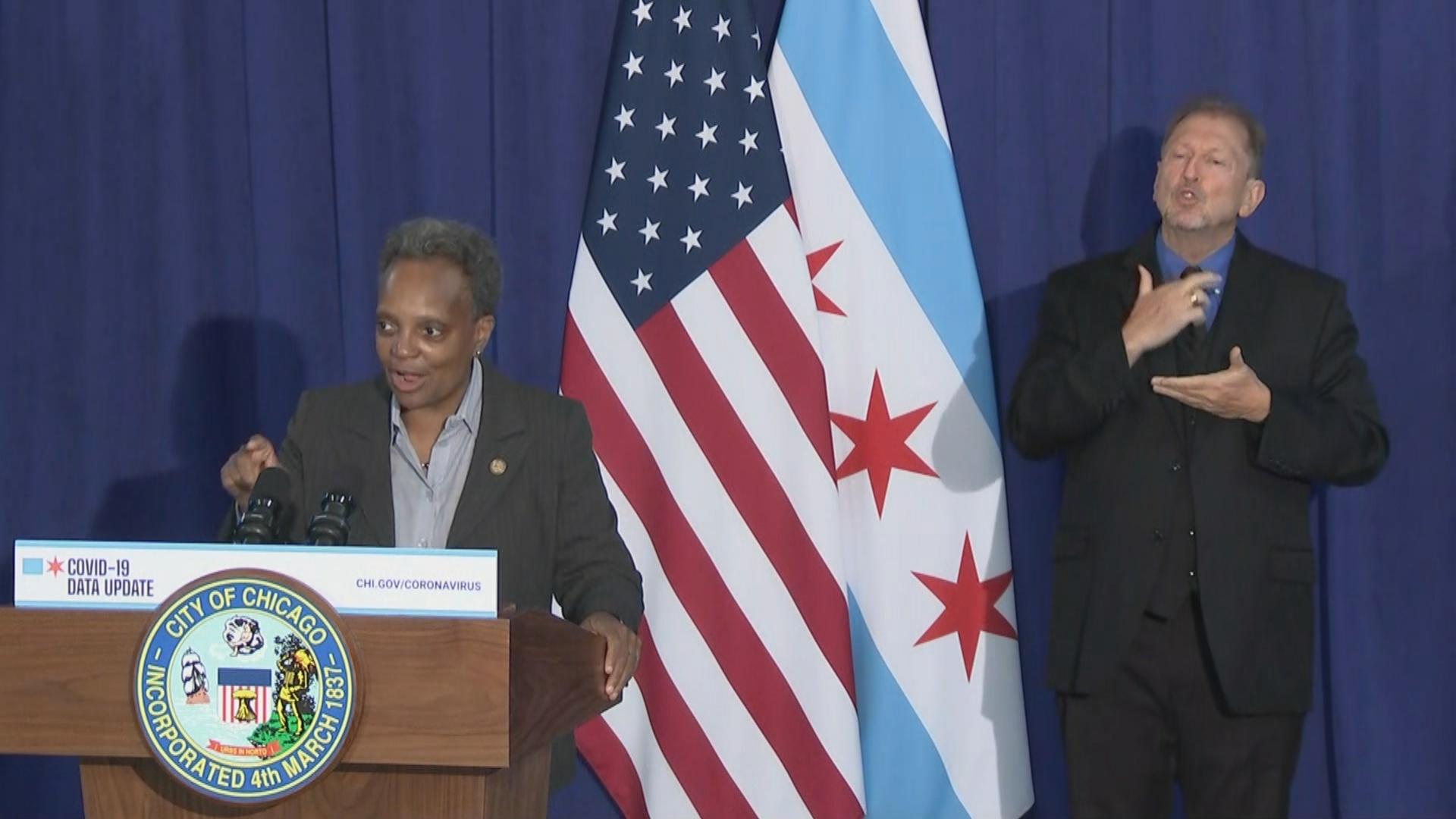 Mayor Lori Lightfoot talks about rising coronavirus cases at a Monday, Oct. 19, 2020 press conference. (WTTW News)
Mayor Lori Lightfoot pushed back late Tuesday on Gov. J.B. Pritzker's order to suspend indoor dining and drinking in Chicago to stop a dramatic surge in coronavirus cases, the latest sign of a serious split between the officials leading the effort to stem the pandemic.
"Communication is the key to navigating through this crisis," Lightfoot said in a statement to reporters. "We will continue our efforts to engage with the governor and his team to better understand their metrics so that we can forge targeted solutions to address the public health challenges here in Chicago and across the state."
During an interview Tuesday evening on the "PBS NewsHour," Lightfoot said she had asked Pritzker to reverse his order.
"If the governor's order goes into effect, it's shutting down a significant portion of our economy at a time when those same businesses are hanging on by a thread," Lightfoot said.
But Lightfoot acknowledged that it was "not looking good" for her effort to convince Pritzker to reverse his order, set to take effect Friday.
Pritzker ordered the restrictions after Chicago recorded a significant increase in its test positivity rate during the past month, as well as a sustained increase in coronavirus-related hospitalizations for more than seven of the past 10 days.
"[Chicago] is now averaging more than twice as many COVID-related hospital admissions per day as it was a month ago, with a positivity rate that has almost doubled since the beginning of October," Pritzker said in a statement.
Jordan Abudayyeh, a spokesperson for Pritzker, said the governor had flatly rejected the mayor's request.
"Unfortunately, the virus doesn't make exceptions, and it would be ill-advised to make exceptions to the rules we put in place as the best mitigations to stop the spread," Abudayyeh said.
Lightfoot's staff was briefed on the governor's order earlier this week when it was clear that Chicago would trigger additional restrictions.
In July, the Illinois Department of Health published its Restore Illinois Resurgence Plan, which laid out the metrics that would trigger restrictions on nonessential businesses and gatherings. 
Pritzker's actions on Tuesday followed that plan, and it was unclear why Lightfoot and her administration did not understand the metrics it details.
"The governor and I are aligned that we need residents to mask-up and follow the city and state's health guidance in order to reverse these recent troubling trends, but we must remain in lockstep when it comes to the rollout of new restrictions," Lightfoot said. "Even amid the pandemic, I urge residents to continue to find ways to support our small businesses and their local communities."
Most of the new confirmed cases of the coronavirus have been traced to contact in people's homes and among friends, Lightfoot told PBS Newshour.
"Hospitalizations are not at the breaking point that we feared in the spring, and that's an important metric,"  Lightfoot said. "We have to be surgical in the way we impose restrictions."
The governor's order came five days after Lightfoot reimposed restrictions on Chicago bars — closing those that do not serve food entirely — and ordering nonessential businesses to shut down at 10 p.m. and ordering all liquor sales to stop at 9 p.m.
Lightfoot's restrictions took effect Friday and will be in place for a minimum of two weeks, according to city officials.
Since it has become clear that Chicago, suburban Cook County and the rest of Illinois are experiencing a second wave of the pandemic, Lightfoot and Pritzker have been at odds, first over the role that bars and restaurants are playing in fueling the spread and now over Pritzker's decision to roll back Chicago's opening.
Hours after Lightfoot told reporters on Oct. 19 that she didn't "think there is a cause and effect" between the surge in confirmed cases of the coronavirus and bars and restaurants, Pritzker told the news media he was confident there was a causal relationship between the fast spread of the virus and indoor dining and drinking.
Two days later, Lightfoot acknowledged that the risk of getting COVID-19 is "greatest" at bars and restaurants, "because people gather, they take their masks off, they have a drink, they socialize, they talk."
Pritzker and Lightfoot, who are both Democrats, have been at cross purposes during several crucial junctions during the pandemic.
When Pritzker ordered all Illinois schools closed on March 13, he overruled Lightfoot, who wanted Chicago schools to remain open. Lightfoot said she was worried about keeping students safe and making sure they had enough to eat.   
On March 15, Lightfoot ordered Chicago bars and restaurants to limit their capacity to no more than 100 people, or half their usual capacity after crowds thronged drinking holes to celebrate St. Patrick's Day. Hours later, Pritzker closed bars and restaurants entirely to indoor service.
In June, Lightfoot pushed Pritzker to allow indoor dining after he lifted the stay-at-home order but before the state entered the fourth phase of its reopening plan. Pritzker did not change his plan, and indoor dining restarted in Chicago several days after it did in the rest of the state.
Pritzker has ordered additional restrictions designed to stop the spread of the coronavirus in several Illinois regions after a surge in test positivity rates. After those restrictions were in place, the rates dropped and the restrictions were lifted. In some cases, the restrictions have had to be reimposed or increased.
In the Metro East region near St. Louis, Pritzker deviated from the Restore Illinois plan and ordered bars and restaurants to close at 11 p.m. on Aug. 18, in consultation with Missouri officials who planned similar steps to stop the cross-border spike, but allowed indoor dining and drinking to continue. COVID-19 continued to surge.
Pritzker later said it was a "mistake" to not immediately implement the plan laid out by the Illinois Department of Public Health to stop surges, which called for a ban on indoor dining and bar service as well as a cap on indoor gatherings at 25 people or 25% of overall room capacity.
The governor vowed to follow the Restore Illinois plan without exception in the future.
Lightfoot can impose tougher restrictions in Chicago than those ordered by the governor, but she cannot overrule his order.
An average of 797 Chicagoans have been diagnosed each day with the coronavirus during the past week, a 40% increase from the previous week, according to Chicago Department of Public Health data. The city's average test positivity rate is 7.4%, while an average of 15.8% of all people tested for COVID-19 have the virus, according to the data.
Confirmed COVID-19 cases in Chicago are growing as fast as they did from March 19 to March 31, when Pritzker ordered Illinois residents to stay home and shut down nonessential businesses. Cases are doubling every nine days, Chicago officials said.
The number of people hospitalized in Chicago with COVID-19 has grown 72% since Sept. 22, and the number of patients admitted to the intensive care unit has grown by 56% since Oct. 1, Chicago officials said.
If the state-determined test positivity rate drops below 6.5% for three days and there is a decrease in hospital admissions during the same three-day period, and the three-day rolling average in availability of intensive care beds is greater than or equal to 20% over a seven-day period, the state restrictions will lift in Chicago, state officials said.
Contact Heather Cherone: @HeatherCherone | (773) 569-1863 | [email protected]
---