(WTTW News)
Starting Friday, indoor service at Chicago restaurants and bars will be suspended in an effort to stop the spread of the coronavirus.
The restrictions were triggered by increases in the number of COVID-19 cases in the city for eight consecutive days and hospital admissions for coronavirus-like illness for seven days.
"For a time in late summer, Chicago seemed to have this more under control than other regions in Illinois, but that's no longer the case," Gov. J.B. Pritzker said during a Tuesday afternoon press conference.
Bars and restaurants in the city must close by 11 p.m. and all patrons must be seated at outdoor tables, according to the state's mitigation plan, which identifies Chicago as region 11. Additionally, gatherings must be limited to 25 people or 25% of a room's overall capacity.
Last week, Mayor Lori Lightfoot ordered bars to suspend indoor service and ordered nonessential businesses to shut down at 10 p.m. as part of an effort to curb the spread of the virus. Per Lightfoot's order, all liquor sales at bars, restaurants and stores must end by 9 p.m. and social gatherings of any size must end at 10 p.m. 
READ: Lightfoot Pushes Back After Pritzker Suspends Indoor Dining, Drinking in Chicago
The governor's announcement comes a day after COVID-19 rates in suburban Cook County and the Metro East region of the state triggered similar restrictions.
"The situation in all of Cook County – the city and suburbs alike – is bad and it's getting worse," Pritzker said. "Yes, we know more about how to fight this virus than (we did) in the spring, but there is still no cure. There is still no vaccine. We are aware of no treatment to prevent a patient from deteriorating to the point where they need hospitalization."
Officials on Tuesday reported 4,000 new COVID-19 cases and 46 virus-related deaths, bringing statewide totals to 382,985 cases and 9,568 deaths.
"What we are starting to see now, first with suburban Cook County, and now with Chicago, is that mitigation measures are needed because COVID-19 hospital admissions are going up alongside increases in test positivity," Illinois Department of Public Health Director Dr. Ngozi Ezike said in a statement. "Based on current trends, we soon could face reduced hospital bed availability and overwhelming our health care systems."
By Friday, seven of Illinois' 11 regions will be operating under the state's resurgence mitigation framework.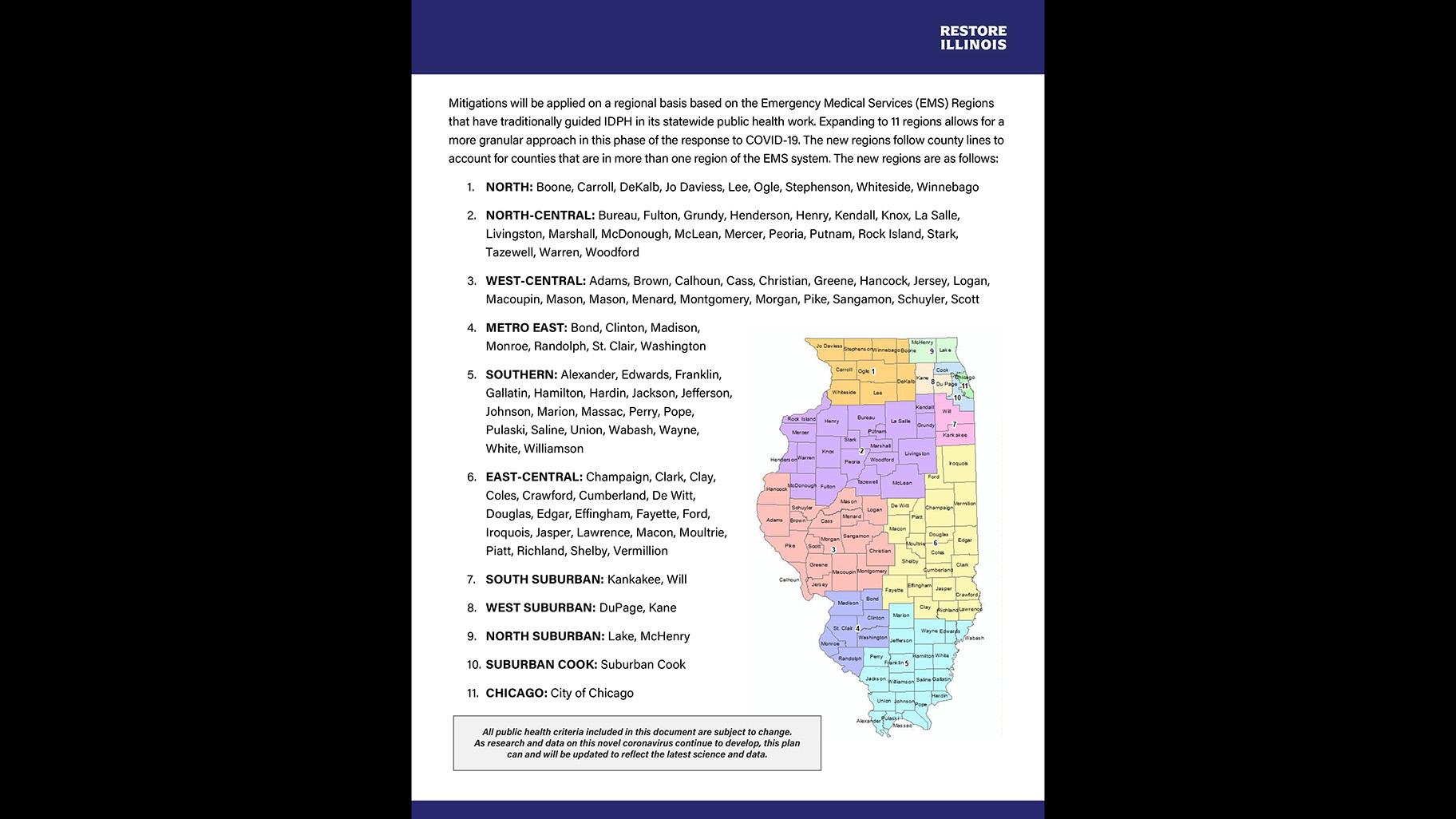 A map of Illinois' 11 regions. (Click to see full COVID-19 mitigation plan released by Gov. J.B. Pritzker.)
Starting Wednesday, Suburban Cook County and Metro East — regions 10 and 4, respectively — will begin operating under tightened mitigations. Regions 1, 5, 7 and 8 are already operating under stricter regulations — though region 1, in northern Illinois, is operating under "tier 2" restrictions that limit gatherings to 10 people and patrons at bars and restaurants to six per table. Regions start in "tier 1" and advance to the second tier if they experience a sustained resurgence of COVID-19, according to the state's mitigation plan.
"We can't ignore what is happening around us – because without action, this could look worse than anything we saw in the spring. So please, no matter where you live, what your politics are, where you work or who you love: Illinois: mask up! And we'll get through this together," Pritzker said in a press release.
The preliminary seven-day statewide positivity rate is 6.4%, nearly a full percentage point higher than it was a week ago, according to IDPH data. In suburban Cook County, that rate is 8%, while it's 7.8% in Chicago, according IDPH data.
Of the four regions not currently operating under tightened mitigations, several are "edging closer" to state implemented restrictions, according to Pritzker. Region 9, which includes Lake and McHenry counties, reported a positivity rate above 8% for a second consecutive day, meaning as soon as Wednesday it could see additional measures aimed at curbing the spread of the virus, Pritzker said. Region 3, in west central Illinois, reported its first day of a positivity rate above 8% on Tuesday.
As of Monday night, 2,758 people in Illinois were hospitalized with COVID-19, and of those, 595 patients were in intensive care units and 241 were on ventilators, according to state health officials.
The governor on Tuesday also announced updated guidance for youth and adult recreational sports.
"As with sports in the fall, nothing is 'canceled,' just put on hold until we're through the thick of this pandemic. We adapt as we learn. That has been our mantra throughout this pandemic, and as is true in every other facet of life, we know this virus is of most concern when people are indoors with high contact, especially in vigorous situations that bring about heavy breathing – like in wrestling, hockey and basketball," Pritzker said. "Life in a pandemic is hard for everyone, and it's hard for all of our kids, whether or not they play sports. That doesn't make it any easier – but we really are all in this together."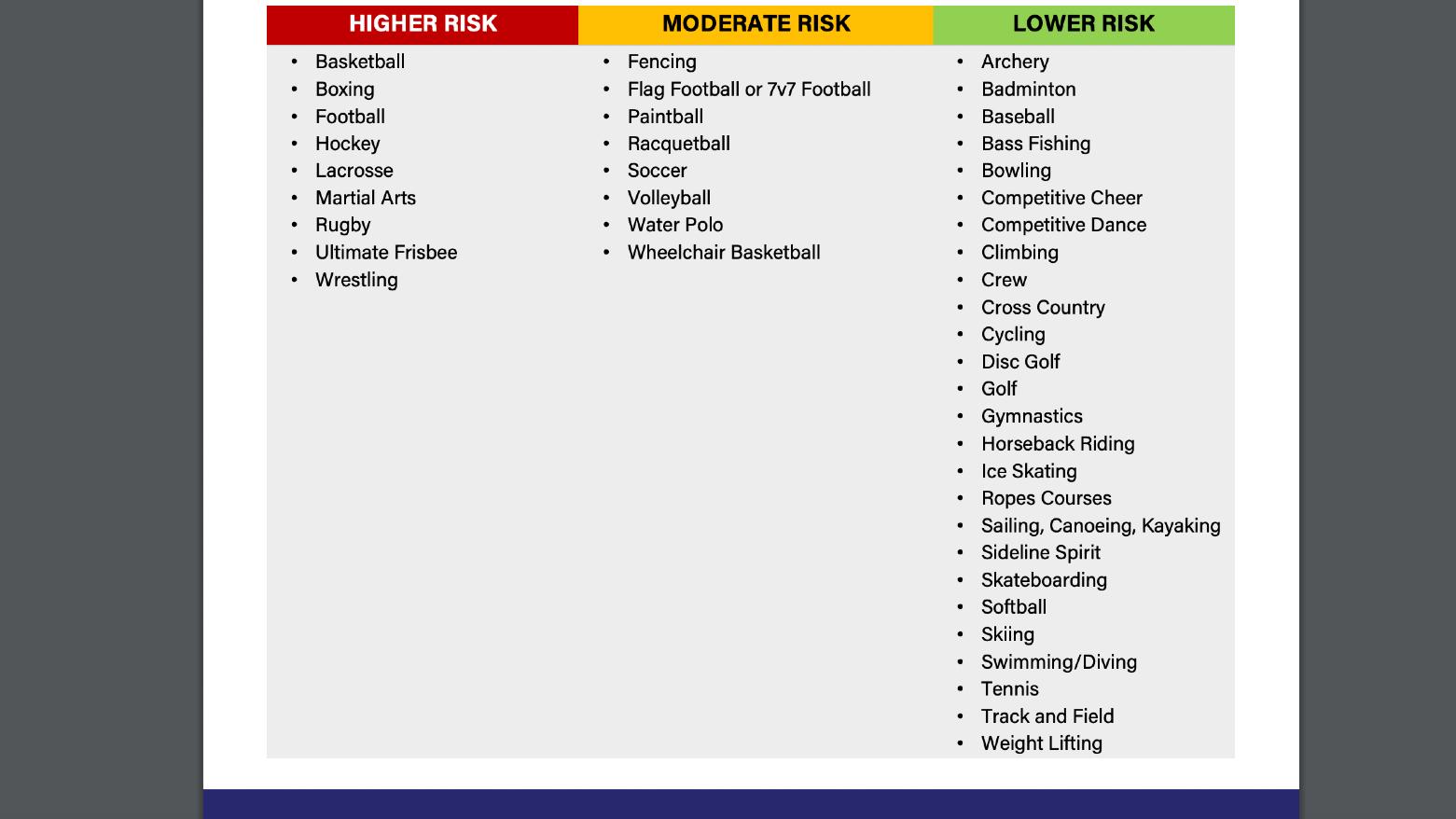 A graphic from the Illinois Department of Commerce and Economic Opportunity, the Illinois Department of Public Health and the Illinois State Board of Education. Click to enlarge.
The updated guidance puts sports into three risk levels – low, medium, or high – based on the amount of contact between athletes and their proximity during play. Previous guidance had classified basketball as medium risk but it has now been deemed high risk "due to the close contact of players and indoor play," according to officials.
The guidance also sets four levels of play based on the current public health condition, though it's unclear which metrics will be used to determine those levels. In level 1, only no-contact practices and training are allowed. In level 2, intra-team scrimmages are allowed with parental consent for minors, but competitive play isn't allowed. In level 3, intra-conference, intra-EMS region or intra-league play is allowed, as are state- or league-championship games for low-risk sports. In level 4, tournaments, out-of-conference/league play and out-of-state play are allowed.
Based on current conditions, lower-risk sports can be played at levels 1, 2 and 3. Medium-risk sports can be played at levels 1 and 2, and higher-risk sports can be played at level 1, according to officials.
"The more people you are in contact with, the longer you are together, and the closer you are together, the greater your risk of getting COVID-19," Ezike said in a statement. "Being face to face with another person for a basketball or football game puts players at higher risk of getting and spreading the virus. Right now, cases across Illinois and the country are increasing."
Contact Kristen Thometz: @kristenthometz | (773) 509-5452 |  [email protected]
---