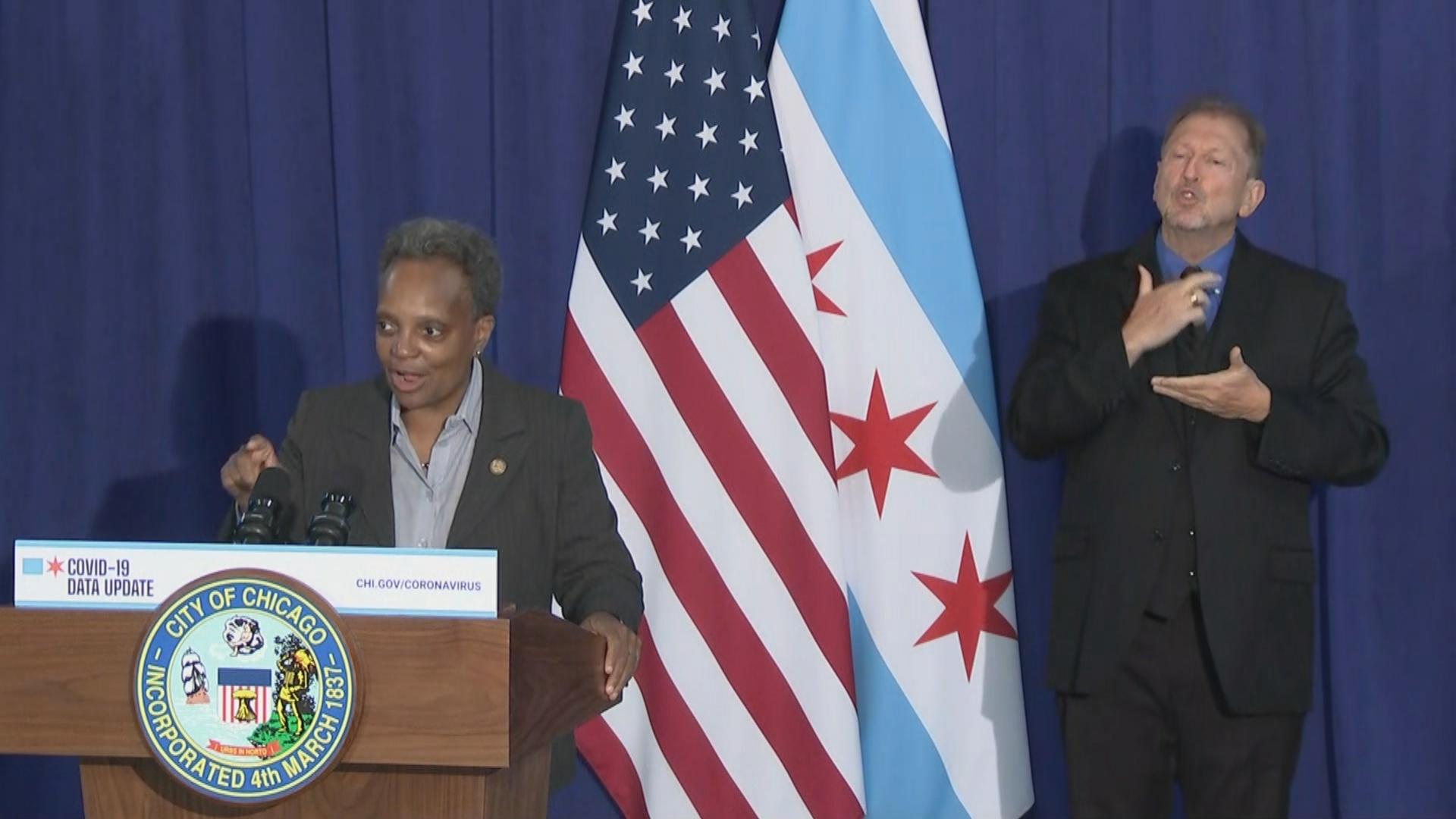 Mayor Lori Lightfoot talks about rising coronavirus cases at a Monday, Oct. 19, 2020 press conference. (WTTW News)
Mayor Lori Lightfoot warned Chicagoans that the city is experiencing another wave of the coronavirus pandemic, with confirmed cases rising sharply across the city to levels last seen in late May, at the tail end of the first wave of the pandemic.
"Make no mistake, we are in the second surge," Lightfoot said Monday. 
With acute increases in coronavirus infections happening across the city among all age groups and races, Chicago may not be able to reduce the spread of the virus with "targeted" restrictions, Lightfoot said.
Despite her dire warning that the pandemic was heading toward another peak of infections, sickness and death, Lightfoot ordered no new restrictions on businesses and gatherings to stop the spread of COVID-19.
"This has to be an all-hands-on-deck moment," Lightfoot said, urging Chicagoans to fight through what she called "COVID fatigue" and "double down" on hand washing, mask wearing and avoiding close contact with anyone outside their household.
Lightfoot said she did not want to reimpose restrictions designed to stop the spread of the coronavirus, but that she would act if the surge in cases continues.
"This is a warning," Lightfoot said. "I won't hesitate to reimpose restrictions."
An average of 508 Chicagoans have been diagnosed each day with the coronavirus during the past week, a 42% increase from the previous week, according to Chicago Department of Public Health data. Testing has increased 11%, according to city data.
Chicago's test positivity rate is now 5.4%, up from 4.2% in the past week. The metric is calculated by comparing the number of positive tests for COVID-19 with the total number of tests conducted within a 24-hour period. Because it's now greater than 5%, it indicates that the spread of the virus is uncontrolled. 
The city's case positivity rate — which compares the number of positive tests with the number of individuals tested within a 24-hour period — has risen to 12%, up from 8.7% a week ago, according to city data.
"We're headed the wrong way," said Dr. Allison Arwady, the commissioner of the Chicago Department of Public Health. "Do not invite anyone over to your home."
Cases of COVID-19 in Chicago are increasing "sharply" and "dramatically," Arwady said.
The number of Chicagoans hospitalized after being diagnosed with the coronavirus has increased 25% in less than a month, Arwady said. The deaths of 3,013 Chicagoans have been linked to COVID-19 through Saturday, according to data from the Chicago Department of Public Health.
"These numbers are extremely troubling," Lightfoot said.
In mid-May, when Chicago hit an initial peak in COVID-19 infections, the city was averaging more than 1,000 cases per day during a seven-day period, according to city data. When Lightfoot allowed businesses to begin reopening after Gov. J.B. Pritzker allowed the stay-at-home order to expire, the city was seeing fewer than 200 cases per day, on average, during a seven-day period.
Arwady has repeatedly warned that if Chicago reaches a seven-day rolling average of more than 400 cases, city officials would be forced to consider reimposing restrictions. Chicago hit that mark during the past week, but no additional restrictions were imposed.
On Oct. 1, when Chicago was averaging approximately 300 cases per day on average, Lightfoot allowed bars that did not serve food to reopen and increased the number of customers other businesses are permitted to serve indoors.
Lightfoot said the surge in the number of confirmed cases of COVID-19 was unrelated to that decision, citing information developed by the city's corps of contact tracers that determined that most new cases stemmed from relatives or friends and was occurring across the city.
"I don't think there is a cause and effect," Lightfoot said.
Lightfoot also declined to reverse her decision, announced Friday, to reopen Chicago's schools for in-person learning for preschool students and those with special needs on Nov. 9. Private and religious schools that reopened have not been sources of infections, she said.
However, Lightfoot said school officials were consulting with parents about the plan.
"No definitive decision has been made," Lightfoot said.
If cases of COVID-19 continue to increase, Lightfoot could order tougher restrictions than those imposed by Pritzker. The plan from the Illinois Department of Public Health calls for new restrictions to be imposed if there is an increase in the number of cases as well as a decrease in hospital capacity or if there are three consecutive days greater than or equal to a test positivity rate of 8%.
"We will not wait for 8% to act," Arwady said.
Contact Heather Cherone: @HeatherCherone | (773) 569-1863 | [email protected]
---