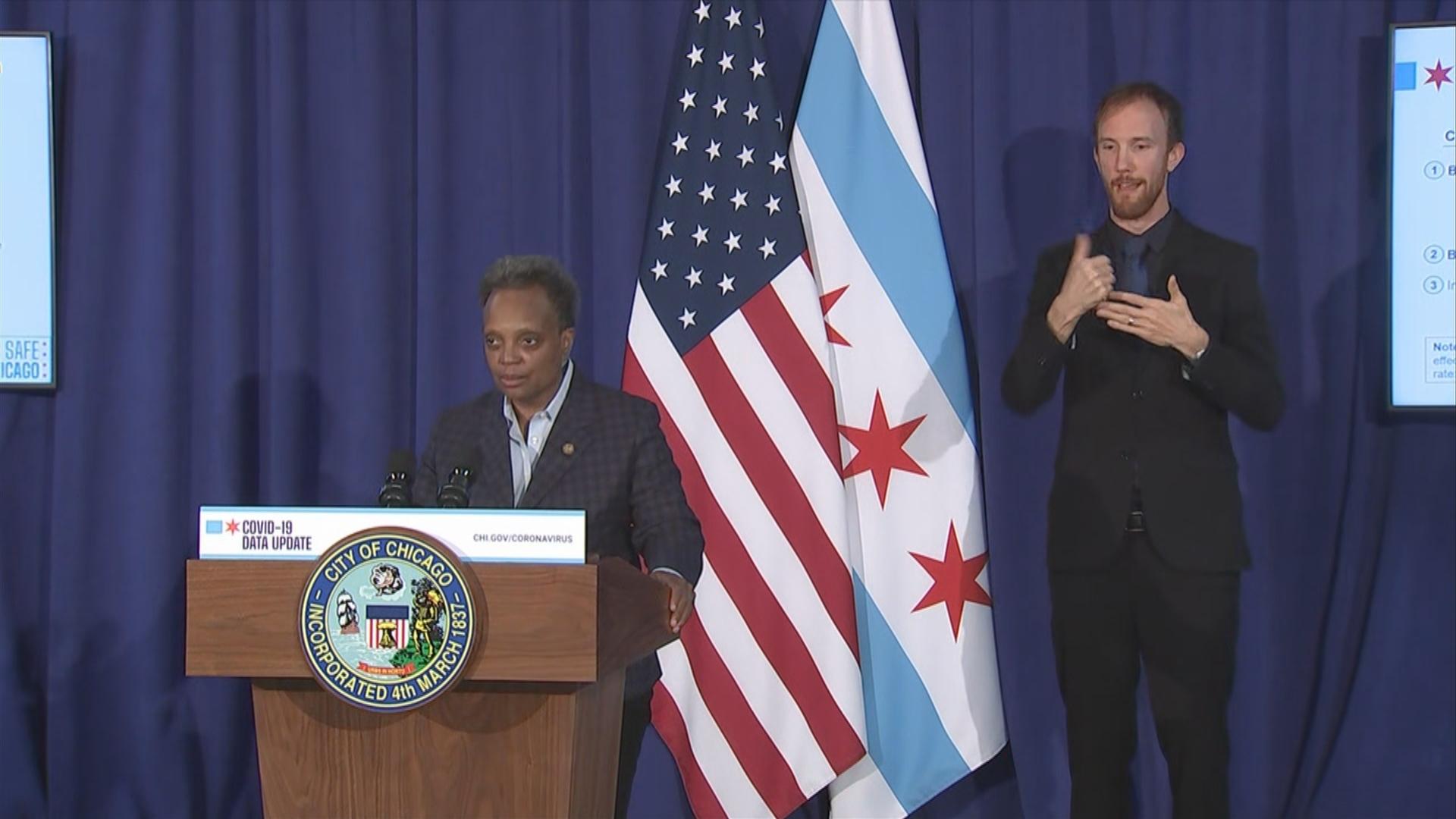 Mayor Lori Lightfoot announces new restrictions Thursday, Oct. 22, 2020 to curb the spread of the coronavirus. (WTTW News)
Non-essential businesses will have to shut down at 10 p.m. and Chicago bars will no longer be able to serve customers indoors starting Friday as part of a rollback ordered by Mayor Lori Lightfoot on Thursday following an increase in the number of coronavirus cases.
Bars, taverns, breweries and other establishments that do not have a retail food license permitting them to serve food will no longer be able to serve customers indoors, according to the new restrictions.
Those bars were allowed to reopen on Oct. 1, just before the surge began in Chicago. Lightfoot also allowed businesses to serve more customers indoors. Lightfoot did not change the capacity limits for indoor businesses, which remain at 40% of normal.
"The increase is startling," Lightfoot said. "It is like we are back in the spring."
In addition, all liquor sales at bars, restaurants and stores must end at 9 p.m. Social gatherings of any size must end at 10 p.m., but Lightfoot urged people to cancel parties.
The restrictions will go into effect Friday and last for a minimum of two weeks, Lightfoot said. Businesses can reopen at 6 a.m. daily, according to the rules.
"We are taking these measures to avoid potential catastrophic impacts later," Lightfoot said.
Lightfoot warned that if the increase continues, she would "not hesitate" to order another stay-at-home order, threatening Thanksgiving and Christmas plans.
"I hope that won't be necessary, but it's all in your hands," Lightfoot said. "I have to do what is right to save lives. And if that means rolling back further, I will."
The sharp increase in confirmed cases of the coronavirus this week is the same as during the worst periods during the first wave of the pandemic, from March 19 to 31 and from April 15-29, said Dr. Allison Arwady, the commissioner of the Chicago Department of Public Health.
An average of 654 Chicagoans have been diagnosed each day with the coronavirus during the past week, a 54% increase from the previous week, according to Chicago Department of Public Health data. That increase is not due to an increase in testing, Arwady said.
Chicago's test positivity rate is now 6.4%, up from 4.6% in the past week. The metric is calculated by comparing the number of positive tests for COVID-19 with the total number of tests conducted within a 24-hour period. A test positivity rate of more than 5% indicates that the spread of the virus is uncontrolled.
The state's data, which is calculated with a three-day lag, is at 7%, Arwady said. 
A test positivity rate greater than 8% for three days will trigger restrictions from the state. Arwady has promised not to wait for that to happen before taking action.
The city's case positivity rate — which compares the number of positive tests with the number of individuals tested within a 24-hour period — has risen to 14.3%, up from 9.7% a week ago, according to city data.
From Monday to Thursday this week, the average number of confirmed COVID-19 cases per day in Chicago, based on a seven-day period, rose from 508 cases to 654 cases, according to data from the Chicago Department of Public Health.
On Oct. 1, Lightfoot allowed bars that did not serve food to reopen and increased the number of customers other businesses are permitted to serve indoors. Chicago was averaging approximately 300 cases per day when those restrictions were lifted, according to city data.
Lightfoot said Monday she didn't think there was a "cause and effect" between the number of confirmed cases of COVID-19 and bar operations, citing information developed by the city's corps of contact tracers that determined that most new cases stemmed from contact with relatives or friends.
That put her at odds with Gov. J.B. Pritzker, who repeatedly said the link was clear.
However, Lightfoot said Thursday that the risk of getting COVID-19 is "greatest" at bars, "because people gather, they take their masks off, they have a drink, they socialize, they talk."
The deaths of 3,018 Chicagoans have been linked to COVID-19 through Saturday, according to data from the Chicago Department of Public Health.
Contact Heather Cherone: @HeatherCherone | (773) 569-1863 | [email protected]
---