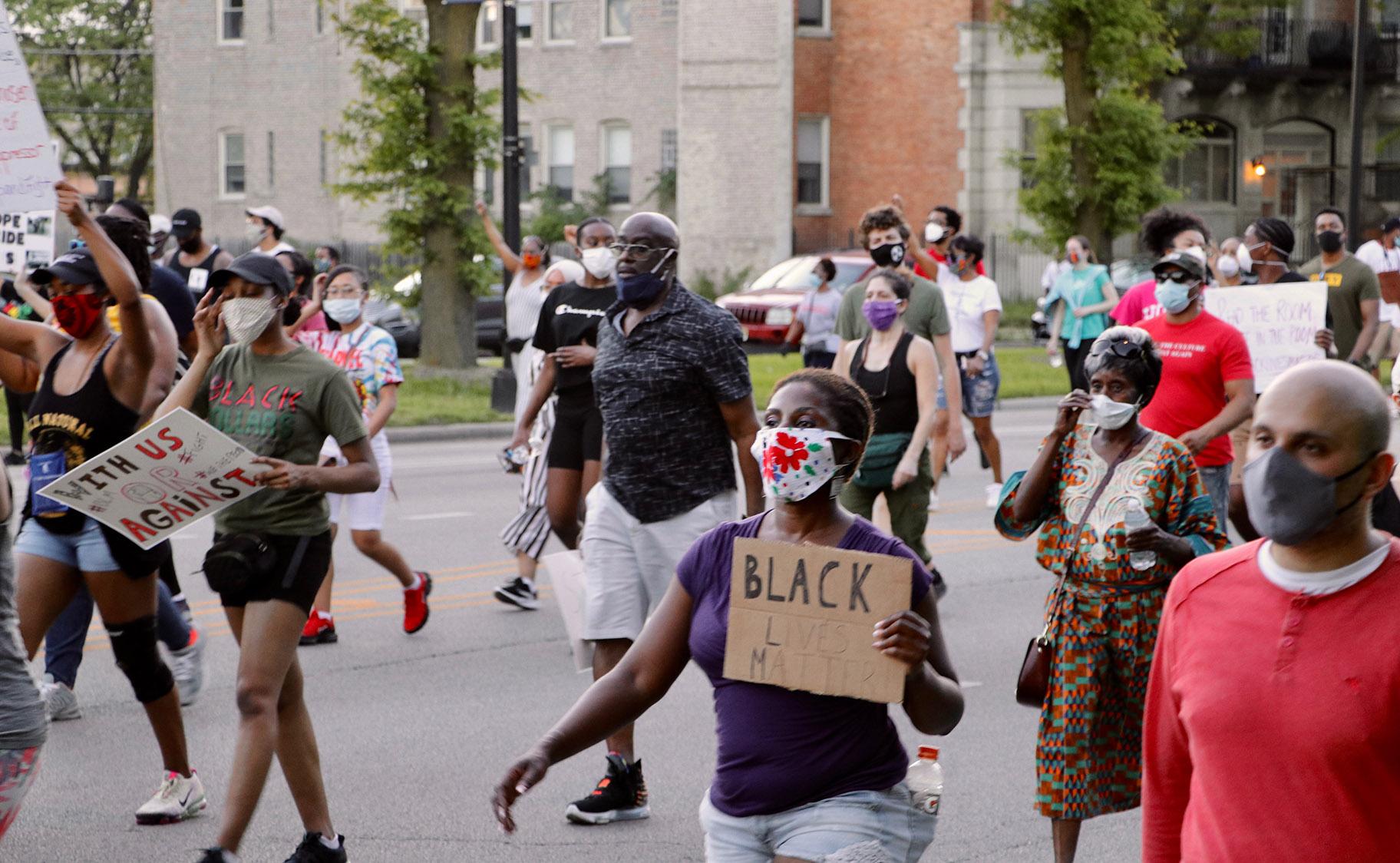 A peaceful protest in Bronzeville on Tuesday, June 2, 2020 was organized by faith leaders in Chicago. (Evan Garcia / WTTW News)
Looting and unrest has largely subsided in Chicago as large peaceful protests against police misconduct continue, Chicago Police Supt. David Brown told reporters Wednesday.
Despite the relative calm, Chicago police officers made 274 arrests Tuesday night — but only six were for looting, all of which took place at businesses that had already been broken into, Brown said. Police arrested 46 people based on allegations of disorderly conduct, Brown said. Those who violate the city's indefinite 9 p.m. to 6 a.m. curfew could be subject to disorderly conduct charges.
Photos: Peaceful George Floyd Protests Through Chicago's North and South Sides
In addition, Brown said police are investigating 23 shootings Tuesday night, and police confiscated 69 guns.
Despite the calm night, the National Guard will remain in Chicago indefinitely, Brown said.
"We are not letting our guard down," Brown said. "We are keeping all of our resources in place. We are making our adjustments. We have continued to push more resources toward the neighborhoods to ensure people are safe given the looting."
Mayor Lori Lightfoot and Brown again praised the conduct of Chicago police officers and supervisors, saying they had done an impressive job of keeping the city safe, but vowed to investigate reported instances of police misconduct.
"I appreciate the restraint that our officers have shown under such very, very difficult circumstances, and we will continue to aggressively investigate and follow up on any allegations of misconduct," Lightfoot said.
Lightfoot on Wednesday morning restored access to the central business district after closing it off Sunday morning at the height of the unrest sparked by the death of George Floyd in police custody. The officer who kneeled on Floyd's neck for eight minutes before he died was charged Wednesday with a new count of second-degree murder while three other officers who detained Floyd have been charged with aiding and abetting murder.
The Divvy bicycle sharing service also resumed operations Wednesday morning.
Lightfoot and Brown said police would patrol business districts frequently as businesses reopened Wednesday as part of the lifting of restrictions designed to slow the spread of the coronavirus. Restaurants can now serve a limited number of diners outside.
Contact Heather Cherone: @HeatherCherone | (773) 569-1863 | [email protected]
---