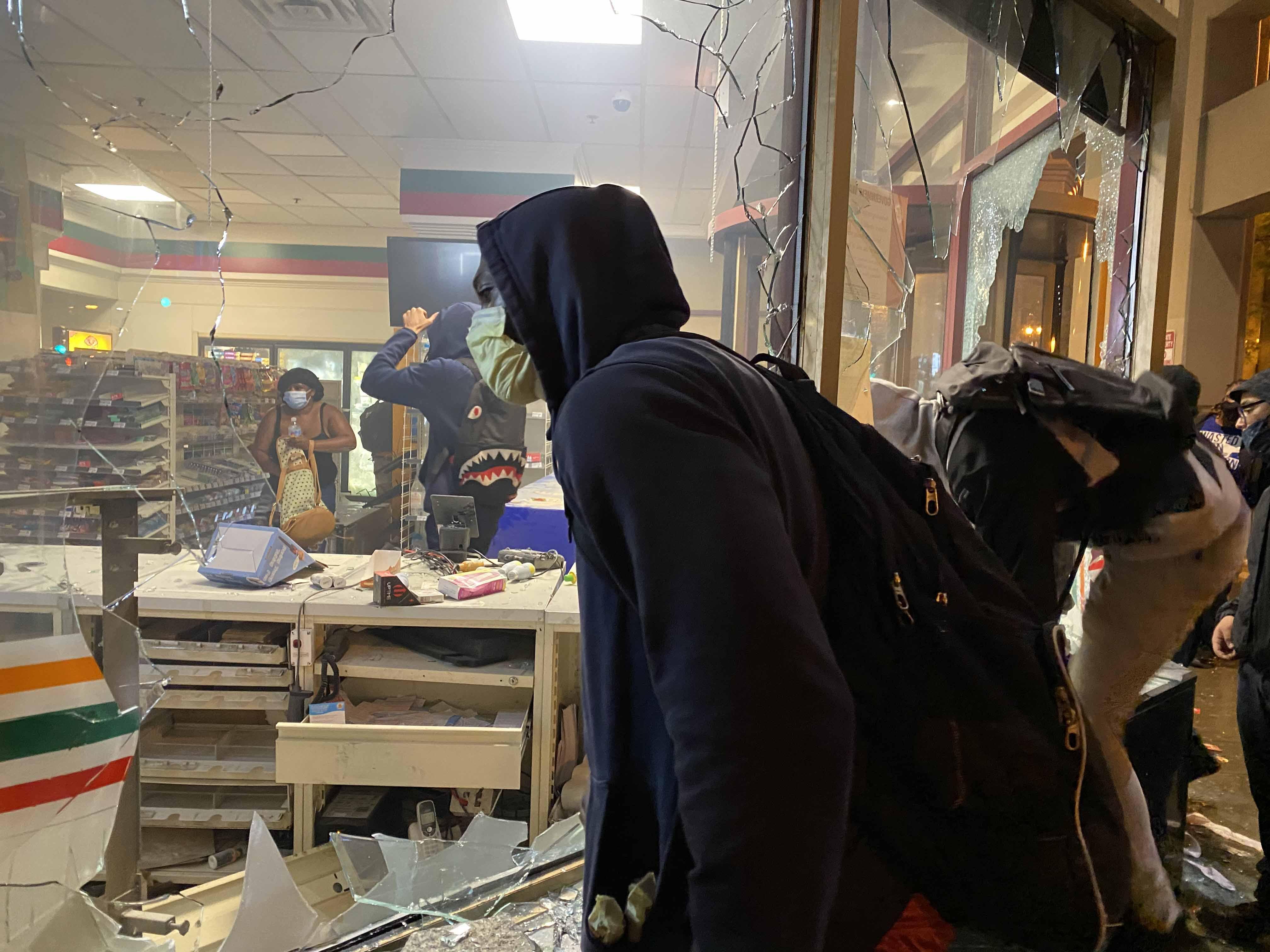 Scenes from Chicago protests on Saturday, May 30, 2020 over the killing of George Floyd. (Hugo Balta / WTTW News)
The Illinois National Guard will be mobilized in Chicago after Saturday's peaceful protest over George Floyd's killing boiled over to looting and violence.
There have been uprisings across the nation demanding justice after a Minnesota police officer killed Floyd, who was black, even as Floyd said "I can't breathe" and bystanders called for the policeman to lift his knee from Floyd's neck.
At Chicago Mayor Lori Lightfoot's request, Gov. J.B. Pritzker activated 375 guard soldiers – one of several "new precautionary measures" to ensure "health and safety."
"Their job is to provide a perimeter. They're not going to be on the front lines," Gov. J.B. Pritzker said. "They're really there to provide a perimeter so that the center of the city doesn't get overtaken in the way that it seemed to in certain times last night."
Pritzker said the soldiers were given "explicit direction" to not interfere with individuals peacefully protesting.
"They will operate under the most stringent parameters," the governor said.
Illinois Guard Brig. Gen. Richard Neely said each solider was given strict use of force guidelines, but he would not elaborate what those were "for the protection of our soldiers on the street, and to ensure their safety."
Neely on Sunday afternoon said the first contingent of guard members had already arrived, and that they were prepared with equipment to protect themselves generally, and to protect themselves from the coronavirus.
"The risks associated with the current mission have been addressed," Neely said. "We are coming in to support law enforcement, to support peace, to support First Amendments rights."
Pritzker said 100 or more state police troopers have also been on hand, assisting and providing backup to Chicago police officers over the weekend.
The entire city also remains under a 9 p.m. to 6 a.m. curfew while sections of the Loop and central downtown are indefinitely closed to everyone but employees and residents who work and live inside those borders.
The blocked areas are Division Street from Lake Shore Drive and N. Halsted Street; N. Halsted Street from Division Street to Milwaukee Avenue and Grand Avenue; Milwaukee Avenue from Grand Avenue to Kinzie Street; Canal Street from Kinzie Street to 26th Street; and 26th Street from Canal Street to Lake Shore Drive.
The CTA on Sunday evening  announced that it would suspend all train and bus service "at the request of public safety officials" from 6:30 p.m. likely until Monday morning. 
While the move may ease safety concerns for some, it's apt to pose challenges for those who rely on public transportation to get to and from work. 
"It's not an easy decision to call in the Guard," Lightfoot said. "The National Guard obviously has certain optics to it, may come with a certain level of equipment and presence. We don't want to squander that resource and make sure that we only use it when truly there is a time of need."
Lightfoot says soldiers will provide support. They will not be on patrol.
"That will remain the sole providence of the Chicago Police Department," she said.
Lightfoot said she called Pritzker with her request after midnight upon the advice of handpicked Chicago Police Superintendent David Brown, even as she'd said Saturday night she was not considering bringing in the National Guard.
Saturday night's events resulted in 240 arrests connected to looting and other "illegal acts" said Brown, though he did not have a more precise breakdown.
He also said that 20 police officers had to go to the hospital, and a couple required surgery.
Brown commended officers for "maintaining their composure" and showed restraint as the protests gave way to violence.
"In many cases they did this while being assaulted, both verbally and physically," he said. "I saw officers pelted with bottles and debris, officers who were punched and even dragged through the streets. We have officers with broken bones and bruises."
A National Guard presence in the city has a fraught history. Chicago leaders brought in the guardsmen to quell violence in 1968, when the news of Martin Luther King Jr.'s assassination led to bedlam. Guardsmen were also on hand that year during violent clashes between law enforcement and protesters as Chicago hosted the Democratic National Convention.
Follow Amanda Vinicky on Twitter: @AmandaVinicky
---