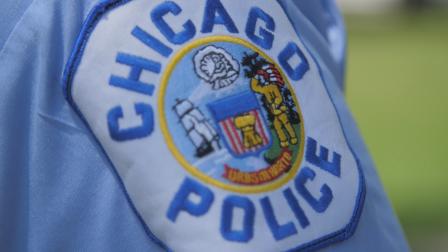 (WTTW News)
Chicago saw its most violent Memorial Day weekend in five years with dozens shot and 10 people killed, despite a stay-at-home order meant to keep people inside during the ongoing COVID-19 pandemic.
Over the holiday weekend, 49 people were shot, according to Chicago police Superintendent David Brown, an "unacceptable level of violence" that marked the city's bloodiest Memorial Day weekend since 2015.
"The violence throughout the city on Memorial Day weekend was nothing short of alarming," he said during a Tuesday morning press conference.
Among the 10 people who died, three were juveniles, including 16-year-old Darnell Fisher, who was shot and killed in the 6100 block of South Indiana Avenue on Saturday evening.
Brown said many of the shootings stemmed from disputes between rival gang factions as well as clashes involving the sale of illegal drugs.
"Gangs, guns and drugs hold too many people hostage within their own neighborhoods," Chief of Patrol Fred Waller said Tuesday. "We need to stop this and it can only happen one block, one neighborhood at a time."
Brown said his department recovered 216 guns over the weekend, an increase of 68 over the same weekend last year, including several equipped with extended magazines. Police made a total of 86 arrests for gun offenses.
Warm temperatures and restless residents also headed outdoors in droves over the weekend, many in defiance of Gov. J.B. Pritzker's stay-at-home order, leading to police issuing 300 group dispersal each day, according to Brown.
That included a large gathering police broke up Monday in Grant Park. Waller said that event began as a Memorial Day remembrance, but a second group attending was also protesting Pritzker's stay-at-home order.
Waller said organizers and participants failed to abide by public health standards and social distance guidelines, which led to their dispersal.
The spike in violence came days after Brown and other city officials announced an "all-hands-on-deck" approach to public safety over the holiday weekend. The CPD would not say last week how many additional officers it planned to deploy, but Brown on Tuesday said it was fewer than the 1,000 or so who have been added on holiday weekends in years past.
Mayor Lori Lightfoot on Tuesday said she spoke with Brown and called the weekend strategy "a fail."
"Whatever the strategy was, it did not work," she said during her own press conference. "We have to do better."
Brown himself has announced a "moon shot" goal of cutting Chicago's murder rate to below 300 per year. He admitted this was a "challenging" weekend, but said he still believes his goals are possible.
"My resolve hasn't been shaken at all in making Chicago the safest city in the country, and neither should yours," he said. "We are committed and dedicated to making this the safest city in the country."
Contact Matt Masterson: @ByMattMasterson | [email protected] | (773) 509-5431
---