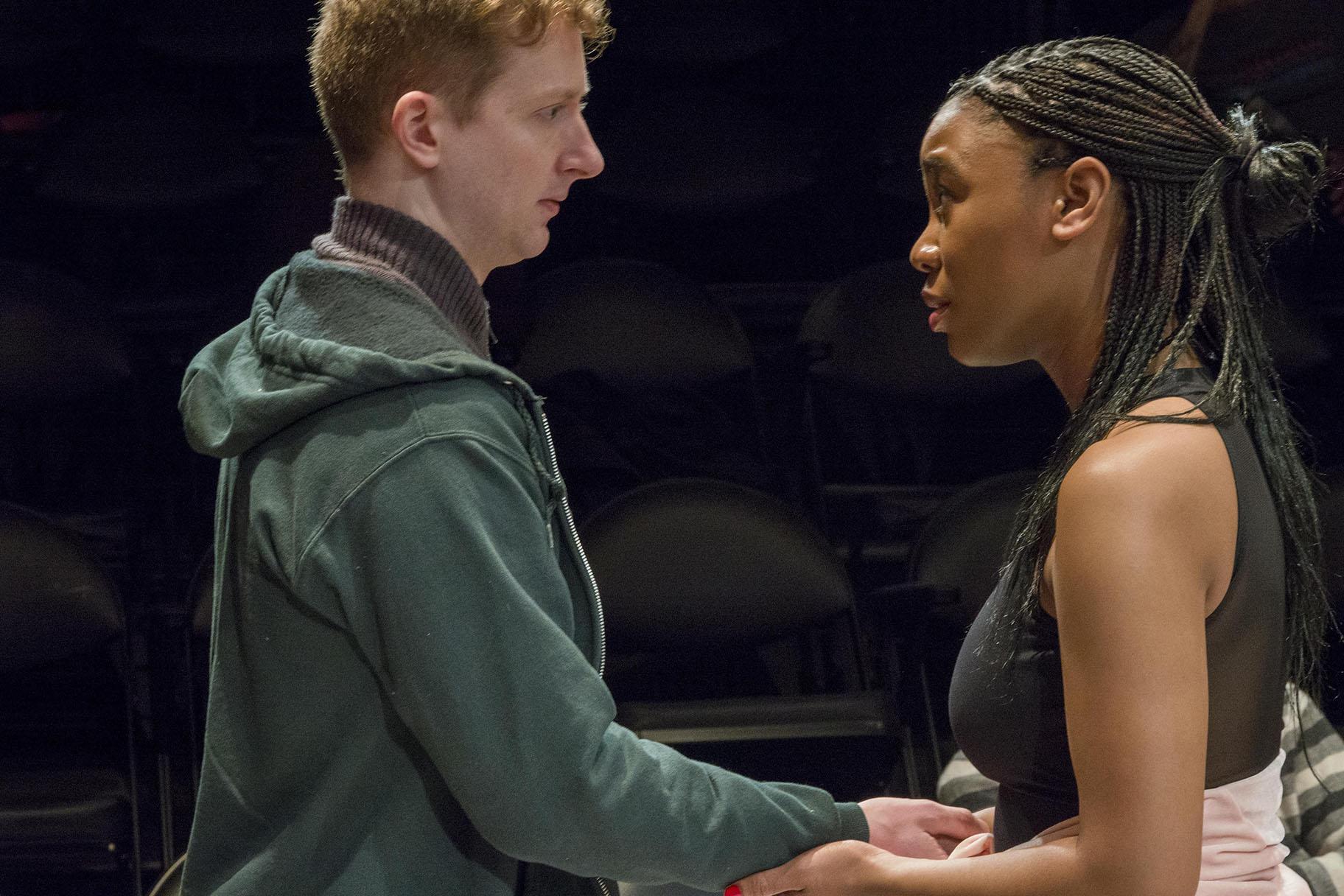 MacGregor Arney and Courtney Rikki Green in "Teenage Dick," at Theater Wit. (Photo credit: Charles Osgood)
In these days of upheaval and uncertainty on every front there is this question when it comes to the performing arts:
Is it better to be a large cultural institution with powerful, deep-pocketed boards, dependable foundation support, and a solid subscriber list (think the Chicago Symphony Orchestra, Lyric Opera and the Joffrey Ballet), yet at the same time be forced to face monumental costs and the loss of immense productions that cannot be put on hold? Or is it far more difficult and precarious to try to keep a small theater afloat (always a dicey proposition), while somehow managing to help your artists and crew who, more often than not, are financially squeezed as members of the gig economy, and are struggling to maintain some form of health insurance?
The truth is, no one wins in this coronavirus-infected world. But since Chicago is the storefront theater capital of this country, and its survival is of crucial importance, it is worth looking at the situation now facing some of these companies and how they are trying to deal with the crisis.
Take, for example, Griffin Theatre, whose superb production of Lynn Nottage's play, "Mlima's Tale," about the horrific trade in African elephant tusks, was set to run through March 21 in its rented space at Raven Theater. It had to close early as warnings about the virus and the need for "social distancing" caused ticket sales to flatline, and the final eight of its planned 22 performances were canceled.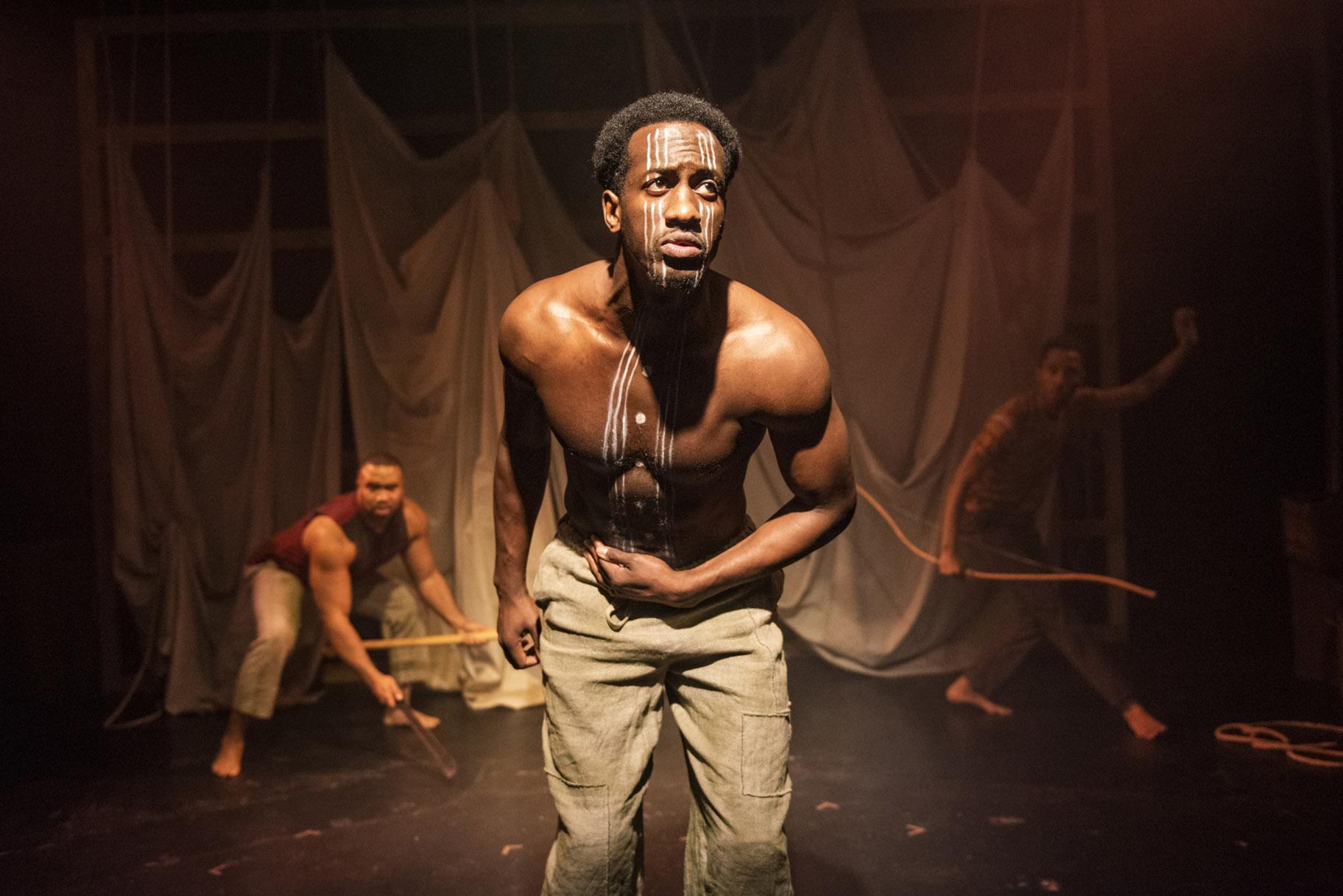 David Goodloe, center, with Lewon Johns, back left, and Michael Turrentine in Griffin Theatre Company's Midwest premiere of "Mlima's Tale." (Photo by Michael Brosilow)
"The good news is that of all the people we contacted only a couple asked for ticket refunds," said Bill Massolia, Griffin's co-founder and artistic director. "Most said we should keep the money as a donation and put it toward the cost of our next show. But the more calamitous result of this whole thing is that a few hours after canceling 'Mlima's Tale' we found out that this week's planned tour of our hugely successful children's show, 'The Stinky Cheese Man and Other Fairly Stupid Tales,' at Las Vegas' Smith Center for the Performing Arts, was canceled. We were sold out there – more than 15,000 tickets – and are now taking a huge hit of $30,000. Soon afterward we learned that our tour of the show to Connecticut and New York, slated for April, also was canceled, meaning an additional loss of $20,000. These are immense financial losses for us, and insurance is not covering them. We've talked to the League of Chicago Theatres, we will discuss things with our board, and we will send out a plea to our patrons. Everything has just happened so quickly. And we are trying to make a commitment to our artists about how and when we can pay them."
"Everybody is feeling the impact of this virus," added Massolia. "Scott Weinstein, who we were talking to about directing a show for us next season, learned that the cruise ships for whom he stages 'Jersey Boys' and 'Million Dollar Quartet' will not be 'sailing' anytime soon."
(Note: The planned production of "Intimate Apparel," another fine play by Nottage, was suspended after its first preview at Northlight Theatre last week, with future plans for the show still to be determined.)
Meanwhile, several companies housed under the single roof of Theater Wit, the Belmont Avenue "multiplex" whose three stages are most often occupied by that eponymous company, as well as by Shattered Globe Theatre and Remy Bumppo Theatre, are all dealing with the crisis in different ways.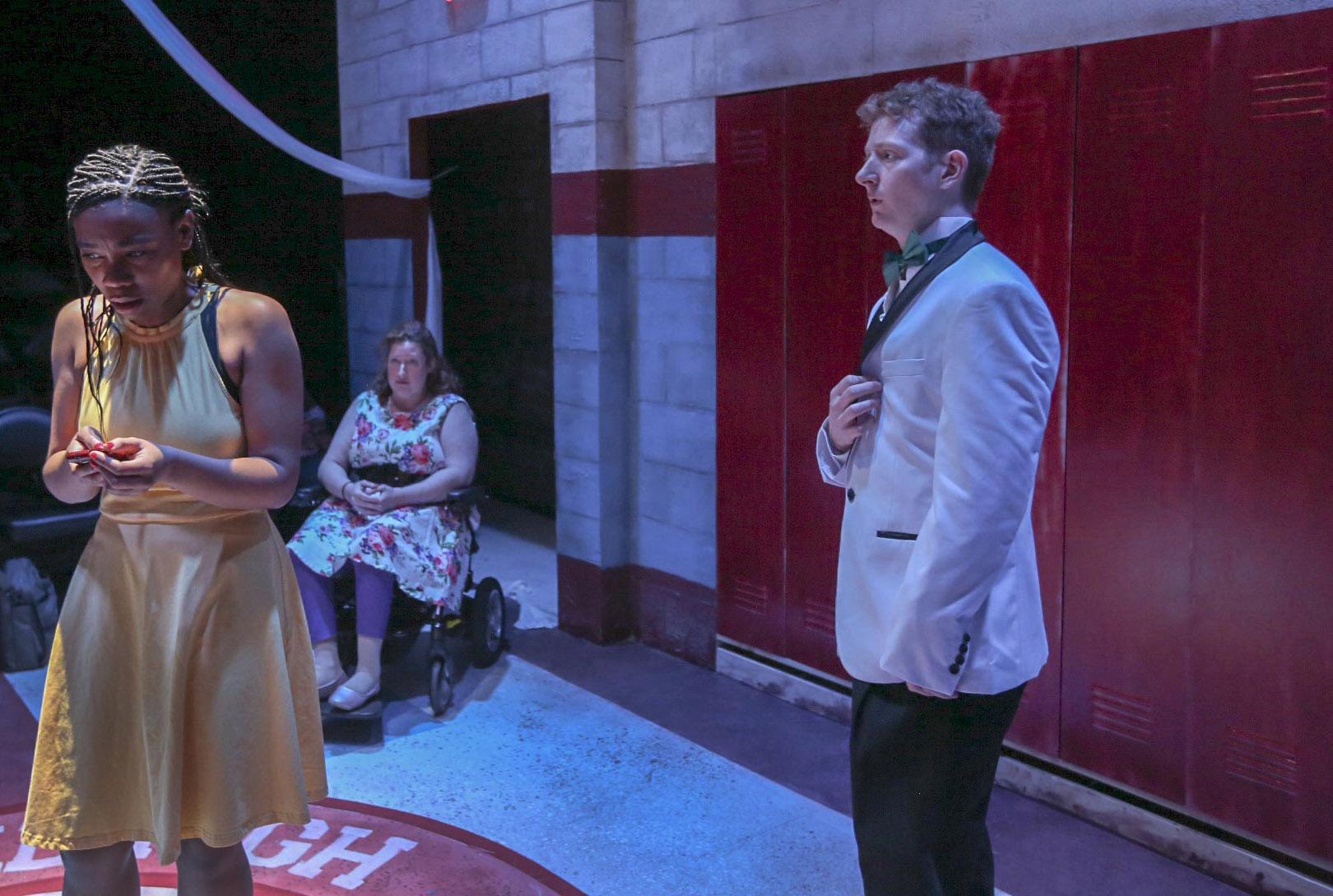 Courtney Rikki Green, left, Tamara Rozofsky, center, and MacGregor Arney in "Teenage Dick," at Theater Wit. (Photo credit: Charles Osgood)
Jeremy Wechsler, Theater Wit's producing artistic director, was about to bring up the lights on the Chicago premiere of Mike Lew's play, "Teenage Dick," on Thursday. The show, a riff on Shakespeare's "Richard III," in which a high school student with cerebral palsy sets his mind on becoming class president, never opened in the usual way. But Wechsler came up with an ingenious solution that would give audiences – both those already holding tickets, as well as those searching for theater experiences in the age of semi-quarantine – the opportunity to see it and have "as close as possible an experience of the live performance, given the current situation."
"We immediately began talks with Equity, and our cast and crew, about allowing remote viewings of the show, and we managed to devise a solution in just four days," said Wechsler. "It will not be a livestreaming of the show. Instead just think of it as the poor man's version of Britain's National Theatre Live! What we did was video the production without an audience on Monday night. And now, beginning March 18, people can purchase tickets to see it online at each time it was scheduled for the theater. In addition, to foster the sense of community we are all hungry for these days, we also have arranged for a live, post-show video-conferencing platform with the cast that we hope will encourage 'cross-chatting.' And we are still paying the cast and crew and understudies for the full run, because to the extent of our limited abilities we want to take care of them."
And there is this intriguing note: The first ticket buyers for the screening were in New York, suggesting such a streaming plan might even open the way to bringing the work of Chicago's storefront theaters to people far beyond the city, as well as to making it more easily accessible to disabled audiences. (For viewing details visit TheaterWit.org.)
For Sandy Shinner, artistic director of Shattered Globe Theatre, the timing of the crisis was relatively lucky. Its successful production of "Sheepdog," the story of an interracial relationship between two police officers, was coming to the final weekend of its two-week extension through Sunday, so only a few performances had to be sacrificed.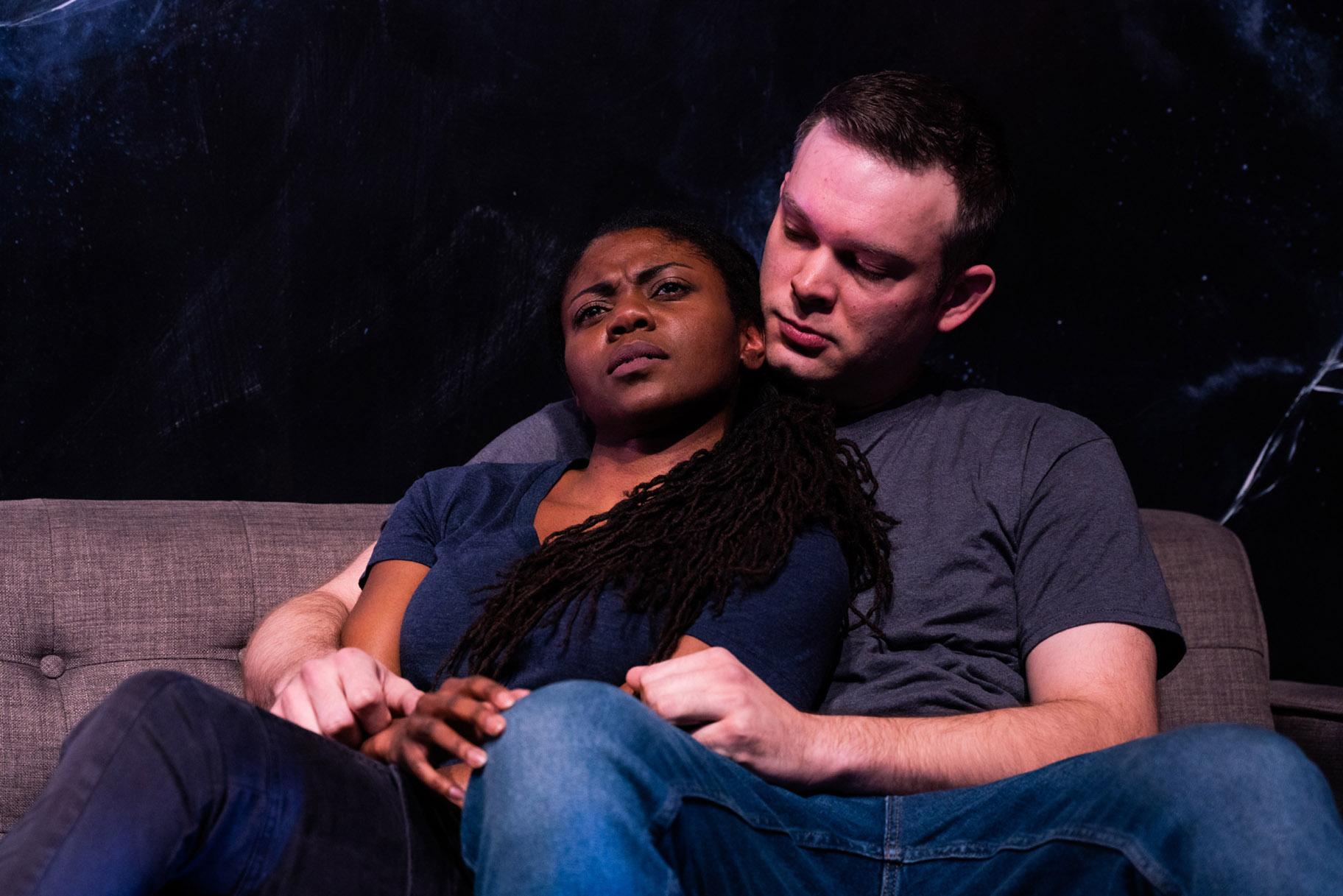 Leslie Ann Sheppard and Drew Schad in Shattered Globe Theatre's Chicago premiere of "Sheepdog." (Photo by Lowell Thomas)
"But not having an official closing night show was heartbreaking," said Shinner, who noted that the company only recently initiated subscription seasons. "Of course our audiences, which include many senior citizens, were understandably frightened. Some people donated the price of their tickets, others said apply it to future shows, and some asked for refunds. The issue now is how to plan for our next show, 'When the Rain Stops Falling' (Australian playwright Andrew Bovell's four-generation family saga, set to run April 23-June 6). We already had a first week of rehearsal but decided to take a hiatus. We will have to see how all that ends up. We might have to move the production to next season. And Jeremy (Wechsler) very generously said we could leave our 'Sheepdog' set standing for now in case a remount became possible. Our set for 'Rain' is already designed, but not built."
"Meanwhile, we've had to cancel our annual benefit scheduled for May 15, which together with our last show, accounts for 25% of our income," said Shinner. "And our free, much-prized Protege Program for emerging artists is also on hiatus now. Ironically they have been devising a new work, 'MetaMorphic,' about the end of the world that also manages to be healing."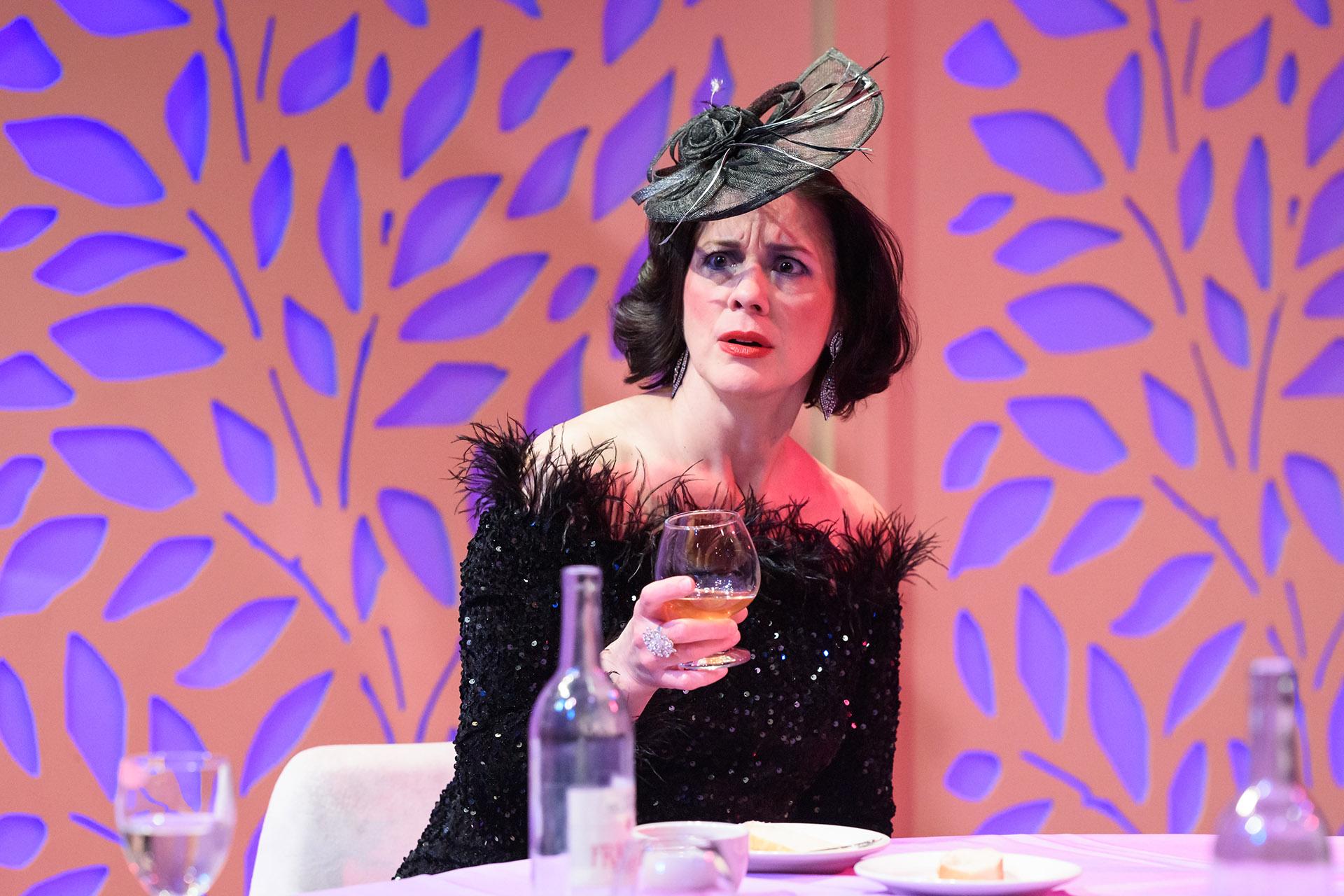 Linda Gillum in "Top Girls." (Photo by Michael Courier)
Remy Bumppo, the third company that performs at Theater Wit, was lucky enough to have held its goal-beating benefit Sunday, just before everything changed. It also had completed the run of its excellent production of "Top Girls" in February, and had not begun rehearsals yet for Mat Smart's play, "Agitators," about the friendship between Frederick Douglass and Susan B. Anthony.
Nick Sandys, Remy Bumppo's artistic director – who also directs for such grand-scale operations as Chicago's Lyric Opera (which just had to cancel its monumental, $21 million production of "The Ring Cycle") – is in the unique position of seeing the current fate of the performing arts from both sides.
"The Lyric has suffered a tremendous loss – four years of work, world-class artists in chaos about worldwide engagements, and much more," said Sandys. "Remy has about 1,100 subscribers, and many of them have been reaching out and turning back tickets. But we will try to refund subscribers and, if possible pay our artists. And we are hoping to delay the dates for 'Agitators,' and keep the actors, crew and designers in place. We've already ordered the materials for the set, though haven't begun building it. What worries me most is that many of these artists survive by service jobs at restaurants and other places both during and between gigs. And they are now facing a double whammy."
Follow Hedy Weiss on Twitter: @HedyWeissCritic
---