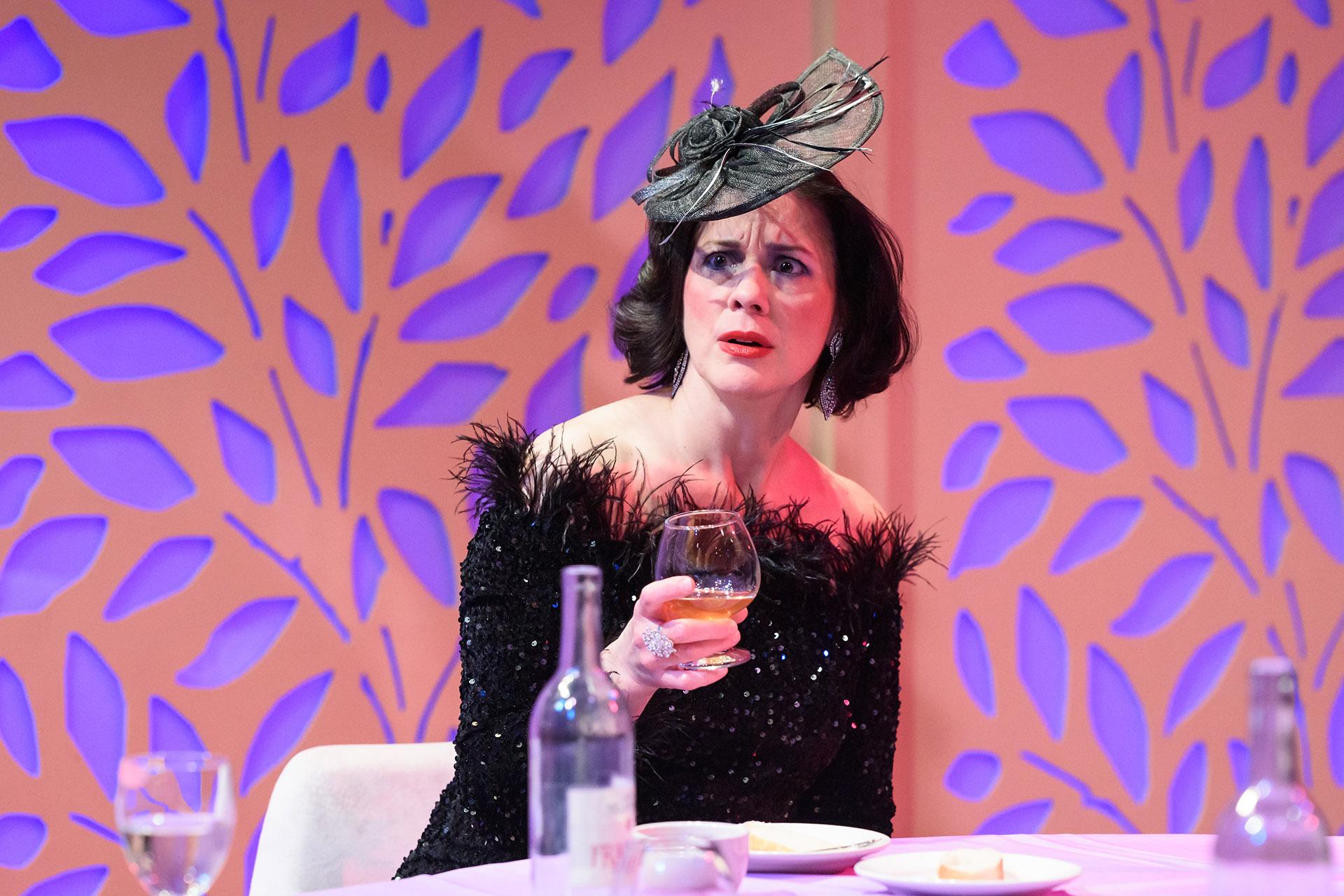 Linda Gillum in "Top Girls." (Photo by Michael Courier)
Caryl Churchill's play "Top Girls" debuted in London in 1982 just as the feminist movement that first took hold in the 1970s was being more fully realized, and Margaret Thatcher was in the early years of her long and combative tenure as the first female prime minister of Britain (and leader of the Conservative Party).
Now, four decades later, the play's dynamically realized revival by the Remy Bumppo Theatre Company serves as a vivid reminder that the more things change, the more they remain the same in many ways. Perhaps the most notable change is that both the excellent director of this production (Keira Fromm), and its design team, happen to be women. The all-female cast of Churchill's play made a statement from the very start, and now, the eight bravura actresses in the current cast turn in a collection of blistering performances that suggest the intentional irony of using the word "girls" (rather than "women") in the title.
"Top Girls" unspools in three acts, the first of which is a highly theatrical tableau that takes the form of a lavish party thrown by Marlene (Linda Gillum) to celebrate her hard-won promotion to a managerial position at a London employment agency – a promotion that left a fellow male employee in the dust.
Amber Sallis, Linda Gillum, Aurora Real De Asua, Rebecca Spence and Karissa Murrell Myers in "Top Girls." (Photo by Michael Courier)
Gathered around the table are five notorious women from history and myth who, together, represent the many different forms of female acquiescence and rebellion. They include Isabella Bird (Annabel Armour), a Victorian era explorer and writer who traveled on her own to many exotic places (which was most unusual for her time) and Lady Nijo (Karissa Murrell Myers), an unapologetic 13th century concubine who became a Buddhist nun, walked the world and penned a memoir. Also gathered are: Pope Joan (Rebecca Spence), a bold ninth century woman who disguised herself as a boy in order to get an education and became the head of the Catholic Church for two years until a pregnancy undid her; Dull Gret (Aurora Real de Asua), who's depicted in a Peter Brueghel painting leading a group of women into hell; and Patient Griselda (Amber Sallis), a figure in 14th century literary classics who endured much pain as she tried to prove her obedience to a cruel husband. Meanwhile, it is worth noting that while Marlene oversees this fantastical party for herself she is notably condescending to the two young contemporary female waitresses (Rebecca Hurd and Vahishta Vafadari) serving her guests.
The play's second and third acts return to the realm of real life. In the back yard of the rural, working-class home of Joyce (Spence), two "teenage" girls are at play, with Angie (de Asua), Joyce's angry, unhappy daughter, trying to exert power over her much younger but strong-willed and more intellectual friend, Kit (Sallis).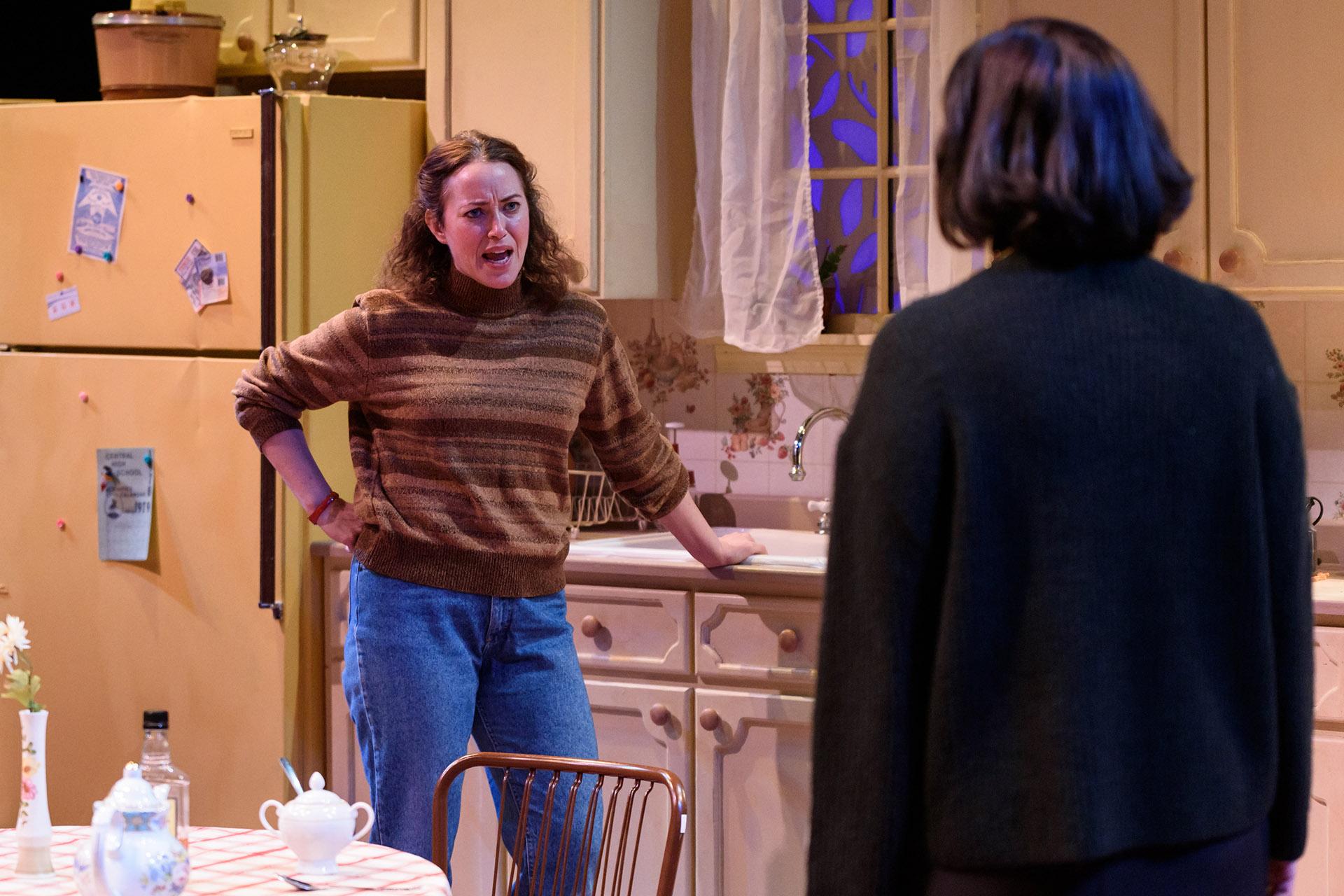 Rebecca Spence and Linda Gillum in "Top Girls." (Photo by Michael Courier)
Joyce, whose marriage has dissolved, is Marlene's working-class, money-strapped sister. And (spoiler alert here), she assumed the role of Angie's mother when Marlene decided to head to the city and forge a career. Angie is in the dark about all this, and has only encountered her "aunt" Marlene briefly. But she is instinctively drawn to Marlene and her more glamorous life, and even sneaks off to London to visit her, refusing to be beaten down by Joyce's destructive assessment of her as less than bright or promising.
At the same time, we see just how Marlene and her snappy associate, Win (Myers), operate on the job as they encounter prospective female job seekers. Among these is a middle-aged executive secretary (Armour), who has kept a male office functioning for years, but has never been rewarded, and a self-confident young woman (Vafadari), with ambition, self-confidence and smarts but no experience. There also is a visit by Mrs. Kidd (played by the ever remarkable Spence), the desperate wife of the man left behind when the top job went to Marlene. It is a brief scene, but in many ways, along with the play's mother/daughter conundrum, it is the most telling look at the dramatic social changes (and accompanying resentment) of recent decades.
Watching this exceptional production I thought about "Six," the musical that triumphed in Chicago and is about to open on Broadway. In that show, the wives of an English king have the chance to vent and get a little of their own back. In "Top Girls," Churchill captures more of the complex mix of pain, loneliness, selfishness and resentment that can come along with liberation.
Remy Bumppo's production of "Top Girls" runs through Feb. 22 at Theater Wit, 1229 W. Belmont Ave. For tickets ($37.75-$47.75), call (773) 975-8150 or visit www.remybumppo.org. Running time is 2 hours and 45 minutes with two intermissions.
Follow Hedy Weiss on Twitter: @HedyWeissCritic
---