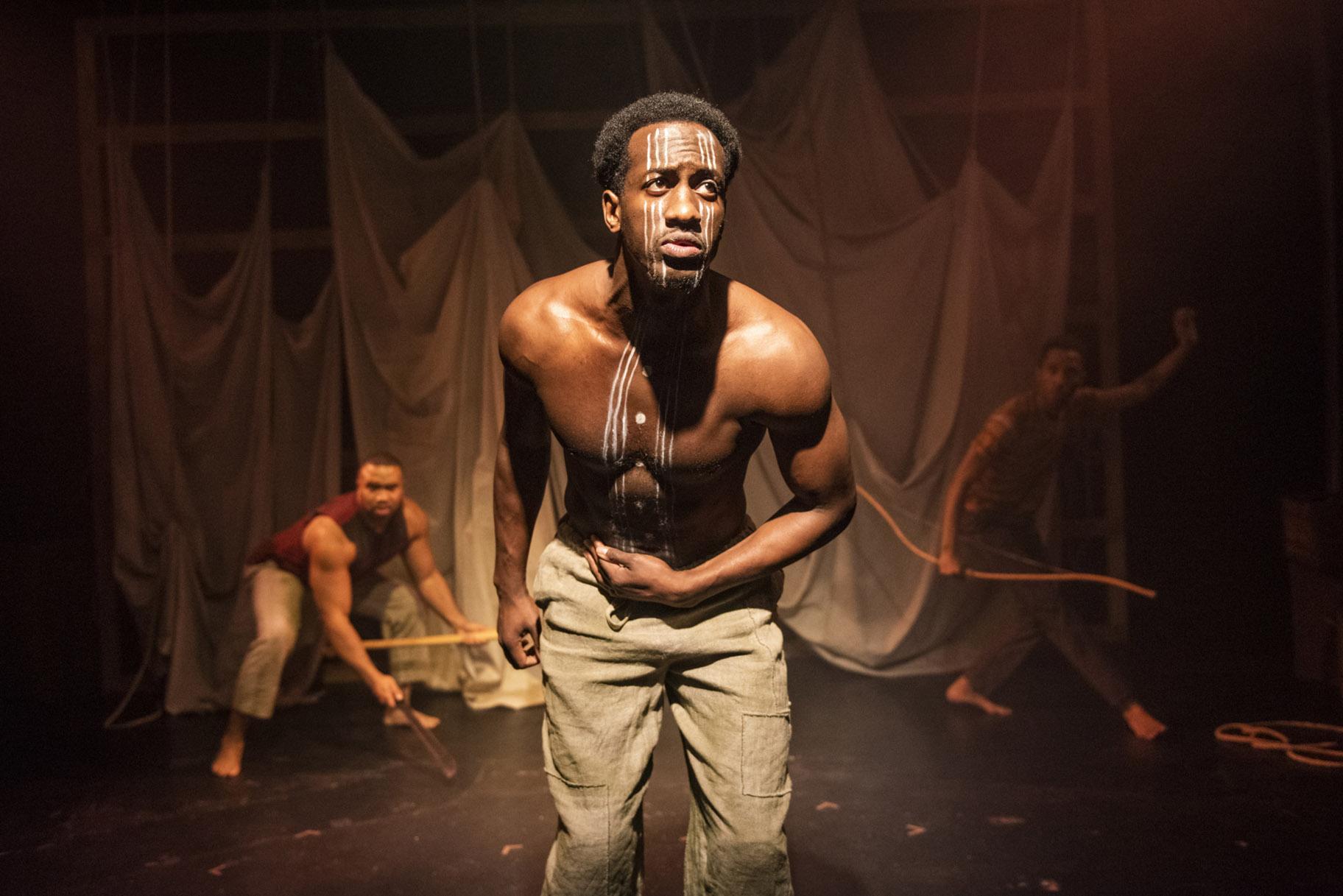 David Goodloe, center, with Lewon Johns, back left, and Michael Turrentine in Griffin Theatre Company's Midwest premiere of "Mlima's Tale." (Photo by Michael Brosilow)
To cut to the chase: "Mlima's Tale," Lynn Nottage's 2018 play about the savage slaughter and potential decimation of Africa's "big tusk" elephant population, and the illicit trade in ivory that drives it, is a stunning piece of work – equal parts poetry, ritual and an anatomy of corruption. And it is receiving a magnificent production by Griffin Theatre that does full justice to both the beauty and power of Nottage's script, and the majestic creature whose tragic fate sets the story in motion.
But just a minute, you might say: Is this what the playwright has one of her characters mockingly refer to as the tear-jerking work of a "conservation fascist"? Far from it, for Nottage, the recipient of two Pulitzer Prizes (for the harrowing "Ruined," and the timely "Sweat"), does not write political screeds. Rather, she is a master of uncovering human motivation and the roots of cruelty and arrogance. And in "Mlima" (which takes its title from the name, meaning "mountain," of the grand old elephant with magnificent tusks who is at the center of the story), those roots are multifaceted, multinational and awash in widespread corruption at every level, with an endgame of art and status.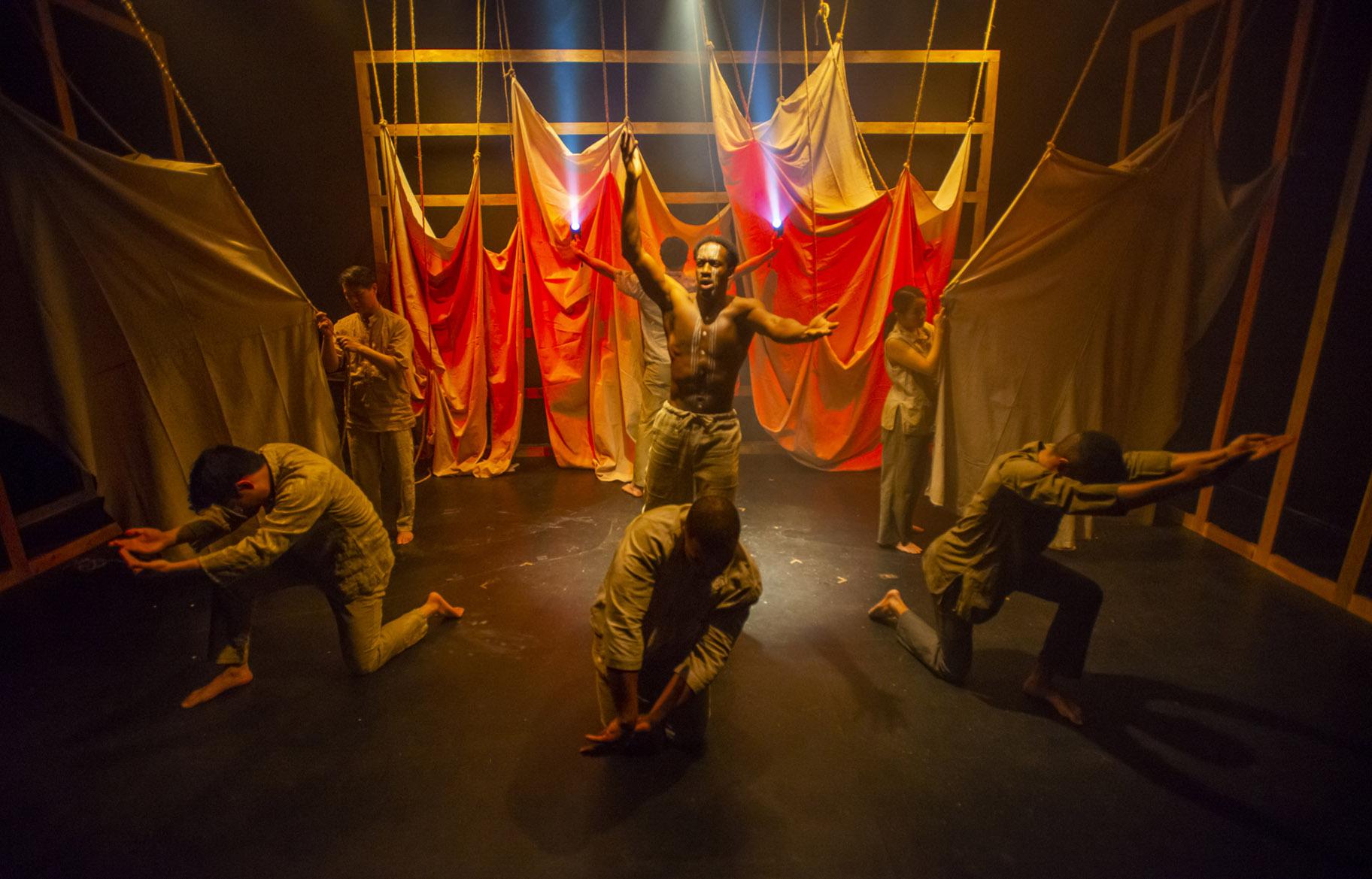 David Goodloe, center, in "Milma's Tale." Also pictured, clockwise from front: Michael Turrentine, Chris Pow, Lewon Johns, Sarah Lo and Collin McShane. (Photo by Michael Brosilow)
Mlima (or more precisely, his ghost) is played to riveting effect by David Goodloe, an actor of immense physical grace and charisma whose exquisite performance is award-worthy. He arrives onstage with white paint markings on his body and explains how he was taught by his grandmother to "listen for the rustling of the bush that could mean the difference between life and death." He knows his environment has become particularly dangerous, even though the vast area of the Kenya game reserve he inhabits is monitored by devoted rangers, some of whom have been shot and even killed in the line of duty. And then he proceeds to reenact his own horrific, agonizing slaughter at the hands of two Somali poachers – a young father and experienced hunter (Michael Turrentine), who shoots the fatal poison arrow, and a first-time elephant hunter (Lewon Johns), who carries an axe and machete.
The two men are in it for the money, but they also sense they are in serious peril as the result of an international ban on the ivory trade that has made their actions a serious crime. And of course there are many middlemen who must be paid off along the way, with both actors expertly morphing several times to suggest everyone from a corrupt police chief, to a well-intentioned but overwhelmed ranger desperate to keep his job, and who must deal with the tense white official who oversees the reserve and must explain the murder of Mlima to the media. (The latter is played with fine nervous energy by Collin McShane, who also plays the container ship captain who knowingly allows the tusks to be shipped to Asia. For Africa is only the initial source of the problem.)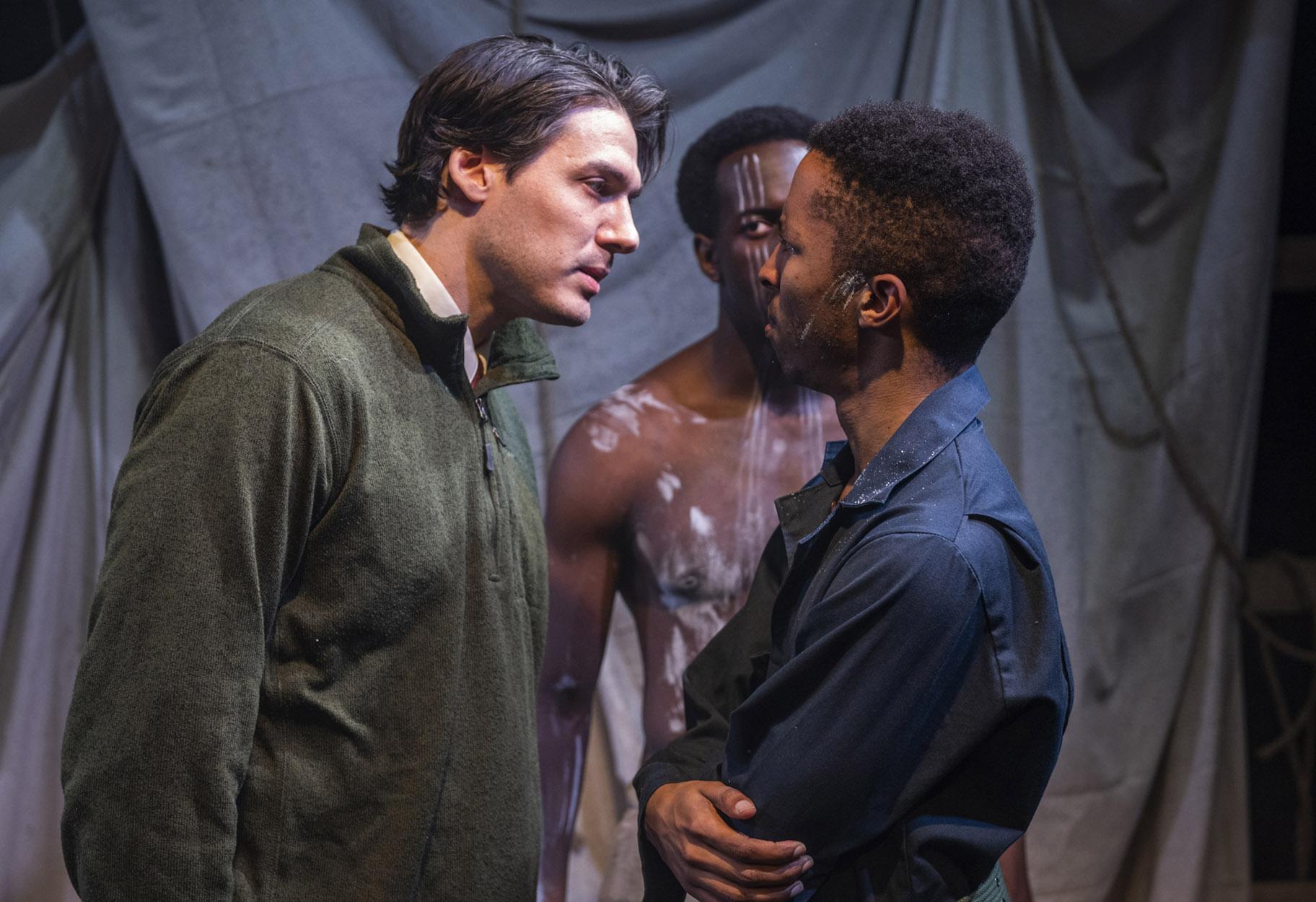 Collin McShane, left, David Goodloe, center, and Michael Turrentine in "Milma's Tale." (Photo by Michael Brosilow)
The final destination of Mlima's exceptionally valuable ivory tusks is China. And the machinations involved in shipping them overseas involve a shrewd Chinese embassy official stationed in Kenya, suspicious (but bribe-accepting) customs officers in Vietnam, a slimy Asian businessmen, a master ivory carver and a super-rich, high society Chinese wife – all ideally played by Ben Chang, Christopher Thomas Pow and Sarah Lo, who bring distinctive portrayals to their widely differing characters. And while a grand work of art is the final product of all this treachery, Nottage clearly but subtly dispels any notion that it justifies all the carnage and corruption that has enabled its creation.
By the time it is all over – and the play unspools in 90 airtight, consistently mesmerizing minutes – each of the characters has been "marked" by Mlima with brushstrokes of white paint to signal their complicity in his death and the theft of Africa's natural heritage.
Sarah Lo and David Goodloe in "Milma's Tale." (Photo by Michael Brosilow)
"Mlima" has been superbly staged by Jerrell L. Henderson, a director, puppeteer and assistant professor at Chicago State University who has captured precisely the right balance between the real and the magical in Nottage's work. And Joy Ahn's simple but inspired set – a slatted wood frame hung with muslin sails and ropes – deftly suggests the dark voyage that Mlima's tusks (and his enduring spirit) have taken.
The Griffin Theatre production of "Mlima's Tale" runs through March 21 at Raven Theatre, 6157 N. Clark St. For tickets ($38) call (773) 338-2177 or visit griffintheatre.com. Running time is 90 minutes with no intermission.
Follow Hedy Weiss on Twitter: @HedyWeissCritic
---