Chicago's highly visible electric-scooter pilot program last year was popular, polarizing and had mixed results when it came to transit equity and access, according to a city report. Ridership, that data found, skewed toward younger, well-off white males.
One Chicago-based company is hoping it can draw in reluctant riders with a new, seated e-scooter model it's planning to roll out this spring.
Veo was one of the 10 companies that participated in the 2019 pilot program. For the second pilot, the city plans to whittle down its list of participating companies to two or three. Veo hopes its new, seated Cosmo model can help set it apart as Chicago draws up plans for that second round of testing.
Veo's CEO, Candice Xie, says it designed the seated Cosmo model based on feedback from last year.
"A lot of riders … are afraid of using the stand-up scooter, because they feel like, 'I cannot balance well and I feel like I stand up too high.' Some of the riders are also afraid the small wheels will get them hurt," Xie said.
With larger, sturdy wheels and shocks to help absorb bumps from uneven pavement and ubiquitous potholes, Xie hopes older or less experienced riders will give her scooters a try if they return to the streets later this year.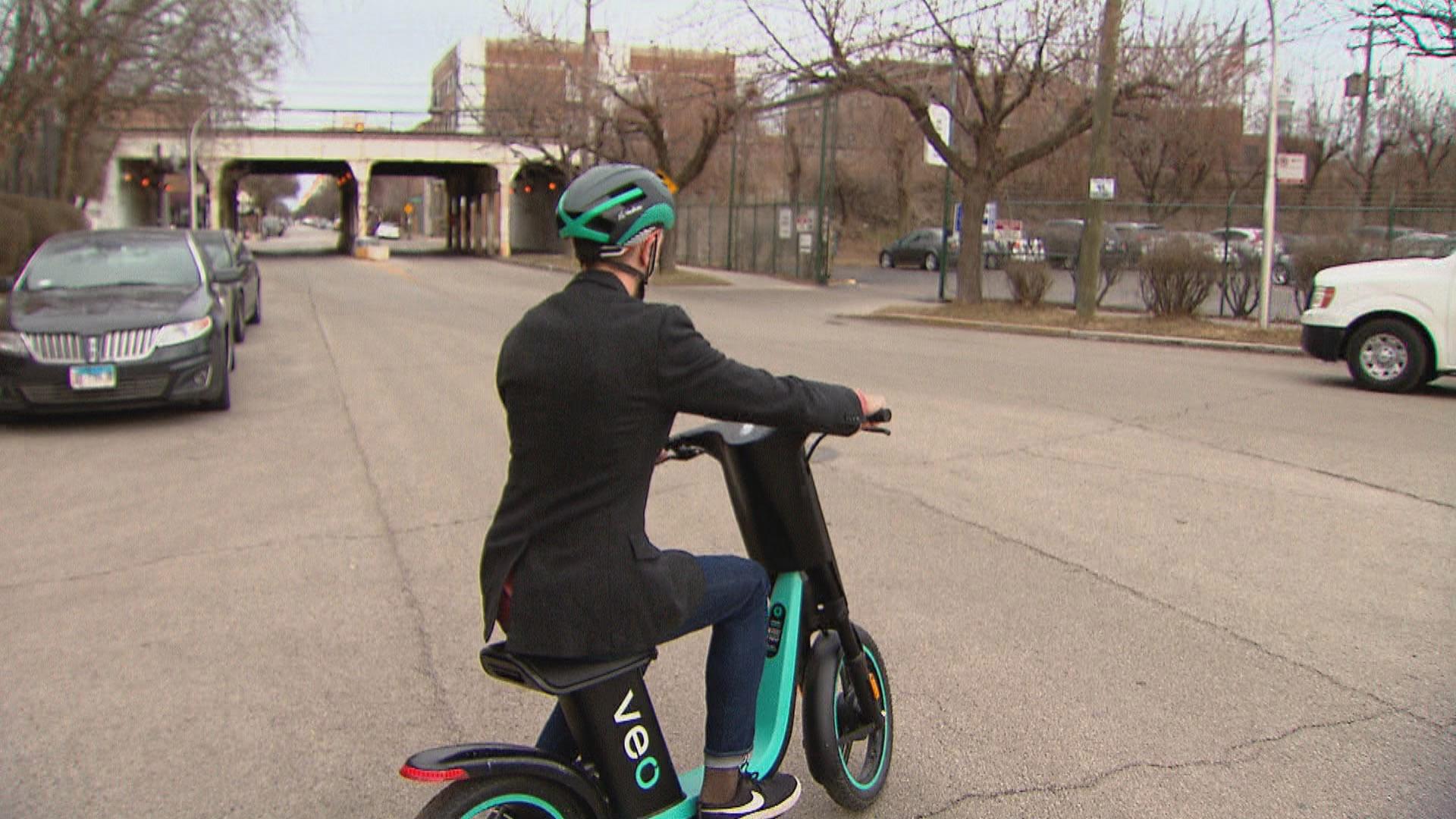 "Chicago Tonight" producer Nick Blumberg tests a seated electric scooter. (WTTW News)
The city is also planning to put new rules in place, like requiring scooters to be locked to a bike rack or other fixed structure off the public way after a ride is completed.
"We will work closely (with the city) to determine how we can design the parking philosophy and structure, and how we can incentivize users with their good riding behavior – and how we can better and more effectively do riders' education," Xie said.
Not every company is as keen on the lockup requirement as Veo, but nearly all say they'd operate in Chicago again. Contacted by WTTW News, seven operators said they're interested, while the companies Bolt and Sherpa declined comment, and Wheels didn't respond. Veo says it's rolling out the Cosmo in its markets around the U.S. this spring and plans to bring them to Chicago, should it make it to the next round of testing. Despite competition from heavyweights like Lyft and Uber, which are also in the scooter business, Xie says Veo's got the advantage because it's a Chicago-based firm and has multiple models to offer to meet a growing demand.
"A lot of riders wish to have more access to different type of vehicle and also to have access for more vehicles," Xie said.
The city hasn't yet set a timeline for the second round of the pilot program. And city officials stress it would be just that – a pilot – and keeping scooters in Chicago permanently would require City Council approval.
---