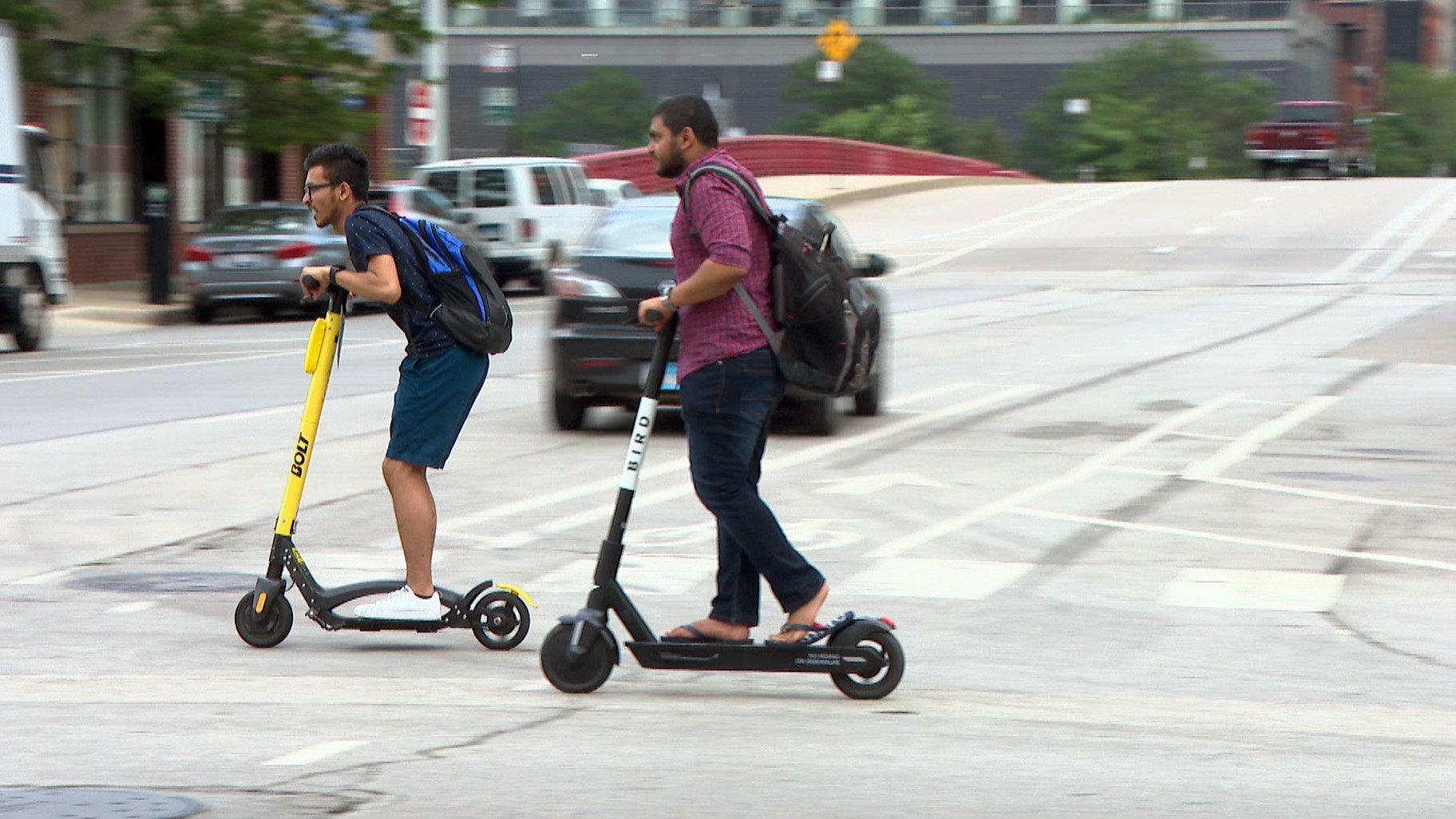 (WTTW News)
Shared electric scooters are set to become a permanent part of Chicago's transportation system in May, city transportation officials announced Thursday.
Three firms — Lime, Spin and Superpedestrian — won two-year licenses from the city to deploy a maximum of 3,000 scooters on Chicago's streets starting May 10. Each firm will be allowed no more than 1,000 scooters, according to the rules.
In addition, city officials announced Thursday they would also expand Divvy, the city's bicycle-sharing system, to include dockable scooters from Lyft, the system's operator. That means 4,000 scooters will dot Chicago's streets this summer.
That will create the nation's first docked bicycle and scooter system in the nation, officials said. It will be located downtown, which will see shared e-scooters for the first time once the program launched. 
Both the 2019 and 2020 pilot programs banned scooters from the Central Business District, which includes the Loop and Michigan Avenue. Only Divvy scooters from Lyft will be allowed downtown at first, and riders will be charged extra if they do not return them to a Divvy dock, officials said.
That program got the green light from the Chicago City Council in October after two pilot programs in 2019 and 2020 convinced city officials that the motorized two-wheelers will reduce congestion and encourage the use of public transportation throughout Chicago.
"As transportation costs go up, it is critical that we support micromobility solutions like shared bikes and scooters, which provide affordable ways to travel in Chicago without needing a car," Mayor Lori Lightfoot said in a statement.
Six companies applied for the city's scooter licenses, officials said. Bird, Helbiz and Veo were not selected.
Scooters will be banned from the Lakefront Trail, the 606, Riverwalk and Navy Pier.
The plan approved by the Chicago City Council allowed 6,000 scooters to hit city streets in the first phase of the program, with each firm limited to 2,000 scooters. That was scaled back in January, amid continuing concerns that the scooters, often discarded haphazardly by riders and wheeled down crowded sidewalks, proved to be a nuisance in their wards.
The program could expand to 12,500 scooters with the support of Chicago Department of Transportation Commissioner Gia Biagi's support.
To prevent the two-wheeled vehicles from becoming nuisances for pedestrians, each scooter must be equipped with a system that sounds an alarm when it is ridden on Chicago's sidewalks, according to the rules. The alert would be similar to the one made by cars when a driver's seat belt is not engaged, to alert both the rider and nearby pedestrians that the scooter is being operated in the wrong place, officials said. 
The scooters must be locked to poles or bicycle racks at the end of a ride, according to the rules. Companies would be allowed to build corrals for the scooters, but are not required to, and firms will be required to make sure at least half of its scooters will be available on the South and West sides, according to the rules.
Contact Heather Cherone: @HeatherCherone | (773) 569-1863 | [email protected]
---