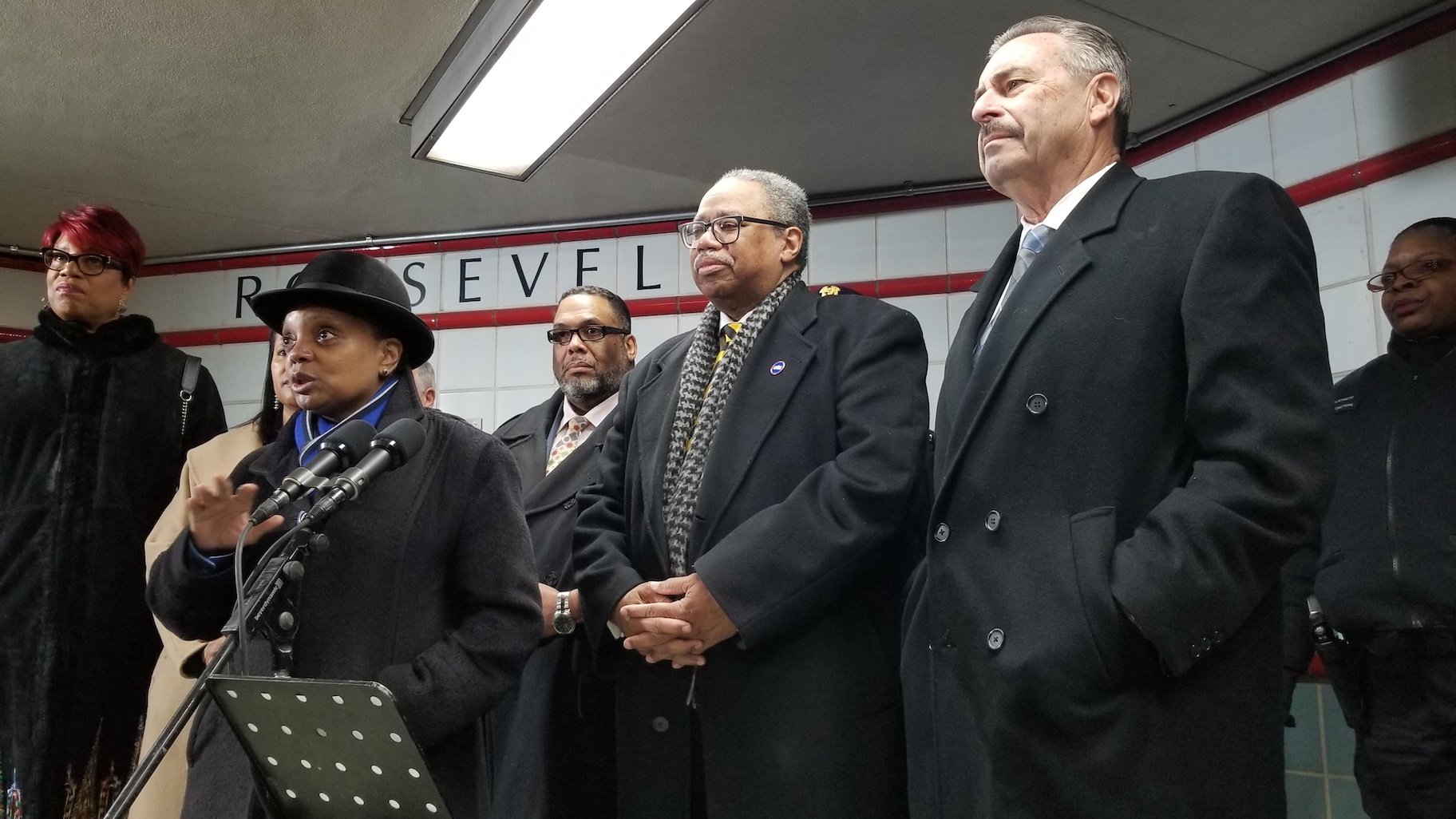 Chicago Mayor Lori Lightfoot, CTA President Dorval R. Carter Jr., center, and CPD interim Supt. Charlie Beck, right, address the media Friday morning inside the Roosevelt Red Line CTA station. (Matt Masterson / WTTW News)
Chicago police are adding 50 officers on CTA lines and a new dedicated support center that will focus on solving crimes committed on trains and buses following a recent spate of violent incidents on the city's transit lines.
Chicago Mayor Lori Lightfoot and police interim Supt. Charlie Beck on Friday unveiled their new transit safety plan, pledging to deploy dozens of officers on CTA lines and add a Strategic Decision Support Center (SDSC) in the 1st Police District that will act as a central location for police to access the 32,000 cameras already installed on CTA property.
"I want to say very clearly, that violence on our system is just not gonna be tolerated," Lightfoot said during a press conference Friday at the Roosevelt Red Line station on the Near South Side. "Our residents deserve a system that's not only accessible and reliable, but of course above all else, that it's safe."
The announcement comes amid an uptick in violent crime along train and bus lines this year. In January, a man was arrested after he beat and sexually assaulted a woman on a Red Line train near Morse Avenue.
This month, a musician was stabbed on the downtown Jackson Red Line platform, a man was shot during an attempted robbery onboard a Blue Line train at the UIC-Halsted stop, and one man was killed and two others were wounded in a shooting last week inside a tunnel connecting the Jackson Blue Line and Red Line stations.
The police department says crime on the CTA is actually down slightly this year over the same period in 2019, and arrests are up 30% in 2020.
Already, Beck has added SWAT officers to CTA lines, but he called that a temporary measure and said they will be removed once the new dedicated CTA officers are added by March 4.
"I think it was a good statement about the values of CPD and what we think is important when you put your most expensive asset in a location then you are displaying what you value," he said of the SWAT officers. "And that is my most expensive asset."
Beck said the officers being added to the CTA patrol won't be new hires, but he wouldn't get into specifics about how exactly they'll be deployed. The new SDSC center, which will be funded by a grant from billionaire Ken Griffin, will allow officers to more quickly access surveillance footage from both CTA cameras and private security cameras, which sometimes takes detectives hours to retrieve.
Beyond adding those 50 officers, the CPD is also creating a dedicated group of detectives who will work with the CTA Security Department and focus solely on CTA crimes.
"We have been incredibly successful at solving these crimes, but that's not enough. We want to prevent these crimes," Beck said. "I don't want people to feel secure that their perpetrator will be caught, I want people to feel secure that they will be free from crime."
Contact Matt Masterson: @ByMattMasterson | [email protected] | (773) 509-5431
---