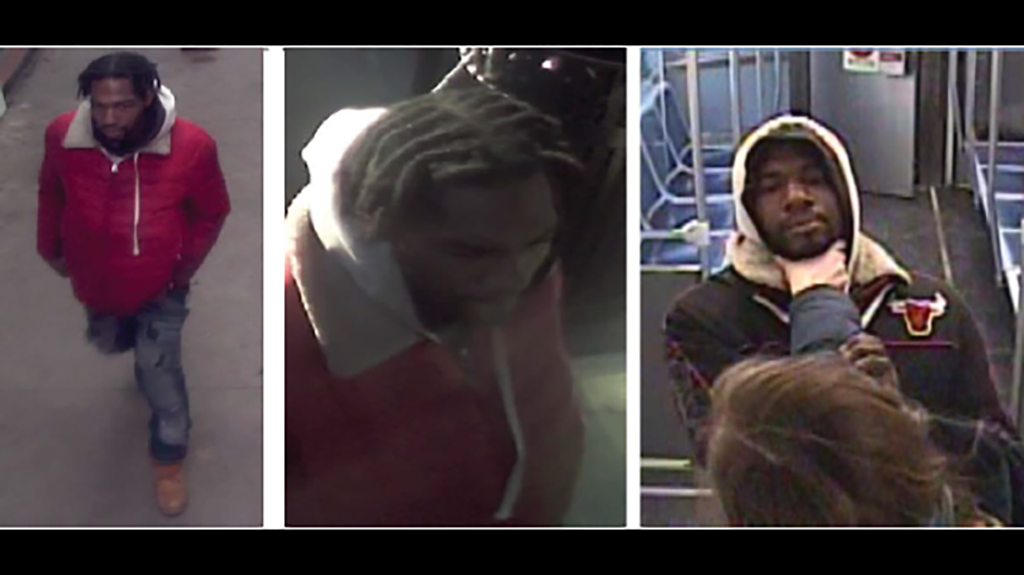 (Chicago Police Department)
A Chicago man is facing multiple felony charges after police say he exposed himself to a woman on a Red Line train before hitting and robbing her earlier this month.
Antoine Jackson, 27, was charged Thursday with four separate charges: two counts of aggravated criminal sexual abuse, one count of robbery and one count of aggravated battery in a public place. Chicago police say the Woodlawn resident was arrested Wednesday morning in the 6700 block of S. Cottage Grove Avenue.
According to police, Jackson and a 24-year-old woman were riding on the same CTA Red Line train car heading toward the Morse Avenue stop in Rogers Park just before 10 a.m. on Jan. 2. Jackson allegedly approached the woman and exposed his genitals to her, prompting the woman to change cars in an effort to elude him.
But Jackson pursued her, police said, and struck her several times before touching her inappropriately and demanding "she perform an inappropriate act against her will." Jackson then allegedly took her personal belongings and exited the train at the Morse stop.
Area North detectives positively identified 27-year-old Antoine Jackson as the offender who inappropriately touched & exposed himself to a woman on a Red Line train earlier this month. @cta's expansive surveillance network helped detectives identify Jackson. pic.twitter.com/PJHgBTUMDq

— Chicago Police (@Chicago_Police) January 23, 2020
---
The police department had previously released pictures from inside and around the train – one of which showed the victim holding a man in a Chicago Bulls jacket back with her hand around his neck – in an effort to try and identify and locate the offender.
Police said those surveillance images helped detectives identify Jackson, leading to his arrest.
"Remember, the Chicago Transit Authority is equipped with an extensive surveillance network to keep riders safe and help detectives track down those who commit crimes on public transit," the CPD said in a Facebook post announcing the arrest Thursday morning.
Safety along CTA lines, particularly the Red Line, has been a concern for many city residents in recent months. Hours after Jackson's arrest Wednesday, the police department issued a separate community alert warning riders of two armed robberies on Red Line trains this month in the Central and Near North police districts.
There have also been multiple robberies at and around the 79th Street Red Line station.
Two weeks ago, Lakeview residents reportedly gathered for a meeting with CPD representatives to discuss attacks and robberies on the Red Line between the Roosevelt and Harrison stops.
According to city data, there have been nearly 250 total crimes reported on CTA buses and trains and at stops through the first half of January. The police department previously said there were 458 crimes reported on the CTA between Thanksgiving and Christmas last year.
CPD Sgt. Rocco Alioto said officers in the North Side Town Hall police district – which covers Lakeview and surrounding areas – have been directed by their commander to ride trains and increase their visibility at the stations.
So far this year, CTA-related crime is down 11% and arrests are up over 100%, according to CPD spokesman Anthony Guglielmi. He said the department doesn't disclose how many officers work on specific units, but he noted they have added 50 officers to CTA lines since last fall and have conducted "targeted enforcement missions" along with CTA security.
"The CTA transit system is the most densely covered area of Chicago with HD crime cameras," Guglielmi said in an email. "Individuals who think they can commit crime and quickly escape on trains or busses should know that everything they do is video recorded and we will do everything in our ability to identify and prosecute them."
Contact Matt Masterson: @ByMattMasterson | [email protected] | (773) 509-5431
---