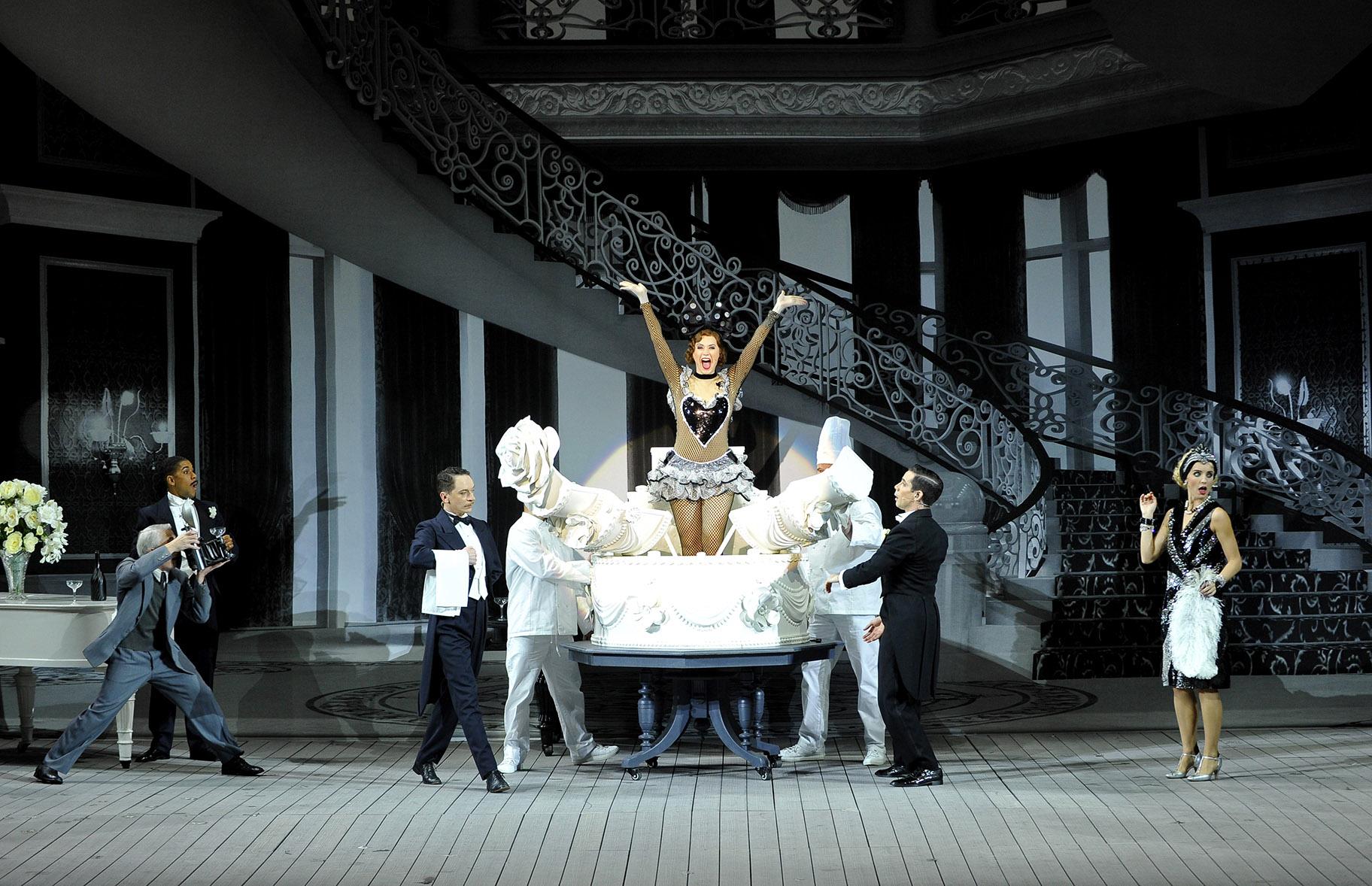 "Singin' in the Rain" (Marie-Noëlle Robert / Théâtre du Châtelet)
Lyric Opera has yet to make its way through this season's performances of "Madame Butterfly," or the "sturm und drang" of Richard Wagner's massive four-opera "Ring Cycle," or the tap dance-filled delights of its annual musical adventure, which this time around is "42nd Street," that grand-scale "lullaby of Broadway."
But there is no rest for the vocally and dramatically volcanic, and on Wednesday morning Lyric announced the formidable full schedule for its 2020-2021 season that will feature 10 major productions, eight of which will be "new to Chicago."
The season also will mark the grand finale of Sir Andrew Davis' tenure as music director of the Lyric Opera – a position he has held since 2000. (His designated successor, named earlier, is Enrique Mazzola.)
Here's a brief overview of the upcoming season that will open on Sept. 17:
 – The classic double-bill of Italian one-acts that includes Mascagni's "Cavalleria Rusticana" and Leoncavallo's "Pagliacci."
 – The North American premiere of Sir George Benjamin and Martin Crimp's "Lessons in Love and Violence," a Lyric co-commission and co-production with several European opera companies. Anthony Freud, Lyric's General Director, has described it as "a dramatic, intense political thriller about power, and the abuse of power," set in a contemporary totalitarian state.
 – "Tosca," the Puccini classic about Napoleon's invasion of Italy in 1800.
 – "Attila," Verdi's drama of war and peace set in 5th century Rome, against the downfall of Attila the Hun.
 – "Proving Up," a new work by Missy Mazzoli and Royce Vavrek, about Nebraska homesteaders in 1810, and the shattering of "the American dream."
 – "Samson and Delilah," Saint-Saens' take on the Biblical tale.
 – "The Elixir of Love," Donizetti's bel canto comedy.
 – "The Marriage of Figaro," Mozart's comic opera about savvy servants and lustful employers, with Sir Andrew conducting – just as he did when he made his first appearance at Lyric in 1987. Chicago Shakespeare Theater's Barbara Gaines is the director.
 – "The Rake's Progress," the brilliant Stravinsky work, back at Lyric for the first time in 25 years, and featuring artist David Hockney's wonderful designs that riff on the original Hogarth paintings that inspired the opera.
 – "Singin' in the Rain," the zany musical classic by Comden/Green/Freed/Brown that captures the shift from silent films to "talkies."
Other events to note:
 – Opening night 2020 will break with tradition, and instead of an opera will feature a concert performance by Renee Fleming to be followed by an "after party."
 – Sunday in the Park with Lyric's Rising Stars," a midsummer concert featuring members of Lyric's Ryan Opera Center, is slated for Millennium Park.
 – Soprano Christine Goerke will perform her first-ever recital at Lyric.
 – A special concert, A Knight to Celebrate, will find Sir Andrew Davis conducting Beethoven's "Symphony No. 9."
Season subscriptions go on sale at 10 a.m. Feb. 13. Call (312) 827-5600 or visit lyricopera.org where you will find more details about the dates, conductors, directors and casts for all productions.
Note: Next season also marks the first season of the Lyric's new resident company, the Joffrey Ballet, whose initial production will be British choreographer Kenneth MacMillan's full-length classic, "Manon."
Follow Hedy Weiss on Twitter: @HedyWeissCritic
---