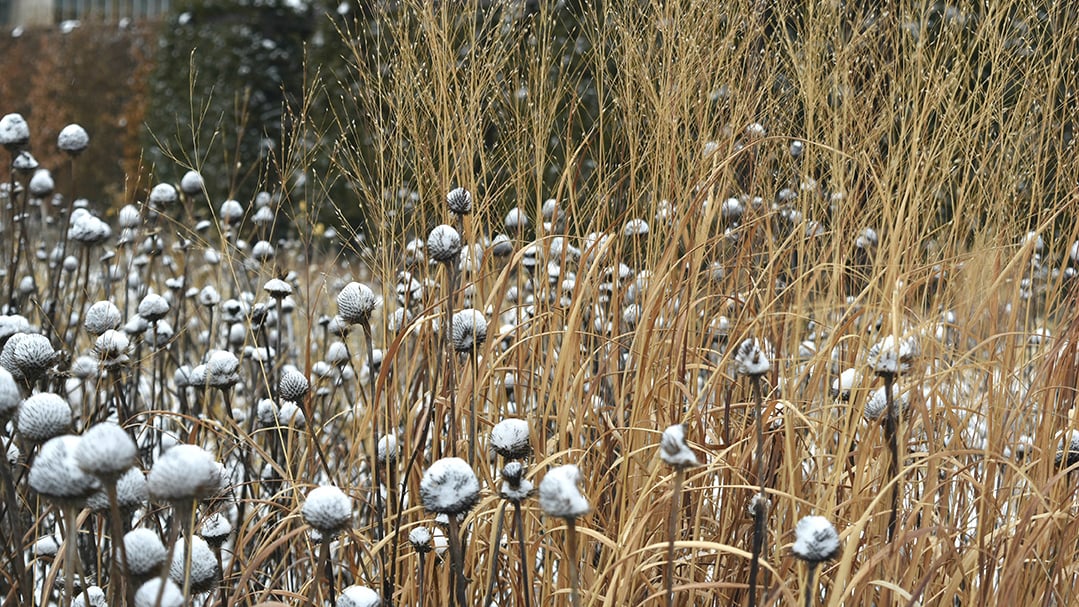 (Jo ana Kubiak / Lurie Garden)
Summer gardens are easy to love, bursting with life and a riot of color. Appreciating those same plots in the winter? That's a tougher sell.
Even at Lurie Garden, which was specifically designed to provide four seasons of interest, the reaction of visitors in the winter months often boils down to, "Oh, it's a bunch of dead stuff," said Jo ana Kubiak, Lurie's membership and communications manager.
"Give it a few minutes," Kubiak said. "In the summertime, it's easy to miss details because there's so much 'screaming' at you. In the winter, the 'noise' is brought down, it invites you to look harder."
Kubiak, who is also a graphic designer and printmaker, has snapped hundreds of photos of what Lurie has dubbed "#winterest," the subtler beauty of plants that have been stripped of their greenery and blooms. 
"I really love the architecture of seed pods and watching how snow suspends," she said. "And color has been interesting. You wouldn't think the garden would have much to offer but there's this very, very rich tapestry of gold, silver and browns. There are so many different browns."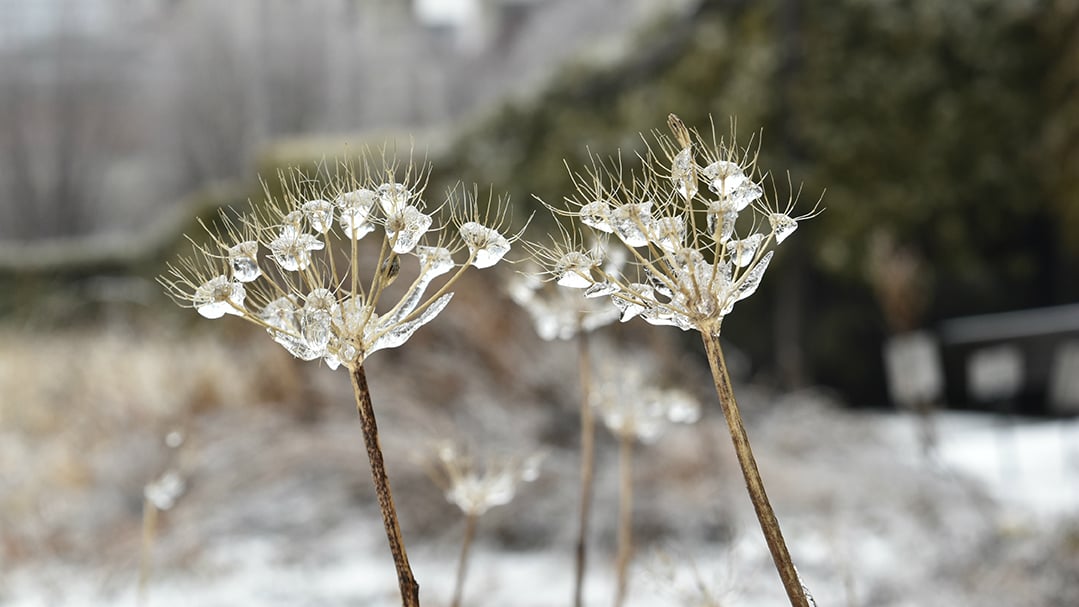 (Jo ana Kubiak / Lurie Garden)
Kubiak has captured the sound of grasses sweeping against the snow, the play of shadows against a wintry backdrop and the stark elegance of seed heads encased in ice.
"All of these things that happen, if you don't give it a chance, you'll miss it," she said.
To help Chicago's gardeners create similar #winterest at home, Lurie has created a brief one-page photo guide to plants that have particular appeal in winter. Lurie's website also includes a comprehensive catalog of every plant in the garden, often with images taken in each season.
"I can see how people who may have chosen plants simply for their summer beauty, and end up having no winter beauty, would be quick to chop everything down in the interest of keeping their yard not looking derelict," Kubiak said. "If the garden was planned with the winter in mind, we'd have people more easily converted to keeping their gardens 'up.'"
Maintaining a winter garden is about more than just aesthetics, though, Kubiak said.
Those "dead" plants are lifesavers for birds and insects, providing them with a source of food and habitat during the city's harshest months.
In recent years, Lurie has, after consulting the research of insect expert Heather Holm, even revised its practice of mulch mowing the garden in March, done to create a clean palette for spring. Beginning in 2018, Laura Ekasetya, the garden's director and head horticulturalist, instructed crews to leave 15-inch stems in designated areas.
"Certain insects nest in the stems of dead plants," Kubiak said. "We're trying to be as ecologically responsible as possible."
Signage posted in the garden explains the process, information that may eventually trickle down to home gardeners and landscaping companies, many of whom routinely cut back all perennials in the fall.
"It's so much easier to make it neat; you don't need to know what to do with which plant," said Kubiak. "I've learned our kind of garden takes a unique set of skills that traditional [mowing] crews don't have. There's so much education needed in terms of maintenance."
Practices and mindsets are gradually evolving, she said, particularly as terms like "insect apocalypse" seep into the general consciousness.
Chicago's motto is, after all, City in a Garden, every month of the year.
Contact Patty Wetli: @pattywetli | (773) 509-5623 |  [email protected]