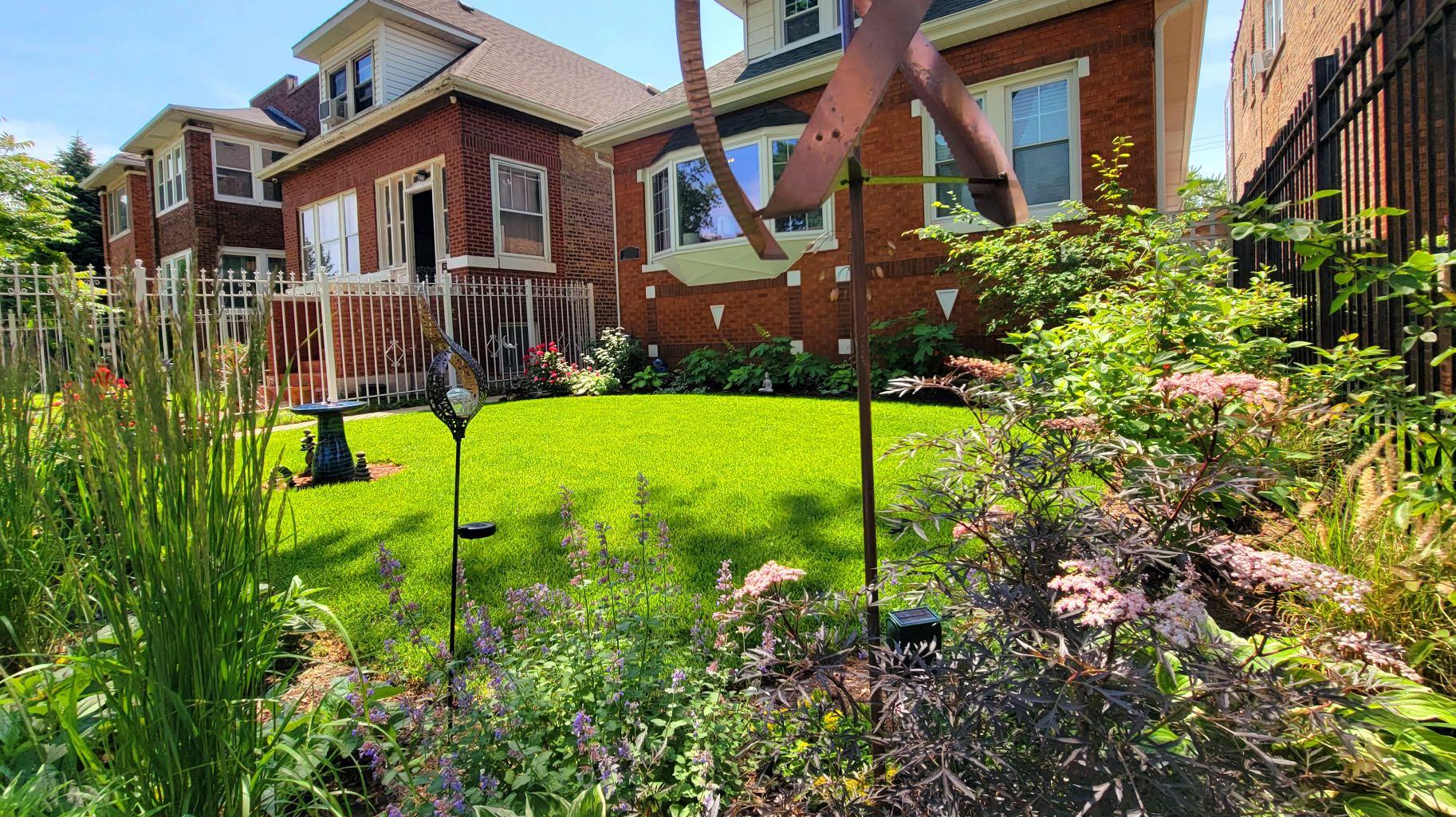 Winner of the Front Garden award, Nestor Rodriguez, Avondale. (Chicago Bungalow Association)
Chicago throws a lot at its gardeners: It's either too dry or too wet. Too hot or too cold. Too sunny or too shady.
So a tip of the hat to all the green thumbs who persevere, and a special round of applause to the winners of this year's Chicago Bungalow Association garden awards, announced Monday. 
Front Garden
Winner: Nestor Rodriguez, Avondale
Knockout roses, coneflowers, daisies and feather reed grasses are among the eye-catching perennials in Rodriguez' first-place garden. New in 2022: Rodriguez spread wildflower seed in the parkway, and the results have stopped traffic.
"It's great to have different neighbors come by asking what kind of flowers they are," Rodriguez told the Bungalow Association.
His tip to new gardeners: Ask neighbors for help. "I'm part of the Avondale gardeners Facebook group, and we feed off each other and give great advice."
---
Rear/Side Garden
Winners: Nicholas Sieger and Nathan Beckner, Rogers Park
When the couple first moved into their Rogers Park home in 2014, they gardened by subtraction, removing existing plants that had become overgrown.
By 2019, they'd progressed to the point of tackling their most ambitious project: building a koi pond.
"The pond was a feat of engineering that we did not expect," Beckner told the bungalow association. "It was really, really laborious — I'll never do it again — but to have all that soil that we then repurposed for the retaining walls to have this sort of sunken garden was our intent .... I love it how it turned out."
A chicken coop and roses that Beckner hybridizes himself are among the other personal touches in the couple's backyard retreat. "It's so secluded, you really forget you're in the city," Beckner said.
---
Planters/Raised Beds
Winner: Emma Coleman, Chatham
Coleman didn't set out to become a whiz at container gardening. She's typically a spade-in-the-dirt type of person, but a rotator cuff injury and doctor's orders to take it easy caused her to switch gears in 2022.
"It gave me a different type of escape," Coleman told the bungalow association. "I was still able to plant, maybe not as extreme as I usually do, but I was still able to plant as many flowers and use some flowers I had never used before, as well."
She also attached special meaning to the three planter boxes on the side of her house. "They remind me of my sisters — they're so tall and strong — so I named them after each one of my sisters."
---
The winner in each category will receive a $500 cash prize and runners-up will each receive $200. Five randomly selected entrants will receive a free rain barrel donated by the Metropolitan Water Reclamation District of Greater Chicago.
Contact Patty Wetli: @pattywetli | (773) 509-5623 |  [email protected]
---