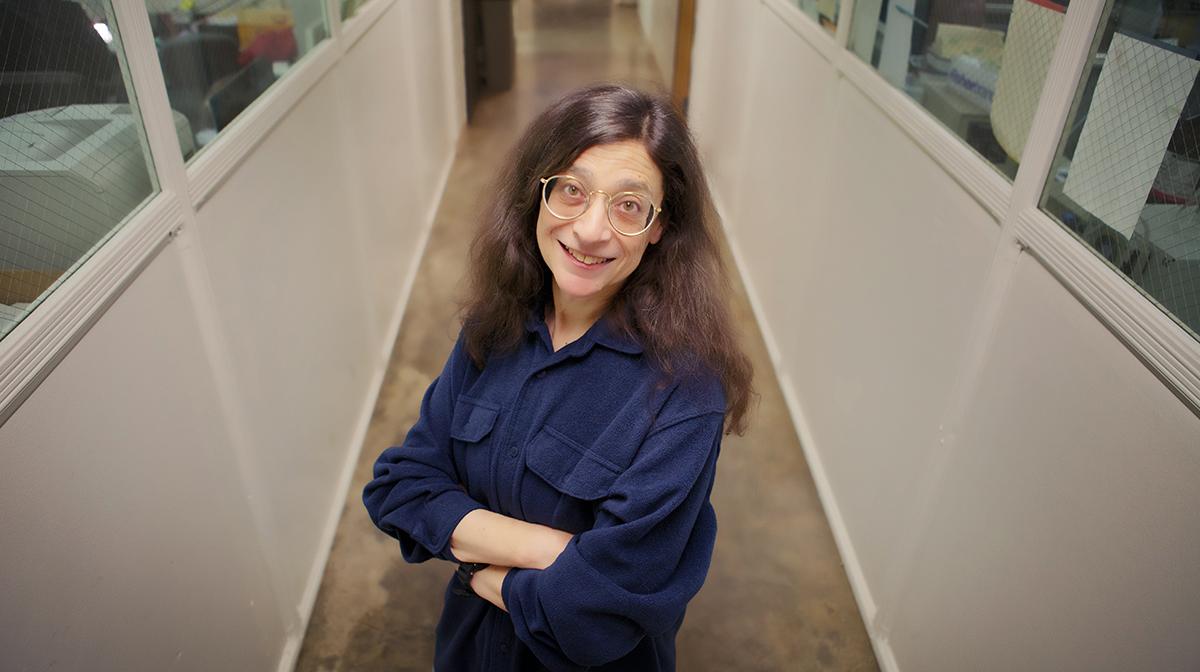 Dr. May Berenbaum, professor of entomology and head of the Department of Entomology at the University of Illinois (Courtesy University of Illinois)
The polar bear has become the poster child for climate change. Just picture one of the furry white giants struggling to hang on to a melting ice cap and it's clear why a fast-warming planet is a bad thing.
But increasing temperatures and rising sea levels impact many forms of life that rarely come up in discussions about the changing environment. That is why May Berenbaum would like us to also be talking about ice crawlers, a family of tiny, wingless insects that live on top of mountains and on the edges of glaciers.
"They depend on these cold, extreme habitats," said Berenbaum, head of the Entomology Department at the University of Illinois and one of the world's leading insect experts. "They don't make great posters for victims of climate change, but they are in great danger."
On Thursday, Berenbaum will visit Lincoln Park's Peggy Notebaert Nature Museum to lead a public discussion about the importance of pollinators and the growing body of research pointing to the rapid decline of some insect species, a trend that has been labeled the "insect apocalypse."
The insect crisis – Berenbaum doesn't call it an "apocalypse" because "I'm not even sure what an apocalypse is. It doesn't sound very scientific" – is evidenced by a number of recent studies that Berenbaum cites. A 2017 study, for example, found a 75% decline in the biomass of flying insects across Germany over a period of 27 years. Another study recorded a 35% decrease in global butterfly populations over 40 years.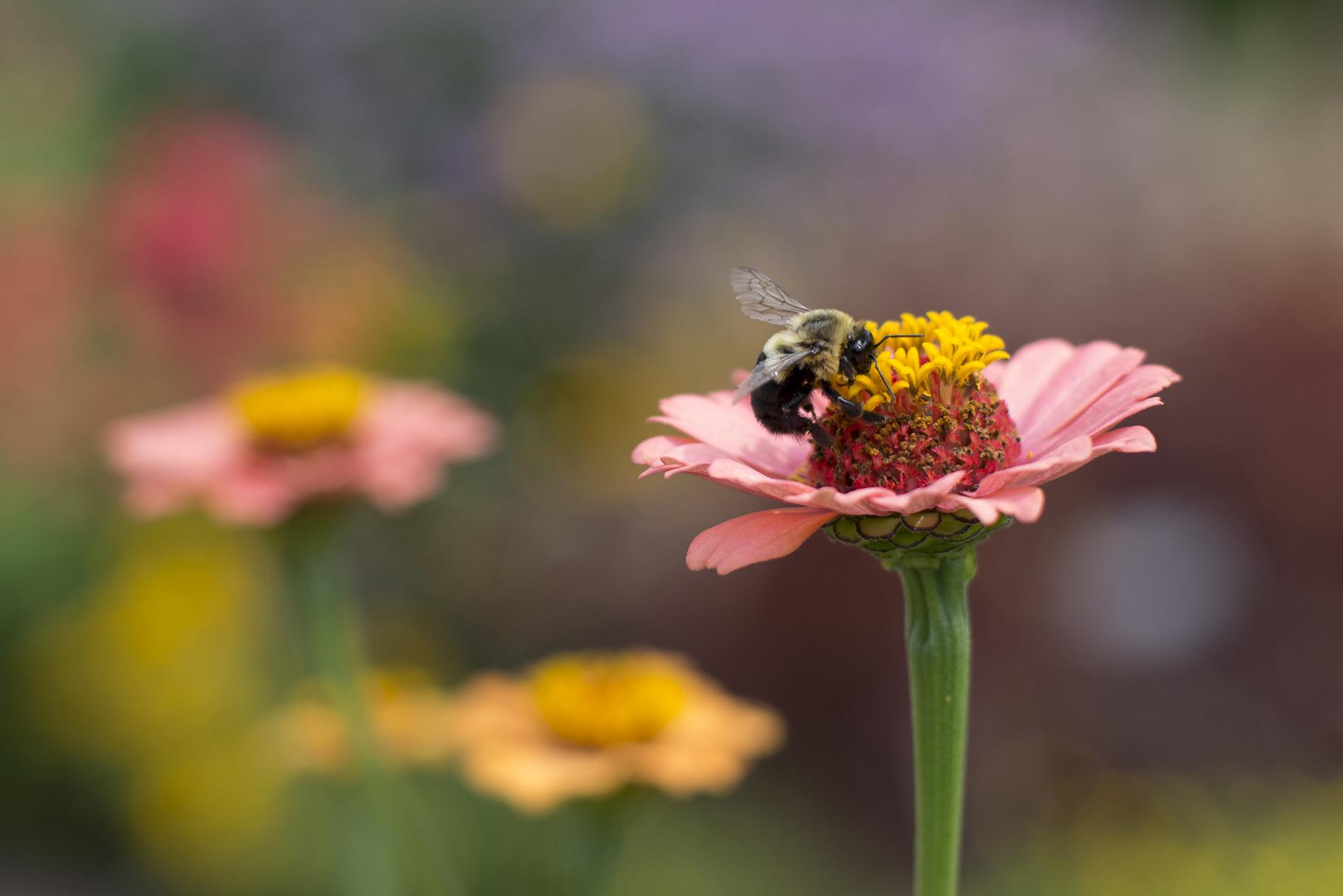 A bumblebee lands on a flower. (Courtesy Chicago Botanic Garden)
The research has raised alarms about the large-scale loss of some insects and what it means for the rest of the planet.
"It's really easy to ignore insects because they're small, but all the rest of Earth depends on insects one way or another," said Berenbaum, who last year was named editor in chief of the Proceedings of the National Academy of Sciences, one of the world's most-cited scientific journals. "Insects feed the world. Not maybe humans directly – though that's changing too – but everything we eat for the most part."
Bees, butterflies and other insects pollinate an estimated one-third of all food crops consumed by humans, with pollinators contributing $217 billion to the global economy. Insects also serve as food for a host of animal species, including many mammals and birds, which eat an estimated 550 million tons of insects each year.
Despite a growing awareness about the importance of insects since the massive decline in honeybee populations was first reported in 2006, Berenbaum said there is so much we still don't know about insects and the role they play for other forms of life.
Although some 900,000 different kinds of living insects are known, there could be anywhere between 2 million and 30 million insect species. With so many types of insects still to be identified, it's difficult to understand their importance.
"There are so many connections that we haven't even begun to appreciate," she said. "We usually find out when they go missing, which is not the best way to find out."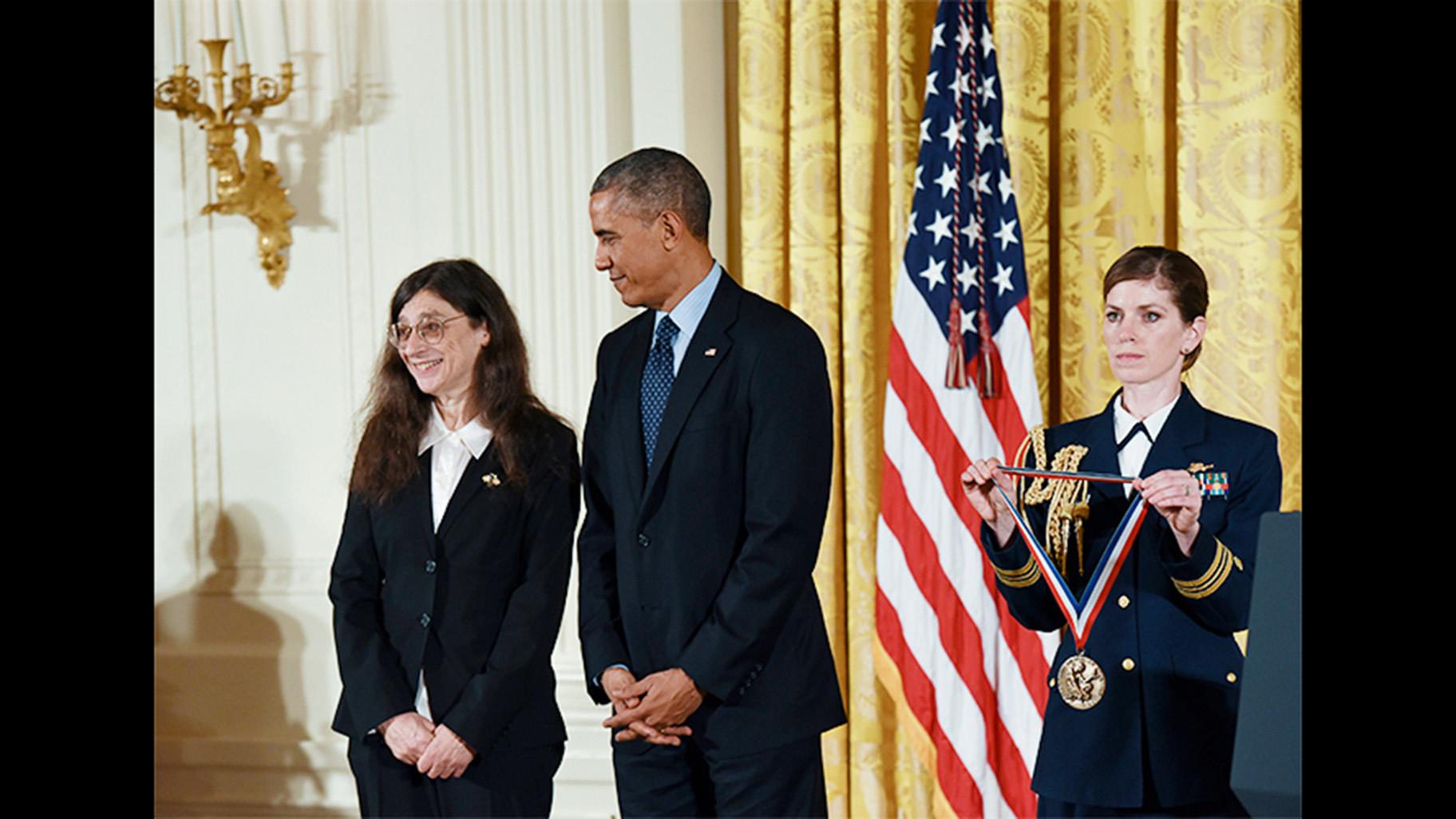 University of Illinois entomology professor May Berenbaum receives a National Medal of Science award from President Barack Obama at a White House ceremony on Nov. 20, 2014. (Courtesy National Science and Technology Medals Foundation)
An increase in the use of toxic pesticides has played a significant role in the plight facing insects today, but Berenbaum said habitat loss linked to climate change is the main culprit. She offered Illinois as an example. Nicknamed the Prairie State, Illinois is now made up of less than 0.1% prairie.
The loss of such habitat could be devastating for various types of moths and other insects that rely on it, she said.
"Tiny little moths can be important in many ways," said Berenbaum, who received the National Medal of Science in 2014 from former President Barack Obama. "Don't dismiss an animal because it's tiny. It could be playing an oversized role in the life of some other organism."
What exactly can the average person do about all of this? Berenbaum has several suggestions.
"Get rid of your lawns," she said. "Lawns are total biological deserts. It's just grass with pesticides. The way it's grown does not support a lot of biodiversity."
Instead, plant native flowers that provide nectar and pollen for pollinators, Berenbaum said.
Another tip: Leave leaf litter in place. The dead plant material is an important part of healthy soil and offers protection for insects during the winter, Berenbaum said.
Also, don't use bug zappers, which Berenbaum said do not work in killing mosquitoes but do kill hundreds of beneficial species.
"It's not even a major sacrifice because frankly, you'll save the money," she said.
---
For information about Berenbaum's appearance Thursday at the Notebaert Nature Museum, visit the museum's website.
Contact Alex Ruppenthal: @arupp | (773) 509-5623 | [email protected]
---
Related stories:
Illinois Among 17 States Suing Trump Administration Over Weakened Endangered Species Act Rules
Illinois Sightings Raise Hope for Endangered Rusty Patched Bumblebee
Chicago Botanic Garden Exhibit Explores the Vital Role of Pollinators