Gardeners might start to see some unfamiliar plants turn up at nurseries and garden centers next spring.
The U.S. Department of Agriculture, in conjunction with Oregon State University's PRISM Climate Group, recently released a new plant hardiness zone map, and significant swaths of the country — Chicago included — are now in warmer zones.
"Overall, the 2023 map is about 2.5 degrees warmer than the 2012 map across the (continental) United States. This translated into about half of the country shifting," said Christopher Daly, director of the PRISM Climate Group and the map's lead author. "The central plains and Midwest generally warmed the most, with the southwestern U.S. warming very little." 
Though the new map has been making headlines, many experts say it simply confirms what they've already observed.
"In a way, it's not a big deal because we already recognize it is happening. The map reflects our on-the-ground reality," said Pati Vitt, director of natural resources for the Lake County Forest Preserve District. "What is a big deal is for the USDA to acknowledge the change."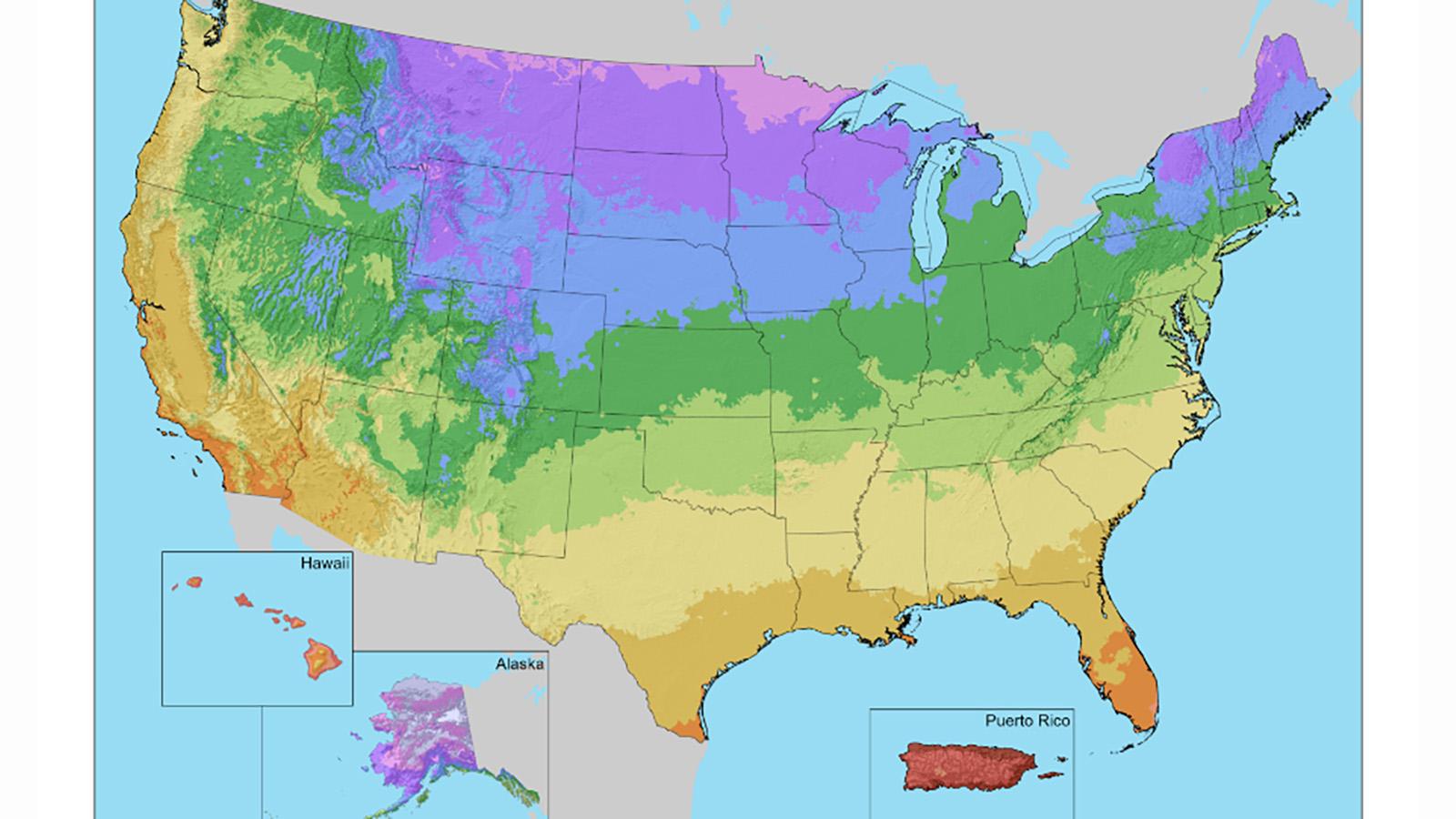 The 2023 plant hardiness zone map. (USDA)
While USDA has taken pains to note the shifts can't be attributed to climate change, but rather says the map in part reflects the collection of more accurate temperature data, there's no refuting the fact that Chicago was in Zone 5 in 1990 and the metro region is now firmly in Zone 6, with each zone representing a 10-degree temperature swing, Vitt said. 
"I think there are tree and shrub species and maybe some herbaceous perennials native to Kentucky or southern Illinois that we can bring into our gardens," she said. "Plants from Missouri that 30 years ago or 40 years ago wouldn't have survived our deep freeze of January and February" might now be worth a try.
What exactly is a hardiness zone?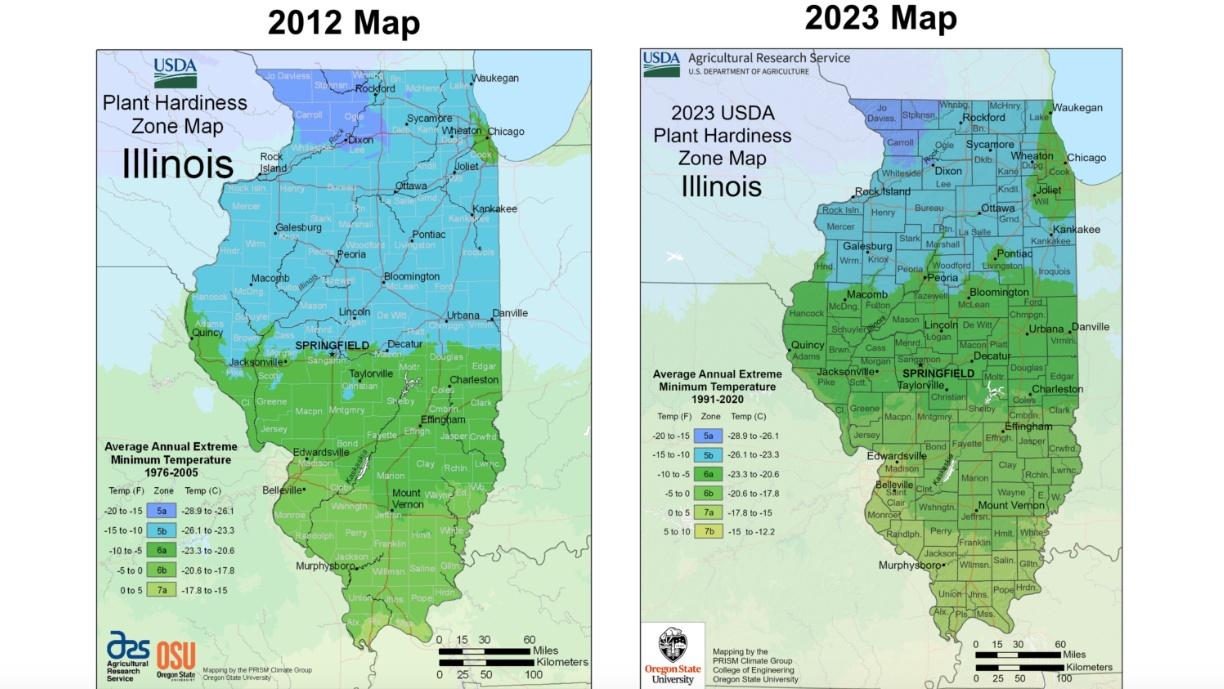 Illinois hardiness zone maps, 2012 and 2023. (USDA)
The USDA map divides the country into 13 hardiness zones — each 10-degree zone is subdivided by 5-degree increments into an "a" on the cooler end and a "b" on the warmer — with Zone 1a being the coldest and 13b the warmest. Zones 12 and 13 only occur in Puerto Rico and Hawaii.
The new map is based on 30-year averages — from 1991 to 2020 — of the lowest annual winter temperatures within specified locations. The 2012 edition was based on averages from 1976 to 2005.
Gardeners and growers use the map as a guide to which perennial plants can make it through the winter. When Chicago was in Zone 5, for example, plants needed to be able to withstand temperatures between -20 degrees and -10 degrees. The range for Zone 6a is -5 degrees to -10 degrees. For Zone 6b, assigned to the Chicago lakefront, the range is -5 degrees to 0.
These are averages, Vitt stressed. "It doesn't mean sometime in the future we won't get another polar vortex," she said.
It's also important to note that the hardiness map only addresses the issue of extreme cold, but doesn't account for heat. 
"We're in Zone 6a with New Mexico and West Virginia. Those places are not the same," said Fred Spicer, executive vice president and director at Chicago Botanic Garden.
The American Horticultural Society has a heat zone map that serves as an excellent companion to the USDA's hardiness zones, Spicer said, and veteran gardeners and growers know they also need to account for variables including sunlight, moisture, humidity and soil quality.
Micro-climates exist within zones, as well, ranging from widespread phenomenon such as urban heat islands and lake effect conditions to quirks within individual yards. These could be "frost pockets" in a north-facing garden bed or a hot spot along a sun-warmed brick wall. "That could be a Zone 8," Vitt said.
Caveats aside, Spicer and Vitt encouraged gardeners to view the new USDA map as an opportunity to experiment. "People could maybe feel a little bit more sanguine about being adventurous," said Vitt. 
In his own home garden, Spicer has a yucca, native to Texas, that's survived four Chicago winters, he said, and he's currently experimenting with a bulb from South America.
"The plants don't read these maps," Spicer said.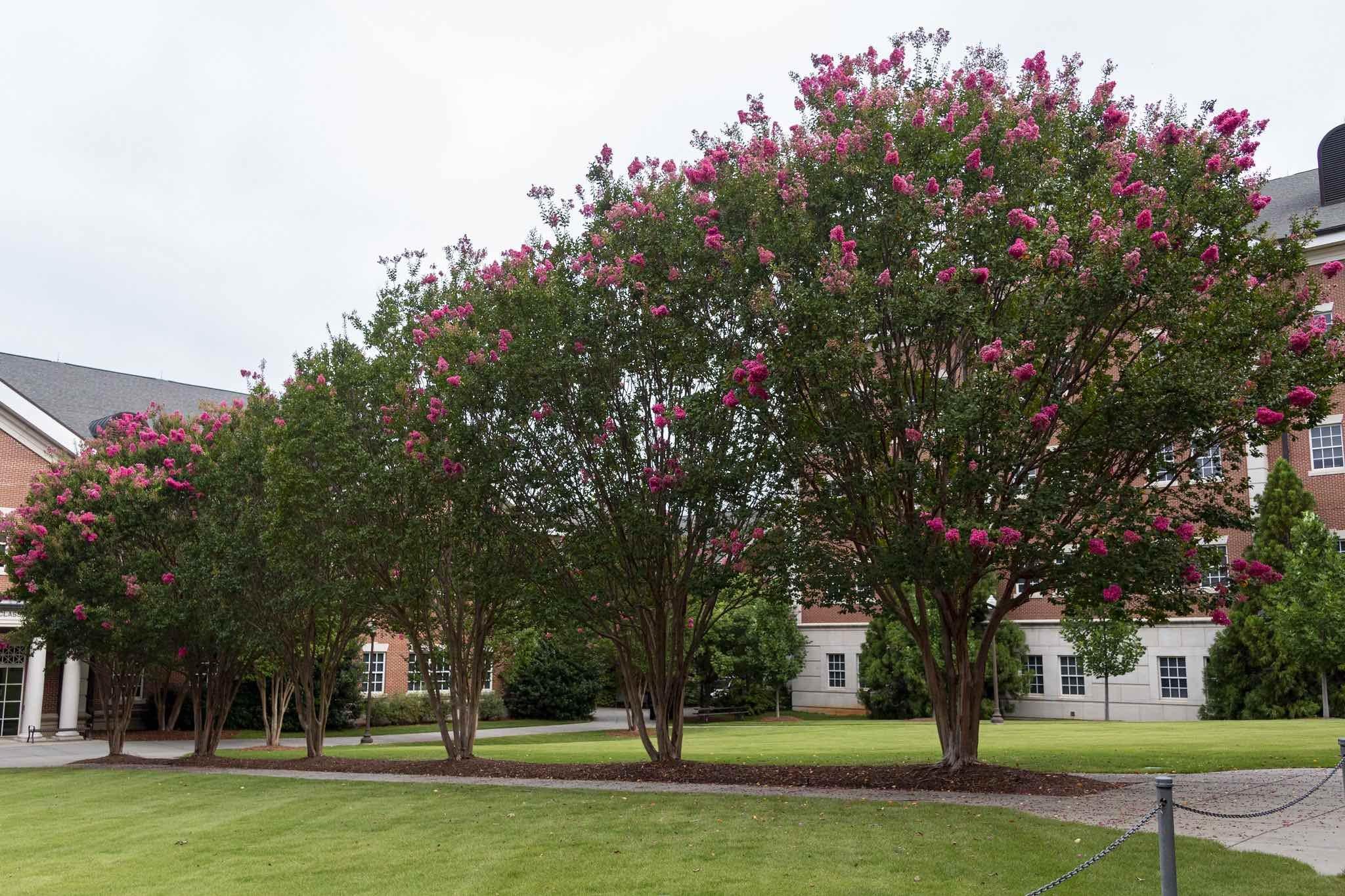 Could crape myrtle, the "lilac of the South," pictured here in Alabama, become the lilac of the North? (Alabama Extension / Flickr Creative Commons)
The Botanic Garden has been testing zone boundaries for decades, as a matter of course both for research purposes and to refresh its own plantings.
"We tend to push the envelope anyway, to stretch the zone," Spicer said, and that includes maintaining a map of the garden's microclimates where some areas might even qualify as Zone 7.
Trials of plant varieties last 3 to 6 years, the baseline of success being whether the plant survives winter and returns with vigor in the spring.
Researchers at the garden recently began trialing crape myrtle, a small ornamental tree that's so popular in southern states one of its nicknames is "lilac of the South."
"What we felt is, 'Is the climate changing enough so we could plant some dwarf crape myrtle?'" Spicer said. So far, the plant is behaving less like a tree and more like a peony, he said, dying back above ground but retaining its roots. 
It's a departure from past practice for the garden's plant exploration program to be looking south for specimens.
"Twenty years ago, we were going to Russia and China," collecting seeds of really cold hardy plants, said Spicer. "Now we're going to Arkansas and Alabama. I just got back from North Carolina."
Unwelcome consequences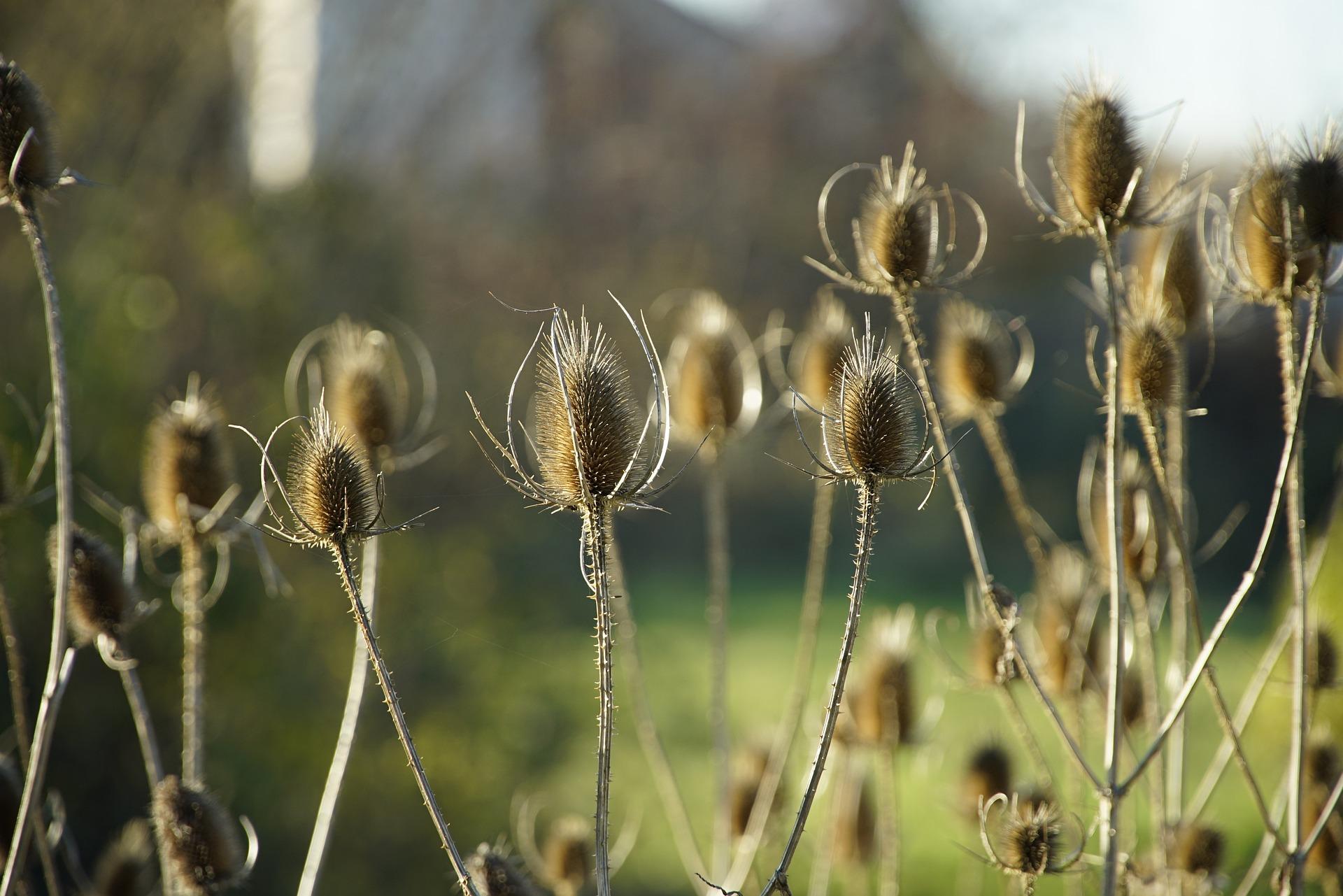 Invasive species like teasel could use warmer hardiness zones to even greater advantage. (Beauty of Nature / Pixabay)
Beyond the hardiness map's implications for ornamental plants and gardens is the matter of what these shifts in temperature will mean for natural areas and habitat restoration projects. 
The Botanic Garden, which has long maintained a sizeable native seed bank, is already factoring in future climate when it comes to making seed recommendations.
For any given plant, the garden will gather seed from populations across the species' geographic range, in order to obtain genetic diversity. "We've been advising people to avoid seed collected from more northern provenances," Spicer said.
As southern natives creep northward, the very definition of "native" is becoming muddied, said Vitt. 
"We have our big book," she said, referring to what many consider the bible on Chicago natives — the 10.5-pound, 1,400-page "The Flora of the Chicago Region," by Gerould Wilhelm and Laura Rericha.
"If that's your definition, you may think of a native of southern Illinois moving to northern Illinois as non-native and maybe even invasive," Vitt said. On the other hand, "if you recognize things are changing and our system is dynamic," then these species are simply expanding their native range.
"Species are going to move in response to climate change," she said. "At some point we will have to really, truly make the decision" about what is and isn't native.
Then there are the existing invasives, the troublemakers that already threaten the health of fragile native ecosystems. Could a warming climate make them even more aggressive?
Teasel is a common invasive species whose tall dried spikes will be a familiar sight to motorists cruising the Chicago region's expressways or people searching "dried flowers" on Etsy. If the plant becomes established, it can take over a prairie or savanna and form a monoculture. 
What worries Vitt is that as a biennial plant, teasel will benefit from Chicago's ever-warming hardiness zone. "They're not going to get killed at quite the same level," she said. "They'll flower more robustly because they're not getting nailed by a deep winter." 
Contact Patty Wetli: @pattywetli | (773) 509-5623 |  [email protected]
---