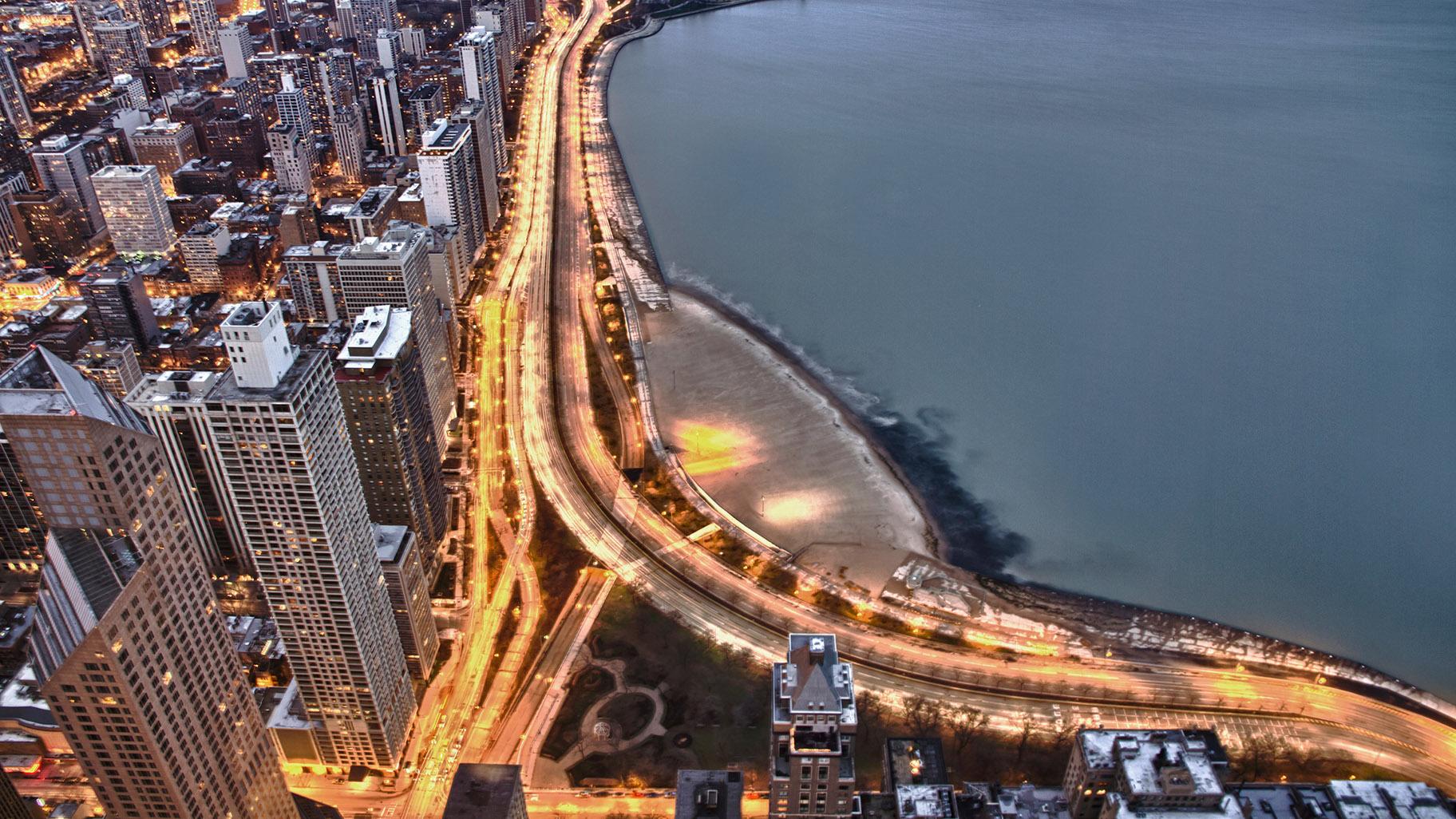 (Jason Mrachina / Flickr)
A group of Chicago aldermen last week introduced a long-discussed ordinance directing the city's Transportation Department to install noise monitors along Lake Shore Drive, with an eye in particular toward cracking down on illegally modified motorcycles that race up and down the highway.
"These motorcycles, in the summer months in particular, tend to travel in large groups. One of them is loud enough – 15 of them on the Drive exceeding the speed limit in a pack is absolutely deafening," said the ordinance's chief sponsor, Ald. Brian Hopkins, 2nd Ward. "We're talking about noise levels that exceed a jet airplane taking off and landing."
The ordinance calls for a total of six noise monitors along the Drive. Three would be located between Balbo Drive and the northern end at Hollywood Avenue; the other three would be placed between Balbo and Marquette Drive at the southern end. The Office of Emergency Management and Communications would be in charge of identifying locations for the six monitors, with the "advisement and consent" of local alderman. While that language means aldermen could override OEMC, Hopkins says the idea is that local leaders know best which parts of their wards generate the most noise complaints.
"The consent, I honestly don't think any of us would say, 'No, don't put it on that pole, put it on the pole 10 feet away,'" Hopkins said.
After the monitors are up and running for a year, OEMC would be responsible for sending the City Council a report on the data collected. Hopkins hopes the monitors will help people around the city understand the noise problem, but he also hopes they could also be used to provide intel to the Chicago Police Department for immediate enforcement.
"Right now, there's very little enforcement, so anything we do is a step in the right direction," he said. "The motorcyclists currently operate with impunity. They don't believe that there's ever going to be any repercussions."
Hopkins first proposed the monitors in June. He's now been joined by aldermen from each ward the Drive runs through: Ald. Pat Dowell, 3rd Ward; Ald. Brendan Reilly, 42nd Ward; Ald. Michele Smith, 43rd Ward; Ald. Tom Tunney, 44th Ward; and Ald. Harry Osterman, 48th Ward.
The ordinance was made possible by a change in state law signed in 2017 by then-Gov. Bruce Rauner and sponsored by state Rep. Sara Feigenholtz, whose district also includes a large swath of Lake Shore Drive. The ordinance has been referred to the City Council's Committee on Public Safety. Hopkins says the ordinance will be heard at the committee's next meeting, scheduled for Jan. 7, along with another ordinance aimed at cracking down on illegal street racing.
---
Related stories:
How Aldermen Are Reimagining Lake Shore Drive
Chicago Aldermen Propose New Name for Lake Shore Drive
Transportation Planners Consider Bus-Only Lane on Lake Shore Drive
New Law Paves the Way for Noise Monitors on Lake Shore Drive
---