Edo de Waart (Credit: Edo de Waart)
Talk about ending the year with a bang.
Just a few weeks before the Chicago Symphony Orchestra and Maestro Riccardo Muti are to embark on a whirlwind tour of Europe (Jan. 9-23) that will include 10 concerts in eight cities (Cologne, Vienna, Luxembourg, Paris, Naples, Florence, Milan and Lugano), the orchestra, under the meticulous, richly honed yet understated direction of guest conductor Edo de Waart, is performing an altogether thrilling program that features a fascinating mix of the music of John Adams, Igor Stravinsky and Antonin Dvorak.
The concert also marks the return to the Symphony Center stage of violinist Leila Josefowicz, whose fabulously animated, virtuosic performance of Stravinsky's audacious, ferociously challenging "Violin Concerto in D" was ideally complemented at every turn by the orchestra.
The Stravinsky work was prefaced by a scintillating rendering of Adams' rhythmically and sonically fascinating 1985 piece, "The Chairman Dances (Foxtrot for Orchestra)," a 12-minute riff on a surreal scene involving Chairman Mao and his wife that, two years later, would become part of his popular (and ever more timely) opera, "Nixon in China." It opens with a persistently repeated rhythmic line and is gradually infused with plucked strings, winds, brass and a full arsenal of percussion (everything from timpani, drums, vibraphone, glockenspiel, tambourine and triangle to sandpaper blocks). And while there is an abiding sense that something surprising is about to happen, before it does there is a dreamy, seductive sequence that then suddenly speeds towards a finale.
Adams' piece has a hint of Philip Glass' repetitive drive to it, but once you hear the 1931 Stravinsky concerto you might also be reminded that he was the composer who turned classical music on its head.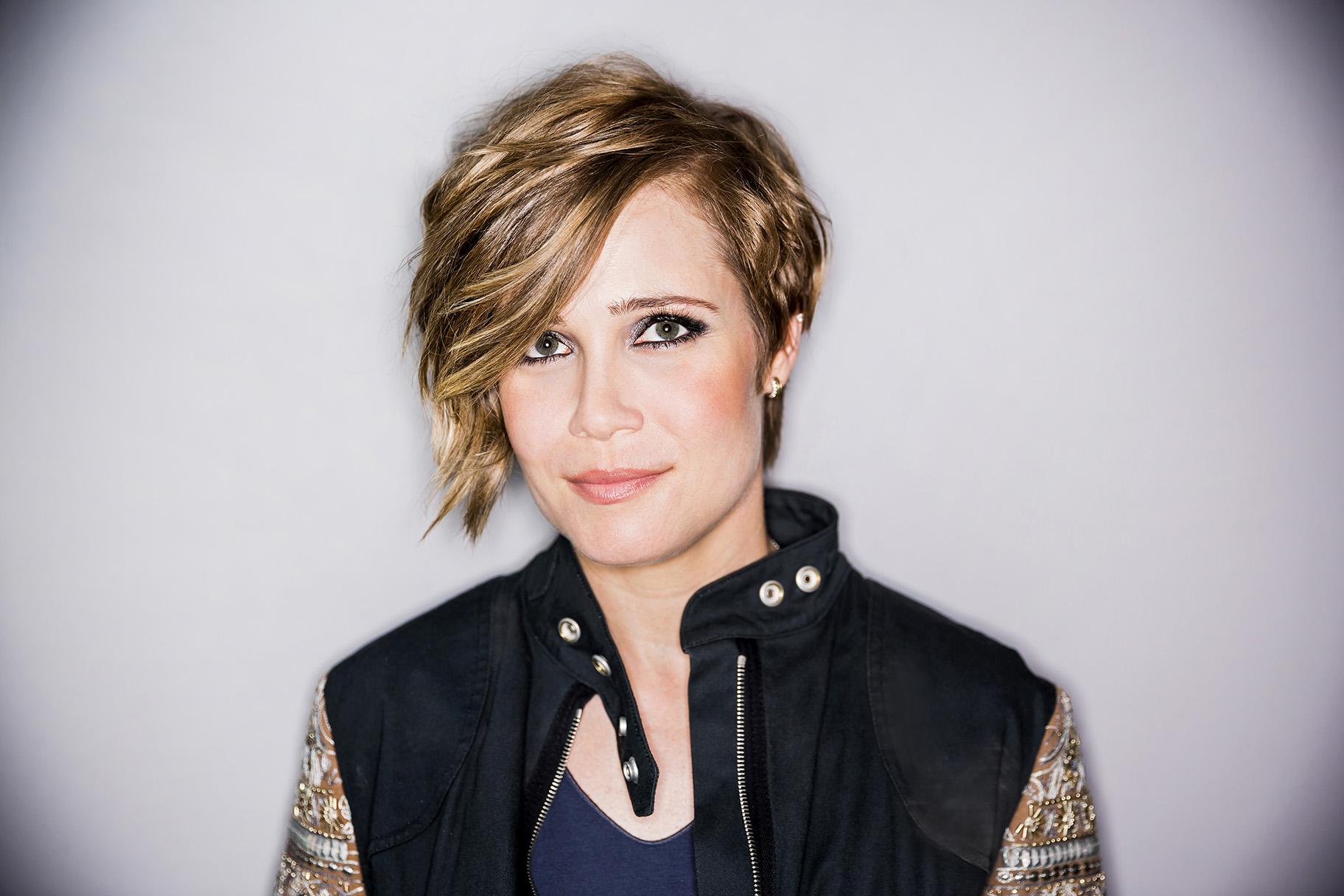 Leila Josefowicz (Credit: Chris Lee)
Josefowicz (whose love of jazz and improv clearly have had an influence on her approach) was on fire from the moment she arrived onstage. Her extraordinarily expressive face and body were totally wed to the demonically difficult concerto in which Stravinsky uses the instrument in often eccentric, groundbreaking ways (whether in terms of bowing or fingering), and taps into all its possible "voices." (The composer even titled the second and third movements of the four-part work "Arias"). And of course there is Stravinsky's distinctive genius for adapting folk rhythms and giving them a dynamic 20th century twist.
Shot through with dramatic mood shifts, the piece also demands absolute boldness and daring on the part of every musician in the orchestra, and there was superb interplay between Josefowicz and Jennifer Gunn (flute), her fellow wind and brass players, and associate concertmaster Stephanie Jeong (violin). In fact, there is so much going on in this piece that it leaves you with a desire for a second hearing. But while Josefowicz looked euphoric from start to finish it is difficult to imagine that either she, the orchestra, or de Waart would possess the sheer mental and physical stamina needed to repeat this thrilling, wildly original piece.
The concert's second half was devoted to two works by Dvorak – the brief but irresistibly exuberant "Carnival Overture," and the ravishingly melodic, rhythmically ingenious "Symphony No. 8 in G Major," composed in 1889, and first performed in Chicago during the infancy of the CSO when the orchestra played it at the 1893 World's Columbian Exposition.
Infused with the subtle sense of the natural world emblematic of much of Dvorak's music (just listen to Emma Gerstein's flute suggest birdsong), and with the overall sense that it is unfolding in some beautiful forest, the symphony also is propelled by the rich use of Slavonic folk dance rhythms that create a swirling energy and color throughout. And it is a terrific showcase for the orchestra's other winds, horns, timpani and always impeccable strings. Alternately wild and dreamy, this is Dvorak at his most intoxicating.
[Note: Josefowicz was not the only dazzling violinist to play with the CSO this month. Although I did not review the early December concert that featured Ray Chen playing Wieniawski's "Violin Concerto No. 1," I can attest to the fact that he is a classical music rock star in his own right, and his encore – a lyrical arrangement of "Waltzing Matilda" that paid homage to his early years in Australia – was magical. So was CSO guest conductor John Storgards' revelatory performance of Tchaikovsky's "Symphony No. 4" and the orchestra's performance of Jennifer Higdon's "blue cathedral.")
The Adams/Stravinsky/Dvorak concert will be repeated Dec. 21 at 8 p. m. and Dec. 22 at 3 p.m. at Symphony Center, 220 S. Michigan Ave. For tickets ($41-$235) call (312) 294-3000 or visit www.cso.org. Running time is one hour and 50 minutes with one intermission.
Follow Hedy Weiss on Twitter: @HedyWeissCritic
---
'Working' Sings of Something More Profound Than 9-to-5 Drudgery
Deeply Rooted Dancers Set the Stage on Fire
'The Light in the Piazza' Dimmed By a Grand-Scale Venue
---