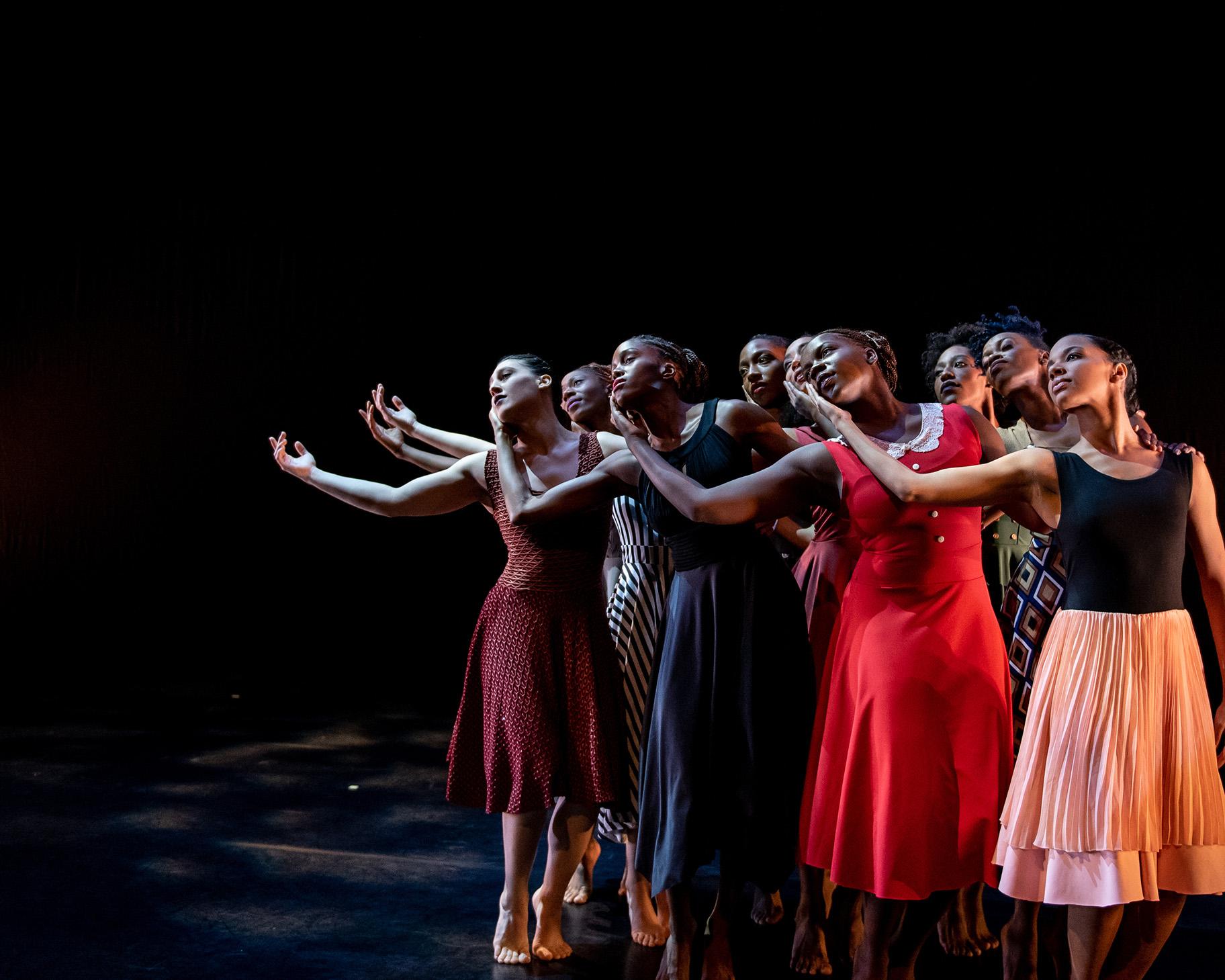 Deeply Rooted Dance Theater company members perform "Parallel Lives." (Photo by Michelle Reid)
Two questions invariably come to mind every time I see one of the consistently fire-breathing performances of Deeply Rooted Dance Theater. And I am compelled to ask them yet again after catching the company's magnificent opening night performance of its weekend engagement at the Reva and David Logan Center for the Arts in Hyde Park.
First: Why, given the extraordinary talent of its dancers, and the exceptional quality of its repertoire, is this company (co-founded in Chicago more than two decades ago by Gary Abbott and Kevin Iega Jeff, and now under the artistic directorship of Nicole Clarke-Springer) not more famous? And second: Why isn't Deeply Rooted championed as this city's counterpart of the Alvin Ailey Dance Theater?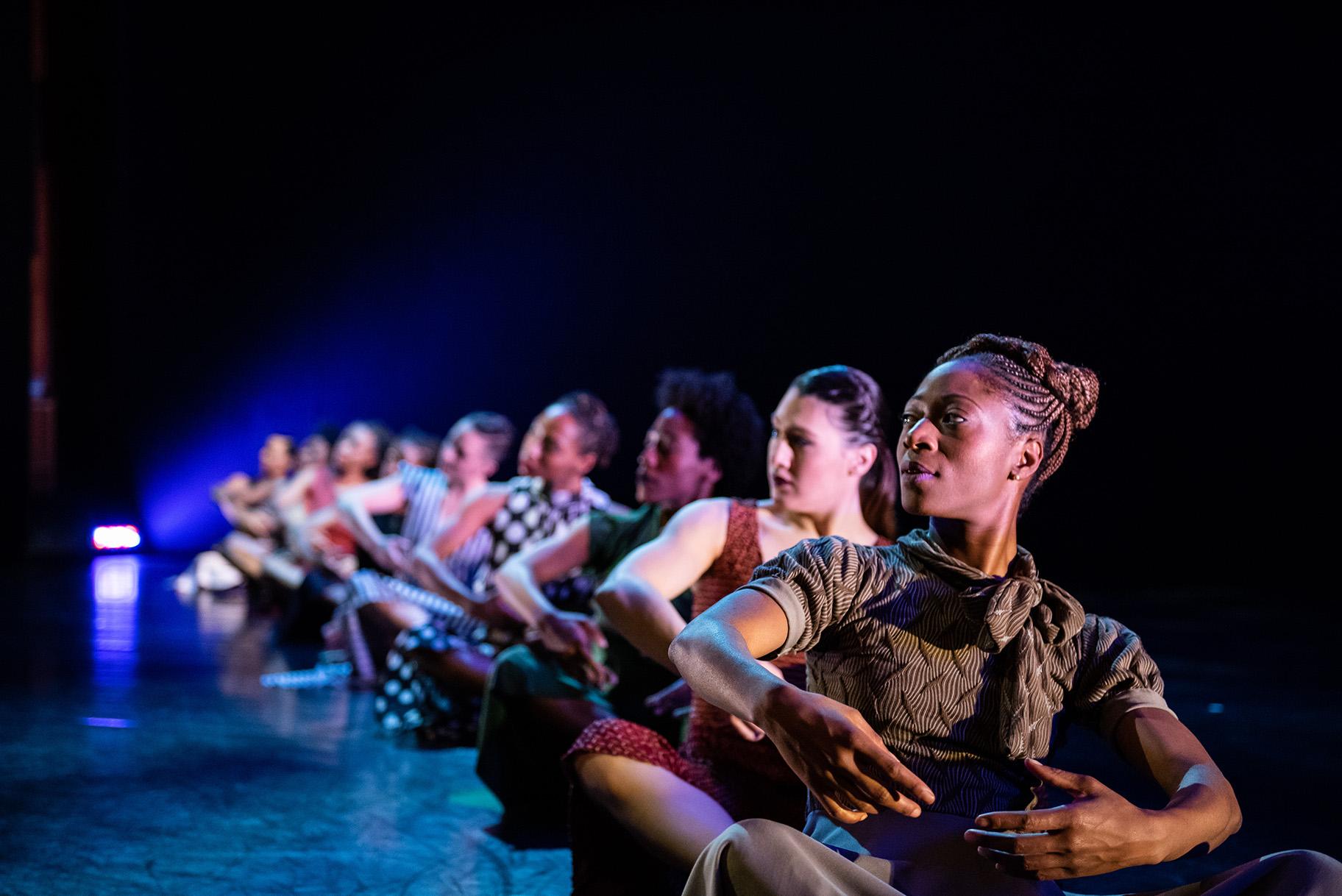 "Parallel Lives" (Photo by Michelle Reid)
All I can say is that the company's Friday evening program of five works by as many different choreographers – all gathered under the umbrella title "Reaffirmed/Reimagined" – was thrilling. And if you haven't caught up with this company now is the time. The dancers are stunning, with superb technique and an emotional heat ideally fitted to the choreography, and they are beautifully supported by the most artful costumes and lighting. Best of all, they invariably live up to their name as members of a "dance theater," consistently bringing their distinctive personalities to bear on the choreography while also conjuring characters in a way that suggests they are actors as well as dancers.
Take, for example, "Parallel Lives," the opening work on the program, created by Abbott in 2018 and set to a driving yet lyrical score by Evangelos Spanos (based on Vivaldi's "La Folia"). A series of interlocking solos and ensemble sequences for six women (all in vividly colored dresses by Carolyn Meckha Cherry that suggest the 1950s), the piece is built on the movement involved in both the physical labor of women and the sheer psychological drive and forbearance needed to keep life going, whether alone or together. The dancers – Marlayna Locklear, Briana Arthur, Rebekah Kuczma, Dominique Atwood, Saidiya Imari and Nyemah Stuart – were sensational.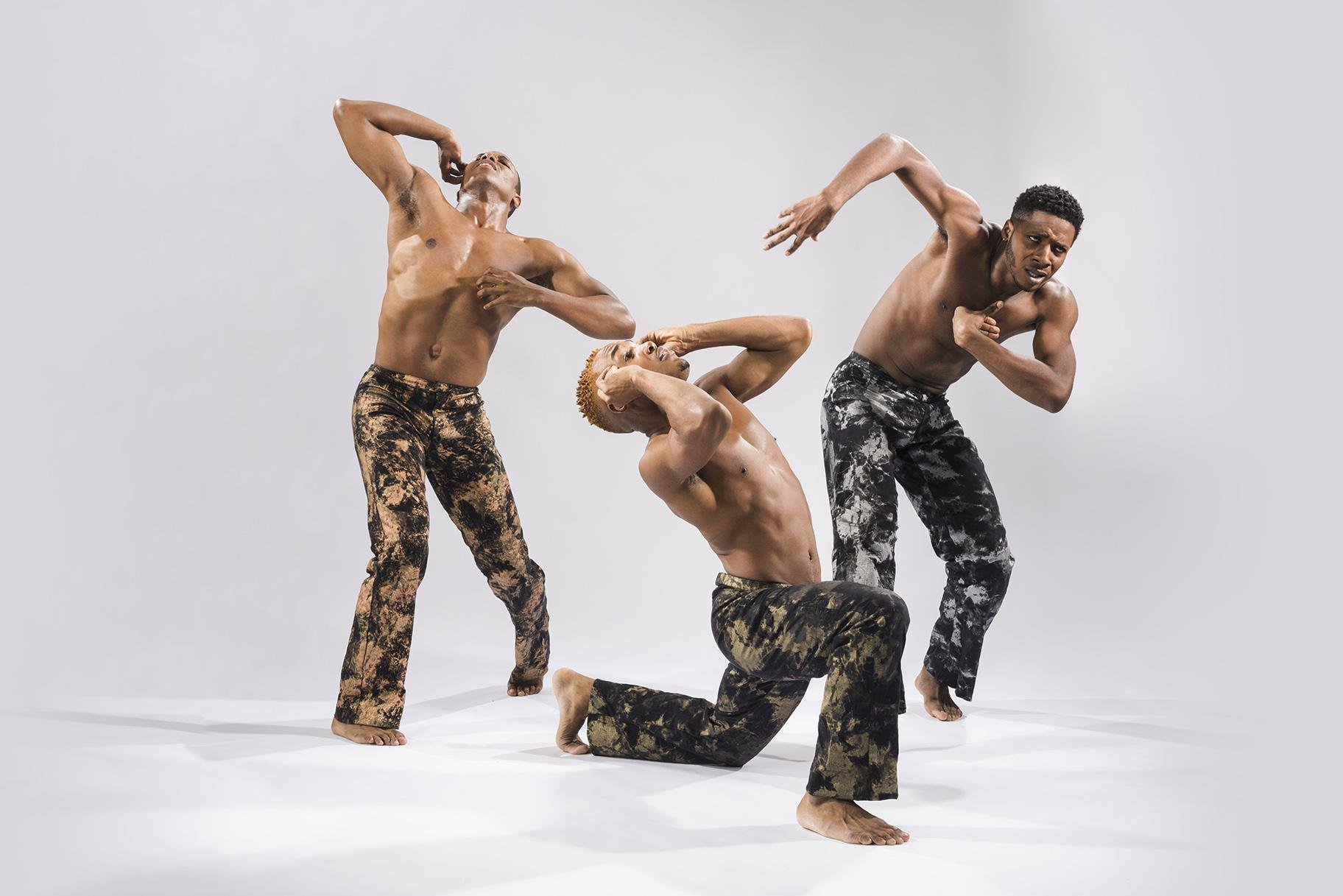 Pierre Clark, William Roberson, Joshua Henry perform "When Men ..." (Photo by Ken Carl001)
The stage was then ceded to three male dancers for "When Men …," created in 2016 by Joshua L. Ishmon, the company's rehearsal director, and set to a fascinating score that interweaves the music of Paolo Nutini with Charlie Chaplin's clarion cry for liberty, reason, brotherhood and democracy in his final speech from the film "The Great Dictator." Ishmon's fervent choreography taps into a more spiritual than political vein, with yearning, lyrical, ever-dynamic dancing by Nehemiah Spencer, Ricky Davis and Pierre Clark, and a nerve-jangling finale to top it all off.
A spiritual journey also is at work in Clarke-Springer's 2018 piece, "Forces," set to music by the Brazilian composer Marcelo Zarvos. At its center is a young woman (the radiant Briana Arthur) who is tenderly supported in her life quest by a trio of guides (Kuczma, Spencer and Trey Johnson).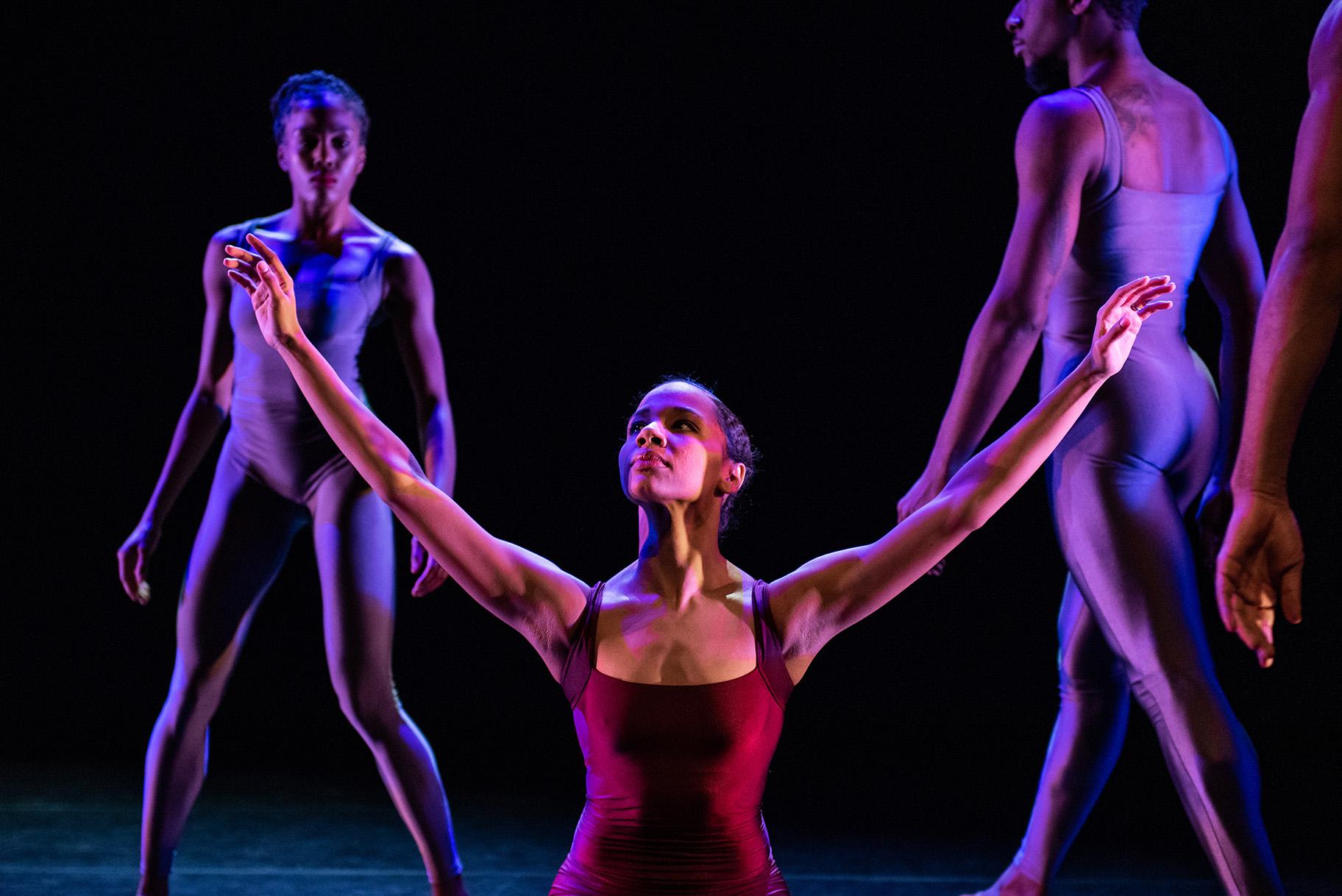 Briana Arthur, Paige Fraser and Joshua Henry perform "Forces." (Photo by Michelle Reid)
And then came "Essence: A Portrait of Four Women," a brilliant series of character studies set to songs by Nina Simone, Zulema, Roberta Flack and Nikki Giovanni backed by the James Cleveland Choir). It is the work of choreographer Martial Roumain, who, not surprisingly, has many Broadway credits. It also is interesting to note that this 1972 piece was created a few years before the arrival of "For Colored Girls Who Have Considered Suicide/When The Rainbow is Enuf," Ntozake Shange's not dissimilar "choreopoem."
The wonderfully dramatic work begins with four dancers posed on black cubes in character-defining costumes by Bernard Johnson. Each of them then takes hold of a powerful solo turn portraying the unforgettable women described by Simone in her 1966 classic, "Four Women."
Nyemah Stuart (in a long white dress reminiscent of the one worn by Ailey star Judith Jamison in "Cry"), was Aunt Sarah, the slave who endured and rose above her suffering. Kuczma was Saphronia, the sinuous mixed-blood woman who must navigate between two worlds. Atwood was Sweet Thing, the sassy prostitute who everyone engages for their pleasure. And Locklear, full of unmitigated rage, conjured the anger and bitterness of her history as a black woman.
Closing the program was Iega Jeff's 1982 work, "Dedication," a sweeping but overly long feel-good celebration (set to music by Quincy Jones, Claus Ogerman and Patti Austin) in which an Ancestral Elder (Clark) leads "The Children of the New World" (Spencer, Arthur, Locklear, Kuczma, Davis and Johnson) to a joyful existence. But by then I had already been lifted to a fully blissful state by all that had come before it.
Note: To keep track of when and where Deeply Rooted will be performing next (the Logan stage happens to be an ideal fit for the company), visit deeplyrooteddancetheater.org.
Follow Hedy Weiss on Twitter: @HedyWeissCritic
---
'The Light in the Piazza' Dimmed By a Grand-Scale Venue
The Surprising Power of 2 Plays Captured on National Theatre Live
Taking Stock of Chicago Theater as 2019 Draws to a Close
---