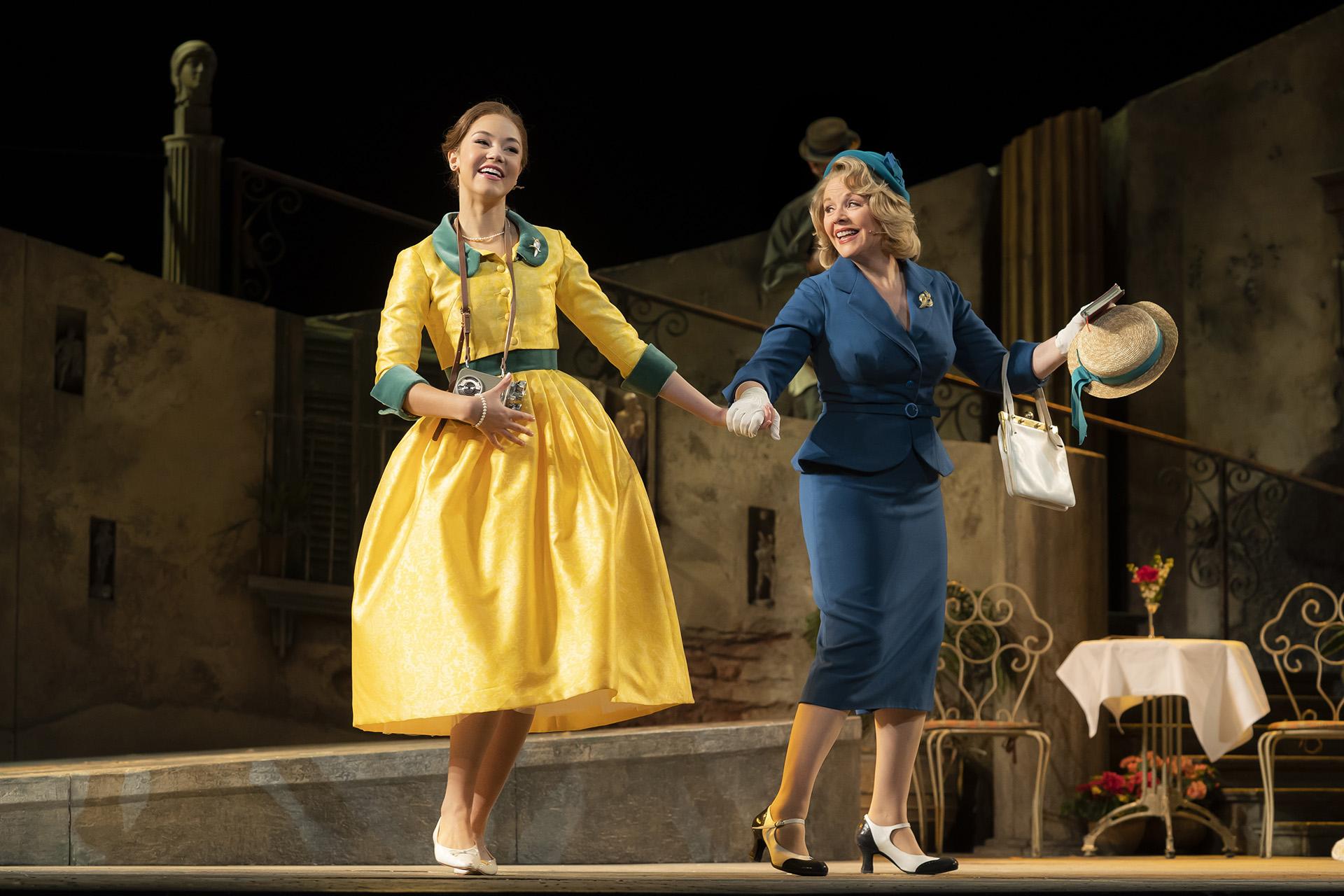 Solea Pfeiffer and Renée Fleming in the "The Light in the Piazza" at Lyric Opera House. (Photo by Liz Lauren)
The element of scale is crucial to the production of any theatrical work. And while "The Light in the Piazza" is set against the artistic magnificence of Florence and Rome, and its lushly lyrical score by Adam Guettel is infused with elements of grand opera (some of it sung in Italian), the show is, at its core, a profoundly intimate work about love and marriage, the relationship between parents and children, and the power of a beautiful place to both trigger memory and unleash a sense of freedom, adventure and self-discovery.
Created for Broadway (and over the years seen on such diverse Chicago-area stages as the Goodman, Marriott and Theo Ubique theaters), the show belongs in a space that can fully embrace that intimacy. The Lyric Opera House, where it is now being presented by the recently formed U.K.-based Scenario Two Ltd. and Karl Sydow, is not such a place. While the current production (initially staged at London's similarly vast Royal Festival Hall) has undeniable visual grandeur, it often lacks the essential emotional punch needed to drive the work. This is most notable in the first of its two acts, with Guettel's poetic lyrics often muddied and Daniel Evans' direction more efficient than magical. Things get a good deal better in the second act. (Note: While the show uses the Lyric Opera Orchestra, led by Kimberly Grigsby, and stars Lyric mainstay Renee Fleming, this is not a Lyric production.)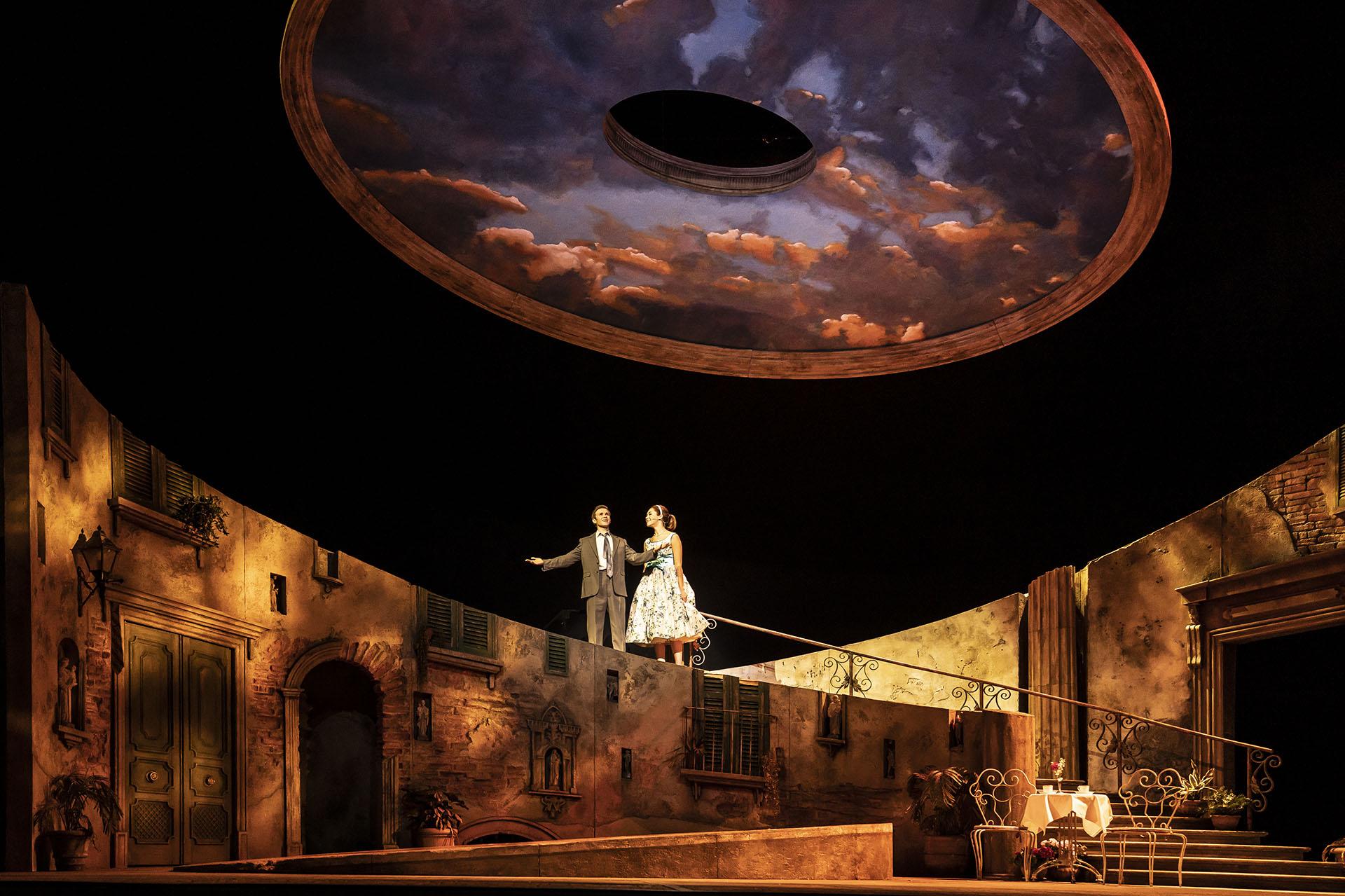 Rob Houchen and Solea Pfeiffer in "The Light in the Piazza" at Lyric Opera House. (Photo by Liz Lauren)
Even before the musical begins, the audience can travel to Florence by means of Robert Jones' set, with its curving streetscape, a seductive rear view of Michelangelo's "David" sculpture and, looming over it all, a great circular, Renaissance-style dome with a cloud-strewn fresco pierced by a little window to the sky. Later, the familiar mix of priests, nuns, prostitutes, flower merchants and gawking tourists will make an appearance on the street. But like much in this production, everything is at a distance.
With a book by Craig Lucas based on Elizabeth Spencer's 1960 novella, "The Light in the Piazza," set in the mid-1950s, begins as Margaret Johnson (Fleming), a well-to-do woman from North Carolina, arrives for a vacation in Florence with her 20-something daughter, Clara (Solea Pfeiffer). Margaret, whose marriage is on the rocks, is revisiting the place that once filled her with happiness in the early years with her husband. Now, she mostly keeps an obsessively close eye on her daughter, who suffered an accident at age 12 that rendered her developmentally challenged, although perhaps not quite as naive and unaware as her mother might believe.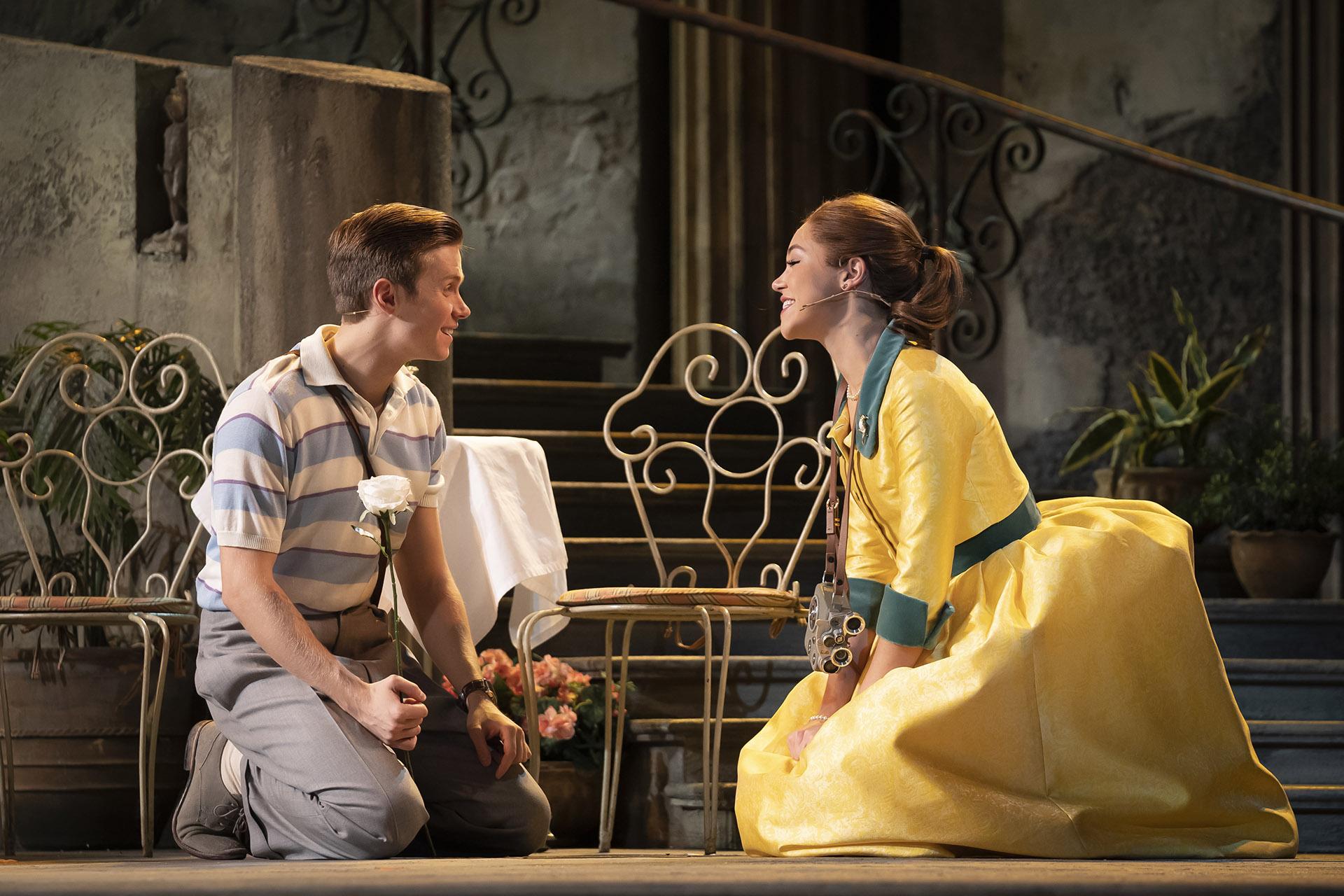 Rob Houchen and Solea Pfeiffer in "The Light in the Piazza" at Lyric Opera House. (Photo by Liz Lauren)
When Clara's sun hat flies into the wind (a moment that could use a far greater sense of enchantment and surprise), it is rescued by a young Italian fellow, Fabrizio Naccarelli (Rob Houchen), and when the two meet it is love at first sight.
Shortly thereafter, mother and daughter meet Fabrizio's shopkeeper father, Signor Naccarelli (the easily charming British actor Alex Jennings), who speaks English thanks to his work as a liaison with the Americans during WWII; and his wife, Signora Naccarelli (Marie McLaughlin, who is spot-on as an Italian mother). They also meet Fabrizio's womanizing older brother, Giuseppe (Eric Sciotto, whose brief dance sequence is terrific); and his bitter wife, Franca (Suzanne Kantorski, who deftly captures her anger at his betrayals in a song in which she warns Clara about love).
When Clara boldly escapes from her hotel room for a midnight assignation with Fabrizio, she loses her way and grows panic-stricken as she tries to escape the seedy propositions of men. Her mother rescues her and promptly takes her off to Rome.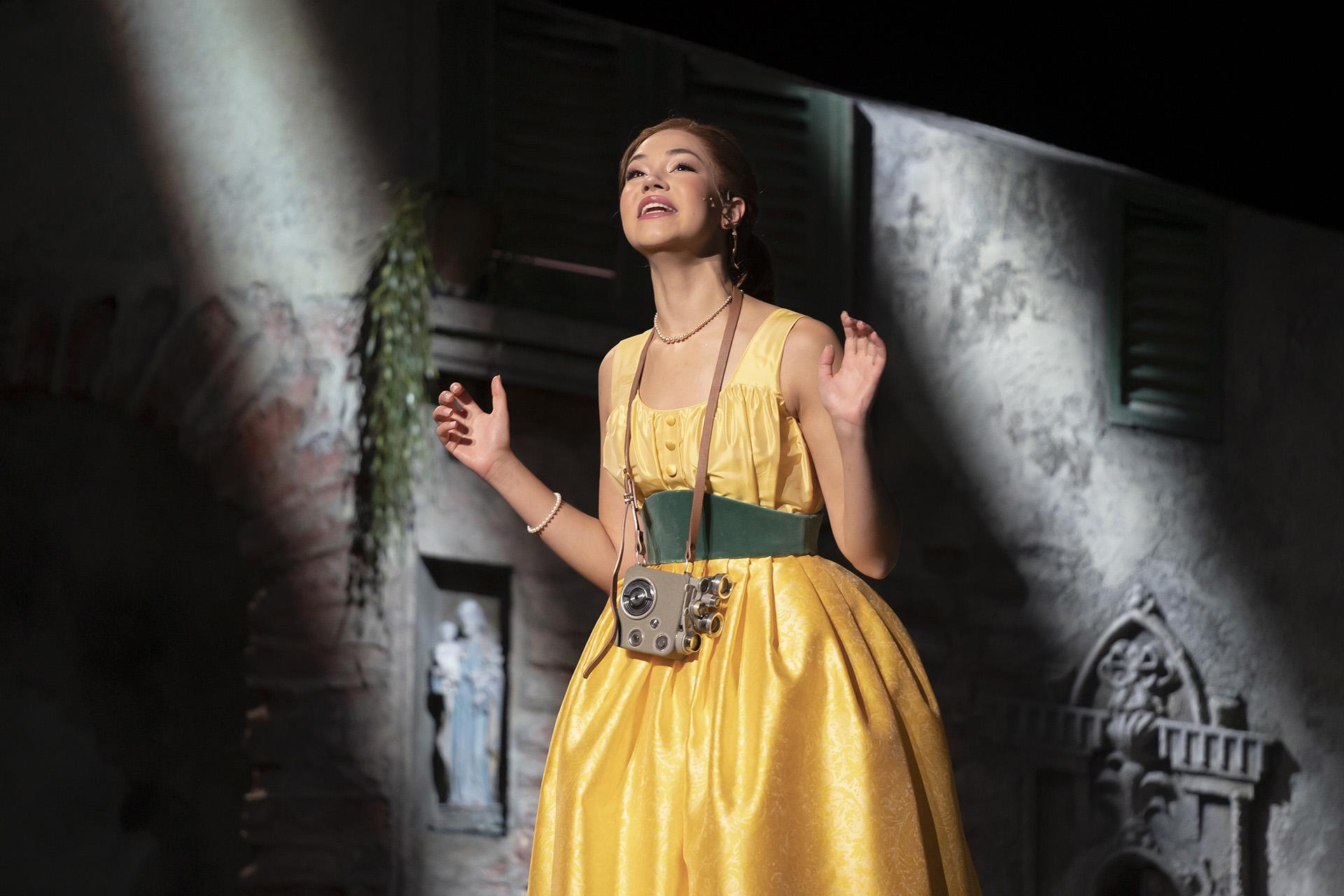 Solea Pfeiffer in "The Light in the Piazza" at Lyric Opera House. (Photo by Liz Lauren)
It is there, among the ruins of the Forum, that Clara sings the title song in which the inner "light" she has suddenly come to feel becomes a metaphor for the transformative quality of "love." This moment didn't quite melt the heart the way it can when the actress is closely connected to the audience, but Pfeiffer, who captures just the right awkwardness, impulsiveness and defiance that mark her character, suggests that Clara is about to take hold of her destiny. And when mother and daughter return to Florence, preparations for the marriage of Fabrizio and Clara quickly get underway, although the wedding almost doesn't happen, and Clara's jealous outburst in "Tirade," sung after she sees Franca kissing Fabrizio, becomes one of the most powerful moments in the show and a high point for Pfeiffer.
In the sweet, gently romantic duet, "Let's Walk," Margaret and Signor Naccarelli take a "passegiata" (stroll) to sort things out, but sadly the director has set this scene so far upstage that it is almost out of sight.
The musical concludes with two solo turns. First, Fabrizio faces his bride from across the stage and sings "Love To Me," the simplest and most exquisite expression of how he feels about Clara. Standing almost completely still, Houchen used his lovely tenor to such heartrending effect that he finally unlocked the show's essential intimacy.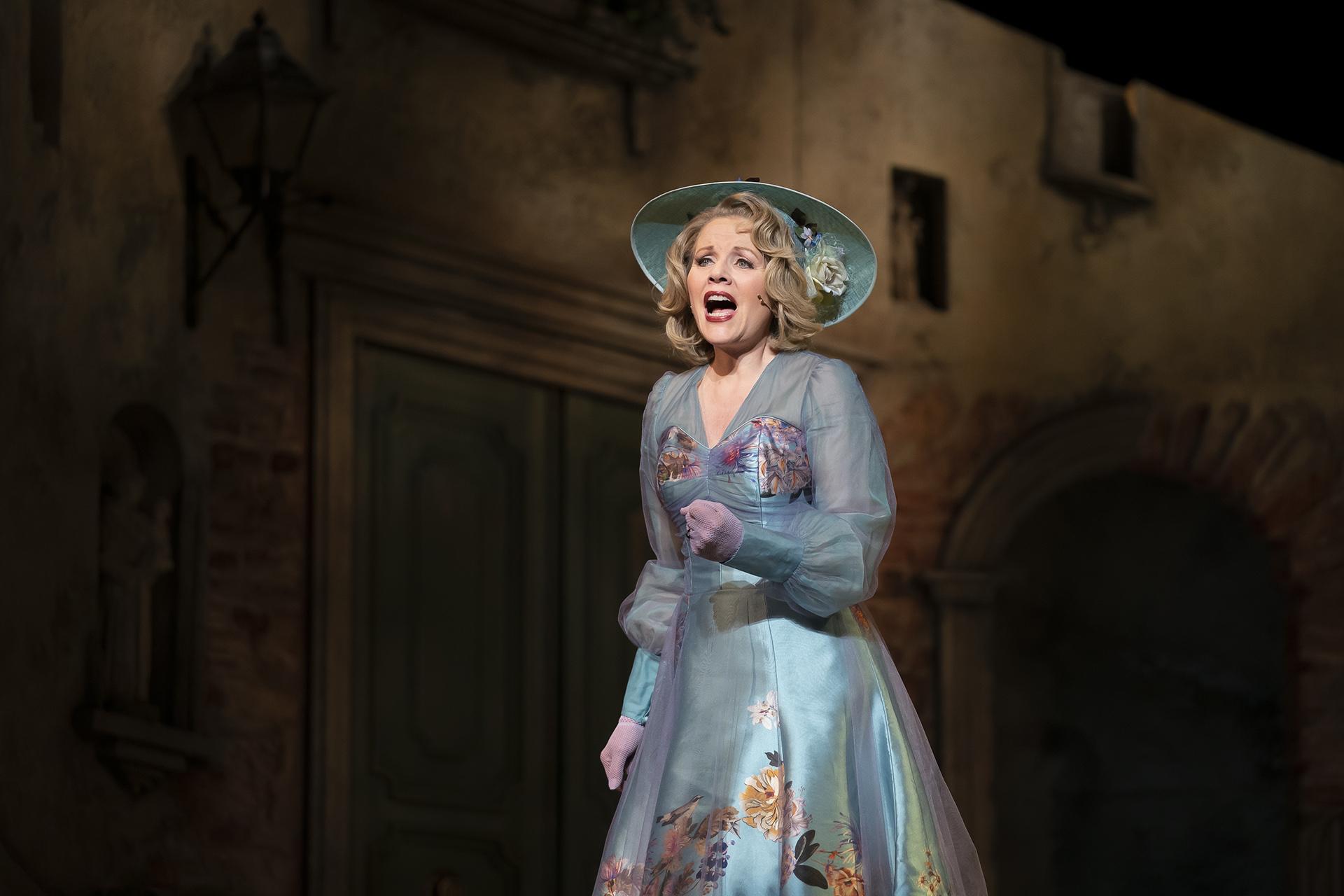 Renée Fleming in the "The Light in the Piazza" at Lyric Opera House. (Photo by Liz Lauren)
And so it was for Fleming, who in fine diva fashion, delivered the final "aria" – a powerful rendering of "Fable," Guettel's gorgeous recounting of the experience of love from its moments of ecstasy to its crushing disillusionments. For despite all she is suffering from the breakdown of her own marriage she still can summon this clarion cry for her daughter:
"Love if you can, Oh my Clara. / Love if you can. / And be loved. / May it last forever, Clara. / The light in the piazza."
"The Light in the Piazza" runs through Dec. 29 at the Lyric Opera House, 20 N. Wacker Drive. For tickets ($35-$219) visit www.lightinthepiazzathemusical.com
Running time is 2 hours and 30 minutes with one intermission.
Follow Hedy Weiss on Twitter: @HedyWeissCritic
---
Behind the Scenes of 'The Light in the Piazza' with Renée Fleming
The Surprising Power of 2 Plays Captured on National Theatre Live
Taking Stock of Chicago Theater as 2019 Draws to a Close
A Radiant Moment in Chicago History Key to Magic of Joffrey's 'Nutcracker'
---