Tensions reached a boiling point Wednesday at City Hall as the outcome of a vote to delay sales of recreational marijuana in Chicago went down to the last seconds.
The final tally came after the proceedings had devolved into a chaotic fight over the rules and rounds of political one-upmanship. In the end, Mayor Lori Lightfoot prevailed, but not before some longtime City Council observers wondered if Chicago's Council Wars of the 1980s had returned.
Ultimately, the measure to stall recreational marijuana sales in Chicago until July was defeated by a 29-19 vote – pot will be sold in the city and state beginning Jan 1. But the vote was in doubt until the very end, prompting a flurry of cloak-and-dagger strategizing, backroom discussions and political chess playing.
---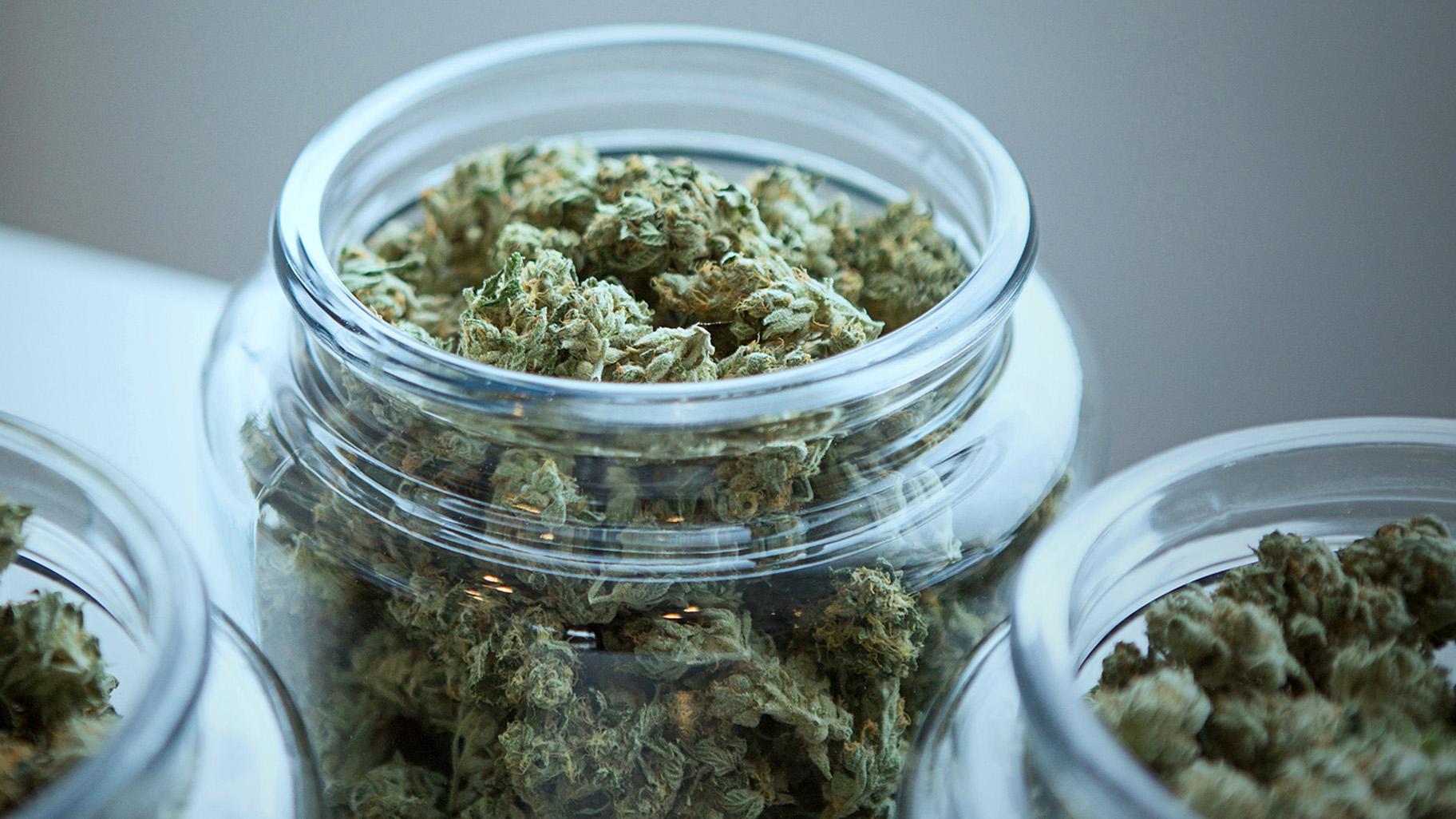 More: Your Guide to Marijuana in Illinois
---
The ordinance aimed to delay recreational cannabis sales in Chicago until minority business owners can get a greater share of the pie. As per state law, the first round of business licenses have gone to existing business owners – but none of those owners are minorities.
Several members of the Aldermanic Black Caucus, which led the initiative, urged their colleagues to vote in favor of the delay until minority entrepreneurs could get a greater foothold in the industry.
"It started out as a social justice issue as so many do, and the only people that benefit from this deal are the white people," said Ald. Leslie Hairston (5th Ward).
"We need a piece of this, and if we don't get it, nobody should," shouted Ald. Anthony Beale (9th Ward).
Other aldermen claimed that the Pritzker administration was pressuring them to defeat the ordinance, threatening to withhold capital funding in their wards.
"If the Black Caucus can't stand together on this issue because they're feeling pressure, if we're going to cave in to this, then we don't need to have a Black Caucus," said a shaken Ald. David Moore (17th Ward).
The Pritzker administration flatly denied Moore's accusation, with communications aide Emily Bittner tweeting: "Nothing could be further from the truth."
But some Black Caucus aldermen defected, including Ald. Walter Burnett (27th Ward), who decided the legalization bill would eventually provide great benefits for a social equity fund to help minority entrepreneurs seek a large share of the next wave of licenses the state is set to authorize.
"We got some wins going now," Burnett said. "I'm trying to bring something home for our community."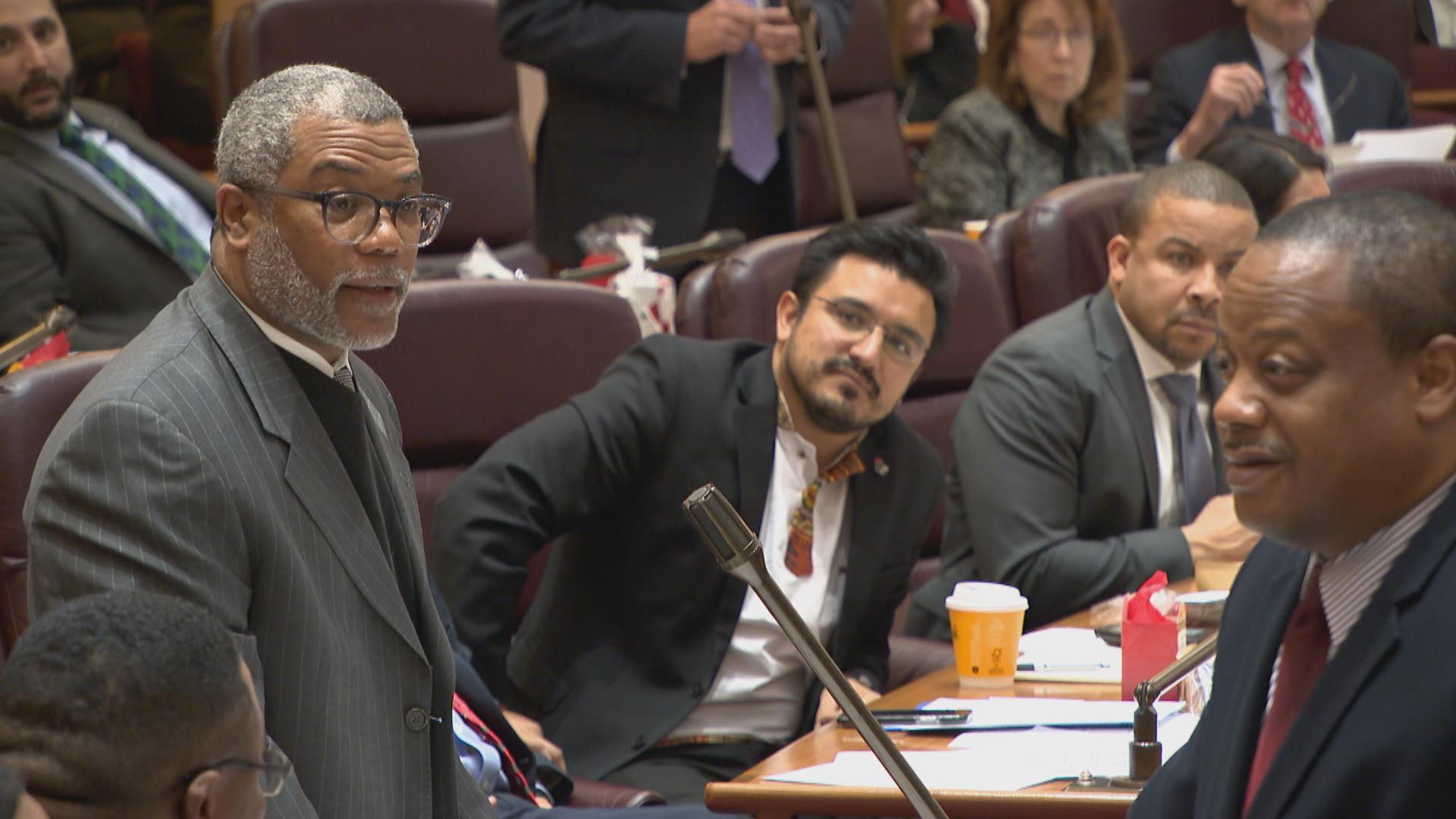 Ald. Walter Burnett, left, clarifies his use of the word "bump" during a tension-filled City Council meeting on Wednesday, Dec. 18, 2019. (WTTW News)
A heckler in the audience immediately shouted, "You ain't bringing nothing home," which visibly angered Burnett.
"Bump those punks out there. They'll still be calling us names. Who cares what they say. Bump them," Burnett said, using an apparent stand-in for an expletive that some journalists incorrectly reported on Twitter he had, in fact, used. Burnett then yelled at the press gallery to correct the record and accurately reflect that he had used the word "bump."
Tension only escalated from that point. There were multiple votes to establish whether to vote on the pot delay at all because there was not a consensus on the rules.
Ald. Jason Ervin (28th Ward), the sponsor of the ordinance, was speaking on the floor about his support for a delay. Right before he was set to use a procedure to delay the vote until Thursday morning, Ald. Brendan Reilly (42nd Ward), a mayoral ally, cut him off to use a motion to call for a vote.
"I have the floor sir," Ervin said to Reilly.
"I thought you were concluding," Lightfoot said to Ervin.
"We have rules of order," Ervin said. "I would ask that we all respect the rules of this body .... I mean, to take the floor, it's just … if you need it that bad, take it." He then slammed his mic down to his desk.
After the meeting, a longtime City Hall reporter for the Chicago Sun-Times said the proceedings reminded her of Council Wars, which Lightfoot firmly rejected.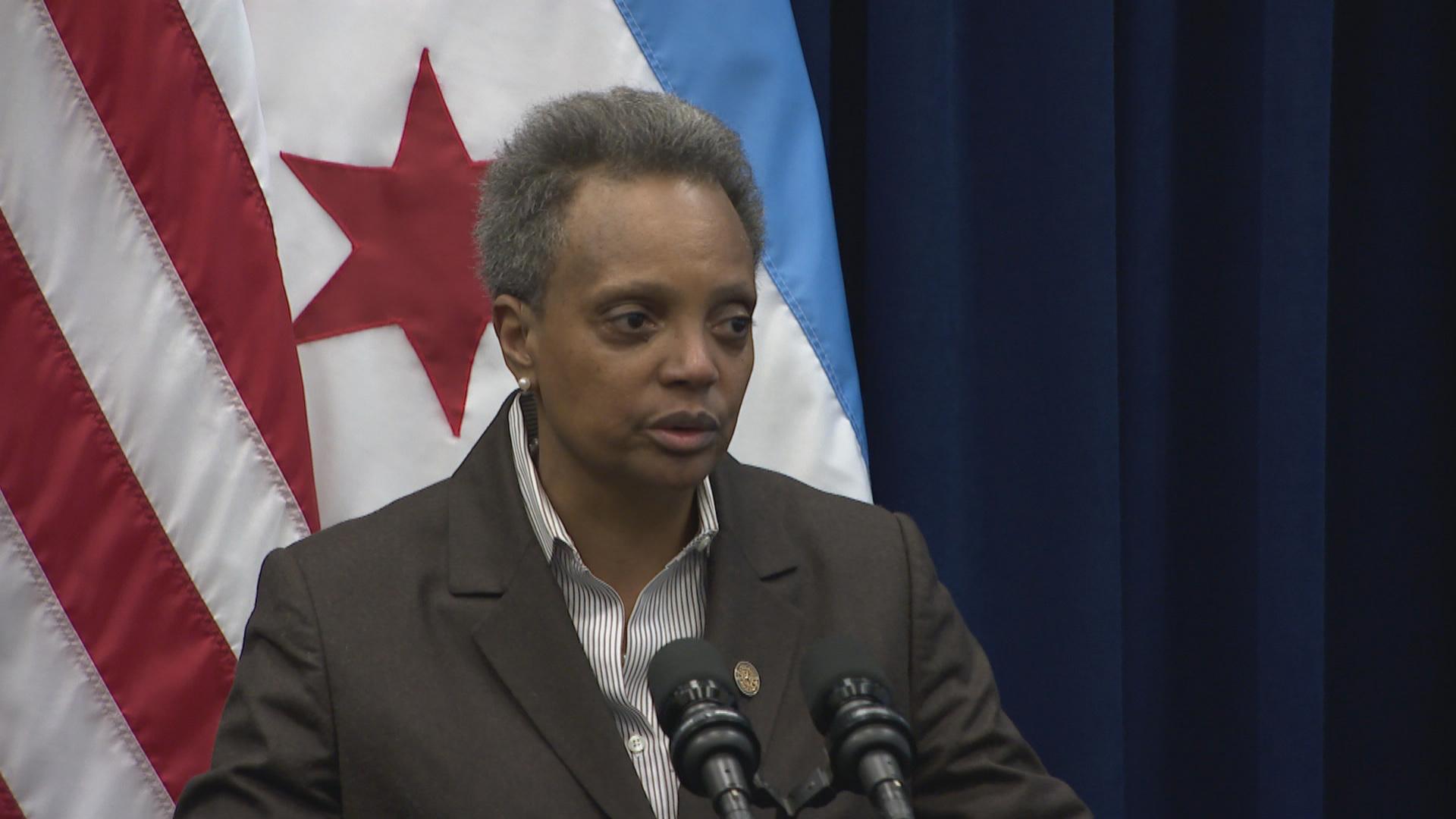 Mayor Lori Lightfoot speaks to the media following a chaotic City Council meeting on Wednesday, Dec. 18, 2019. (WTTW News)
"This was an issue that obviously animated a lot of people, and people care about equity, as they should," Lightfoot said. "It's not Council Wars. That diminishes the magnitude of Council Wars. Council Wars was the notion that a black mayor shouldn't be allowed to fully function in government. This is nothing like that."
Ervin and other Black Caucus members didn't have many supporters among their counterparts in Springfield, who called the authenticity of their equity argument into question.
State Rep. Chris Welch tweeted, "I don't remember seeing any of the city council members in Springfield when the heavily negotiated cannabis bill was being negotiated."
Meanwhile, Deputy Gov. Christian Mitchell tweeted, "I am sure that everyone involved in the drafting of the most equity centric piece of cannabis legalization in the country – including myself, Toi Hutchinson, and Kim Foxx – are stunned at the level of ignorance and the number of falsehoods being spewed at City Council right now."
Follow Paris Schutz on Twitter: @paschutz
---
Related stories:
City Council Committee Votes to Delay Recreational Marijuana Sales in Chicago
20 New Illinois Laws to Know in 2020
Kim Foxx Vacates 1,000 Pot Convictions as Clock Ticks Toward Legalization
Lightfoot Clarifies Police Enforcement of Public Pot Smoking
---