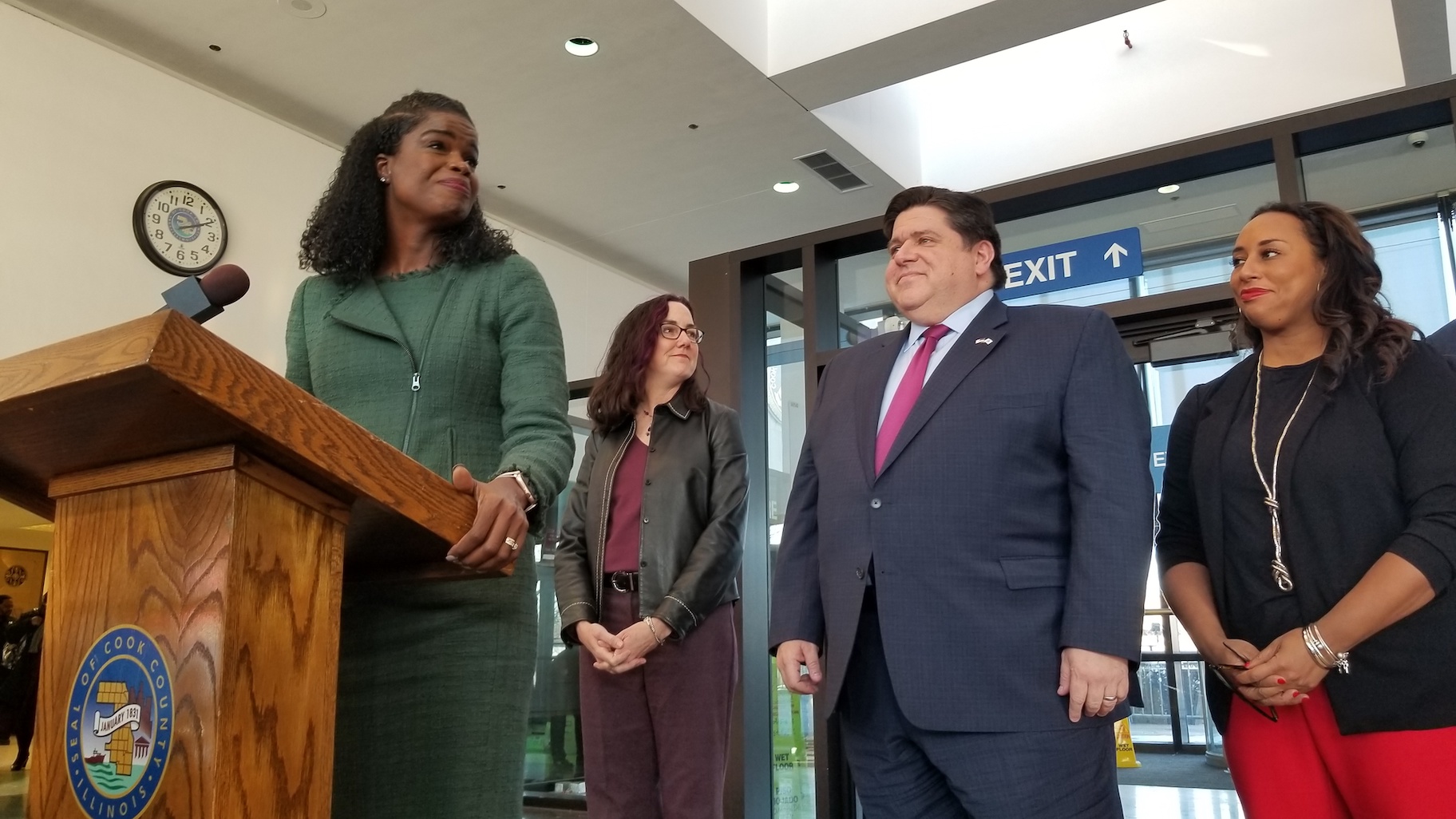 Cook County State's Attorney Kim Foxx, left, stands beside Gov. J.B. Pritzker inside the lobby of the Leighton Criminal Court Building on Wednesday, Dec. 11, 2019. (Matt Masterson / WTTW News)
In three weeks, Illinois will become the 11th state with legalized marijuana sales. On Wednesday, Gov. J.B. Pritzker joined Cook County State's Attorney Kim Foxx as she began the process of vacating thousands of low-level cannabis convictions.
Foxx filed motions before Circuit Court Chief Judge Timothy Evans to expunge 1,012 pot-related convictions – a first-of-its-kind action in the state of Illinois. But that will likely be just the start: Foxx's office is expected to expunge several thousand more.
"As Cook County's chief prosecutor, I believe we must now own our role in the harm these convictions have caused and play our part in reversing them," Foxx said during a ceremonial hearing Wednesday afternoon.
Each of the convictions vacated were for non-violent possession of cannabis cases involving amounts under 30 grams. The expungements permanently remove those cases from the criminal records of those involved.
---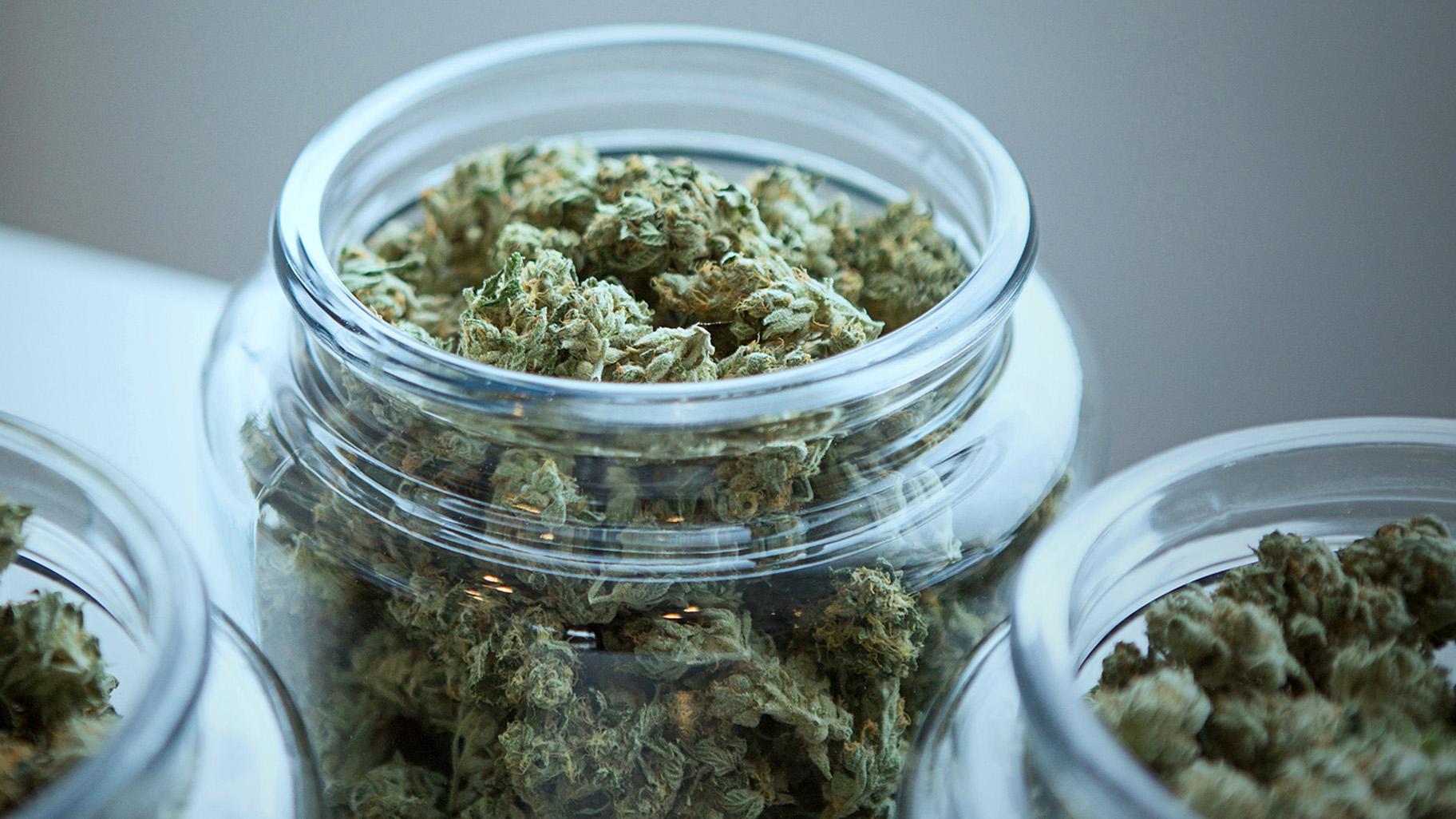 More: Your Guide to Marijuana in Illinois
---
Foxx stood in a sixth-floor courtroom at the Leighton Criminal Court Building and submitted the first 100 names to Evans, who approved the motions one by one and swiftly granted the expungements. The remaining cases were read off by other assistant state's attorneys.
"We will never be able to fully remedy the depth of that unfairness and the damage it visited upon so many families," Pritzker said after the hearing. "But we can govern our state with the courage to admit the mistakes of our past, and the decency to correct the record and set a better path forward."
Foxx announced in January plans to begin vacating these types of cases, pointing to the barriers low-level convictions can present for people with their employment, education or housing.
In August, Foxx's office partnered with California-based nonprofit organization Code for America to help identify and seal tens of thousands of low-level marijuana convictions using a new program in Illinois.
Code for America's Clear My Record technology will allow Foxx's office to automatically and securely evaluate record clearance eligibility by reading and interpreting conviction data. That process takes just a few minutes and does not require any input on the part of the convicted individual.
Foxx's office works with the Illinois State Police to first find potential cases for expungement. It then screens them using the Code For America program to find which ones are able to proceed. Wednesday's batch of expungements was limited to standalone misdemeanor convictions. But Foxx said felonies are also eligible and those cases could be explored more in the future.
Typically, anyone seeking an expungement must request such action through the Cook County Clerk's Office before their case is heard. But those impacted by Foxx's motions had to take no such action. In fact, it's likely none of them knew the action was taken Wednesday at all, as Foxx said they'd be notified of their expungement via mail after the hearing.
"Today, we made history and took the first step," Foxx said, "in the single largest and most equitable piece of criminal justice reform Illinois has ever seen."
Contact Matt Masterson: @ByMattMasterson | [email protected] | (773) 509-5431
---
Related stories:
Kim Foxx Hopes to 'Right Wrongs of the Past' With Pot Expungements
Kim Foxx Plans to Expunge Misdemeanor Marijuana Convictions
2 Years In, Cook County State's Attorney Kim Foxx Looks Back, Ahead
Kim Foxx Calls on R. Kelly Abuse Victims to Come Forward
Felonies, Pleas and Convictions Examined in New Cook County Report
---