Following a run on London's West End and at LA Opera, the Tony Award-winning musical "The Light in the Piazza" now comes to Chicago.
Renée Fleming leads the cast of a romantic show about a clash of cultures.
WTTW News visited the cast during a recent rehearsal.
---
TRANSCRIPT
Brandis Friedman: At Lyric Opera, Renée Fleming rehearses a signature song from "The Light in the Piazza."
The renowned soprano admires the musical that premiered in Chicago at the Goodman Theatre in 2004.
Renée Fleming: Well the piece is wonderful. I saw not the premier here in Chicago but the New York production 15 years ago and fell instantly in love with it. The quality of the music, the beauty of the music. Also the character of Margaret Johnson.
Friedman: Margaret Johnson is an American woman who has reasons to interfere in her daughter's love affair with an Italian national.
The role offers a lot of dialogue for an opera singer.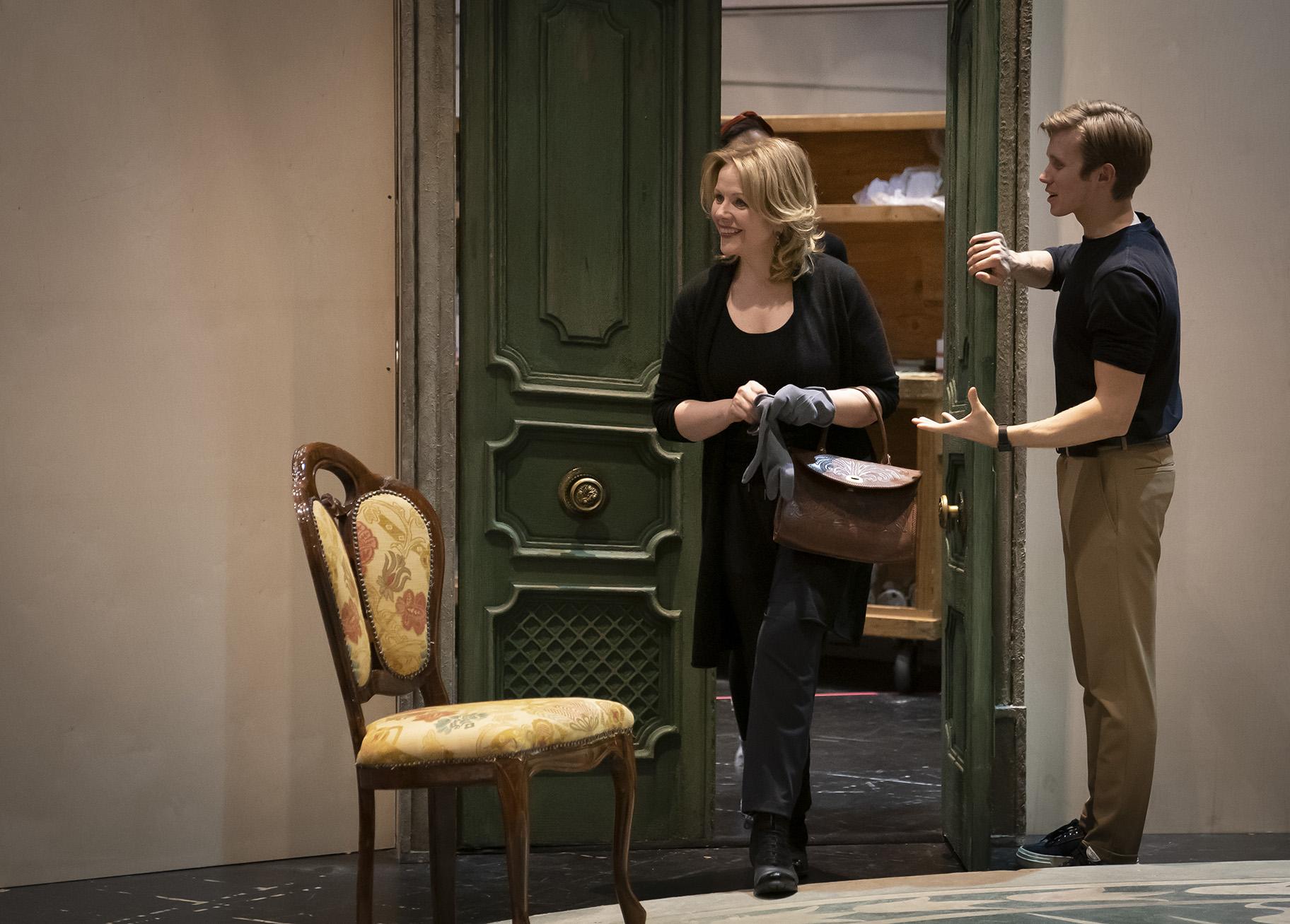 Renée Fleming and Rob Houchen in rehearsal for the Scenario Two production of "The Light in the Piazza" at Lyric Opera House. (Photo by Liz Lauren)
Fleming: It was terrifying at first. That's an understatement because I'd never had this experience of speaking at length with no music underneath. If I don't say anything, there's silence, and I may have also just thrown off six colleagues so the responsibility kind of was daunting.
I'm used to opera which constantly has music, even with the recitative there's music that drives us, and it's like a river. You know, if we fall out of the river we can jump back in a few bars later. This is completely different.
Friedman: Portraying her daughter is a rising star new to the cast, who has performed in many musicals with no dialogue.
Solea Pfeiffer, plays Clara: I've done a lot of shows that are sung through and there's this extra responsibility and vulnerability and control that you have. Sometimes when I think about the scenes, you know, when the timing is decided for you and you're kind of filling it in and coloring it with, with your voice and emotion and whatnot, and then with these scenes you've got to carry all that. That's all yours to hold and mold and decide on timing, and it can be different every night.
Friedman: The show also features a father looking out for his son.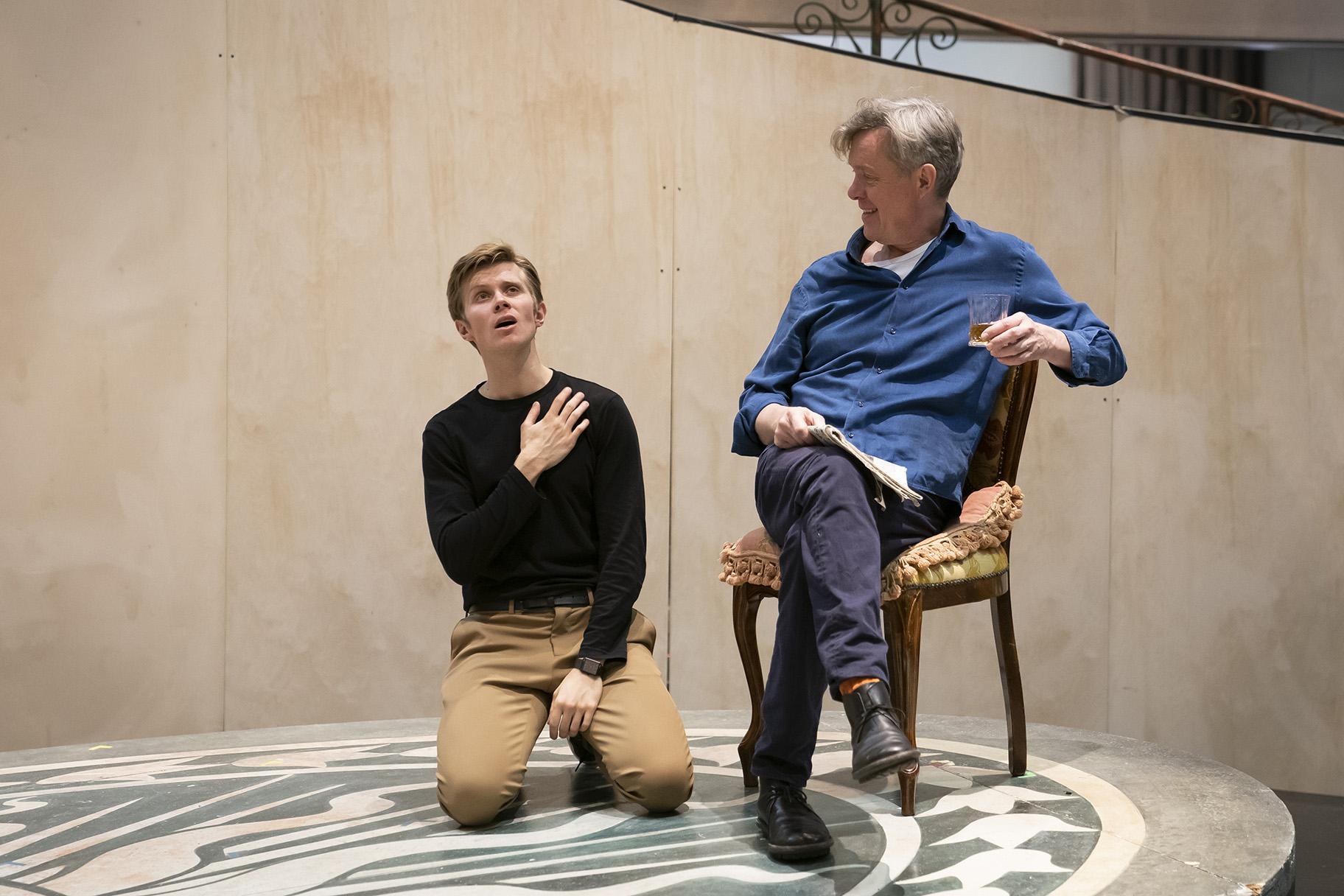 Rob Houchen and Alex Jennings in rehearsal for the Scenario Two production of "The Light in the Piazza" at Lyric Opera House. (Photo by Liz Lauren)
Alex Jennings, plays Signor Naccarelli: There are three principals who are new to the cast and it's unbelievably impressive how prepared they are and already completely on top of it. Knew their lines better than I did.
Friedman: You might recognize Royal Shakespeare actor Alex Jennings from his role as the Duke of Windsor on "The Crown."
Like Fleming, he's also a fan of "The Light in the Piazza," which won six Tony Awards in 2005, including for best original score.
Jennings: It's so lush and romantic and challenging certainly, because I'm not the kind of singer that Rob is. I sing a bit, but it's hard stuff, full and passionate and challenging for us, but it's incredibly evocative and atmospheric. I think it's an amazing score.
Rob Houchon, who plays Fabrizio: Essentially we're trying to make it seem as simple and ethereal and beautiful as possible, and people might not always gather how intricate it actually is because if we do our jobs right it comes across just fluid and, because the music is so flowing and lush, like you were saying …
Jennings: And working with this size of orchestra, like we did in London and will be doing here, it's amazing.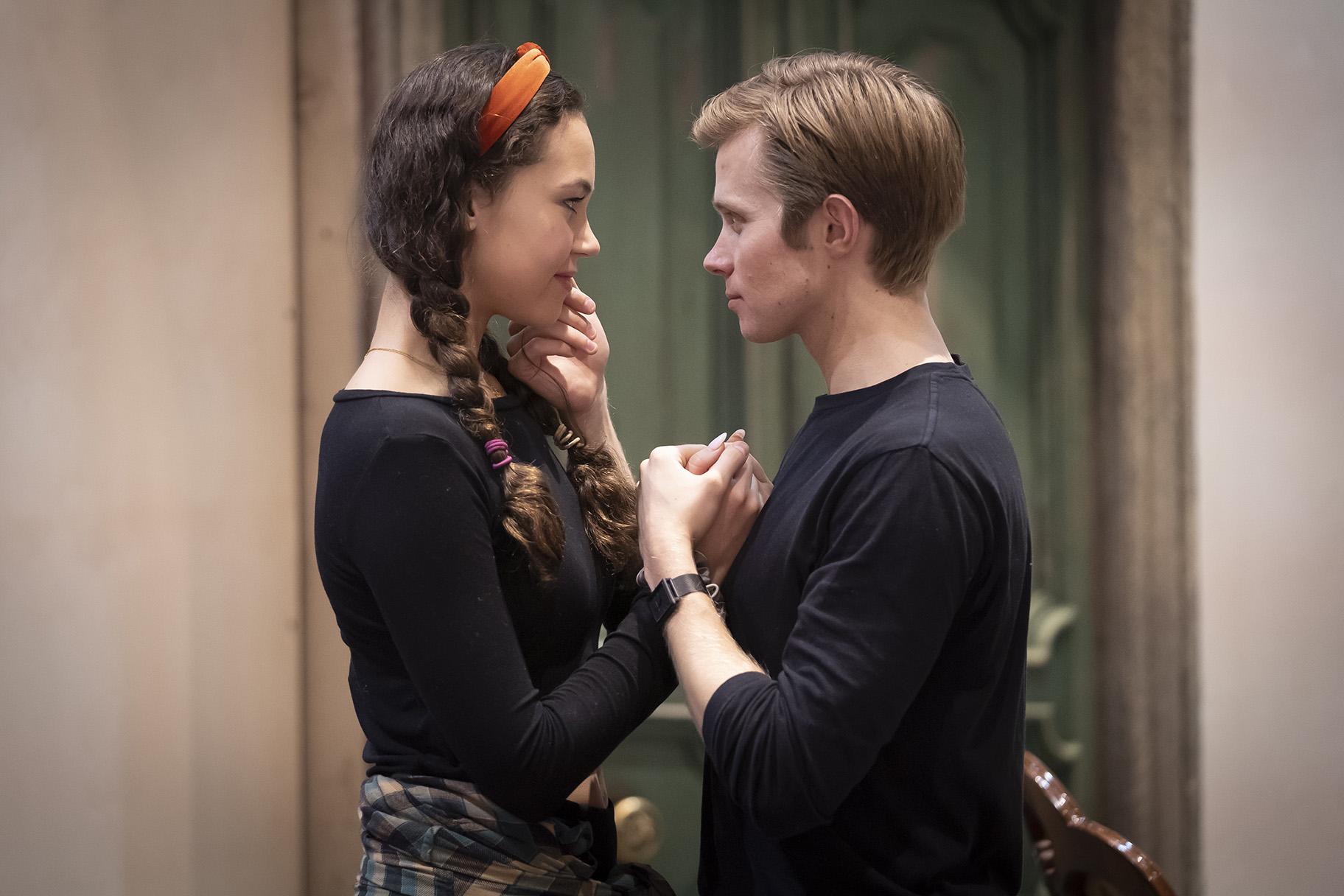 Solea Pfeiffer and Rob Houchen in rehearsal for the Scenario Two production of "The Light in the Piazza" at Lyric Opera House. (Photo by Liz Lauren)
Friedman: This touring show heads to Australia next.
And though it's not a Lyric Opera production, it does star their creative consultant.
For her, it's always about the music.
Fleming: I've always had a tremendous appreciation for all styles of singing, and you know I had eclectic taste in music growing up and I've maintained that, so certainly I'm looking to expand our role, Lyric Opera's role, in the theater and in the community.
Pfeiffer: I've never joined a company that's already been running before and I just feel so, so lucky that this cast has just fully welcomed me and the rest of the newcomers with totally open arms.
---
More on this story
"The Light in the Piazza" was composed by Adam Guettel, the grandson of Richard Rodgers of Rodgers and Hammerstein. And his mother, Mary Rodgers, wrote the musical "Once Upon a Mattress" and the young adult book "Freaky Friday."
"The Light in the Piazza" opens on Friday at Lyric Opera House and runs through Dec. 29.
---
Related stories:
Soprano Sondra Radvanovsky Vividly Conjures 'Three Queens' Betrayed
Stunning 'Don Giovanni' a Surprisingly Ideal Fit for the #MeToo Era
Lyric Opera Names Its Next Music Director: Enrique Mazzola
Renée Fleming: The Diva and Her Gowns
---