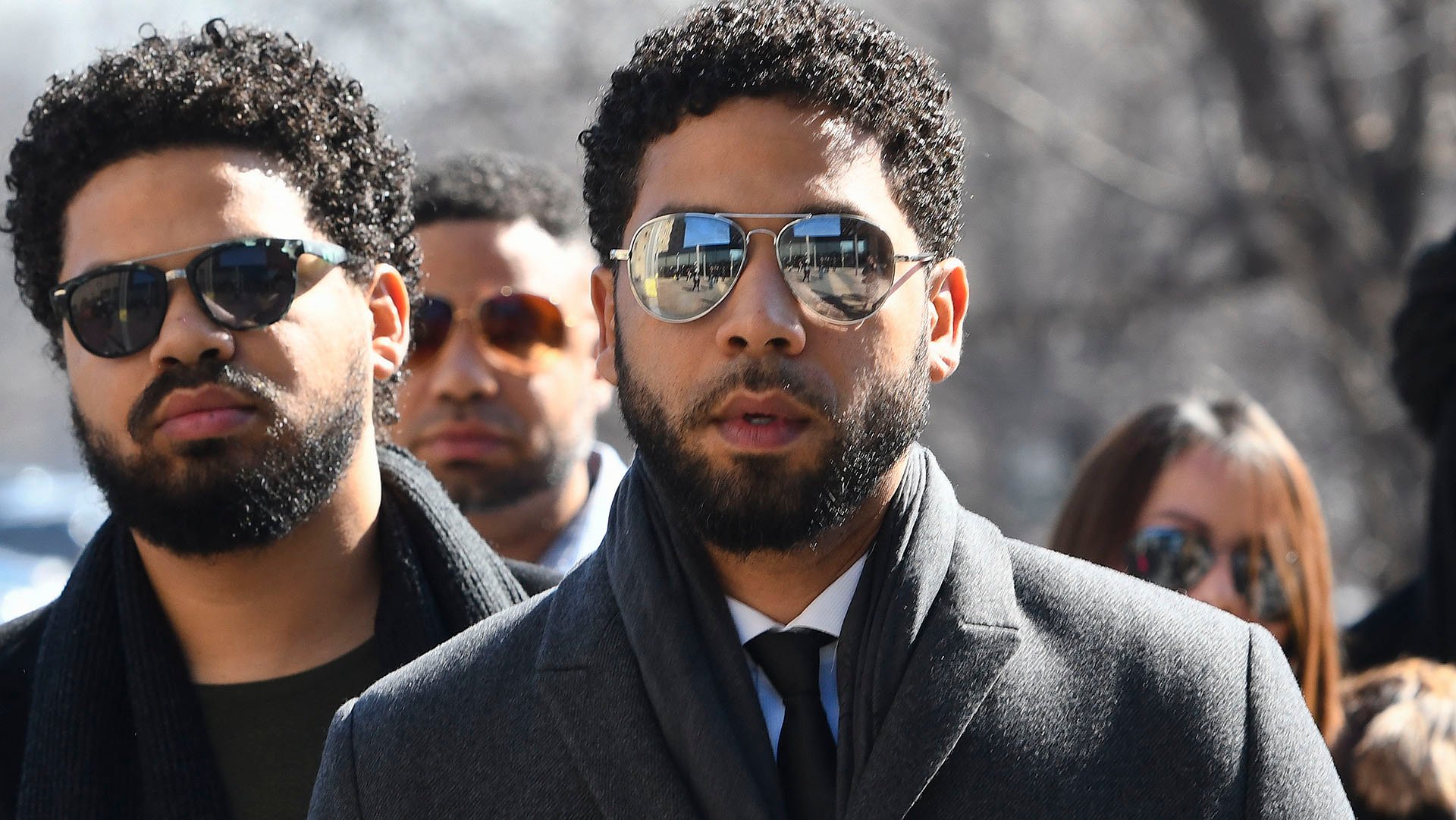 "Empire" actor Jussie Smollett, center, arrives at Leighton Criminal Court Building for a hearing to discuss whether cameras will be allowed in the courtroom during his disorderly conduct case on Tuesday, March 12, 2019, in Chicago. (AP Photo / Matt Marton)
Chicago city attorneys have asked a federal judge to toss out a countersuit brought by former "Empire" star Jussie Smollett, claiming the actor's criminal case stemming from an alleged racist and homophobic attack has not yet concluded.
Smollett – who is being sued by the city – filed a countersuit last month claiming he was maliciously prosecuted by the Cook County State's Attorney's Office, which charged him with filing a false police report after Chicago detectives determined he'd orchestrated the January attack on himself.
But attorneys from Chicago's Law Department argued in a new filing Monday that Smollett's countersuit should be thrown out, in part, because that criminal case could be reopened.
"Smollett's criminal proceeding is thus not over – an investigation into his potential crimes is ongoing and criminal charges may well be re-instituted," First Deputy Corporation Counsel Renai Rodney wrote in the 14-page filing Monday. "For this reason alone, Smollett's malicious prosecution claim fails."
In March, the state's attorney's office declined to prosecute Smollett – a move known as a "nolle prosequi" – dismissing the 16 felony disorderly conduct charges filed against the actor. In exchange, Smollett had to forfeit his $10,000 bond and perform community service.
Smollett and his attorneys had claimed that was the end of his criminal case. But in the months since that dismissal, a Cook County judge has appointed a special prosecutor, Dan Webb, to re-examine whether there are grounds to prosecute Smollett.
That investigation remains ongoing and could result in future charges against Smollett.
The city also took issue with the actor's claim that the criminal case was terminated in his favor.
"The circumstances surrounding the dismissal of Smollett's criminal charges are not indicative of his innocence," Rodney wrote. "Quite the contrary, as Smollett alleges, Cook County prosecutors dismissed the criminal charges against Smollett in exchange for Smollett's agreement to perform community service and forfeit his $10,000 bond."
The city, through its lawsuit, is seeking to recover $130,000 in overtime costs spent on Chicago police detectives who investigated the alleged attack early this year. They eventually determined the actor had paid two brothers $3,500 to assault him in an effort to boost his public profile.
Smollett has maintained his innocence.
Contact Matt Masterson: @ByMattMasterson | (773) 509-5431 | [email protected]
---
Related stories:
Smollett Says He Was Maliciously Prosecuted in Counterclaim Against City
Cook County State's Attorney Kim Foxx Will Seek Re-Election in 2020
Special Prosecutor in Smollett Case Reveals He Made Campaign Contribution to Kim Foxx
Ex-Judge: Smollett's Lawyers Not Allowed to Practice Law in Illinois
Jussie Smollett's Attorneys Seeking to Reverse Special Prosecutor Ruling
Judge Orders Special Prosecutor to Examine Smollett Probe
---